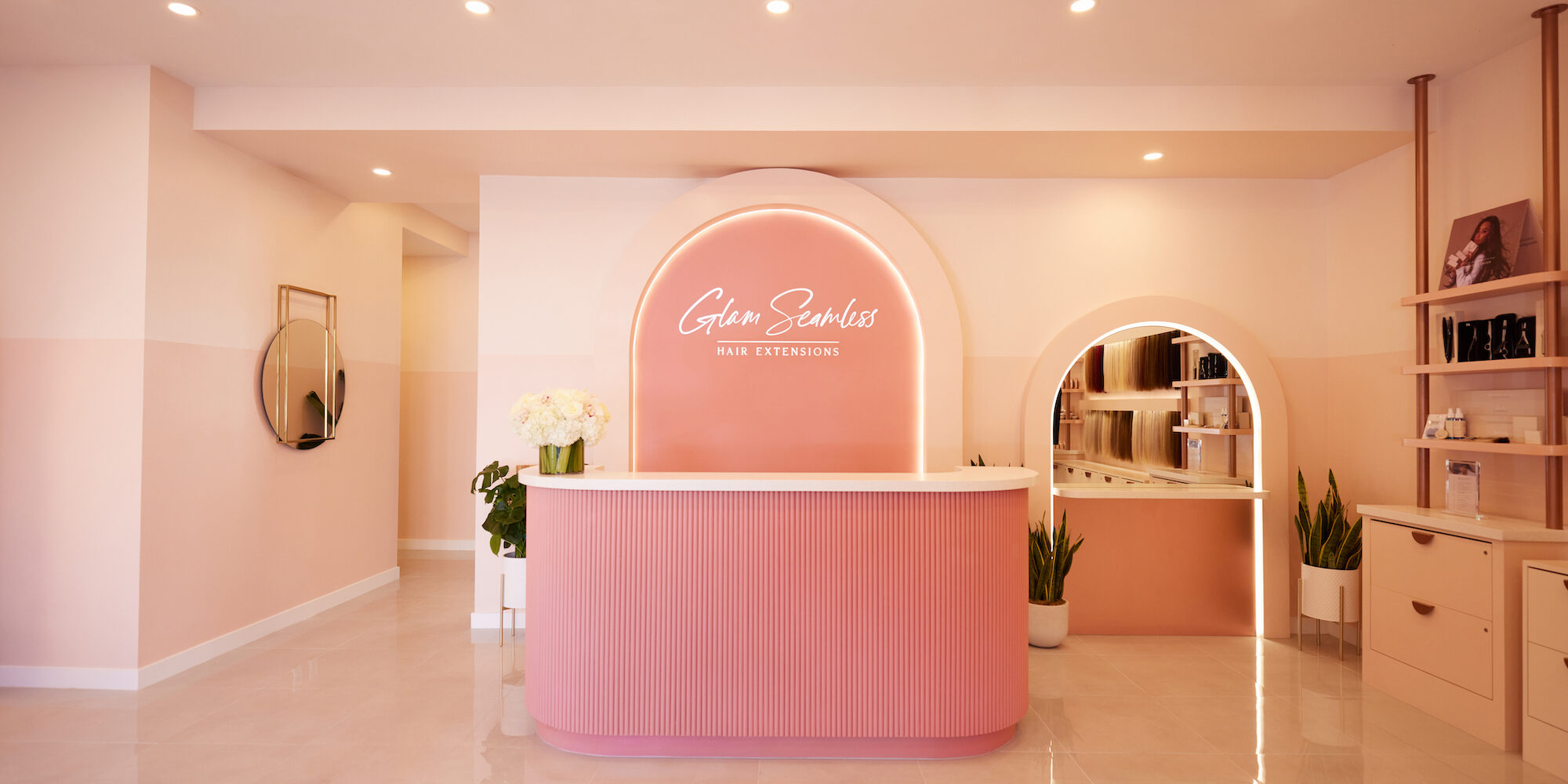 Hair Extensions Brand Glam Seamless Opens West Hollywood Salon
Glam Seamless
has arrived in California. 
The hair extension brand has partnered with experiential retail specialist The Lionesque Group to create a luxurious and intimate 2,000-square-foot West Hollywood salon-cum-retail location designed to showcase extension services, comprehensive haircare shopping and care for celebrity hair expert Priscilla Valles's VIP clientele—Hailey Bieber and the Kardashian-Jenner clan are regulars—in a private setting. The location's service menu includes services such as tape-in installation and express clip-in installation as well as a new keratin bond single extension application. Prices for extension services range from $75 to above $400. Extension options available for sale begin at around $150 and exceed $350. Glam Seamless stylists and showroom associates are trained to provide expert color matching and in-depth consultations to find the best extension method for each client.
The California location is Glam Seamless's second, joining the brand's Hair Extensions Flagship Salon & Store, which opened in New York City's Soho neighborhood in 2017. "When Alexandra [Cristin, founder and CEO of Glam Seamless] approached our team to build another flagship in Los Angeles, it was a natural fit," says Melissa Gonzalez, CEO of The Lionesque Group. "The concept was to drive a fluid design with its NYC location, but evoke a hyper-regional sense of LA with chill and mellow vibes for its clients. The space has effectively been built to facilitate a wide spectrum of interactions." 
Cristin launched Glam Seamless in 2012 out of her two-bedroom apartment with $1,500. In less than a decade, she grew the business to $25 million in sales, mostly through direct-to-consumer distribution of hair extensions. "What we did was provide really great quality extensions at affordable prices," says Cristin. "That built our customer base because they love the hair, and it was affordable, and they came back. The brand has always been an e-commerce brand."
In the early days of Glam Seamless, Cristin focused heavily on its website and SEO (search engine optimization) because the brand didn't have money for advertising or influencer marketing. She would write blog posts and make her own YouTube videos on an array of hair health topics. "I started providing as much information to the customer as I could from my own point of view, as someone who had been wearing hair extensions," says Cristin. "That's how we started gaining a lot of traction and growing fast without any investors."
Now, Glam Seamless has the power and deep pockets of global consumer private equity giant L Catterton behind it. In 2019, Beauty Industry Group or BIG, a hair extension industry leader comprising 13 brands, including Donna Bella Hair, Babe Hair Extensions and Beauty Works, purchased Glam Seamless. Cristin stayed on to guide the brand. In August, L Catterton disclosed it will acquire a majority stake in BIG.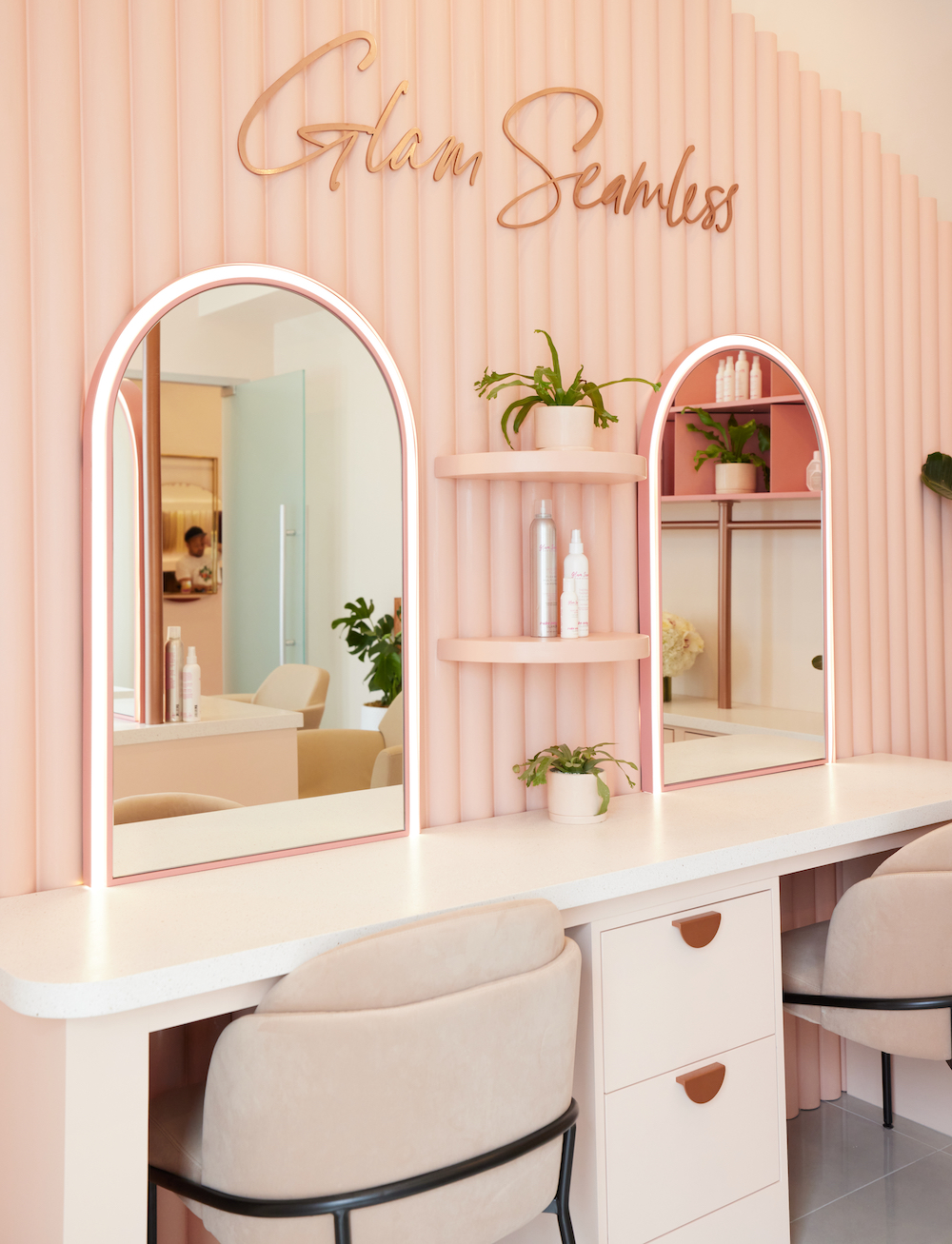 The West Hollywood location won't be Glam Seamless's last. Cristin plans to open spas across the United States in the brand's top markets as revealed by its DTC sales data. Los Angeles is its largest source of sales. Dallas and Miami are also big sales drivers, and Glam Seamless expects to plan outposts there in the next two to three years. 
Glam Seamless is expanding physically as the hair extensions market is expanding. Fortune Business Insights estimates that the global hair extension category generated $2.35 billion in 2020 and projects it will advance at an annual rate of 5.3% to reach $3.43 billion by 2028. Cristin is bullish on the category, believing that hair extensions will gain wider adoption as both celebrities and regular consumers become more forthcoming about wearing extensions.
"We see celebrities changing their look, short one day, long the next. The consumer has seen that, and it's trickled down into the beauty industry," says Cristin. "Only 3% of women in the U.S. actually wear extensions, but we think that's going to grow significantly over the next decade. I think hair extensions are becoming seen as an accessory, something just like lipstick or a piece of jewelry. You can switch up your look."