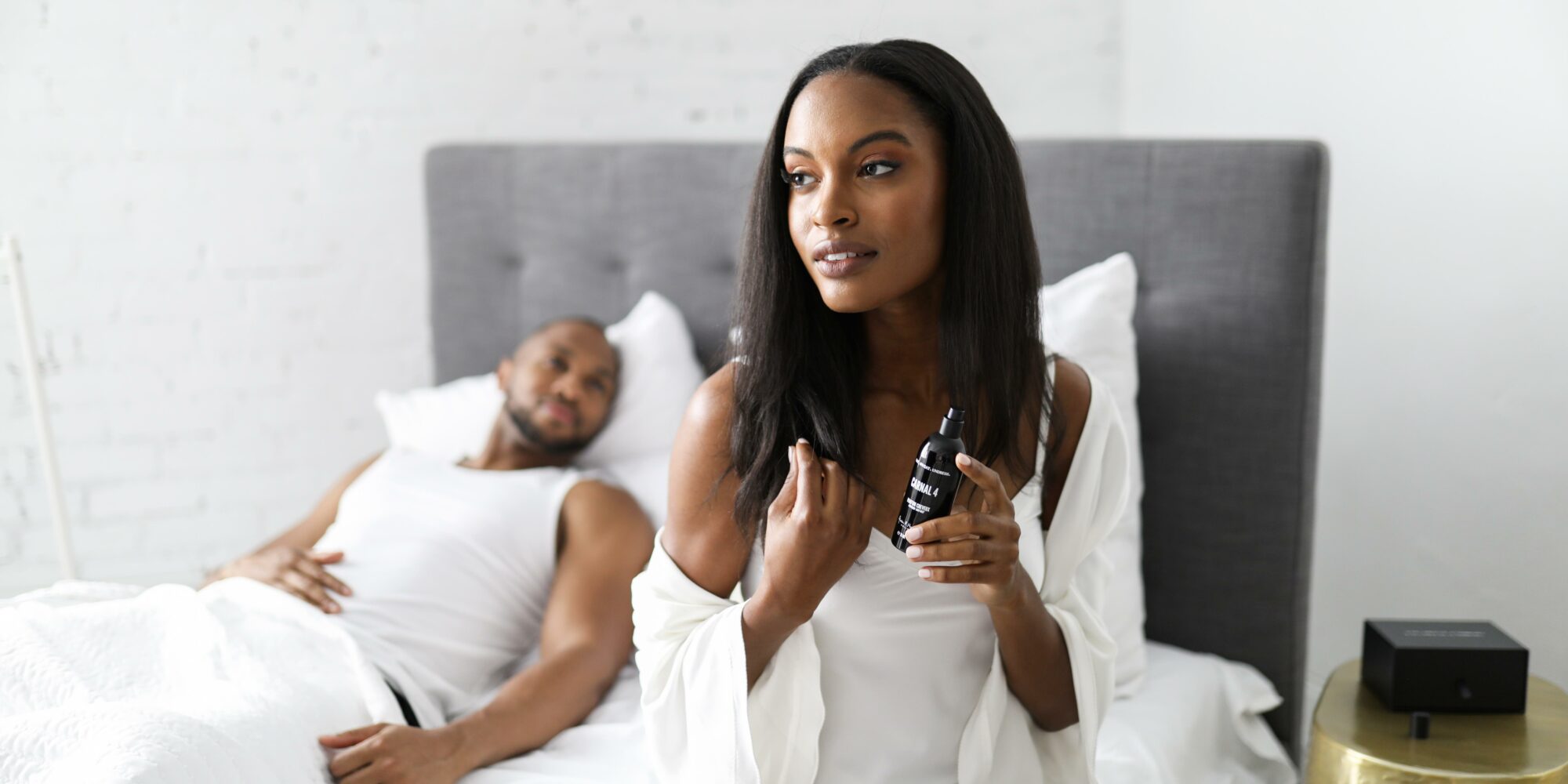 "The Band-Aid Of Hair Fragrances": This New Brand Wants To Make A Niche Product Not So Niche
As she considered developing a beauty product, Eat. Sweat. Undress. founder Alexia P. Hammonds asked herself a question that's been asked by countless beauty entrepreneurs: "Coming out of the gate with a limited budget, how am I going to make myself seen and known?"
She couldn't simply release another me-too haircare formula. She couldn't simply release another stale scent. So, she decided to try a hair fragrance, a product that's not completely unheard of—Byredo, La Brûmée, Parfums de Marly and Dior sell ones—but no brands have totally dominated in a manner that strikes fear into new entrants.
"I want to be a leader in the hair fragrance lane, and I feel I have an opportunity to be a leader in education," says Hammonds. "If you are in the beauty industry, yes, you know of hair fragrances, but the rest of the world doesn't understand them. I could help them understand why you want to use a hair fragrance and why you want to use ours. My goal is to be at the front of that and to be the Band-Aid of hair fragrances."
Hammond feels so connected to her goal of creating the Band-Aid of hair fragrances she put her name on Eat. Sweat. Undress.'s first collection of them. The Alexia P. Hammonds Collection contains five hair fragrances (she whittled the number down from seven because of that stubborn limited budget problem): Garden Party, Koko Ni, Diani Beach, Dallas and Carnal 4.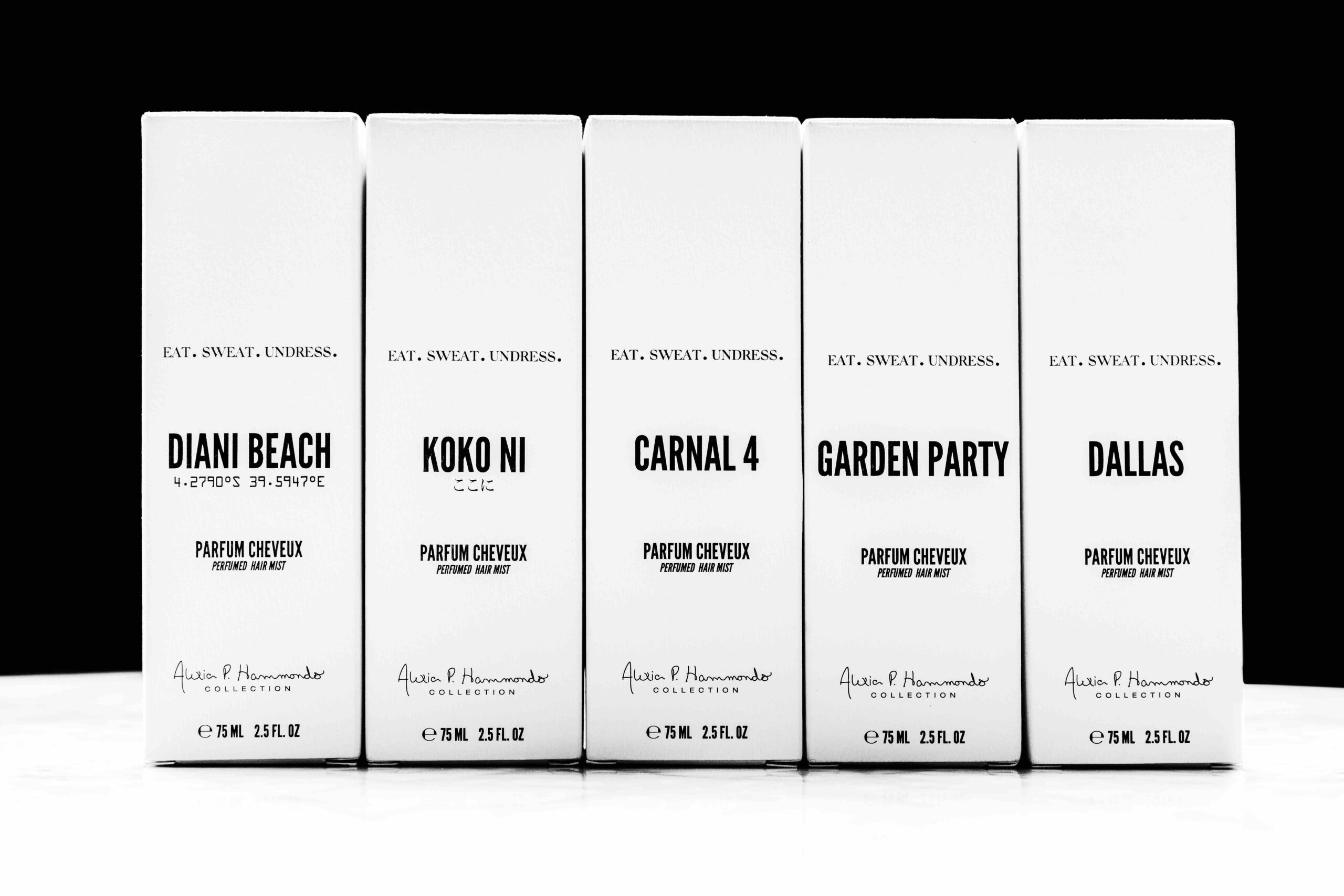 Garden Party honors Atlanta, where Hammonds grew up and her mother hosted an annual backyard garden party. Koko Ni, which means "here" in Japanese, is a plea for women to be present and have a healthy dose of self-confidence. Diani Beach, a destination on the Indian Ocean coast of Kenya, captures the memory of being with a romantic partner in the sand. Dallas is an ode to the city she currently calls home and where she truly became herself.
Since Eat. Sweat. Undress.'s hair fragrances went live on the brand's website last October, Carnal 4 has been the bestseller. The unabashedly sensual fragrance has top notes of raspberry, orange and bergamot; middle notes of amber and cedarwood; and bottom notes of musk, caramel and moss. The inspiration for it was an on-and-off relationship Hammonds had that allowed her to experiment sexually and embrace her femininity.
"I want to be a leader in the hair fragrance lane."
"A lot of times we as women aren't always comfortable with our sexuality," she says. "We don't have to share them, but I want women to not be ashamed of the experiences they have if they enjoy them."
Hammonds worked with a fragrance lab in Grasse, the center of global perfumery, to concoct Eat. Sweat. Undress.'s hair fragrances. As far as she's aware, she's the only Black woman that has. While Hammonds began shaping the fragrances back in 2019, a good portion of the concocting was done via Zoom due to the pandemic. She'd be sent a sample, convey her feedback to the Grasse lab in a Zoom session, receive an adjusted sample a week or two later, and the process repeated. Hammonds estimates she sifted through 25 to 30 samples for each hair fragrance prior to finalizing the five offerings.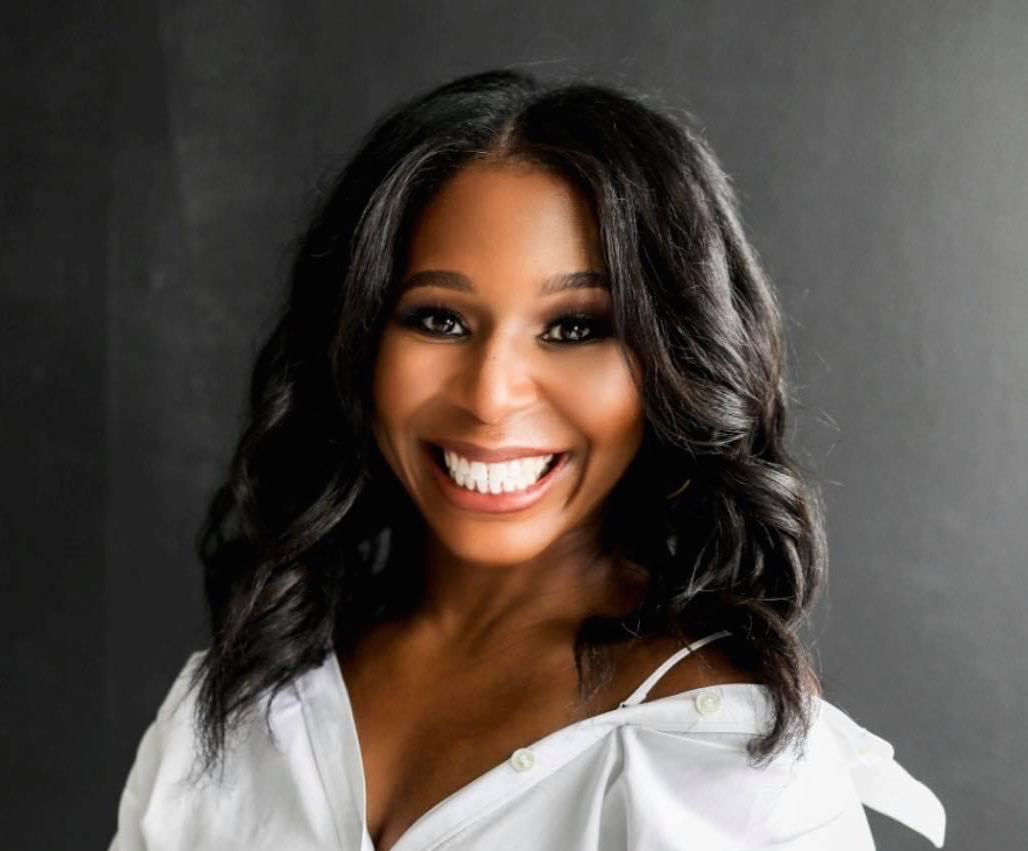 Hammonds discovered fragrance labs in Grasse generally had minimum order quantities of 5,000 to 100,000 units per piece. She was able to secure a deal of 500 units per piece. She recounts her lab concluded, "'We want to grow with you. We would love to follow your story.' Without that, I would have had to figure out how to make it myself stateside, and there is no way the quality of my line would have been the same if I had made it myself." Hammonds approximates it took roughly $75,000 to get Eat. Sweat. Undress.'s hair fragrance collection off the ground, and that amount doesn't factor in unanticipated expenses that popped up such as $4,000 in shipping fees to obtain the products.
Hammonds has fielded copious questions from consumers about the alcohol content of the hair fragrances. They're nervous about them drying out their hair, but Hammonds tells them her brand's hair fragrances are crafted not to. She explains, "We have the highest amount of perfume oil without it being too heavy. We have the lightest amount of ethanol alcohol, and we have two ingredients with hair benefits—keratin and cashmilan—that add shine and protein to the hair to make it strong." She continues, "It's good for all hair types and all hairstyles. It won't alter your salon services, and it's great for your hair."
"It's definitely a head turner. It just creates an experience when you walk by."
A trained Pilates instructor, Hammonds started Eat. Sweat. Undress. as a blog in 2012. She used it as a vehicle to share her teaching schedule, and hawk cute T-shirts, and bath and body products. Beginning in 2014, she let it lay dormant. Hammonds concentrated on her career offline and spent about two years as director of community relations for Gratz Pilates Studios before having the itch to pick up Eat. Sweat. Undress. again. Last year, she did pick it up again and not merely with the hair fragrances, but with 26 products spanning sports bras to a range of four supplements: facial-in-a-glass Hydrate & Glow, red maca-driven Enhancer, magnesium booster Mag Clean Start and Probiotics.
Eat. Sweat. Undress.'s target customer is the same no matter the product: Hammonds describes her as a woman who's on the go, but still focused on caring for herself physically, spiritually and mentally. The sleek aluminum bottles the hair fragrances come in are designed for her busy lifestyle—they won't break in her purse—as they protect the formulas inside from degradation resulting from UV rays. Across the board, the objective is for Eat. Sweat. Undress. to reach $500,000 in revenues by December. Based on advice from a friend previously in merchandising at Neiman Marcus, Hammonds lowered the price of the full-size 75-ml. hair fragrances from $85 to $65, a decrease that really helped lift sales. A discovery set with 2-ml. vials of the five hair fragrances is $32.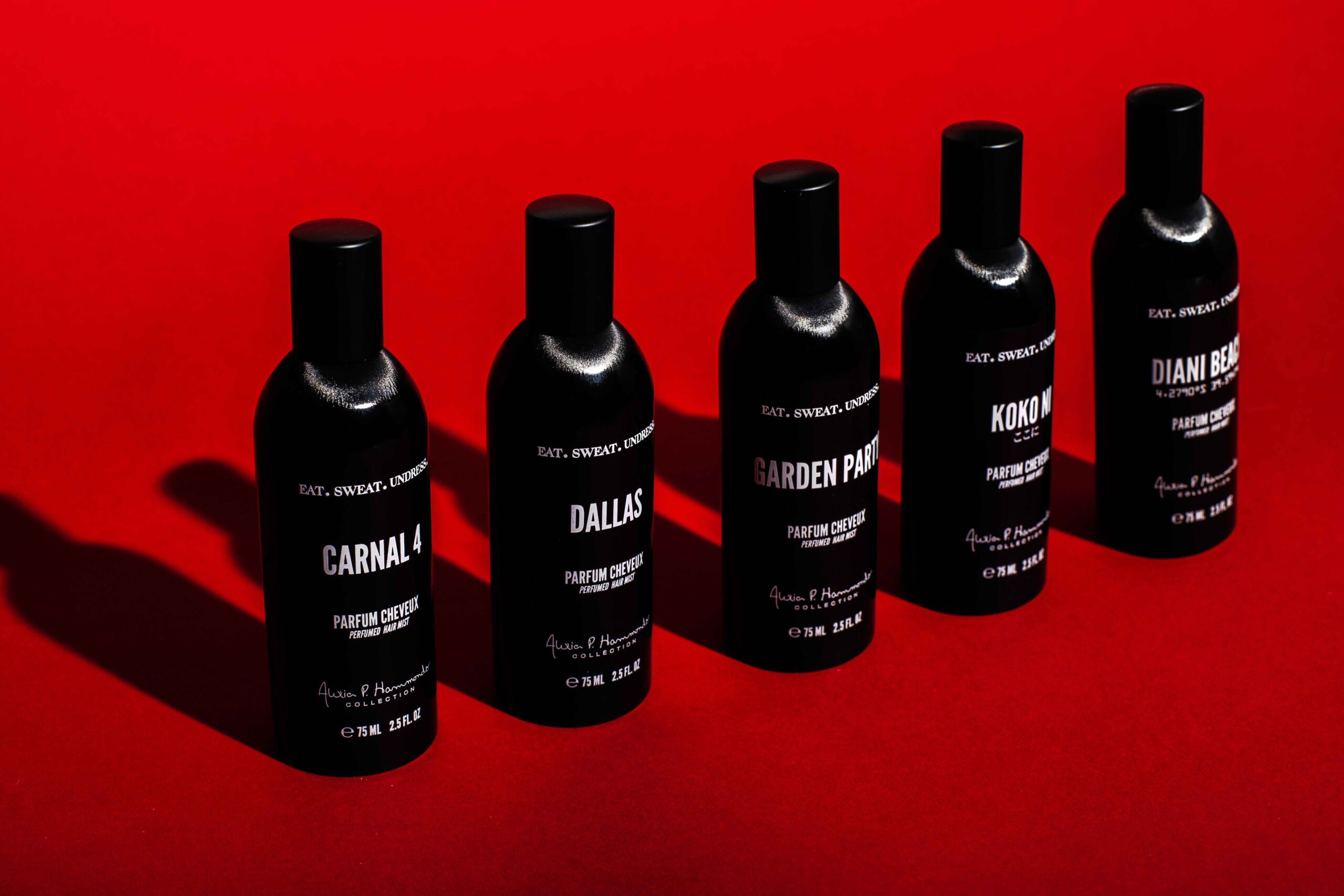 Next up for Eat. Sweat. Undress. is a more traditional eau de parfum. A home fragrance is in the pipeline, too. The brand is wholesaling its items to around 10 salons, boutiques and fitness studios. Hammonds is interested in furthering its reach in the types of venues it's already broken into as well as placing it in gym chains and, eventually, beauty specialty retailers like Sephora or Ulta Beauty.
In a video for Eat. Sweat. Undress., makeup artist Christina Singh gives the brand's hair fragrance concept a compelling pitch for retailers and consumers. "It's definitely a head turner," she says. "It just creates an experience when you walk by."