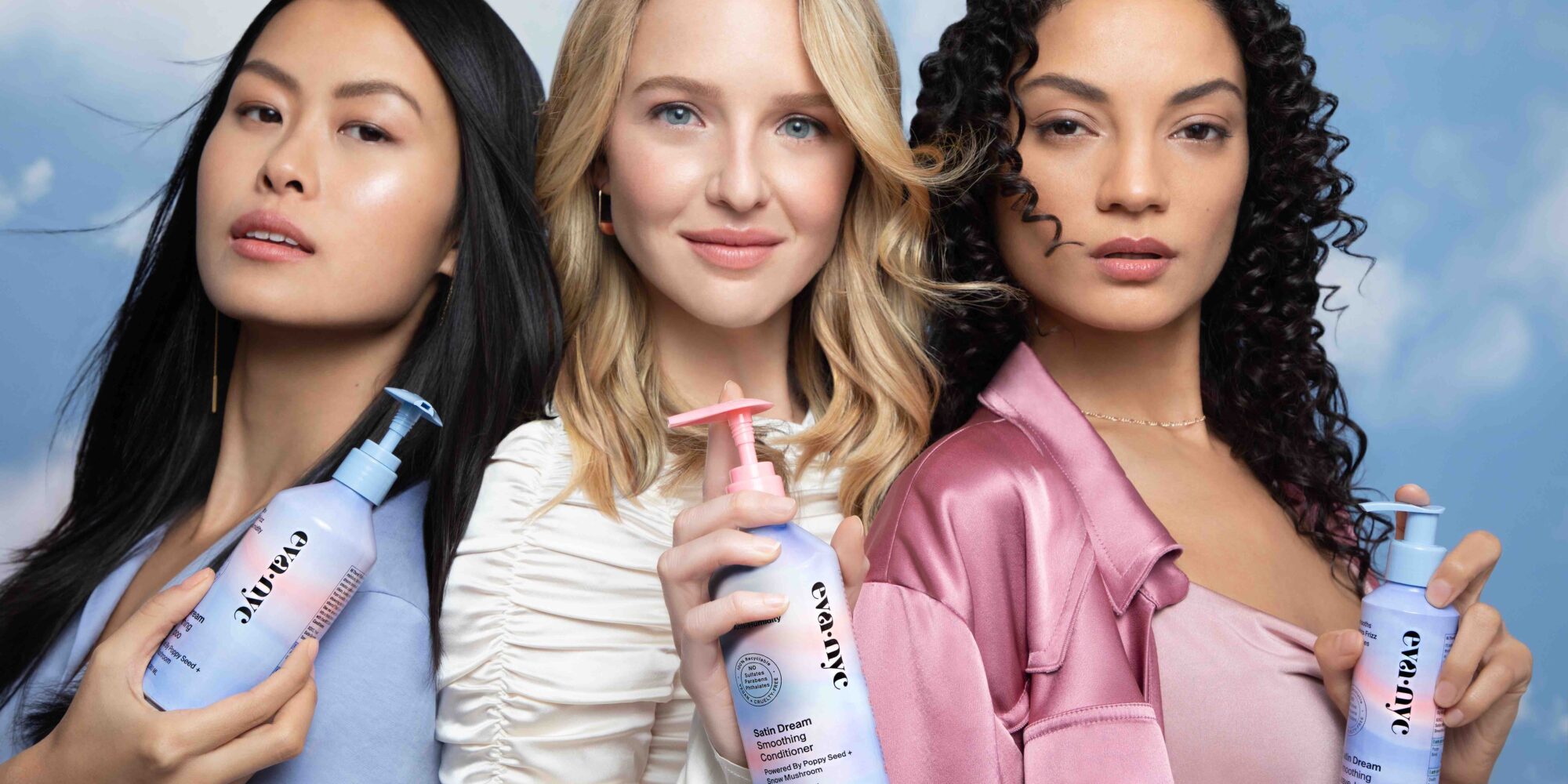 Haircare Brand Eva NYC Turns To Aluminum In An Effort To Kick Plastic Waste To The Curb
As it deepens its commitment to the environment, Eva NYC is rolling out aluminum packaging for its full-size products.
Across its range, the haircare brand, which is dedicated to achieving B Corp certification by 2024, has become 100% recyclable. Its repackaged aluminum items are 93% plastic-free. Pumps are responsible for the 7% of the packaging that's plastic, and they can be recycled via TerraCycle, a company specializing in hard-to-recycle materials Eva NYC partnered with last year as it kicked off its sustainable push.
The brand has pledged to invest at least $3 million in its sustainability initiatives through 2025. Jane Moran, VP at Eva NYC, mentions the investment could put Eva NYC on a path to solidifying B Corp status within two years. "We are that focused," she says.
The beauty industry is a notorious offender to the environment, notes Moran, with an estimated over 120 billion units of beauty packaging produced annually on a global level. Most of the packaging is out of plastic that doesn't get recycled.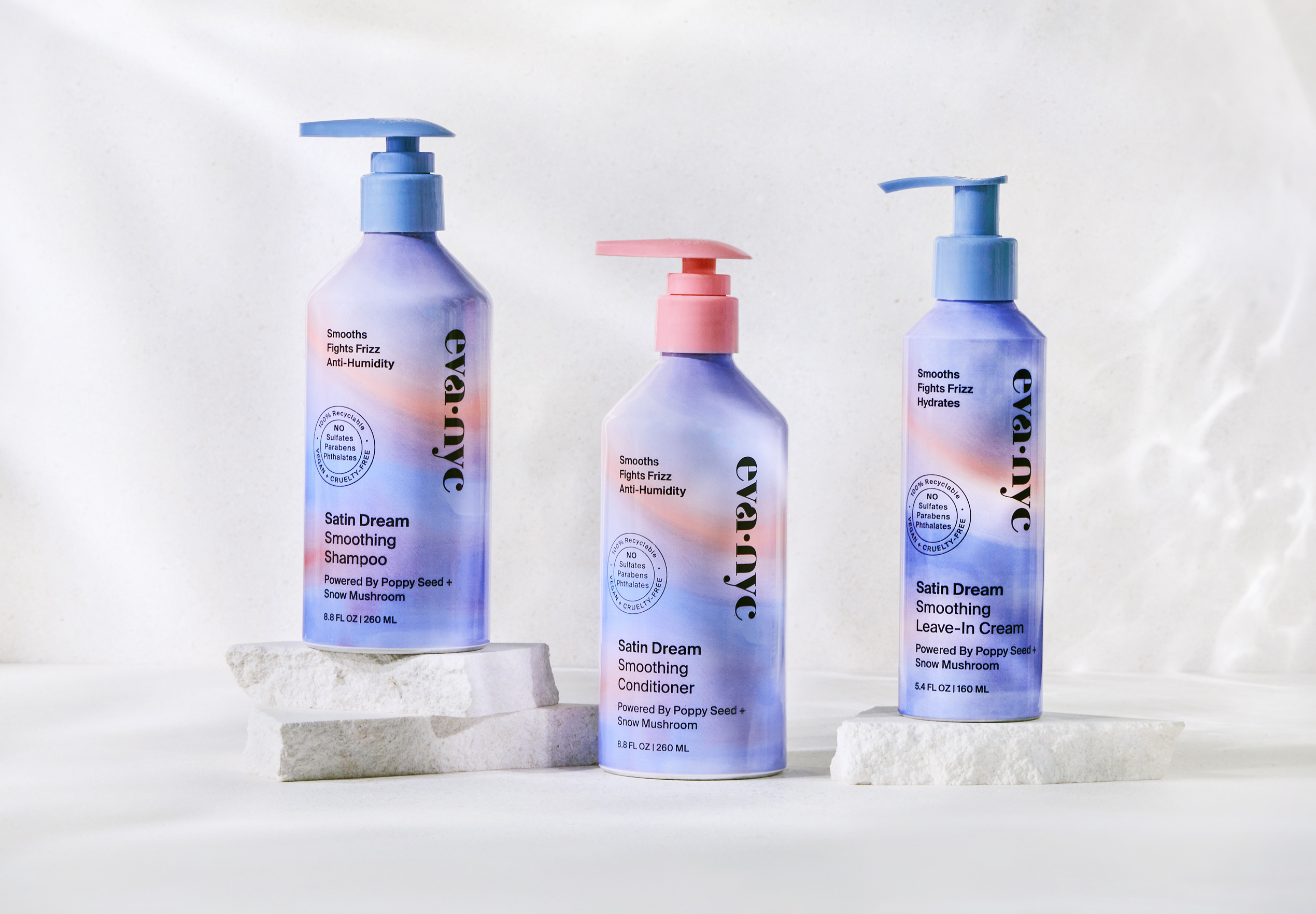 "Only 9% of plastics actually get recycled, and we want to provide our customers with an option to stop purchasing virgin plastics as they are the hardest to recycle," says Moran. She shares survey data from WGSN reveals 88% of consumers want brands to assist them in being sustainable, but 43% feel brands make it harder for them. During the pandemic, interest in sustainability hasn't ebbed.
Eva NYC selected aluminum for several reasons. It can be recycled over and over again, and Moran points out aluminum is the easiest material to recycle in the United States because all curbside facilities accept it. Consumers give aluminum a thumb-up in Boston Consulting Group research cited by Eva NYC showing they believe it's two times eco-friendlier and 1.4 times more recyclable than plastic.
The brand isn't the only one in the beauty industry to embrace aluminum. We Are Paradoxx's haircare products are housed in aluminum, and Hand in Hand has encased liquid soaps in the material. For Eva NYC, the move to aluminum sparked a $1 price increase for shampoos and conditioners. Before the $1 increase, the brand hadn't changed prices in six years. The aluminum cans hold a slightly greater amount of product than their plastic predecessors.
"It balances out," says Moran, adding, "Pricing is one of the biggest barriers. We really try to make our products affordable and accessible." Eva NYC's products are mostly priced from $10 to $15. The brand's major retail partners include Target, Ulta Beauty, Sally Beauty and Costco. Target recently expanded Eva NYC from 400 to 1,300-plus doors. The brand added Amazon at the end of last year. Moran says Amazon is performing well, and emphasizes retailers have a swelling appetite for brands with sustainable positioning.
"We won't stop finding ways to make our brand more sustainable."
While many stores were closed in 2020, Eva NYC concentrated on influencer and e-commerce efforts. "We put a focus on helping our retail partners as they shifted to more e-commerce. Even before the pandemic, we had started investing in our own site," says Moran. Last year, Eva NYC's sales grew by double digits over the year before. A WWD article in 2017 turned to industry sources to forecast the brand's sales that year could be $45 million to $60 million.
Along with haircare brand Amika, Eva NYC is in the portfolio of Heat Makes Sense, a privately-held company formed in 2007 in Brooklyn by co-CEOs Shay and Nir Kadosh, and creative director Vita Raykhman. Eva NYC has been certified cruelty-free by Leaping Bunny since its launch in 2012. Over the past year, the brand also became certified vegan.
"We've removed any ingredients that might be harmful to the environment or body and, now, we've made this big step with our aluminum packaging," says Moran. She joined Eva NYC two years ago after building extensive beauty industry experience in roles at past roles at Peter Thomas Roth, Elemis, L'Oréal and Unilever. At the brand, Moran says, "Our focus is to provide our consumers with a good hair day every day."
Mane Magic 10-In-1 Hair Primer is Eva NYC's bestselling product. There's a bevy of releases planned for 2021. This month, Satin Dream Shampoo + Conditioner ($13) and Satin Dream Leave-In Cream ($12) will bow. Next month, the assortment will extend to Just Glisten Hair + Body Shine Mist ($12). In the pipeline are products for brunettes, blondes and split-end repair. The brand continues to study options for pumps with the aim of reducing plastic.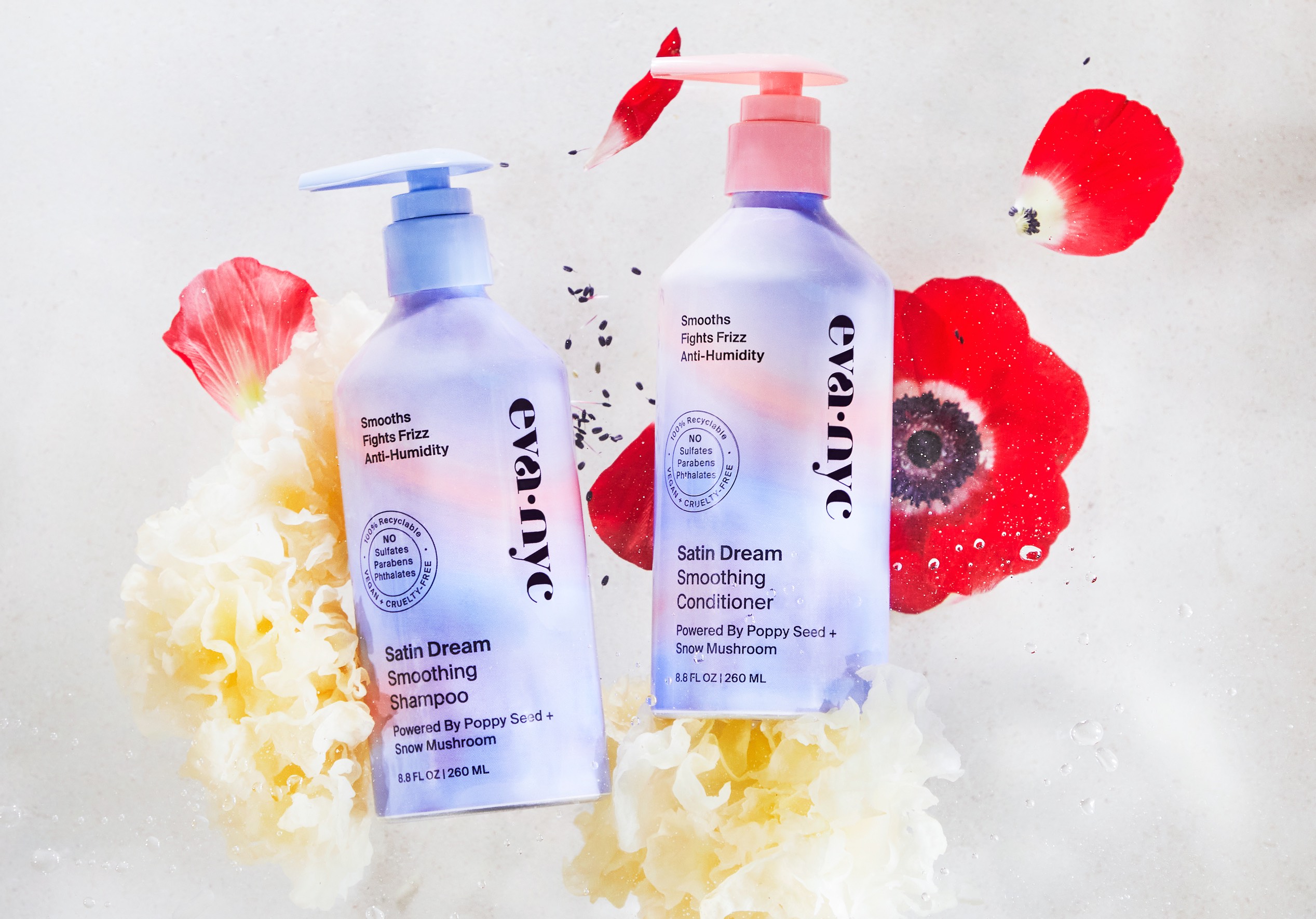 Eva NYC's packaging has been upgraded to call out key attributes such as the aluminum it's constructed from. To publicize the aluminum packaging rollout, Eva NYC teamed up with New York City graffiti artist and muralist Queen Andrea to conceptualize street art entitled "Recycling is Beautiful" located in the Williamsburg section of Brooklyn. Moran strives for consumers to understand that one small change in their lives can make a big impact. "We also hope that new consumers come into the brand looking for a product that gives them fun and affordable haircare and be great for the environment," she says.
In addition to its aluminum packaging, Eva NYC is on course to save 400,000 kilowatt-hour of energy from the grid through solar and storage systems, and LED lights at its warehouse in Pennsauken, N.J. The publication Glossy detailed the brand is tapping $1.2 million in government incentives for the warehouse improvements and will save $50,000 on its electricity bill a year. The publication divulged the "gross cost of the solar panels is $683,340 and the gross cost of the solar energy battery is $248,750."
Moran says, "We won't stop finding ways to make our brand more sustainable."