Harrods Moves Forward With Standalone H Beauty Concept As The Pandemic Stokes Retail Uncertainty
When luxury British department store Harrods revealed last year that it would open new standalone beauty retail concept H Beauty, it was unfathomable to imagine its debut would take place during a pandemic. But that's just what happened on Sept. 17, the day its first location premiered in 23,000 square feet at the Intu Lakeside Shopping Center, an hour's drive from central London in the neighboring county Essex.
The bold attempt to reshape beauty retailing in the United Kingdom comes as local lockdowns increase, the economy is being battered and in-store beauty sales are precarious. Facing those mounting headwinds, can H Beauty transform the market and solidify Harrods as an incontrovertible beauty leader?
H Beauty is certainly a change. In its prestigious Knightsbridge location, Harrods has relied heavily on international spending from American and European tourists. Customers from the European Union and U.K. historically account for 30% of its revenue. With global travel restrictions in place, Harrods' footfall has dropped 95%, and CEO Michael Ward has said the department store expects sales to decrease 45% this year and 35% in 2021. Earlier this year, it cut 700 jobs.
Placing H Beauty outside of London gives Harrods the chance to establish itself with domestic consumers. Fflur Roberts, head of global luxury goods at research firm Euromonitor International, says, "The affluent consumers and HNWI's [high net worth individuals] in these more local areas will of course be attracted H Beauty, but, much like the flagship Knightsbridge location, these new stores will attract consumers from all different demographic and socioeconomic groups, especially in the lead-up to Christmas and the holiday season, who are looking for the same Harrods shopping experience, but without having to travel into central London."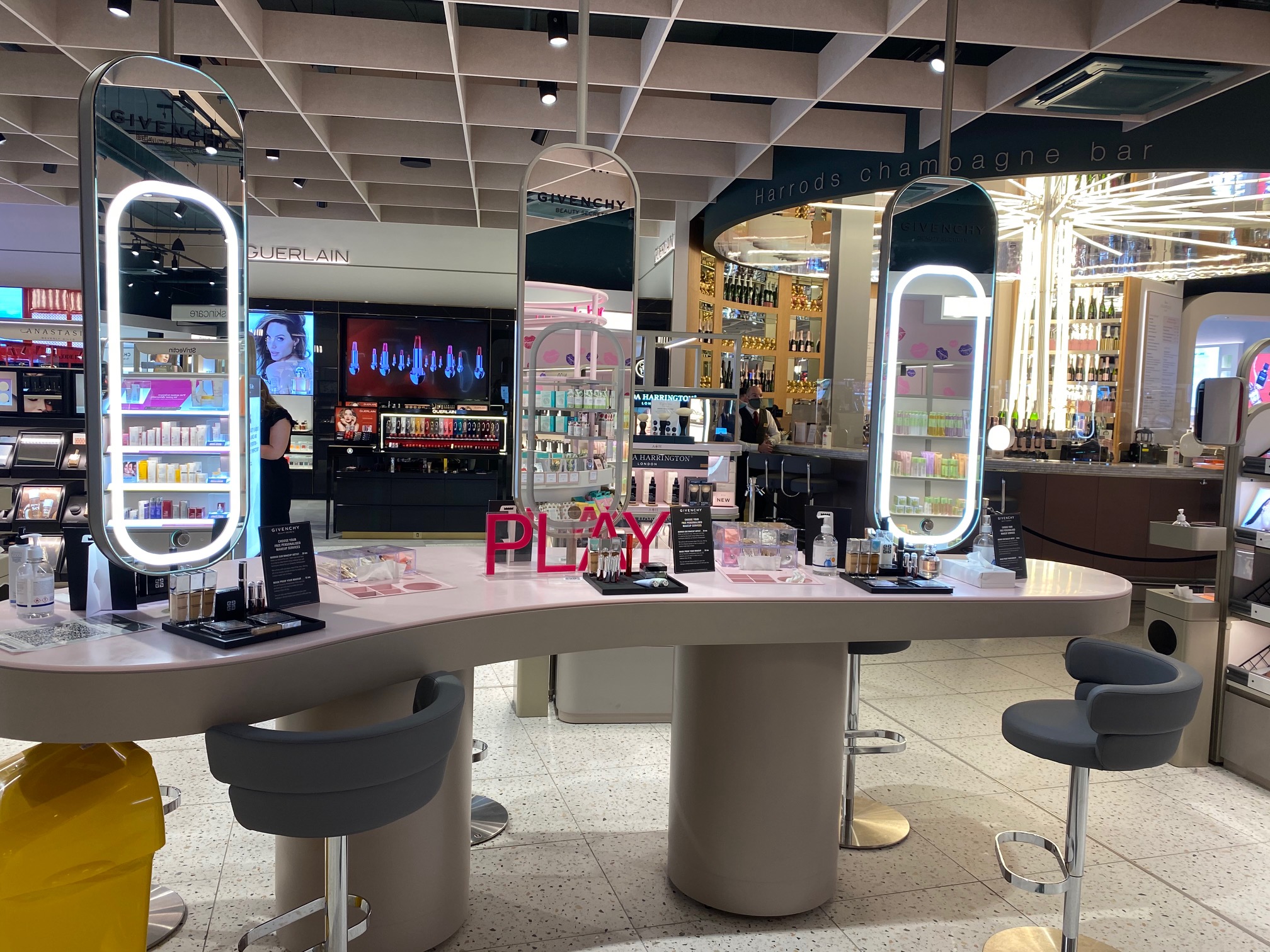 As the U.K. confronts stricter lockdowns imposed on Oct. 14, H Beauty is well-situated to cater to consumers who can't or don't want to visit central London due to rising COVID-19 concerns. "From a consumer perspective, I would be excited to have the elegant Harrods beauty hall experience closer to my home," says Adrienne Kramer CEO of international beauty brand consultancy ProBeauty Partners. "Their Knightsbridge renovation created a space where consumers want to spend time in an experiential environment, so transporting that vision locally opens Harrods up to a new consumer that is perhaps aware of Harrods, but hasn't or now doesn't have the opportunity to visit central London." Harrods unveiled a renovated beauty hall as part of a nearly $400 million, three-year revamp to its flagship.
The biggest threat to H Beauty could be a fundamental shift in consumer behavior instigated by the pandemic. "At a macro level, beauty as a category is very much influenced on seeing others and, if we're advised to stay at home and not socialize, the necessity and desire to buy or replenish those items is reduced," says Matthew Maxwell, consumer insight director at Kantar. In a study of the impacts of the U.K. lockdowns, the data agency discovered 100 million weekly occasions were lost in which people would usually use personal care items, sending cosmetic and fragrance sales down 35%.
"From a consumer perspective, I would be excited to have the elegant Harrods beauty hall experience closer to my home."
Beauty shopping has swung to e-commerce. Online beauty sales jumped in the 12 weeks ending May 31 and accelerated further 141% until Aug. 23. "As consumers adopted online shopping during lockdown, and it saw unprecedented growth, the current challenge for physical locations is attracting shoppers back into store," says Maxwell. "Not only are consumers finding it efficient, but, as we approach a recession and tougher economic times, consumers will inevitably shop more consciously to protect their finances and gravitate online to find the best product for its price."
Roberts agrees, adding the pandemic has altered values and spending criteria. She says, "Many consumers are likely to cut back on spending in light of difficult economic conditions, which darkens the outlook, but also opens up new opportunities for H Beauty to range [into] different beauty products and brands that span across a wide price platform."
Orchestrated by Annalise Fard, director of beauty and home at Harrods, and Mia Collins, GMM of beauty, H Beauty contains a carefully curated edit of 90 brands. The perimeter of the Intu Lakeside location houses eight branded boutiques from the likes of Chanel, Dior and Tom Ford. Counters from Chantecaille, La Prairie and 111Skin sit in the middle in front of multi-brand gondolas featuring brands such as Allies of Skin, UOMA Beauty, Tony Moly and The Ordinary.
As affordable line The Ordinary and luxury stalwart La Prairie illustrate, H Beauty has price points suiting a vast array of consumers, a strategy that extends its reach beyond the demographic typical at Harrods' Knightsbridge location and, according to Roberts, "takes the essence of what's great about the new Harrods beauty halls and [makes] it accessible to a far broader audience."
"Consumers overall are turning towards specialist retailers for product discovery and purchases."
The look of the H Beauty store nods at its Harrods' heritage as it embraces a unique identity for the concept. On its storefront, H Beauty incorporates the "H" from the original's logo, but has a modern typeface for "Beauty." The larger-than-life bear that's Harrods' mascot is pink and emblazoned with pink pouts at H Beauty to generate Instagram-worthy moments that will flood people's social media feeds. A muted pink blush branding replaces the classic Harrods green. Kramer says, "Harrods' key strength is their curation and the way it makes you feel regardless of how much you spend as it's an iconic rite of passage."
"Magic Mirrors" leveraging augmented reality technology permit H Beauty customers to virtually try on products and have images of their experimentation sent directly to their phones. A dedicated space with tables labeled "Play" invites interaction in the multi-brand section, where customers can have fun with hairstyling, product demos and makeup consultations. It's a beauty playground that could fuel footfall and curb losses from customers shopping online. H Beauty transcends beauty with The Champagne Bar, a spot for customers to socialize, and enjoy Harrods' food and beverage in their backyard. A click-and-collect service, product personalization, sunglasses boutique and blow-dry bar are slated to launch soon.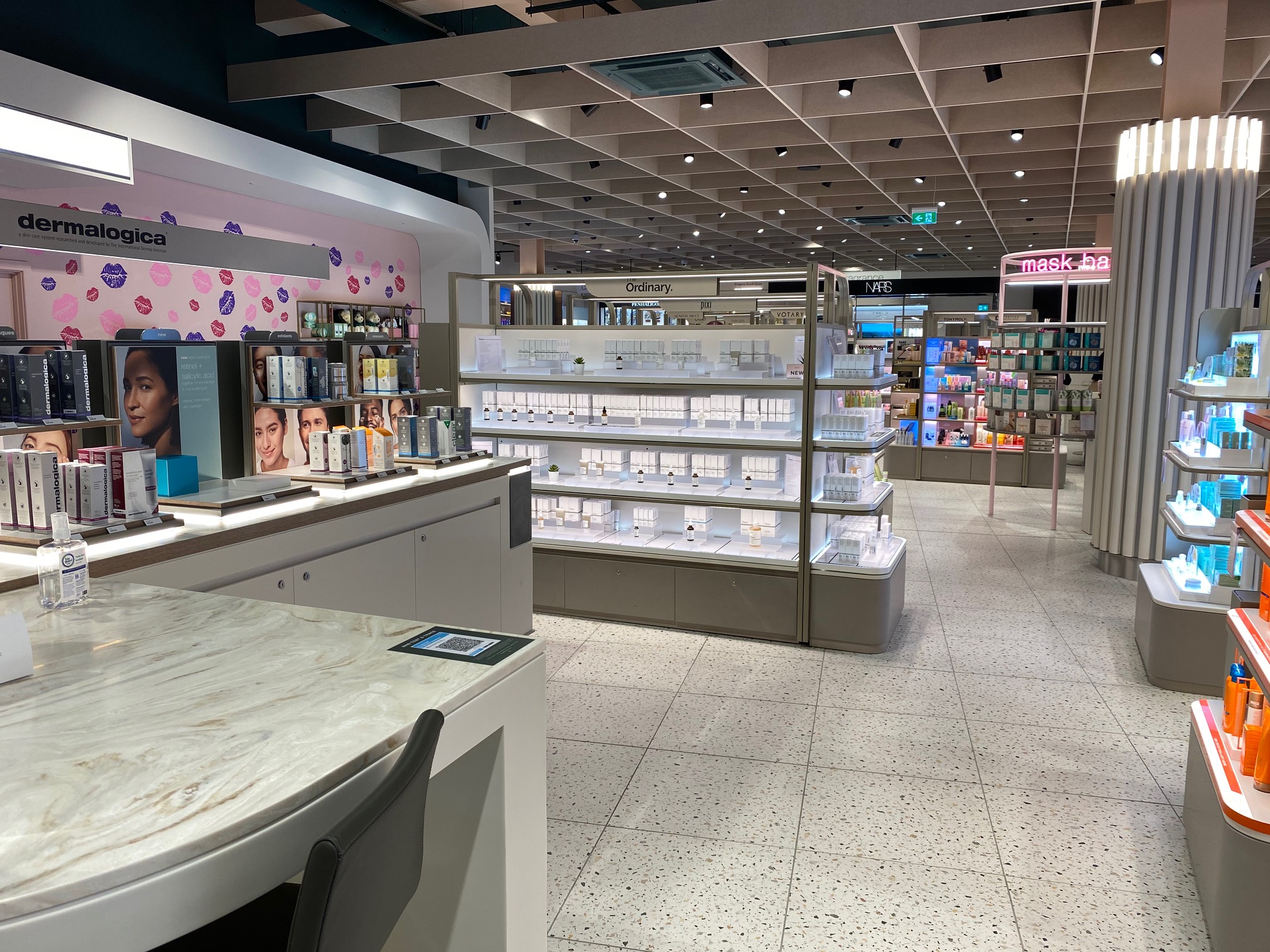 Customer service has been central to Harrods' 171-year run, and it's at the heart of H Beauty, too. Gemma Murgatroyd, store manager at the Intu Lakeside outpost, says over 90% of the staff at the store are employed by Harrods and aren't brand representatives, leading to a relaxed shopping experience since beauty consultants aren't ferociously selling for commission and targets. Staff also wear their own clothes. They're instructed to "dress for their day," and look chic and smart rather than adhere to the buttoned-up business attire on display at the Harrods in Knightsbridge.
The subtle tweaks foster an inclusive ambiance. The inclusiveness is reinforced by an online campaigned entitled "My Beauty" that showcases models cast on the street, including a Muslim beauty influencer and a non-binary trans activist, and promotes the message that everybody is welcome at the store. Consumers seem to be enjoying the approach. Murgatroyd reports that H Beauty has recorded 100% satisfaction rates so far in shopper exit interviews.
Harrods is examining customer data to determine possible future locations for H Beauty and refine the brand portfolio to address local audiences. A location in Milton Keynes, a town 50 miles northwest of London, in planned for next year. Beauty Independent has been informed that two other locations are now confirmed and could place H Beauty in prime positions as shoppers continue their exodus from department stores. "Consumers overall are turning towards specialist retailers for product discovery and purchases," says Roberts. "Whilst H Beauty falls under the Harrods' umbrella, this trend is very much in favor of Harrods' new concept stores."