Has The Beauty Industry Finally Reached Peak Celebrity Brand?  
Coty Inc. is spending $600 million for a majority stake in Kylie Cosmetics, a brand that's facing a much different beauty landscape today than it did when it launched four years ago. Partially due to its rise, celebrities have poured into the beauty industry.
In the last few months, Lady Gaga unveiled makeup line Haus Laboratories, Millie Bobby Brown ventured into gen z skincare with Florence by Mills, Tracee Ellis Ross introduced textured haircare collection Pattern, Kesha announced a cosmetics line, and Victoria Beckham put her Estée Lauder past behind her enter the clean beauty segment with a namesake beauty brand. And the Kardashian-Jenner clan made beauty news long before the Coty headlines. Kylie Jenner extended to Kylie Skin in May; Kim Kardashian's KKW Beauty drops face and body products much quicker than Kanye drops albums; and Kourtney Kardashian is rolling out products associated with her lifestyle content website Poosh.
If that wasn't enough, a bevy of stars has been filing trademark paperwork for beauty brands like it's the latest Hollywood 'it' project. Selena Gomez, Gwen Stefani, Kendall Jenner, Ariana Grande, Khloe Kardashian and even baby Psalm West, following his parents' commercial proclivities, are among those that have people on their payrolls to shepherd U.S. Patent and Trademark Office documentation.
Of course, celebrities monetizing their renown in the beauty world isn't novel. Elizabeth Taylor and Jennifer Lopez have managed to mint money for decades selling perfumes. But the volume of celebrity beauty brands appears to be at an all-time high. The shift away from traditional celebrity spokeswomen, the importance of social media, where followings count more than IMDB credits, and a crop of companies and investors dedicated to turning fame into fortune have spawned an overflowing celebrity brand bandwagon. How many brands can it hold until it collapses? Will consumer demand for celebrity beauty keep propping up the celebrity parade?
Mallory Huron, beauty editor at Fashion Snoops, predicts the bandwagon won't topple over soon. "The beauty market is already so outrageously saturated and, yet, it just keeps growing," she says. "I think everyone is just throwing their hat in the ring now because they've seen how easy it is, and a lot of celebrities and influencers have decided, 'Oh, if she can do it, maybe I can do it too.'"
Larissa Jensen, a beauty industry analyst at The NPD Group, agrees. "It all is like a perfect storm, if you will. You've got a successful industry that's super-hot right now, and everyone's jumping into [it], which is kind of making it oversaturated, and it's growing," she says. "You've got the barriers to entry in terms of creating a brand and getting it into the hands of the consumer [that] have fallen away. And, then, you have the fact that celebrities already have tremendous followings on their social media channels."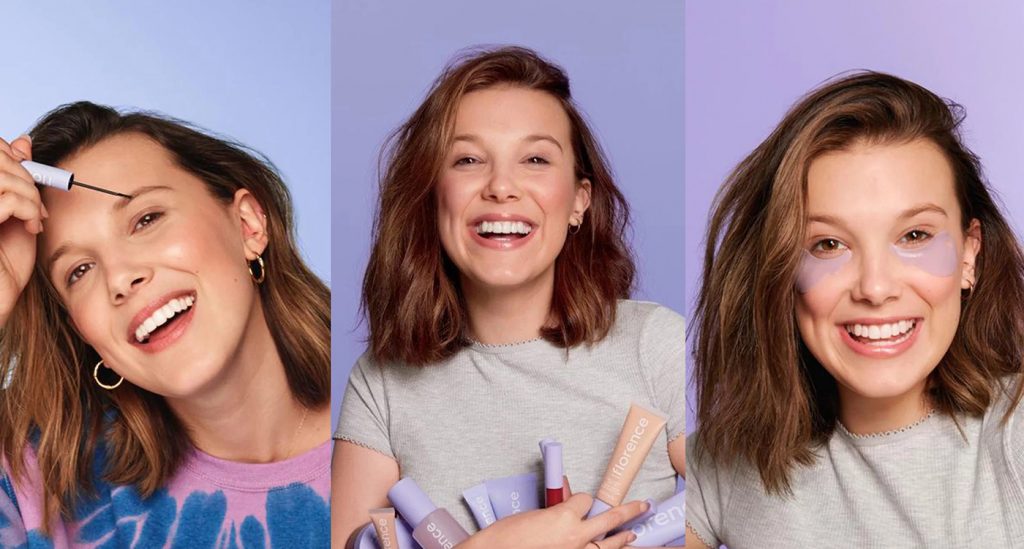 Celebrity wins beget celebrity imitators. Fenty Beauty epitomizes the lucrative possibilities of celebrity beauty lines. Launched in September 2017 under the umbrella of Kendo, an arm of luxury fashion behemoth and Sephora parent company LVMH Moët Hennessy, the Rihanna-fronted beauty brand generated roughly $570 million in 2018. Fenty Beauty's haul undoubtedly played a role in the pop singer securing an agreement with LVMH for her own fashion label.
There have been celebrity brand missteps, though. Kylie Skin's Walnut Face Scrub didn't receive a stellar reception. In a video for Florence by Mills widely slammed online, Brown flubs her skincare routine. Discussing the scrub stumble, Jensen says, "That launch highlighted some of the limitations and the inherent hypocrisy in some of these celebrity beauty launches. She launches an absolutely basic, nothing special, frankly overpriced line, touting it as the secret to her perfect skin…Regardless of whether or not Kylie Skin has given her a flawless complexion, Jenner has, on social media, an audience of impressionable young girls who believe that she really did use a walnut shell powder face scrub and got perfect skin, and they'll buy it."
Have these blunders rattled consumer trust? It doesn't seem so. Coty disclosed Kylie Skin is on track to reach $25 million in sales this year. Since it debuted in August, Cosmetify has found Florence by Mills to be one of the most engaged with beauty brands on the market. In an index of the hottest beauty brands this year, the beauty discovery platform wrote of Florence by Mills' Instagram feed, "Each post on the account generates around 100,000 likes and 1,600 comments, which is an incredible engagement rate of 11.81%, although it helps when your founder is one of the most famous young actresses in the world, with a huge gen z fan base of her own."
The enormous fan bases of celebrities, and the direct lines of communication they have with their fans give them advantages over lay beauty brand founders. While some customers may retreat from a celebrity beauty brand when the personality behind it is disingenuous, there are others that will come to a celebrity's defense. "There's a certain level of people that just [think] celebrities can do no wrong," says Huron. "You've got the rabid fans and, then, you have everyone else. At the end of the day, how far will that take you? I don't know."
"We are headed to a saturation point or at least a tipping point."
While sensitive to inauthenticity, gen z and millennial consumers are forgiving. Ava Mae Leslie, a 14-year-old middle school student in Los Angeles, has seen the memes on social media about Brown's infamous skincare routine, but she adores the actress anyway. "I think people my age are very interested in these products, especially if we are a fan of the creator," says Leslie. "I actually really want some of the Kardashian products right now."
Eva Nienhouse, a magazine editor from Traverse City, Mich., 24, doesn't consider herself "super into makeup," but she's still interested in the "celebrities jumping on the beauty train," no doubt at least somewhat because she says she spots a celebrity beauty brand post almost every time she checks Instagram. Nienhouse admits, "I'd spring for a Lady Gaga lip gloss, and the only lip product I own is medicated Blistex."
Another factor fueling the celebrity beauty brand boom is fueling the beauty brand field at large. Direct-to-consumer business models have allowed brands to bypass conventional brick-and-mortar retail, and many celebrity brands are going the direct-to-consumer route or popping up on Amazon. Haus Laboratories has made Amazon its home. However, there are notable entrants into retail such as Florence by Mills', Pattern's and Kylie Cosmetics' partnerships with Ulta Beauty. Facing traffic woes, conventional retailers are hungry to tap celebrities' audiences.
"You don't need the traditional supply chain, and the retailer partnerships and advertising, and all that you needed years ago," says Huran. "You can pretty much kind of hit the ground running and go direct to consumer."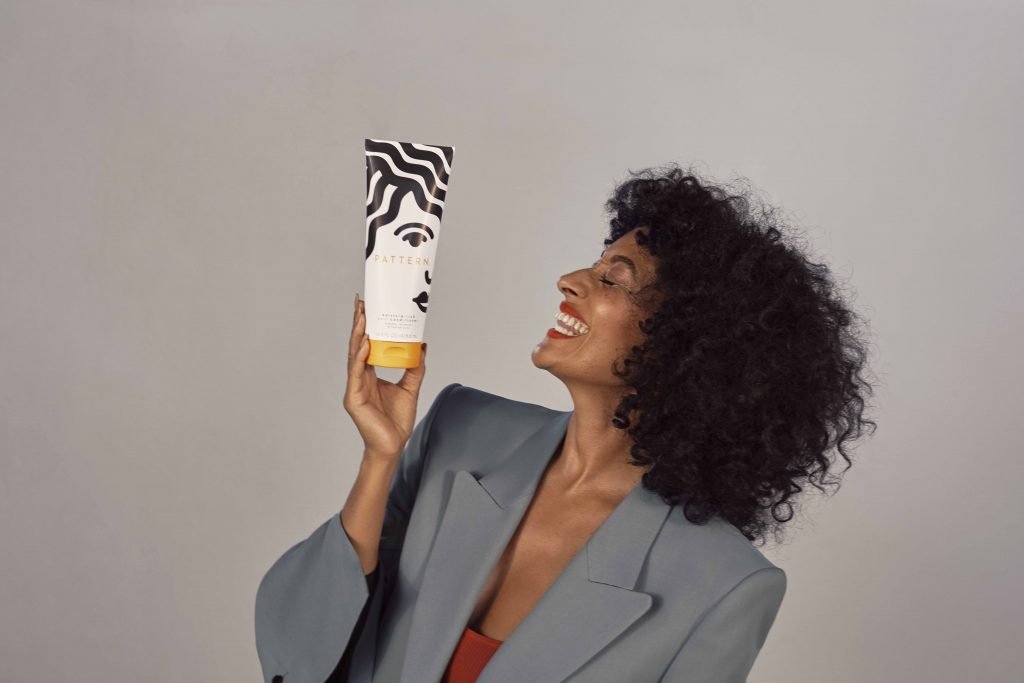 Although celebrity beauty brands garner a ton of buzz, they don't actually command substantial market share. In prestige beauty, Jensen points out, "Celebrity brands, if you look at them in total, their volume makes up less than a half a percent [of sales] of the total category." In haircare, she continues, revenue from celebrity brands "is so tiny, it's not even worth talking about." Across the beauty market, fragrance is the category with the highest percentage of celebrity-related sales. They account for 1.5% of the annual prestige fragrance till.
Celebrity fragrances offer a cautionary tale. Their sales are down 10% as consumers have grown weary of celebrity scent release after celebrity scent release, and preferences turned to niche brands with comparably interesting fragrance concepts. The same fate could befall celebrity makeup, skincare and haircare products. Fame is often fleeting, and Jensen warns that the beauty industry's latest fling with it could flame out.
"We are headed to a saturation point or at least a tipping point because so much of it hinges on the influence that celebrities and influencers have on social media," she says. "Wherever [social media] goes, you'll see these launches go. Because, at the end of the day, all these media lines represent is just another way for celebrities and influencers to expand their brands."
Coty's shareholders maintain celebrity beauty has runway left. After the conglomerate revealed its deal for 51% of Kylie Cosmetics, its stock price climbed 2.6% on Monday. In a research note, Citigroup analyst Wendy Nicholson cautioned, "The biggest risk to this acquisition is that Kylie loses interest in the beauty business, or that her social media presence and/or popularity fades." That risk isn't unique to Jenner. Her celebrity competitors are subject to it—as is the entire celebrity beauty category. Just ask Justin Beiber, whose perfume Someday is decidedly yesterday.
KEY TAKEAWAYS
Celebrities are pouring into the beauty industry. In the last few months, Lady Gaga, Tracee Ellis Ross, Millie Bobby Brown and Victoria Beckham have launched beauty brands, and more celebrity brands are in the pipeline.
Coty Inc. is picking up a 51% stake in Kylie Cosmetics for $600 million, an amount that values the brand at $1.2 billion. The company is banking on the persistent popularity of Kylie Jenner.
In recent history, despite stumbles, many celebrity beauty brands have been successful. Rihanna-fronted Fenty Beauty, which is in LVHM-owned Kendo's portfolio, generated roughly $570 million in sales in 2018. Coty disclosed Kylie Cosmetics is on track to generate $200 million in sales this year, and Jenner's skincare line Kylie Skin is slated to hit $25 million.
In a crowded beauty market, celebrities' built-in audiences and social media presences are important sales drivers. Today, they can reach those audiences via direct-to-consumer channels and bypass traditional retail. For their part, traditional retailers are hungry for popular celebrity lines to draw traffic to their stores.
There are examples of celebrities (Elizabeth Taylor, Paris Hilton and Jennifer Lopez, to name three) that have minted money for years from beauty products. But there are more examples of celebrities whose beauty product sales have declined (at one point, Salma Hayek and Eva Mendes had brands). While celebrities bring a ton of buzz, their brands don't command great overall market share. The NPD Group estimates that celebrity brands contribute less than 1% of prestige beauty sales.
The ill-fated celebrity fragrance segment demonstrates that beauty categories dependent on celebrity are due for a reckoning when the allure of fame fades. The skincare, haircare and makeup segments could follow fragrance's path if celebrities continue to pile in.