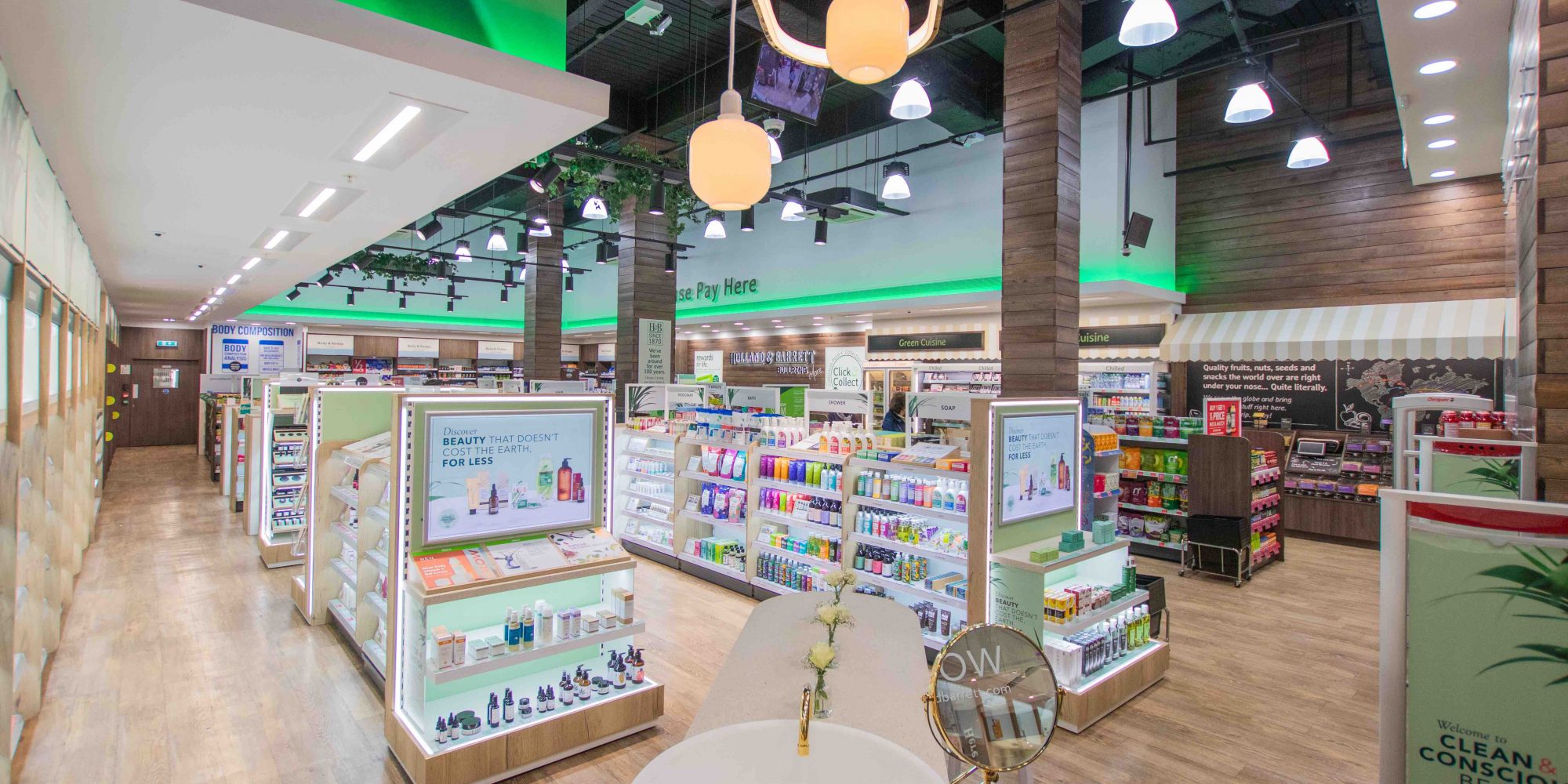 Health And Wellness Chain Holland & Barrett Opens Clean Beauty Store In Birmingham
The Bullring & Grand Central shopping center in Birmingham, the second biggest city in the United Kingdom, covers 350,000 square feet with 200 shops, including Boots, The Body Shop, John Lewis, Superdrug, Selfridges, Morphe, H&M and Zara. Holland & Barrett is officially entering the shopping center's retail directory on Wednesday to test-drive its new Clean & Conscious store concept.
Once a place for vitamins and gluten-free snacks before they became ubiquitous, Holland & Barrett, Europe's largest health and wellness retailer with 1,300 stores, has transformed into a beauty player at the forefront of movements shaping consumer purchasing behavior. The retailer defines clean and conscious products as those without ingredients such as parabens, microbeads and Sodium Lauryl Sulfate or SLS, and that are manufactured in a manner that pays attention to limiting water, uses sustainable ingredients and minimizes waste.
The Clean & Conscious store spotlights vegan, waterless, sustainable and zero-waste merchandise. Sustainable products are defined as being constructed from refillable, recycled and recyclable materials, and zero-waste brands are working toward eliminating their waste that would otherwise go to landfills and oceans. Holland & Barrett has added 34 beauty brands and 620 new products to showcase in its Clean & Conscious format. Among the brands are Ren Clean Skincare, Inika Organic, Ilapothercary, Evolve, TanOrganic, Hanna Sillitoe and This Works. Product demonstrations are regularly held at the store. This month and next, for example, Urban Veda is performing facials and hand massages; Inika Organic is doing color matching; and True Skincare is hosting mask-making sessions.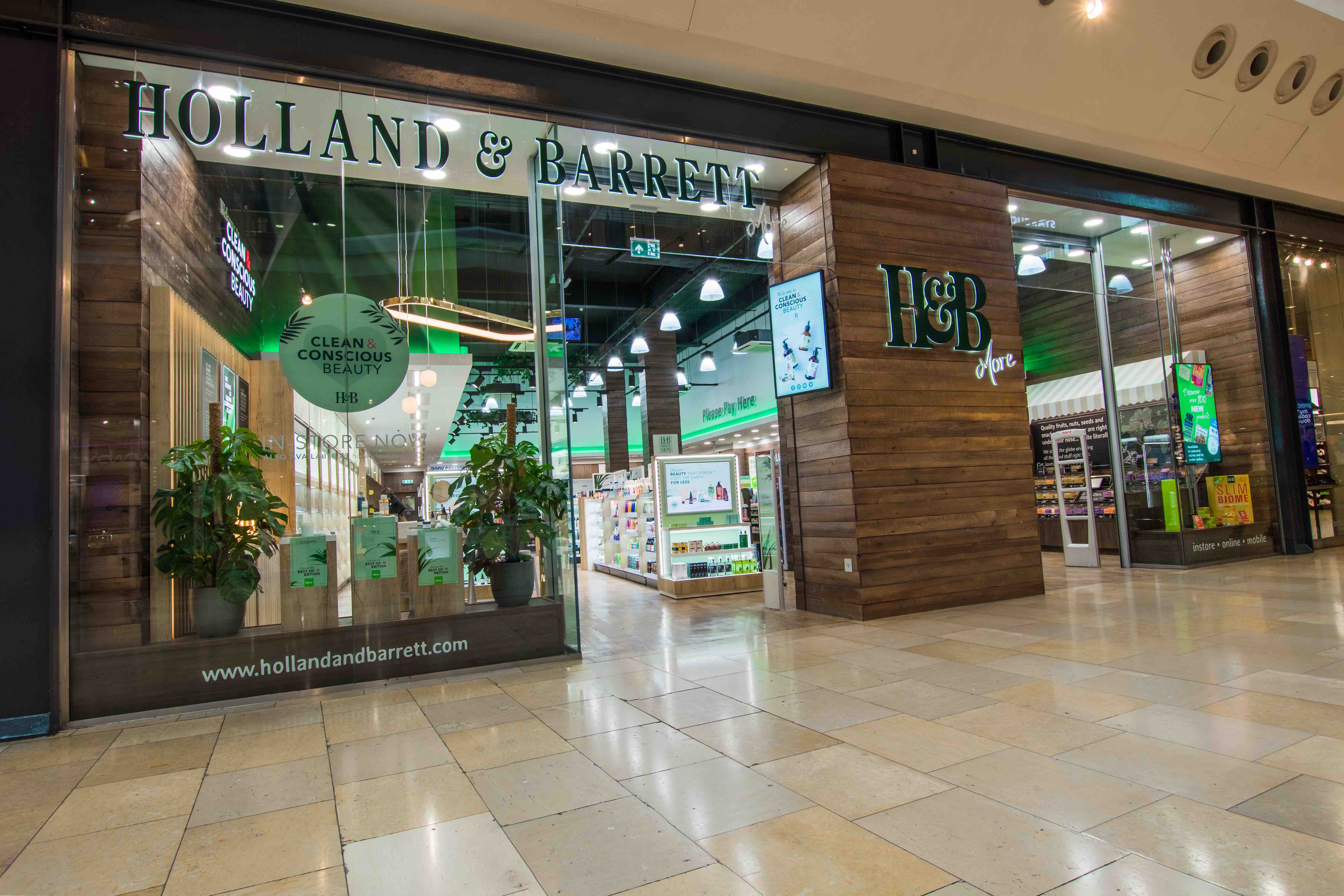 "Holland & Barrett has always been clean when it comes to beauty. It's only now the other retailers are taking notice and joining in on the trend," says Joanne Cooke, beauty category director at Holland & Barrett. "We wanted to take this a step further and offer conscious products as well, [meaning] products that don't cost the earth, [have] sustainable packaging, [and are] zero-waste, waterless and vegan."
The debut of the Clean & Conscious standalone store follows a strong holiday season for Holland & Barrett. Overall, its fourth quarter sales rose nearly 5% from the prior year, and its e-commerce sales specifically jumped 22%. Holland & Barrett reported clean beauty and vitamin sales surged during the quarter. The Clean & Conscious store's Birmingham location, 163 miles from London and 90 minutes from the capital city by train, was chosen carefully. According to the U.K.'s Retail Gazette, Birmingham is one of the youngest cities in Europe, with 40% of its nearly 1.3 million people under the age of 25. Plus, it attracts 41 million visitors annually.
"Holland & Barrett has always been clean when it comes to beauty. It's only now the other retailers are taking notice and joining in on the trend."
It's also not too far from Holland & Barrett's headquarters in Nuneaton. "This is one of our bigger stores, which we can easily get to from head office. [That's] meant we have been able to be fully involved in all aspects," says Cooke. "We are a Midlands-based company and wanted our first concept store to be in the Midlands, too." The Midlands refers to the central region of England. Nuneaton is roughly 25 miles from Birmingham.
Holland & Barrett isn't the only retailer interested in Birmingham. Primark opened its largest store in the world in the city last year at an estimated expense of 70 million pounds or almost $90.3 million at the current exchange rate. Neighboring the Bullring shopping center, it occupies 161,000 square feet and five floors. The megastore could help Holland & Barrett's new venture by increasing footfall in the area.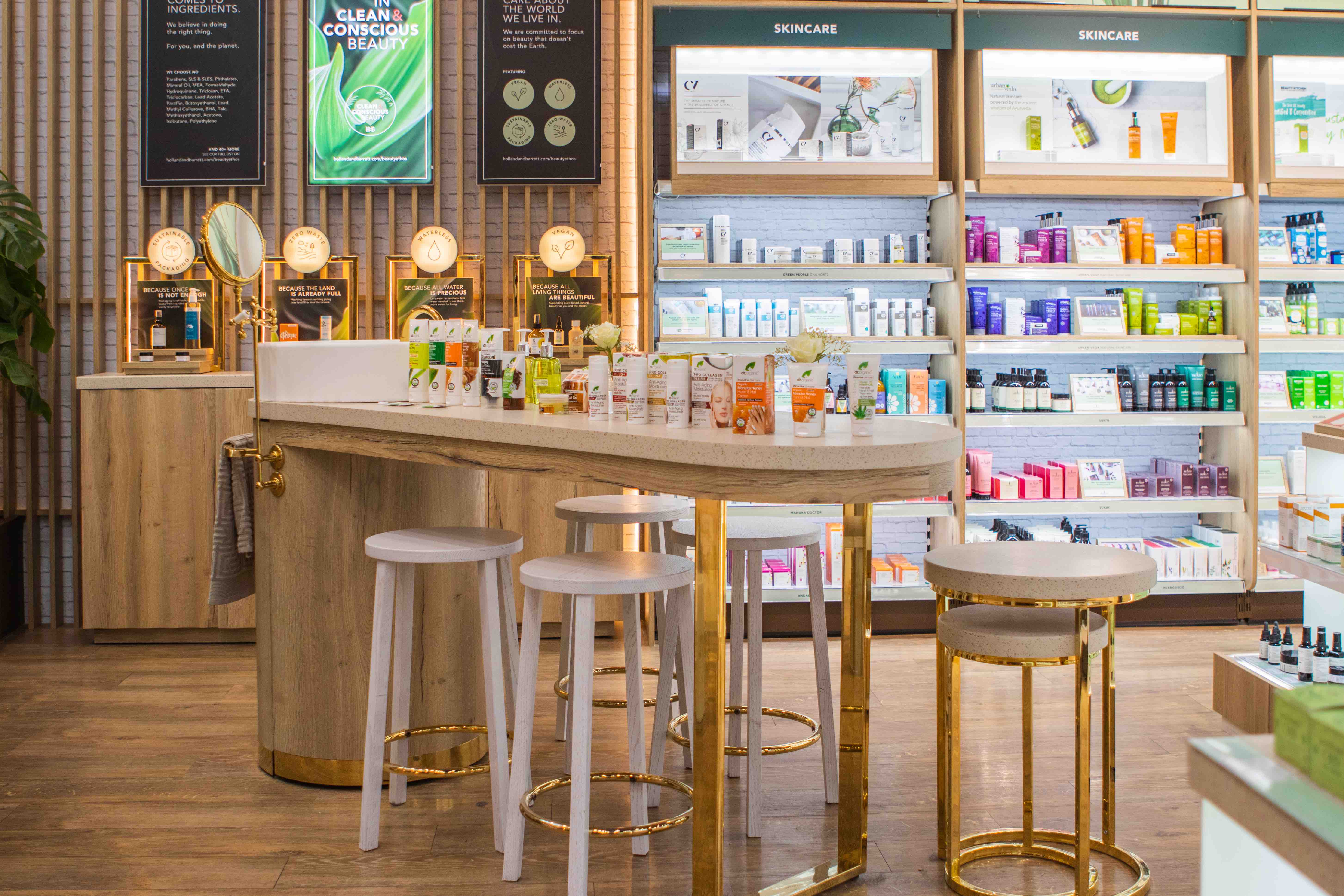 Brands are buoyant about the concept. "As pioneers of clean beauty, we are delighted to join Holland & Barrett's Clean & Conscious beauty concept store," says Arnaud Meysselle, CEO of Unilever-owned Ren. "As the skincare market is becoming more saturated with new 'clean' brands, it's essential that customers have a space for trusted ingredients and education. We're proud that we can offer this alongside our championing sustainability solutions, inspiring an audience to reduce waste with our clean to planet ethos, and ambition to be zero-waste by 2021."
Holland & Barrett made a significant move toward sustainability by banning wet wipe products that are, for the most part, not biodegradable. The retailer has been expanding its assortment of brands that put the earth at the center of their purpose. In July, it introduced Ethique, a specialist in plastic-free beauty bars. The brand promptly sold out and accumulated a waiting list with over 55,000 people. At the Clean & Conscious location, recycled materials are incorporated throughout the space, and there are refill stations to enable consumers to reduce the environmental impacts of their beauty habits. Cooke emphasizes Holland & Barrett is aware of the environmental consequences of a protracted supply chain, too.
"At all times, our products from across the seas are sent by sea freight, which has proven to be the least carbon negative way to transport goods, and we work with our suppliers to optimize deliveries and ensure our carbon footprint is as minimal as possible," she says, adding "where possible, we encourage our suppliers to establish manufacturing facilities within the EU."