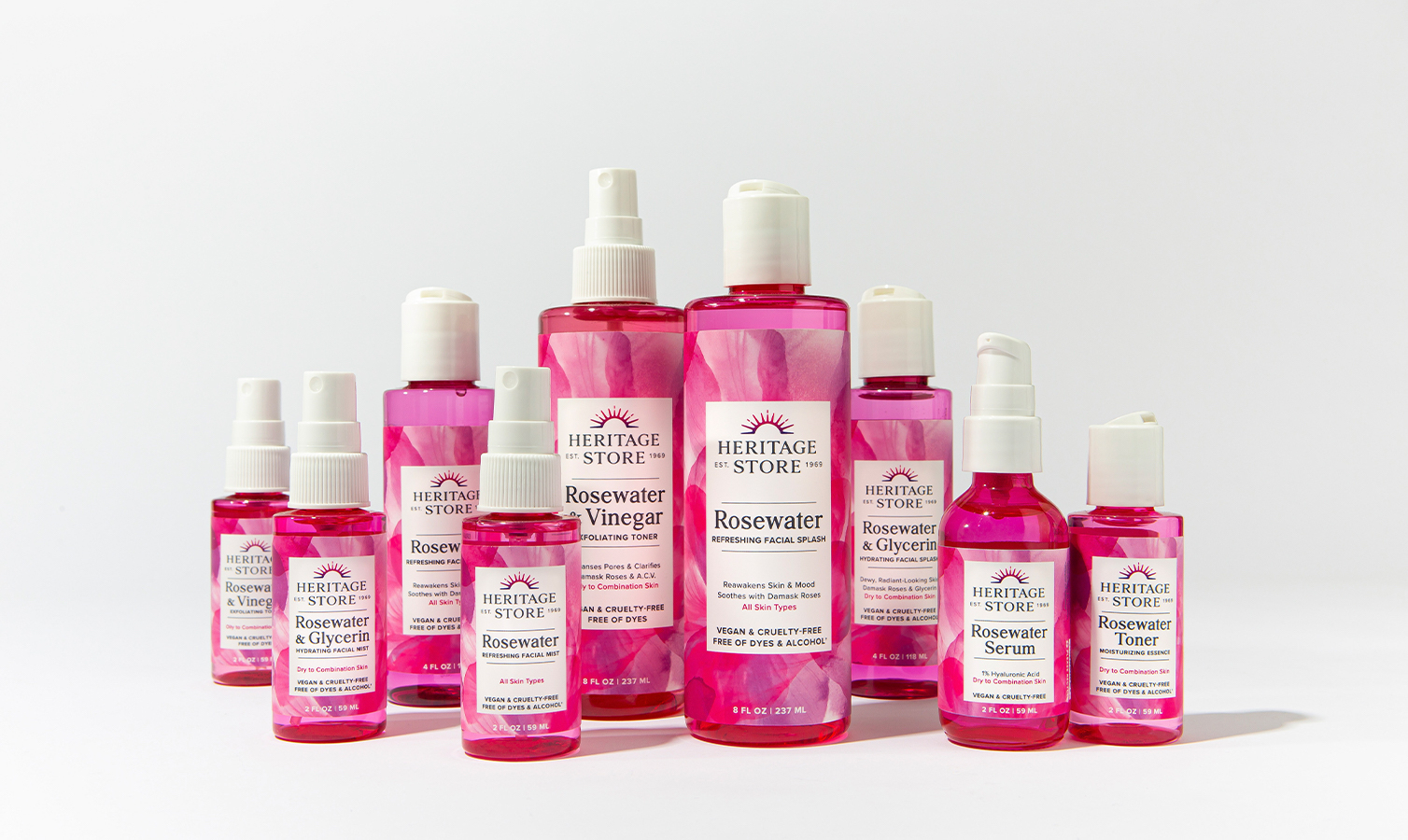 After Over 50 Years In Business, Heritage Store Undergoes Its First Rebrand And Enters Target Doors Nationwide
Heritage Store was doing spiritual skincare before it was cool.
It's very au courant these days for beauty brands to have a mystical aspect to their identities. Many sell crystal-infused formulations, cast spells on product batches and create items to be used during the full moon to activate positive healing energy. Established in 1969, Heritage Store was an authority on high-vibrational clean beauty and personal care products well before most of today's beauty brand founders learned to pronounce ashwagandha. 
Founder Tom Johnson started Heritage Store with a brick-and-mortar location in Virginia Beach, Va., close to Edgar Cayce, a renowned clairvoyant and the so-called father of holistic medicine. Johnson launched the brand with less than two dozen Cayce remedies formulated with locally made or naturally derived raw materials. He prayed and meditated over the products. Interest in Heritage Store spread by word of mouth and was stoked by mail order catalogs that Johnson began at the outset of the company. By 1970, Heritage Store built a new, larger location, and its popularity mounted.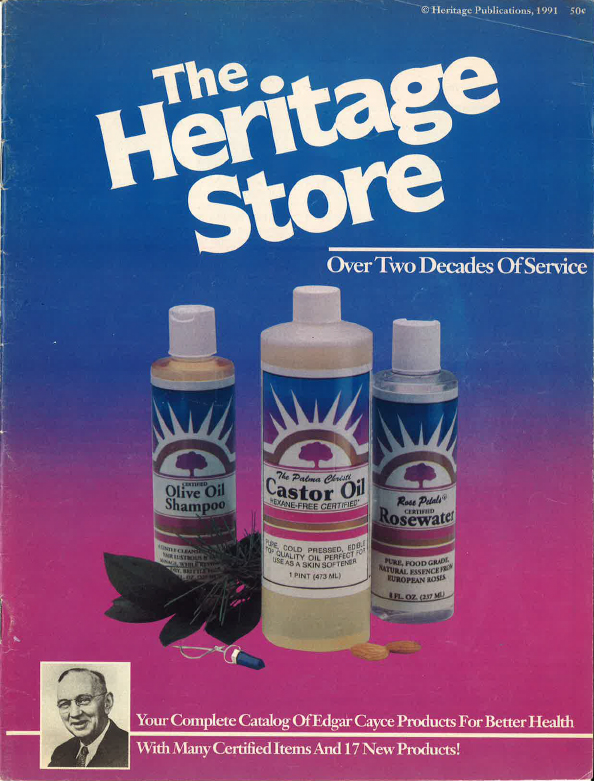 Johnson sold Heritage Store to health and wellness conglomerate Nutraceutical in 2016 for an undisclosed amount. In 2017, Nutraceutical was acquired by private equity firm HGGC for approximately $446 million. Heritage Store is among 50 brands in Nutraceutical's portfolio. Other brands are vitamin specialist Solaray, organic personal care maker Aubrey and intimate care range Emerita.
Now, more than 50 years after Johnson opened Heritage Store, the company famous for its Rosewater Spray has undergone its first-ever rebrand. While the former packaging was marinated in vintage cachet, CMO Maura Cannon Dick says Heritage Store had to evolve. "To truly be appealing for the next 50 years to consumers and to stand out on shelf and to be something beautiful you're proud to have out in your bathroom, it was truly time," she says. 
The Heritage Store logo, originally designed to depict a "healthy spirit radiating outward in an explosion of upper chakra colors like violet and blue" will remain, but the brand's labels got a painterly refresh from watercolor artist Stina Persson. "It's this beautiful rose petal watercolor design that we wrapped the bottle with to bring nature and soul and energy from her painting," explains Cannon Dick. "Then, the general brand, which is the castor oils and other products, has a beautiful sunset gradient that we wrapped the package with." 
"To truly be appealing for the next 50 years to consumers and to stand out on shelf and to be something beautiful you're proud to have out in your bathroom, it was truly time."
Heritage Store's straightforward formulas remain untouched in the brand refresh and feature the brand's signature ingredient, vor-mag water. "It's energized water that has been vortexed and magnetized to raise the energy to a higher vibration," instructs Cannon Dick. "It adds a basic molecular structure to water by creating a vortex within a magnetic field. It diffuses the water with high levels of oxygen and energy." Heritage Store also remains affordably priced, with no single product retailing for above $20. Most items sell for under $10.
Heritage Store hopes its revamped packaging will help grab shoppers' attention at Target. Starting late last year, the brand began rolling out to Target doors nationwide with its three Rosewater products, Castor Oil and Blemish Toner enriched with salicylic acid, colloidal silver and niacinamide. Additional specialty skincare offerings like the brand's Ancient Healing Clay and Rosewater Serum will be sold at select Target doors as well as online.
"Target was identified as a dream partner, given the expansive distribution, the consumer profile and how it is differentiated from our health food store customer," says Cannon Dick. "It's a new audience similar to Ulta. We really wanted to differentiate and not double dip and be everywhere, to really be strategic and thoughtful about it."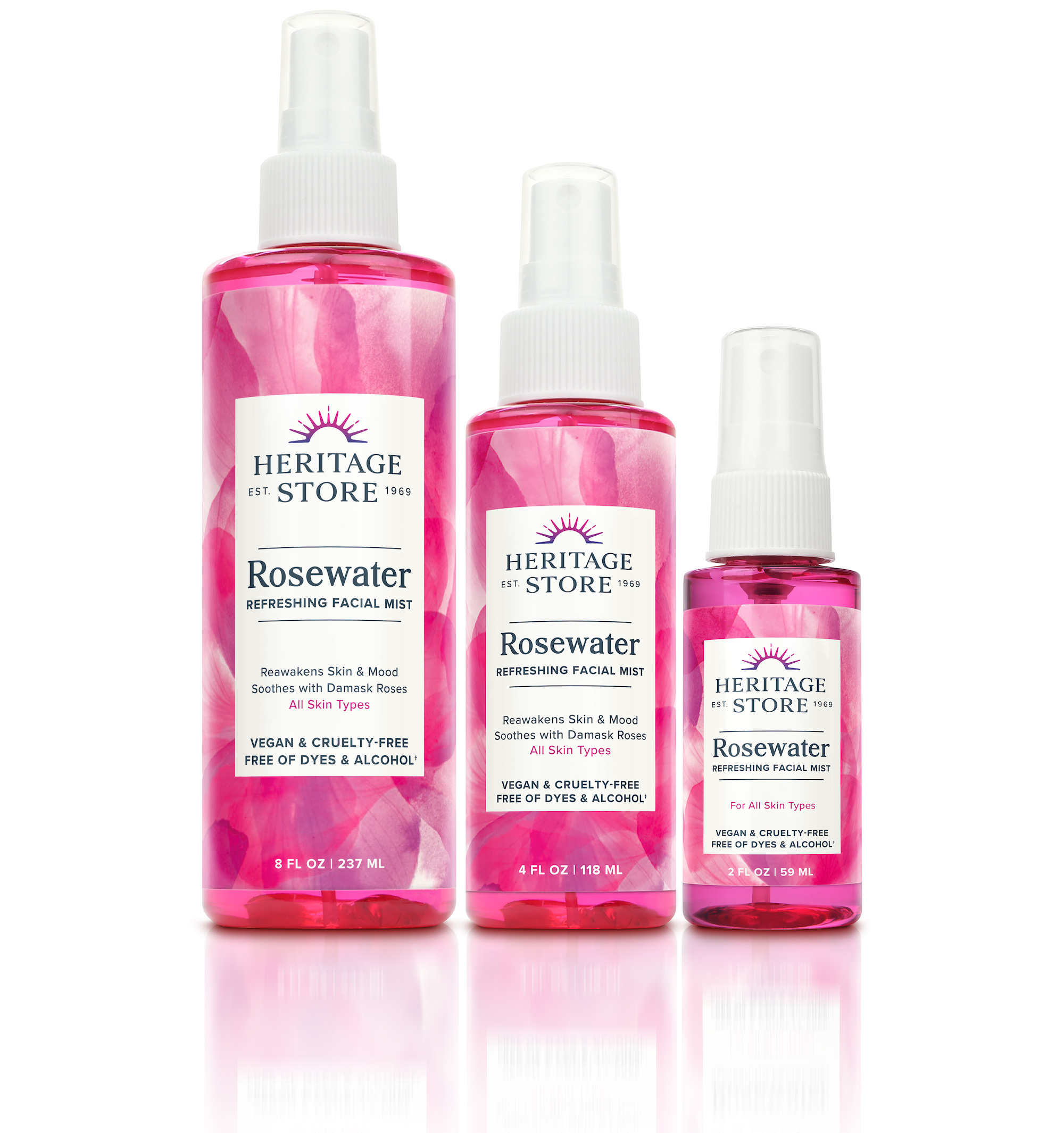 Long a health food store darling, Heritage Store has stretched its retail network to 5,000 locations in the United States. On top of Target and Ulta Beauty, major retailers stocking Heritage Store include Whole Foods, Sprouts, Natural Grocers, The Vitamin Shoppe, Urban Outfitters and Thrive. In the United Kingdom, the brand is available at Cult Beauty. Further international expansion is a focus for the coming year. Heritage Store's sales have been growing 20% to 30% annually. 
"We definitely continued our acceleration last year. We had expanded distribution in stores like Target, where there was still great foot traffic," says Cannon Dick. "We have aggressive sales goals for this year."