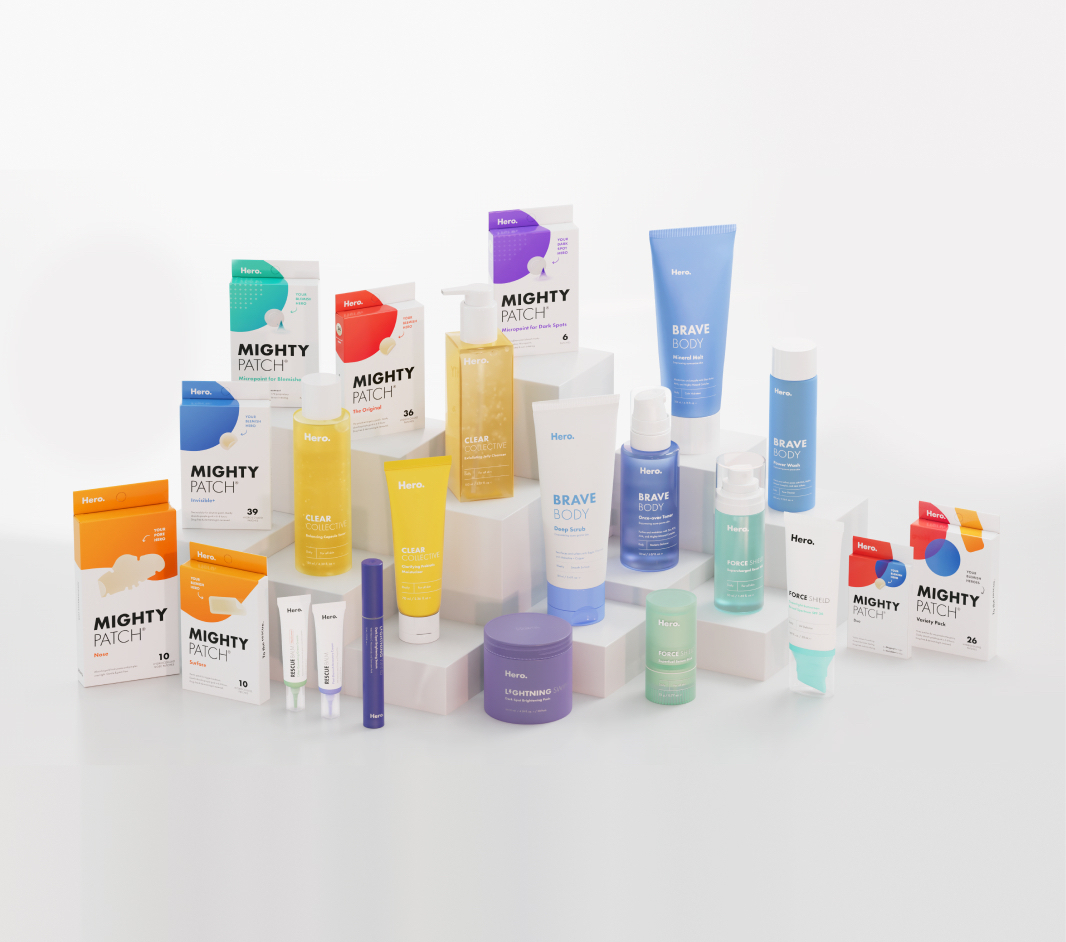 High-Growth Pimple Patch Brand Hero Cosmetics Speeds To $630M Deal With Church & Dwight
Mighty Patch maker Hero Cosmetics has scored a mighty exit.
Consumer goods conglomerate Church & Dwight is acquiring the brand for $630 million, a 5.5X multiple of the $115 million in sales it rang up over the last 12 months and a 14X multiple of the $45 million in earnings before interest, taxes, depreciation and amortization or EBITDA it generated during the same period, following five whirlwind years of meteoric growth.
"I really do think this is a win, not just for Hero, but the larger beauty community and all the founders that are working hard to build their businesses," says CEO and co-founder Ju Rhyu. "It shows that you can build a business that's both high growth and has high profitability, bootstrapped. When you build a really great business, people notice."
Hero launched on Amazon in 2017 with one product, its signature hydrocolloid pimple patch Mighty Patch, which took Rhyu less than $50,000 to develop after discovering hydrocolloid pimple patches while living in South Korea from 2012 to 2014. The brand was profitable from day one and has registered a whopping 3,505% growth over the past three years.
Today, it has seven patch varieties and five non-patch products priced from $12.99 to $19.99. Its products cover the entire life cycle of a pimple. According to the brand, a box of Mighty Patch sells every 2 seconds.
In addition to Amazon, Hero is currently available at Target, Ulta Beauty, Anthropologie, CVS, Goop and other retailers. Church & Dwight reports it's the No. 2 acne brand in the United States (Neutrogena is No. 1), and the No. 1 pimple patch brand. For acquisitions, the conglomerate targets growing brands leading their categories that are gross margin accretive and asset light.
Like Hero's growth, it had a fast path to exit. Talks with Church & Dwight started in early 2022, and the deal was signed on Aug. 31. Rhyu admits she thought Hero would have another year or two before an acquisition would be seriously considered. "The timetable really sped up," she says. "Once you start really hitting scale, the game changes, and you need to think about things that you didn't really think about before. You have to grow up really fast."
Rhyu and her co-founders at Hero, Dwight Lee and Andrew Lee, choose Church & Dwight because of the two organizations' simpatico cultures. "When we met them, we immediately liked them, we clicked right away," says Rhyu. "I love their leadership team. I thought it really mirrored our leadership team in terms of being really collegial and collaborative. They're smart, down-to-earth people who just want to win."
The multinational's capabilities were also a huge draw for Hero, which has yet to expand beyond the U.S. "They have a global presence, and then they sell products in almost every U.S. retailer," says Rhyu. "They have the relationships that would be useful to us. It all made sense." 
Rhyu will stay on as Hero's CEO and continue to lead the brand's strategy. COO Dwight Lee and chief design officer Andrew Lee are staying on in their current roles, too. They can teach Church & Dwight a thing or two about mastering Amazon, where Mighty Patch is consistently the top-selling beauty product, and gaining steam with gen Z on social media platforms, especially TikTok. Hero has garnered 4.4 million likes and 119,700 fans on TikTok. 
Church & Dwight has been explicit about its desire to learn from acquired brands to gain a younger audience. When the company purchased oral care brand Therabreath last year, CEO Matthew T. Farrell pointed to its popularity with younger consumers as part of the appeal of the brand.

Hero's modern branding could help breathe new life into the conglomerate's stable of beauty and personal care companies which includes Nair, Batiste, Trojan, Waterpik and Arm & Hammer and hair removal specialist Flawless, Church & Dwight's most recent beauty brand acquisition, which it purchased in 2019 in a $429 million deal.
Hero received a minority investment from Aria Growth Partners in 2020, a year in which the brand experienced 300% growth. Hero was Aria's first investment and now mark's the 1-year-old firm's first exit. Aria co-founder Jackie Dunklau says, "It's been incredible to see how quickly the brand has caught on with consumers, solving an unmet need for so many people searching for better acne solutions. Ju and the Hero team have done an amazing job navigating explosive growth while being disciplined and always putting their customer first."
Rhyu details that Hero is very disciplined about innovation. It classifies products in three categories of pimple care—daily care, repair and restore—and tries to identify what's missing in the market in those categories as it creates products. "People might come in through the Mighty Patch, but the cross-sell and upsell across our portfolio is really high," says Rhyu. "I think we've proved that having a pretty edited number of SKUs and assortment around everything about getting rid of your pimple is a strategy that really works."
As it eyes international growth, Hero is looking to grow domestically, too. Rhyu shares it has 8% ACV or all commodity volume in the U.S., a measure of product availability based on total store sales, and 4.4% household penetration. Hero's goal is to lift ACV to 80% to 90%. "There's still so much more white space for us," says Rhyu, noting the brand only has a single product at CVS locations nationwide. "There's a lot more doors for us to tackle in the U.S."
With a lot to do to accomplish Hero's goals, Rhyu isn't pausing long to celebrate the brand's exit. "For me, it's a moment in time. It's not the end," she says. "There is a next chapter, and I'm staying for that next chapter."