How BIPOC Founders Can Secure Smart Money To Build Their Beauty Brands
"There's smart money, and there is dumb money," declared Thirteen Lune co-founder Nyakio Grieco, speaking during a Beauty Independent In Conversation webinar last week on funding for BIPOC-owned brands. 
Grieco, who joined Bossy Cosmetics founder Aishetu Fatima Dozie and Live Tinted's Deepica Mutyala on the webinar, has encountered offers of dumb money as she's built her businesses. Launched in 2002, her beauty brand Nyakio Beauty debuted at retail tastemaker Fred Segal before it swelled distribution to over 180 boutiques and struck a partnership with HSN. In 2013, Sundial Brands acquired the brand and, three years later, Unilever picked it up.
Grieco's second beauty foray, beauty e-commerce platform Thirteen Lune, announced a $3 million funding round led by Fearless Fund, in November last year. Early investors include Fearless Fund, Gwyneth Paltrow, Sean Combs, Naomi Watts, and Beautycounter founder and CEO Gregg Renfrew.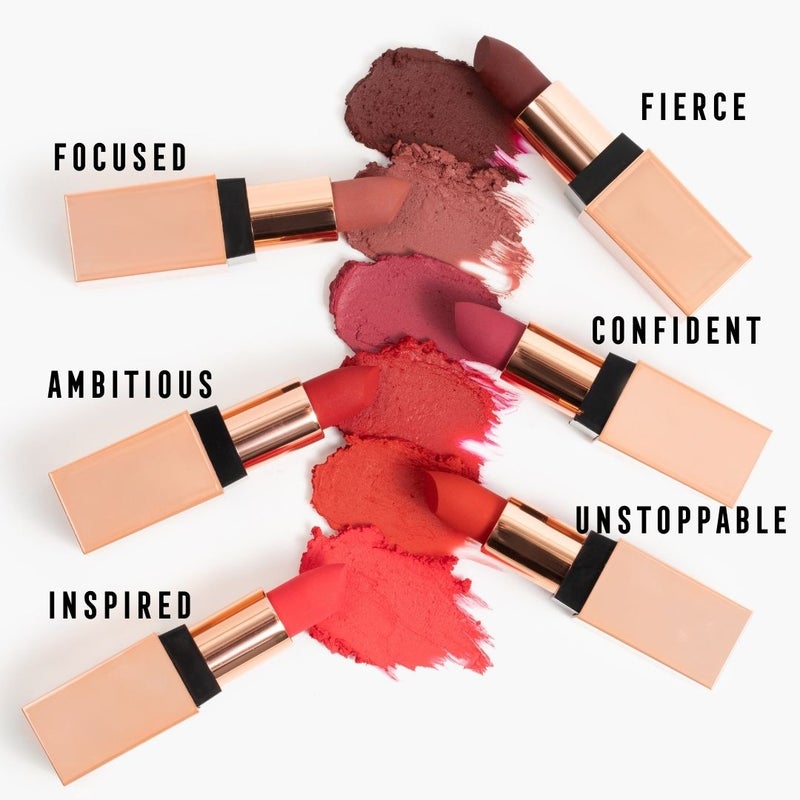 "Dumb money is just a check, and it can be somewhat of a predatory check," says Grieco. "I'll give you this little bit of money, but I want all of this from you, and it usually comes in the form of equity." She advised brand founders to zero in on strategic opportunities, not simply cash, and be wary of investors vying to seize majority control early on. Grieco said, "The smartest thing you can ever do when bringing on investors is to bring people to the table who have either done something I want to achieve or have a skill set that I don't so that I can learn from them." She emphasized that sussing out an angel investor or firm that's a "personality fit" should be an important consideration for founders aiming for a successful partnership.
The webinar participants counseled founders to tap into their networks, particularly friends and family, initially. Social media can be an ideal place to start. Fatima Dozie's Bossy Cosmetics was self-funded when she began to share its message on social media, including LinkedIn, to get feedback. James White, former chair, president and CEO of Jamba Juice, came across Fatima Dozie's profile. He asked to invest in Bossy Cosmetics and make introductions on its behalf. White's retail connections and understanding of the CPG segment have been invaluable to Bossy Cosmetics. Fatima Dozie said, "I have such a diverse cap table and everything that connects them is this belief in what I am trying to build for women through this business." 
Mutyala formed a relationship with industry veteran and eventual investor Bobbi Brown through Instagram DMs. "You have to put yourself out there and get uncomfortable with yourself," said Mutyala. Live Tinted has raised $3 million in funding. Along with Brown, among its investors over various rounds are Montage Ventures, Halogen Ventures, Curate Capital, Fearless Fund, NYX Cosmetics founder Toni Ko and Birchbox co-founder Hayley Barna. 

Mutyala pinpoints to $100,000 as a good fundraising benchmark for young brands raising their first round. "I actually remember doing the calculation after we raised our pre-seed and thinking, 'What is it that we actually needed versus the cushion that we built in?' And if you dwindle it down, that is [about] the right amount," said Mutyala, who kicked off her beauty industry career as an intern at L'Oréal before joining Birchbox in brand development and campaign strategy. In 2015, a YouTube video of Mutyala applying red lipstick to color correct her dark under-eye circles went viral, turning her into an accidental influencer and leading to her nabbing a monthly segment on the television show 'Today." Her cosmetics brand Live Tinted launched with a hue correcting stick in 2019.
While growth is a crucial goal for young brands, Mutyala underscored rapid growth can be tricky. "Birchbox had incredible success, but that kind of growth also makes you not stay focused on the core part of your business," she said. For Live Tinted, she's taking a measured approach to cultivate a brand that has a life beyond her. "There's so many dreams and aspirations I have for Live Tinted. A lot of investors told me, 'You already have a following, why don't you just launch a product and call it Deepica Beauty?' But this brand was not about me," she says. "This was about a community of people who never saw themselves in the beauty industry."
Fatima Dozie, a former senior investment banking executive, developed Bossy Cosmetics with less than $10,000. She kept costs low by sticking to early orders of six to ten units per color of each product, avoiding paid advertising in favor of organic social media and using Canva to create assets herself. She only began paying herself a salary last month, but recommended founders compensate themselves with a "low, but livable" wage in the beginning. 
Fatima Dozie said having $100,000 on hand allows for six to 12 months of runway for founders to figure out whether their brands are gaining traction. "The market will tell you the truth. Put your foot in the water, ask lots of questions," she said. "The benefit of being small is you're super close to your community." Once a founder has proof of concept, raising capital is a typical next step on the roadmap to accelerate traction. After its launch, Bossy Cosmetics used money it raised to hire an experienced designer and overhauled its product packaging. 
Following the murder of George Floyd in 2020, retailers, investors and brands introduced initiatives to support BIPOC-owned brands. Bossy Cosmetics benefited from such initiatives, but Fatima Dozie called out many of them as performative and questioned their results. "If you are not putting cash in my company's pocket, I'm not interested," she said. "Even if I got into a massive retailer, it takes $2 to $3 million sometimes to support that launch, where's that money coming from?"
Fatima Dozie revealed her race comes up in 99.9% of the conversations she has with venture capital firms. She encounters investors who wonder whether she'll be able to inspire white women and suggest Bossy Cosmetics should concentrate on selling just to Black women. Fatima Dozie said being a Black woman "is part of my identity, it's part of my story, but this sort of forcing you or pitching you to only think that you can inspire a Black audience as a Black founder is part of our conscious bias that we have in this society."
Ninety percent of Thirteen Lune brands are BIPOC-owned, but Grieco felt it was vital to have a selection of brands that aren't BIPOC-owned in order to prevent the segregation common in beauty aisles, and debunk the discriminatory myth that Black and brown people merely make products for Black and brown people. Ten percent of Thirteen Lune's brands are what it dubs ally brands like Goop, Vintner's Daughter and, soon, Olaplex.
Thirteen Lune has a relationship with J.C. Penney that Grieco described as anything but performative. Thirteen Lune is a partner on a beauty concept that entered 10 J.C. Penney doors last year. It's slated to be in 300 more doors by September this year and an additional 300 doors in 2023. Some of the brands showcased in the concept are Bossy Cosmetics, Prados Beauty, Shaz & Kiks, Mary Louise Cosmetics, Vernon Francois and Buttah.
"J.C. Penney's supporting myself as a Black-owned retailer, allowing me to bring all of our brands to shelf there as well as bringing bigger ally brands in and not giving us an [in-store launch] price tag that is unaffordable to these brands, affords the opportunity for these founders to actually grow successful businesses," said Grieco. "At the end of the day, Black and brown people spend the most money on beauty. We deserve more than 15% of shelf space." 
Grieco asserted, "The time is now for BIPOC founders…We're a great bet and a necessary business move for businesses and investors of the future to get on board now." Fatima Dozie said, "Really it's about, how are we going to close the pay equity gap? How do we get more women on boards? How do we get women to pull together and become angel investors?" She concluded, "I want more wealthy women, more women with power in the world."
To watch a replay of the webinar on funding for BIPOC-owned brands, visit Beauty Independent's premium In Conversation webinar library.