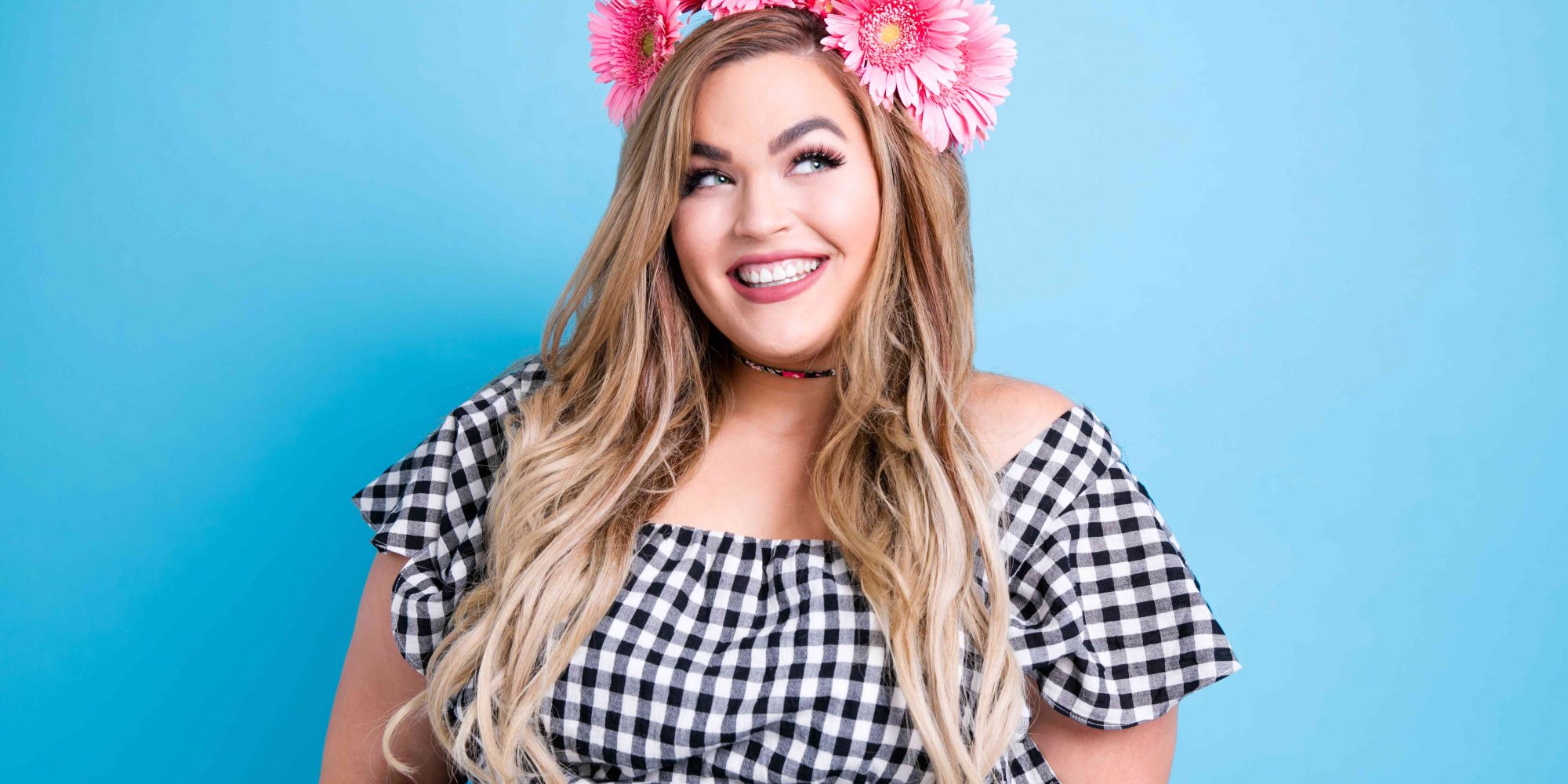 How Body Positive Is The Beauty Industry Really?
In September 2004, Dove unveiled its groundbreaking Campaign for Real Beauty with an ad for thigh-firming cream. It featured bigger than average models posing in lingerie alongside the words, "New Dove Firming. As tested on real curves." The contradiction inherent in telling women to feel comfortable in their skin, yet make it firmer wasn't lost on critics, nor was the fact that the women in the ad were thin and conventionally attractive. Dove was dragged again 13 years later when it shaped body wash bottles to represent women's differing body types.
Despite the criticism, the Campaign for Real Beauty helped grow Dove's sales by $1.5 billion in the decade after its premiere and inspired a series of body positive campaigns from other brands. For its 2015 MACnificent campaign, MAC held a competition for everyday people to become spokespeople for its new collection. Among the winners were trans model Trésor Prijs and plus-size woman Luzmaria Vargas. While the response to MAC's effort was generally positive, slogans like "Beautiful in and out because it's not about the size or color, it's the inside that counts" sounded slightly disingenuous from a company selling makeup.
Since then, beauty brands have been trying to craft more thoughtful and nuanced messages about body positivity through campaigns, products and the people at the helm. They often involve plus-size women not simply as faces, but as founders and impactful participants. In April, YouTuber Loey Lane launched a skincare brand designed for larger bodies called Love AnyBody. A promotional video for the brand incorporates models of various sizes, colors and genders dancing to a song with lyrics like, "I'm eating what I want when I'm hungry," and "Every size, every line, every girl, every guy, everybody who don't identify."
Available at Target, LoveAnybody's selection contains the products Anti-Chafe Ointment, Anti-Chafe Stick, Stretch Mark Cream and Stretch Mark Serum. The latter two items are reminiscent of Dove, but Lane insists their objective isn't the same as the objective of traditional stretch mark solutions. She stresses, "Our products focus on smoothing and soothing the skin, providing all the love for your body while promoting a message of self-love and care. We use language that isn't shaming or trying to 'fix' your body."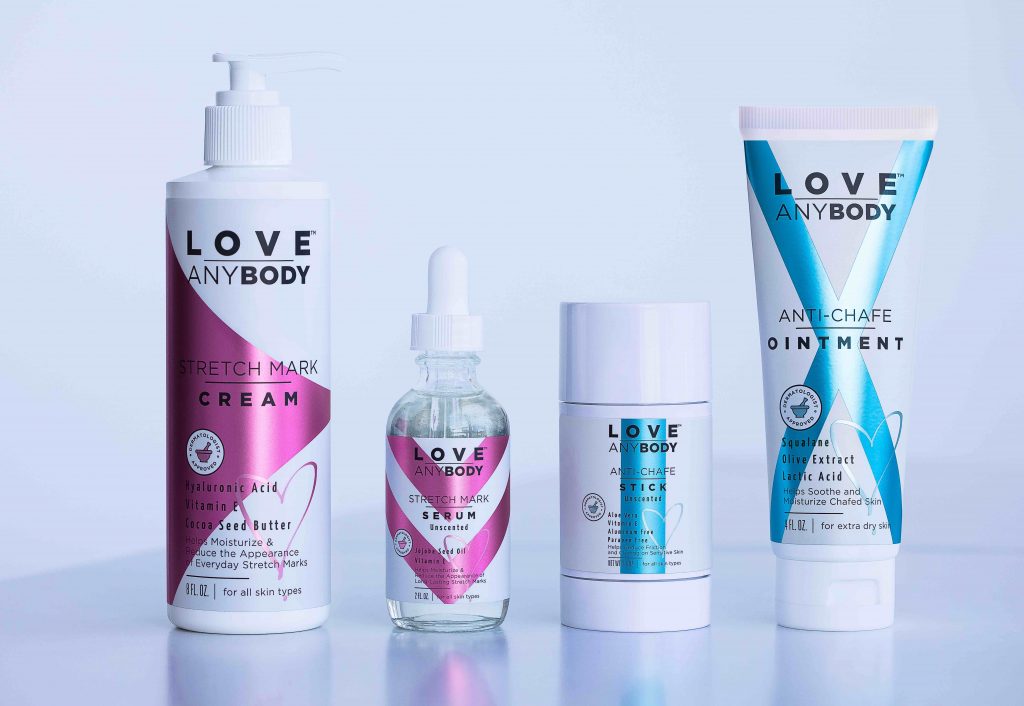 Lane adds that Love AnyBody's ingredients "help to support the natural regeneration of skin cells, which can lead to the softening of the appearance of stretch marks." She asserts. "I wanted to reclaim what we know a stretch mark cream to be. For a long time, all the products based around stretch marks have been marketed to erase them. We've been told that they're 'flaws' and that we should be hiding or removing them…What I want to do with Love AnyBody is change the conversation and center it on nurturing and embracing our unique bodies and the normalcy of stretch marks that we all have."
Body positive beauty brands concentrate primarily on comfort over looks. Megababe founder Katie Sturino says, "The media promotes the concept that we should all have thigh gaps, and the reality is that very few women do, which leaves the rest of us feeling inadequate. By acknowledging thigh chafe, we are saying, 'Ya, that's a thing…and you're not the only one who has it. And it's OK.' I think the beauty industry in general has ignored common women's comfort issues because they would rather sell you a wrinkle cream. I'd like to help lead the way in helping women solve issues without giving them more complexes." Megababe's product lineup includes an anti-chafe stick called Thigh Rescue, a boob sweat buster called Bust Dust, a deodorant called Rosy Pits and a body powder called Body Dust.
Body positive activists and scholars are skeptical that a beauty brand, no matter how progressive, can support real body positivity. They contend brands want people to feel they're lacking something to compel them to buy products.
"Our products focus on smoothing and soothing the skin, providing all the love for your body while promoting a message of self-love and care. We use language that isn't shaming or trying to 'fix' your body."
"Every time you are using something—even something empowering—to sell a product, it can end up being problematic," says Taryn Myers, a psychology professor at Virginia Wesleyan University. "Many argue that any focus on beauty still implies that appearance is the most important aspect of a woman." Campaigns can replace old beauty standards with new ones. Telling people about soft and smooth stretch marks may be better than urging them to strive for no stretch marks, but it indicates unaltered stretch marks are less than ideal.
Brands focusing on hygiene rather than appearance can disseminate troublesome ideas about hygiene, too. Vaginal wipes like those marketed by Megababe for "hot dates, sweaty gym sessions, messy periods, public restrooms, [and] never-ending travel days" have been decried for making women worry unnecessarily about the cleanliness of their vulvas. Vulvas are self-cleaning, but have a history of being deemed unclean.
"For a woman who does not have incontinence (either of urine or stool), there is no medical benefit for [vaginal] wipes," Jen Gunter, an obstetrician-gynecologist, writes in Chatelaine. "Some of these products contain irritants and potential allergens, and the idea that they should be used routinely contributes to the harmful belief that vulvas and vaginas are 'dirty.'"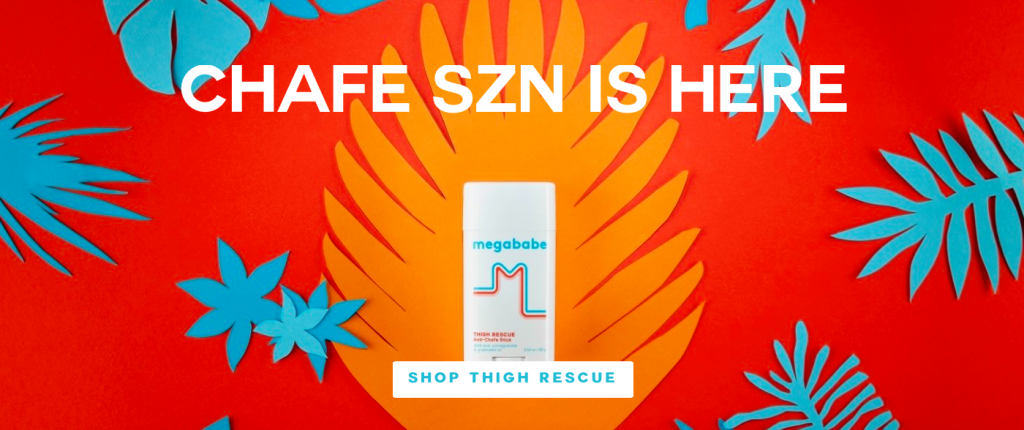 The problem is that insecurity and fear can sell products. Body acceptance activist Melissa Fabello says, "When we demand better representation of all bodies in media, which we should, advertising will undoubtedly change, but that change, make no mistake, is in pursuit of our dollar. It doesn't come from a values-based perspective." She adds, "I'm not sure it's possible for a beauty campaign to truly be body positive, not if we understand body positivity as a movement led by fat women, especially those of color, to liberate us from an oppressive system. The phrase 'body positivity' has come to represent a very fluffy, white-washed perspective that centers on self-love."
That doesn't mean there's been no advancement. "The campaigns are starting to do what I think is actually the most important, focus on more than just appearance," says Myers. She emphasizes highlighting women's accomplishments "reminds women that they are more than just their bodies."
Of course, body positive beauty campaigns can't be anyone's chief body confidence motivators. They remain blips in the beauty advertising milieu and steeped in a culture that hasn't fully broken from prevailing archetypes of beauty.
"Positive body image requires constant recommitment, costs nothing financially and comes from inside," says Sonalee Rashatwar, a social worker, sex therapist, adjunct lecturer and grassroots organizer. "In fact, at least for today, I don't politically identify with wanting everyone to be able to assimilate into the category of beauty. It is not important for me to find myself beautiful in order for me to love myself."
Key Takeaways
Dove's Campaign for Real Beauty was a seminal moment in the history of the beauty industry's movement toward body postivity because it featured women who weren't thin. However, it was highly problematic because it preyed on insecurities. Still, it helped thrust a spike in Dove's sales.
Beauty brands today have learned from the industry's rocky relationship with body positivity. They craft more nuanced messages around body positivity and are increasingly putting plus-size people in positions of power.
Body positive beauty brands like Megababe and LoveAnyBody address comfort over looks and try to steer clear of marketing that's body shaming. The brands hold they're recognizing and normalizing the issues that plus-size people deal with without telling them they have to fit conventional molds.
Many body positivity advocates and scholars are skeptical that a beauty brand, no matter how progressive, can support real body positivity. They contend brands want people to feel they're lacking something to compel them to buy products.
However, some body positivity advocates and scholars acknowledge that an embrace of body diversity by brands and in advertising campaigns can begin to shift the focus away from traditional expectations of appearance.