"Everywhere That Neutrogena Is": How President Melanie Bender Is Leading Clean Skincare Brand Versed's Next Growth Phase
Under the guidance of president Melanie Bender, Versed is bringing people into the clean, sustainable beauty segment.
For over half of the skincare brand's customers, it's the first eco-minded skincare brand they've purchased from, and for over 30%, it's the first clean skincare brand they've purchased from. The clean, sustainable newbies have helped the brand's e-commerce sales, including via its website and Amazon, soar 156% in the first half of this year.
Launched in 2019 by parent company Clique, which was started by Who What Wear creators Hillary Kerr and Katherine Power in 2006, Versed has more than 30 products all priced under $25, and it's sold in 6,600 stores globally. Target, Walmart, Revolve, Dermstore and Cult Beauty are among the retailers that carry it. One of Versed's bestselling Dew Point Moisturizing Gel-Cream products sells every two minutes.
Bender, who began her career researching the impacts of climate change on coral reef ecosystems in Hawaii prior to co-founding marketing consultancy Post+Beam, has positioned the brand to occupy a leadership role in the beauty industry's sustainability conversation. In 2021, she introduced CodeRed4Climate, an initiative that's gathered 200-plus brands to call upon the United States Congress to end subsidies for fossil fuel companies, along with other actions.
"What are our values? What do we see and want express? How do we want people to feel and interact with us?" asks Bender, winner of a 2021 Beacon Award for Brand Builder of the Year. "Ultimately, I think what makes brand building so exciting is to be able to create a world that people can belong in and change how they think about their own world."
Beauty Independent asked Bender to expound on the importance of brand values to consumers, key performance indicators (KPIs) that entrepreneurs should pay close attention to, the TikTok strategy that's working for Versed, and where she's taking the brand next.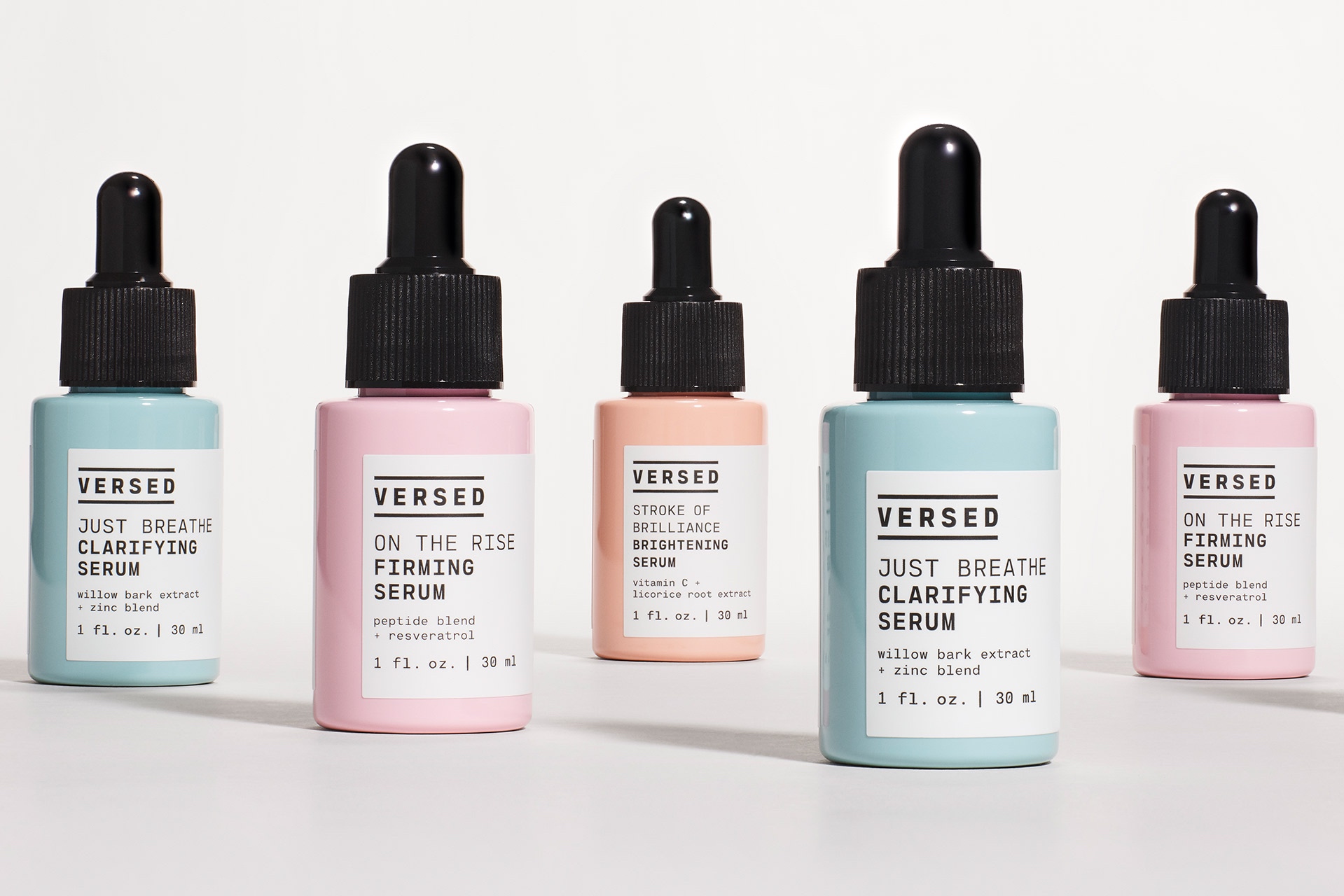 How has running Versed changed since launching in 2019?
The first three years of any startup are wild, and the fact that we had our launch year followed by now nearly three years of COVID made it a very adventurous time to be running a brand. What has changed is absolutely the scale at which we operate. Seeing things like CodeRed4Climate and making the push towards PCR packaging and having the industry follow suit has just been wild. I do recognize now that, when we act, others listen and others follow, and that brings a lot of incredible opportunities. It also brings a lot of onus to be executing as flawlessly as we can, identifying all the right opportunities, having the right strategies.
What hasn't changed are the values. For us, it's always about performance for skin, performance for body and performance for the planet, but, from day one, we've stood for accessibility. It's not my brand, it's not our founder Katherine's brand, the brand belongs to our community. And I'm so grateful that that has been our North Star from day one because it really has led to every decision we make. 
Our culture as a brand is a culture of service, about really understanding the wants, needs, challenges, motivations of the community that we serve and representing those through our actions. It's very hard to reverse engineer that. Brands are talking about community for the first time because it is an important movement, but it's really difficult to work that back when you are fully baked. 
What's surprised you the most about leading the brand?
What surprised me the most about leadership is how much I would learn from the people that I manage. When you're just starting out in your career, you have this idea that the leader is supposed to know everything and direct everything, but I see it as very different. My job as a leader is to hire people that are smarter than me, and then just get things out of their way and to empower them to make the decisions that I wouldn't have seen or I wouldn't have made and to help knit together their strategies and objectives with everyone else that they sit across from. The amount of learning and sharing from the people that work for me is incredible.
Another surprising thing is just how meaningful sharing this experience with other human beings is. I reflect back on the biggest, most impactful moments as a brand for me, and it's not when we hit $20 million in sales, it's not even when we had our biggest launches. The things that I remember is the time that we spent with people. I am so grateful for the now 40 or so folks that I've got to share this journey with because they've made us the brand that we are.  
What are KPIs you would tell entrepreneurs they really need to pay attention to?
Net sales and gross margin, of course, but I think probably some of the more underrated ones are definitely the net promoter score or how likely your current consumer base is to recommend you. For any beauty brand, we are a replenishment business. We do not make money by someone buying one of our products one time. We really need to bring them in and have them find products that they love, that they'll continue to buy and hopefully recommend to their friends.
Also, earned media reach is an incredibly important one. That's basically your virality, your ability to drive unpaid marketing. We know we can't go out and buy every consumer that we have. We really rely on one consumer becoming 10 by virtue of referrals and promotion whether through their own social channels or their in-real-life friend network.
This is a hard one to condense into KPIs, but what do you stand for as a brand? The brands that are winning today are brands that don't just have great products, just have great visuals, but they really stand for the values that consumers themselves hold. That is going to be an important indicator of longevity, of the ability to win new customers that are increasingly conscious of the brands that they're supporting.
So for us, whether it's around safety of formulas, which we do formulating to European Union standards and well above that, or leadership in the sustainability space with the highest percentage of PCR in our category with the visibility and responsibility around our climate actions, those are going to be incredibly important indicators for how well brands can sustain and thrive over this next decade. 
Doctor's Visit Instant Resurfacing Mask became a viral bestseller as a result of a TikTok campaign Versed ran. How is the brand using TikTok now?
It started with an ambassador partnership, and by having the right product and the right person on the right channel, it became something much, much greater. I think it's reached over 70 million views entirely organically on TikTok. I'm always a fast follower because you lose a lot of efficiency by trying to be the first to figure out what this platform is going to be. Clubhouse is an awesome example of how those things don't always turn out how you would expect.
What we've seen work really well are partnerships with content creators on TikTok. Whether it's seeding, ambassador relationships, derm-driven education, the channel really eats those things up. What I have seen less return from is our owned content. So, we focus our efforts on TikTok through third-party creators, and that really satisfies this desire for authentic, relevant, ever-changing content that TikTok is built for. That feels different than Instagram, which is more about reliability of content. It's more of a channel that's appropriate for brand expression and education. 
In 2020, you told Beauty Independent that Versed's sales spiked 85% in March and April compared to January and February of the same year. Have you seen the sales level out post-pandemic? 
We've built a rocket ship of sorts, so we've continued to see incredibly strong double-digit growth year-over-year. Every beauty brand in May through August of last year was really trying to figure out what is the new world post-iOS. So, we do see ebbs and flows specific to channel, but, in addition to the really excellent growth at retail, we've also consistently grown our DTC as a percent of total enterprise. This year, we're edging closer to 25% and 30%, which is really exciting for us as a mass brand.
As a whole, we're a brand that's built for scale, and with that comes high growth and that's by virtue of the products that we create having really relevant value propositions, being able to lean into and game the channels through which our customer is discovering and vetting new products, and ultimately building a whole brand ecosystem that's incredibly sticky so the customer that comes in for one product ends up building a regimen and coming back to us again and again.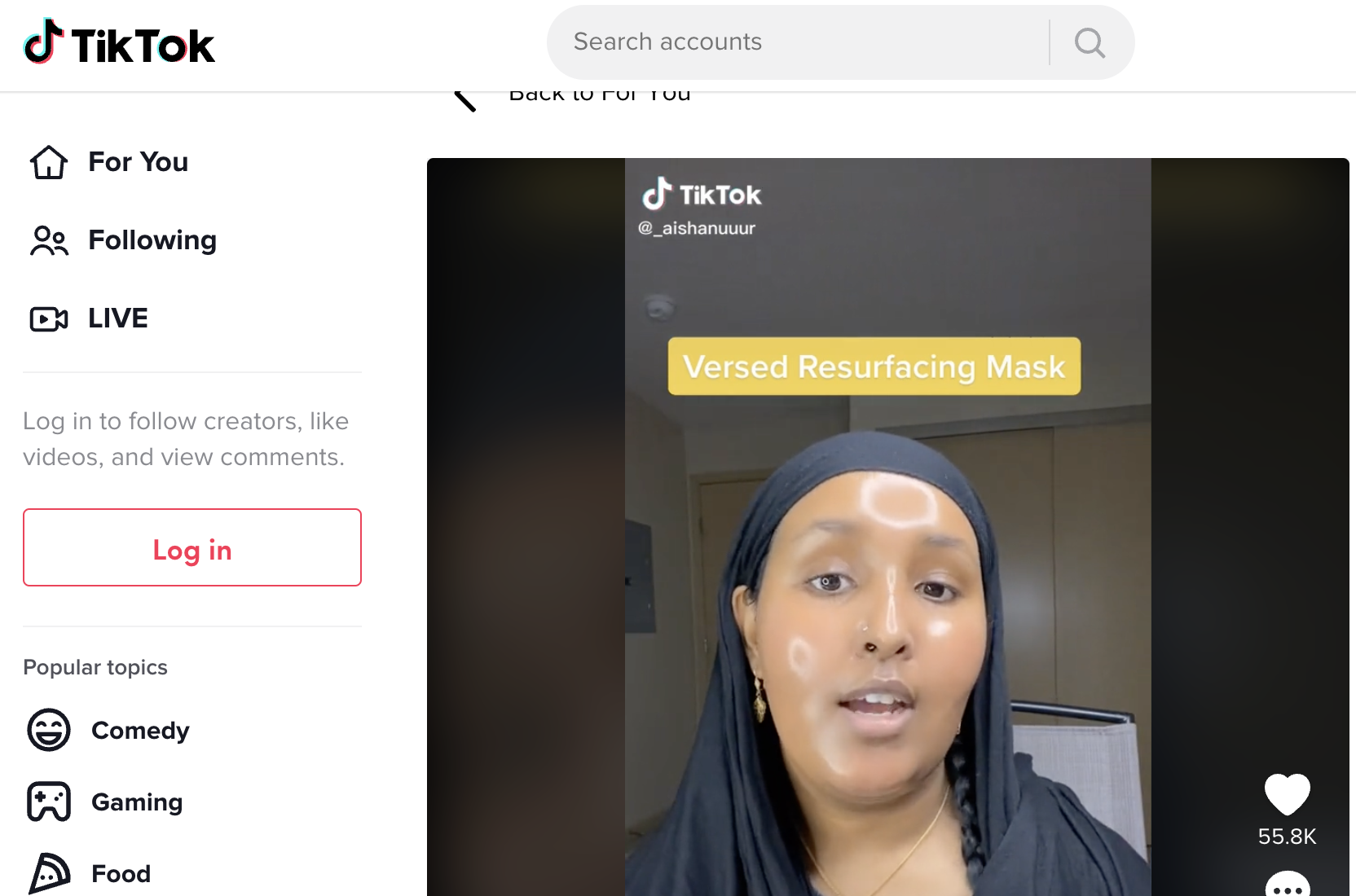 What does the next stage of growth look like for Versed? 
It's not just one thing, and that's one of the most exciting things about our brand. Ultimately, we see ourselves everywhere that Neutrogena is in terms of point of sale. We just want to get there in due time, of course. There's absolutely opportunities for channel expansion, although none that I'm immediately focused on, but continuing to grow share within our current accounts is always one of the top goals and one that we've consistently done year-over-year.
Another thing that I'm incredibly excited about is category expansion. Our body retinol, it's been the No. 1 item on our DTC year to date. It's out competing Doctor's Visit. It's really gotten there out of love for the formula and an incredibly high replenishment rate. Seeing that in a body item is exciting. As a whole, body tends to be a lot slower than facial items because there's more price resistance since you don't tend to have as many products that you'll use, but we seem to have been able to crack the code on body. So, that's a space that we're really excited about expanding more into.
Then, I always come back to sun care. It's such a huge part of any regimen. Our bestselling sunscreen is a non-nano zinc oxide, and we're excited to be able to expand in the category through these clean and safe SPF products. That's something that we consistently see as a demand from our consumer.
Are you ever surprised about what really hits with the consumer? 
Any product that we launch, it's probably been touched something like six times by data that only we have powered by this co-creation community of 85,000 people. I have thresholds on everything from product efficacy to concept appeal, price point, likelihood to promote virally. So, we know our products very, very well by the time it comes to market.
That being said, there are always items that surprise us. Retinol body, it's one that we really believed in, but just it being so unseen in the mass category, we were like, "Are we crazy for thinking this is needed?" But, on the whole, if we're launching a product it's because we have vetted every metric that we look at pretty extensively, and we have a good feeling that it's going to be a new hero.
What other brand is doing it right in your opinion? 
Cocokind is just killing it. I so appreciate the transparency that [founder] Priscilla [Tsai] is bringing to her community in areas and places that no other beauty brand has ever gone. I have so much respect for that. Ceremonia, I love their products, love their mission, and it's just so exciting to see them breaking new ground.
E.l.f. really consistently redefines what it means to be not just a modern beauty brand, but a huge publicly traded modern beauty brand. They're always pushing the envelope. Youth to the People is a real favorite. Obviously, they're close collaborators to Versed on CodeRed4Climate and other initiatives, but I appreciate the integrity that they bring to the category and the thoughtfulness that comes with that.
Ami Colé, for breaking new ground in terms of who they're representing, who they're creating for and with. Uoma Beauty is another one that's obviously bringing a lot of much needed representation to the beauty and specifically color category.