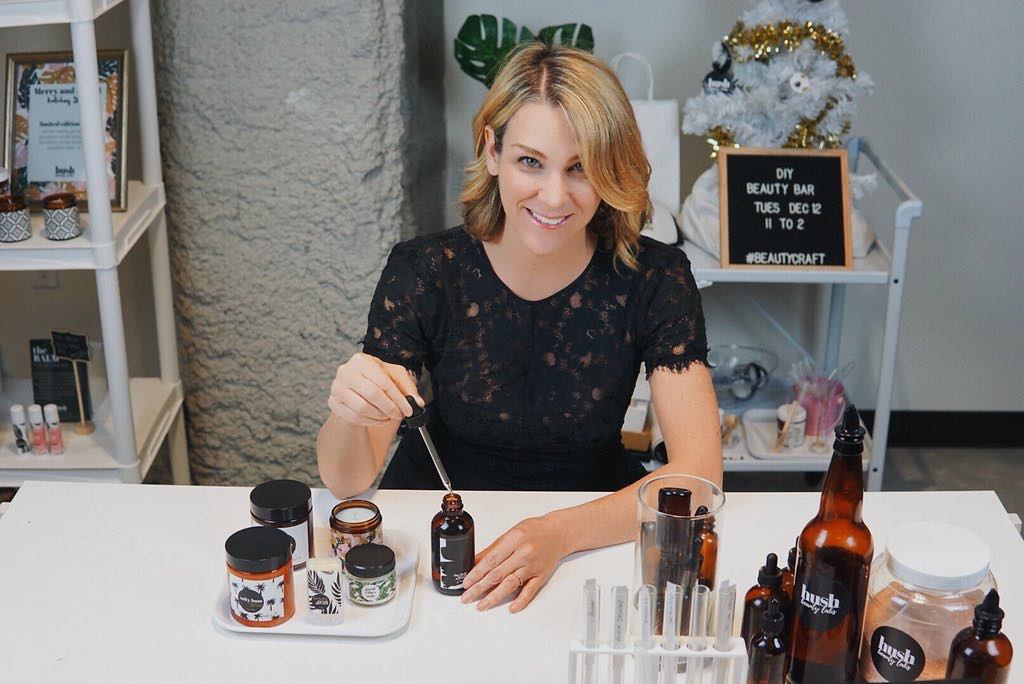 Hush Beauty Labs Puts You In The Driver Seat Of Your Beauty Experience
Sometimes you just have to listen to your friends.
A year-and-a-half ago, beauty industry veteran Sarah McDaniel had a few close buds over to her place, and invited them to tinker with fragrances and base oils that are the building blocks of her chosen trade. "We had talked about doing a wine tasting, but I had all this stuff, so I thought, 'Let's play.' It was a very fun, social activity. When you get a group of women together and give them fragrances and wine, you learn everything you ever wanted to learn about them," she chuckles. "When we were doing it, one of my friends said to me, 'This is what you should be doing. This is where the idea is.'"
McDaniel followed the advice and promptly pivoted her young company Hush Beauty Labs to incorporate a DIY beauty element. She oversees in-person beauty product customization under a new arm of her business called BeautyCraft, and introduced candle-making, body oil and body scrub kits for beauty enthusiasts to replicate the activity that McDaniel's besties enjoyed with their own pals. There are six kits available primarily ranging in price from $24 to $150 that are designed for two to 10 people to dive into a DIY experience.
"Of course, people can go on Amazon and find everything they need to do this, but it's just like cooking. You could spend hours gathering ingredients or you could buy a box like Blue Apron and have everything done for you," says McDaniel. "When you open a kit of mine, it's pink, has pineapple [decoration] and is fun. It's almost as if I'm going to your house."
For BeautyCraft's live edition, McDaniel typically brings formulas for body oil and body scrub, and six to eight fragrances with her. She walks customers through mixing ingredients to their preferences and, once they've been mixed to their liking, bottles are labeled with tailored concoctions inside. A host pays between $100 and $200 an hour for BeautyCraft to show up at an event or, at workshops, individual customers are charged $40 each for 4-oz. bottles. McDaniel recently participated in Black Friday event at Athleta that had a zen theme, and she set up a DIY beauty bar for it featuring bath scrubs, bath soaks and oils, and energizing and refreshing blends.
"My personal opinion is that people are interested because we've swung so far to digital that they're looking for a bit of a reprieve. Analog activities by nature are a reaction to the digital atmosphere we find ourselves in," says McDaniel. "People put down their phones when they are doing this, and they have 10 minutes of non-phone time."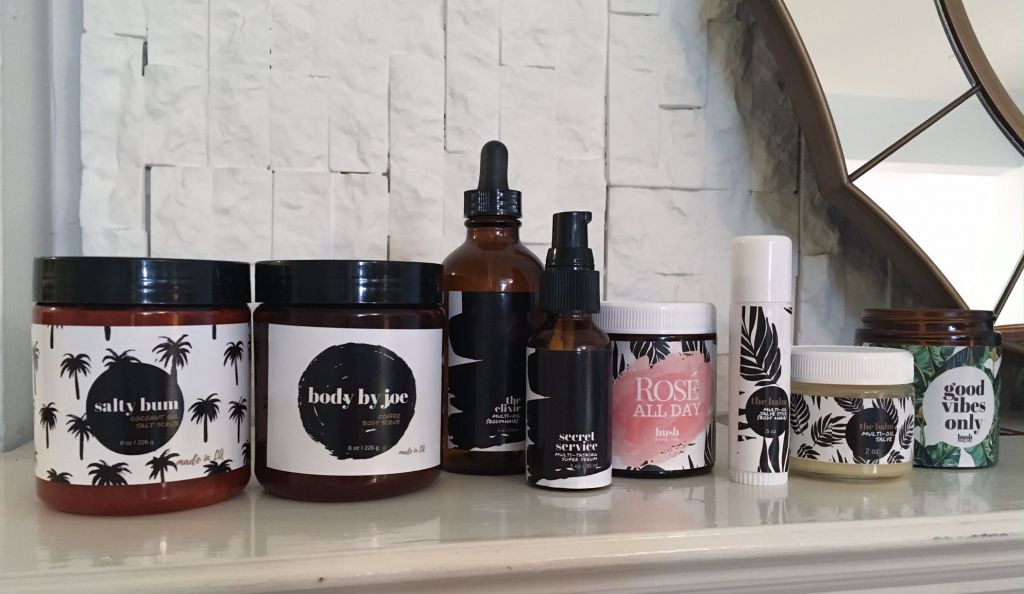 Customers don't have to book BeautyCraft for an event to create their own beauty products with McDaniel's guidance. Hush Beauty Labs is in residence at Handcrafted LA through January. McDaniel pays $525 a month for a space at the downtown L.A. location, which is less expensive than other retail spots in the city, and allows her to showcase her skills and products. Outside of the kits, Hush Beauty Labs sells a range of playful, multipurpose products such as the popular $15 Rosé All Day Balm that doubles as a solid perfume and hair protectant fending off split ends.
Hush Beauty Labs' products look very different from McDaniel's early vision for the brand. She scrapped serious and chic black and gold packaging in favor of lighthearted a black and white color palette splashed with banana, palm tree and pineapple prints, and pops of vibrant colors, particularly pink and green. "When people pick up my products, they grin and giggle," relays McDaniel. "Why shouldn't you feel like that when you're picking something up from on your bathroom counter?'
Hush Beauty Labs branding is noticeably absent on the front of the product packaging. "It goes against everything I learned, but I have had this backlash to seeing everyone else's name splashed across all the bottles in my cabinet," explains McDaniel, who worked at Aveda, Boscia, L'Oréal, Peter Thomas Roth and InStyler prior to founding Hush Beauty Labs. "I'm sure all my old bosses are dying."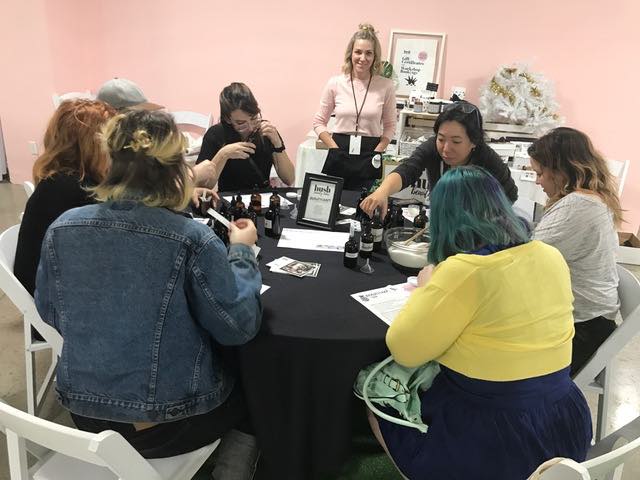 McDaniel has poured roughly $10,000 into developing Hush Beauty Labs and subsequently extending it with BeautyCraft by Hush Beauty Labs. Next year, her goal is to expand retail distribution. She's targeting specialty stores, but figures home shopping television channels could be fruitful venues for showcasing the brand, too. McDaniel is also sorting through how to scale up, possibly transitioning items to be lab produced and bringing on board someone to assist with the heavy lifting of growing a beauty business.
"I'm not the first to do DIY beauty, but I really love the concept. I have a great time doing it, and the time completely flies when I am. I hope that comes through," says McDaniel. "I'm not just doing this because it's a good business idea. I would do it myself if I wasn't selling it."