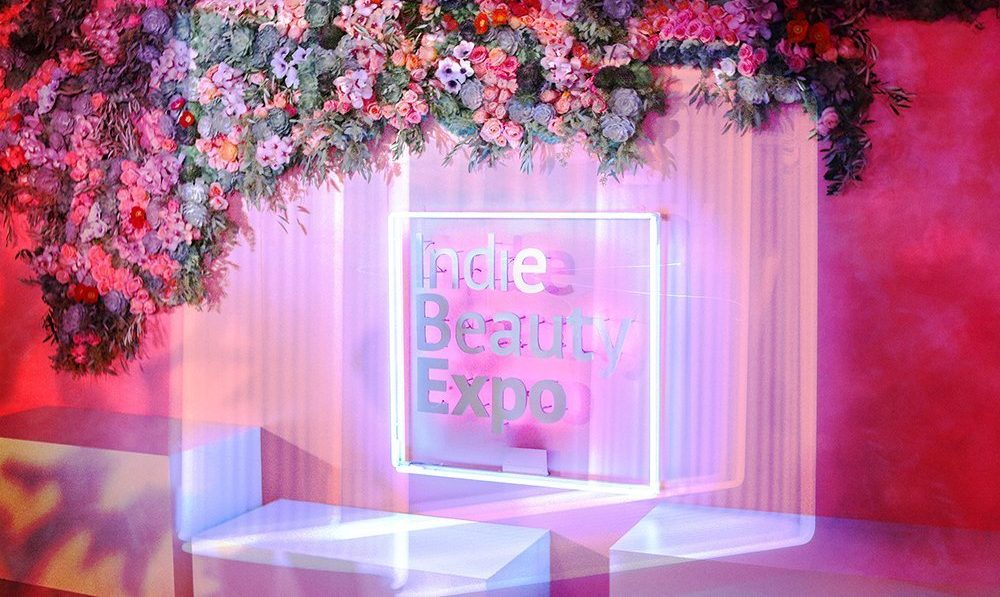 Retail Buyer And Consumer Favorites From IBE LA Revealed In The Anthology Of Independent Beauty
Indie Beauty Expo Los Angeles 2019 attendees were hungry for ingestibles, skincare and clean color cosmetics.
That's the finding of a post-expo consumer and retail buyer survey covered in IBMG's Anthology Of Independent Beauty for the fourth edition of IBE LA. The publication recaps the trade show and BeautyX Media & Influencer Summit held at the California Market Center and The LA Grand Hotel Downtown, respectively. BeautyX Media & Influencer Summit's program included former editor in chief of Allure and current chief creative officer of Revlon, Linda Wells, celebrity makeup artist Katey Denno, Vintner's Daughter founder April Gargiulo and Jun Harada, who helms digital beauty and innovation at Condé Nast.
IBE LA attracted nearly 200 exhibiting brands and more than 400 buyers from retailers such as Sephora, Ulta Beauty, Neiman Marcus, Whole Foods, The Detox Market and Goop in January. The SHOP INDIE consumer shopping event during the expo drew 800 consumers to the CMC to spritz, slather and swatch the latest crop of independent beauty offerings. As is IBMG tradition, all show attendees were surveyed, post-show, on what their favorite picks were from the floor.
The brands Living Libations and Fable Soap Co. were two of five brands listed as favorites by consumers and retail buyers. Created in Haliburton, Canada, comprehensive plant-driven personal care purveyor Living Libations' history dates back to 2002, and it has a boutique in the LA neighborhood Venice. Six-year-old Fable Soap Co., based in Los Osos, Calif., hand-makes natural bath and skincare products.
"It was obvious right away that consumers are looking for brands that offer transparency and authenticity," says Jeriel Sydney, who founded Fable Soap Co. with Bobbie Cunningham. "Being two moms and designing a skin care line around what we need and what we believe in seemed to really resonate with attendees. We worked tirelessly to develop a line that was both free of synthetics and preservatives, but that was also incredibly effective. Integrating that ethos into our branding and aesthetic seemed to draw folks in and allowed us to share what we believe in and the successes we have seen with the product." Living Libations and Fable Soap were spotlighted in Beauty Independent's IBE LA 2019 Trend Report.
The inside-out category scored big in the surveys, with Aussie supplement specialist Tonik winning with retailers and  Hum Nutrition topping the list of consumer favorites. Imbibe, another beauty from the inside out brand from Down Under, joined Living Libations and Fable Soap Co. as one of the five brands that ranked high in the consumer and retail buyer surveys.
The recognition added to the praise accumulating for Imbibe, an Australian collagen and probiotic brand that was singled out by two of the four seasoned buyers featured in Beauty Independent's Standout Products From Indie Beauty Expo Los Angeles as an impressive beauty entrant. The interest demonstrates stores are making room for rising ingestible brands to round out their selections and responding to consumer demand for merchandise addressing gut health.
"IBE was our first ever expo for our nutraceuticals range and, while I was excited to share the range, I was also nervous, because, having only just launched the range, I didn't know how the brand would be embraced," says Imbibe co-founder Felicity Evans. "What resonated most with buyers and consumers is the high-quality potency of the range, the cleanness of the brand and the fact that the range is totally innovative in its category."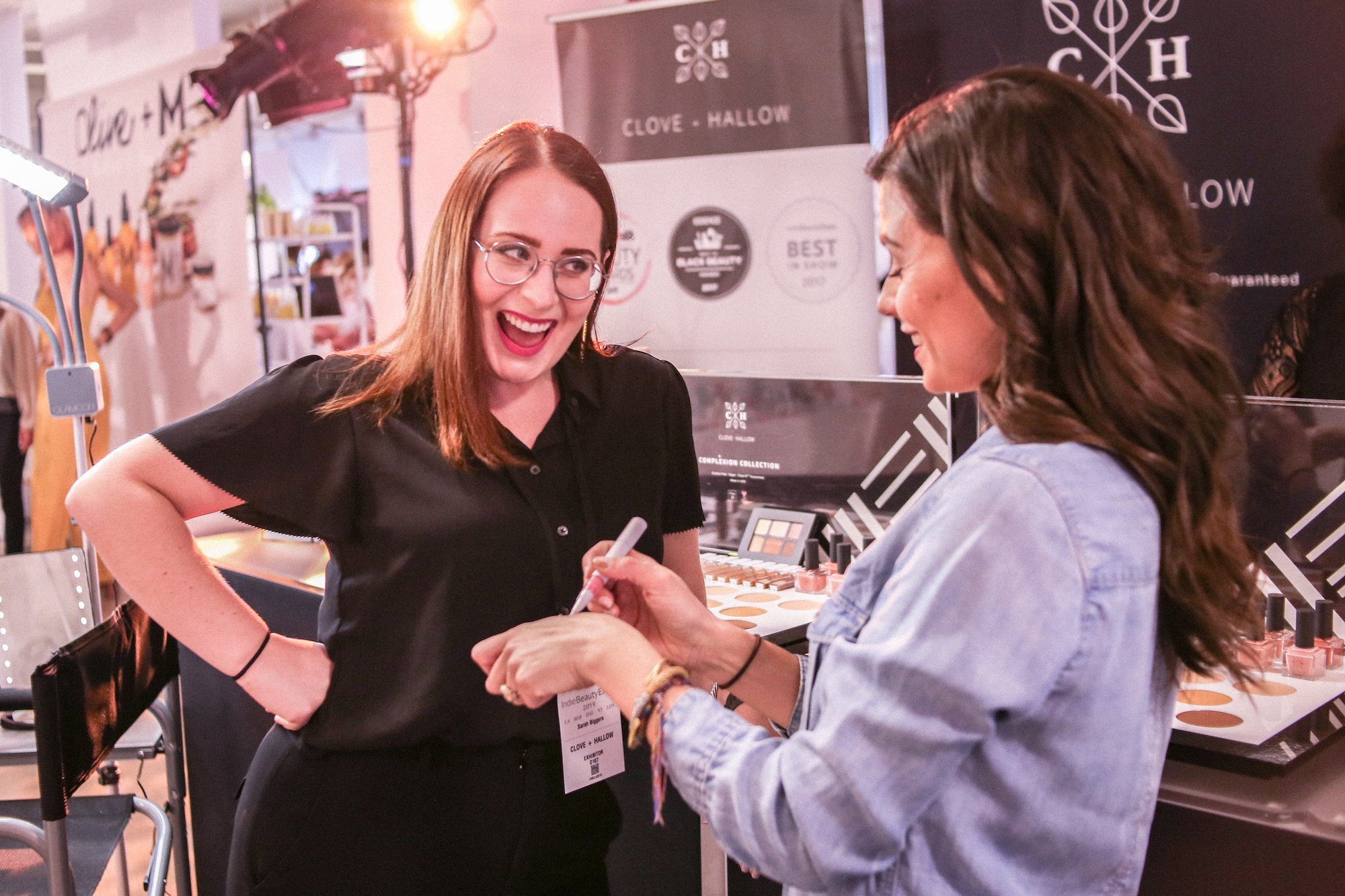 Rounding out the five doubly recognized exhibitors were two clean color cosmetics companies. Buzzy cosmetics newcomer Aether Beauty and clean beauty makeup star Clove + Hallow were popular IBE LA exhibitors. Clove + Hallow, the only brand to be selected as a buyer and consumer favorite in 2018 and 2019, has four IBEs under its belt and will partake in another when it travels to IBE London in October. Founder Sarah Biggers and her team have honed their trade-show skills through their IBE participation.
"Having exhibited at multiple IBE shows before, we've had the chance to iterate on each to improve our booth and the overall experience," says Biggers. "The biggest lesson we've learned is the importance of demonstration. It's easy to talk about all the amazing qualities of our products—the packaging is sleek, the shade range is eye-catching, and the affordable pricing is very enticing—but there is no substitute for seeing them in action. At IBE LA 2019, we prioritized demonstration by bringing our artistry and education manager to the show to do makeovers on consumers and buyers. This allowed us to create a customized, luxurious experience that left a lasting impression on everyone who sat in her chair."
Aether entered the two-day trade show in LA after having already secured retail deals with Credo, The Detox Market, Neiman Marcus, Nordstrom and Sephora, where founder Tiila Abbitt spent seven years working in product development. The brand's assortment contains the eyeshadow products Rose Quartz Crystal Gemstone Palette and Crystal Grid Gemstone Palette formulated to match the performance of conventional eyeshadow offerings.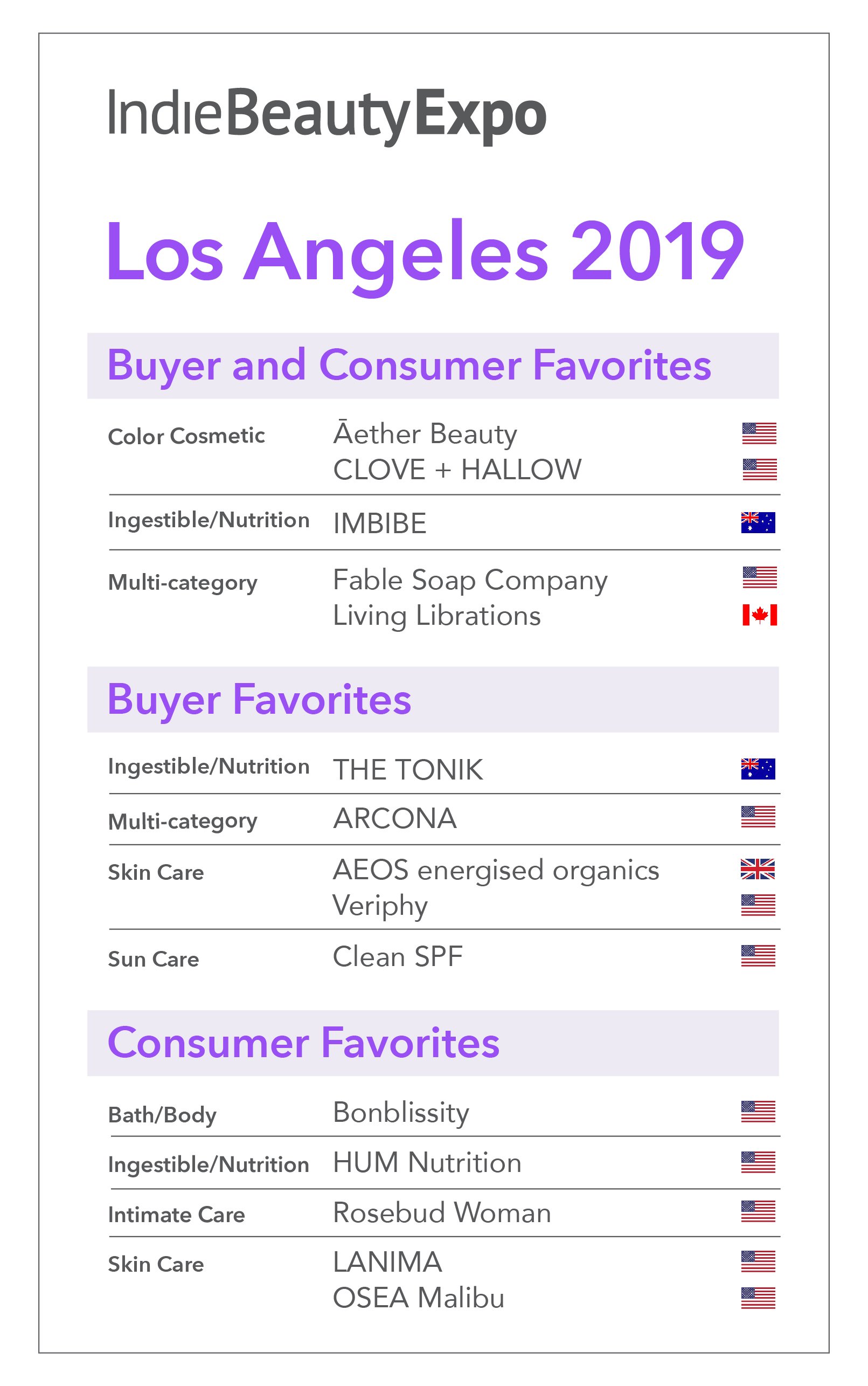 Brand awareness may have played a role in consumer choices revealed by the survey. Well-established brands Hum Nutrition and Osea Malibu capped off the consumer list, and were joined by 17-year-old Living Libations slightly further down the top 10. However, the momentum behind emerging brands like Aether and Fable Soap Co. point to the savviness and discernment of the buyers and consumers attending IBE LA.
Aesthetics were certainly important to those flocking to IBE, but they didn't overlook a brand's substance. Abbitt removed magnets and mirrors from Aether's packaging, making the brand's palettes fully recyclable, and Fable Soap Co.'s frosted glass packaging isn't only for stunning #shelfies. Customers can send the bottles back to the brand to be refilled at 10% off the regular retail price.
The LA edition of IBE continues to grow year-over-year, and the quality of the brands participating is rising alongside their quantity. "IBE LA once again demonstrated that the pace of innovation set by independent brands—whether in terms of types of products or their specific features and benefits—is breathtaking," explains IBMG co-founder Nader Naeymi-Rad. "Retailers and consumers at IBE LA have the enviable task of selecting from so many fresh and appealing brands. The ones that rose to the top and were recognized as buyer or consumer favorites deserve special attention, as they managed to stand out among a very competitive field. We are very proud to recognize these brands and look forward to supporting their growth moving forward."