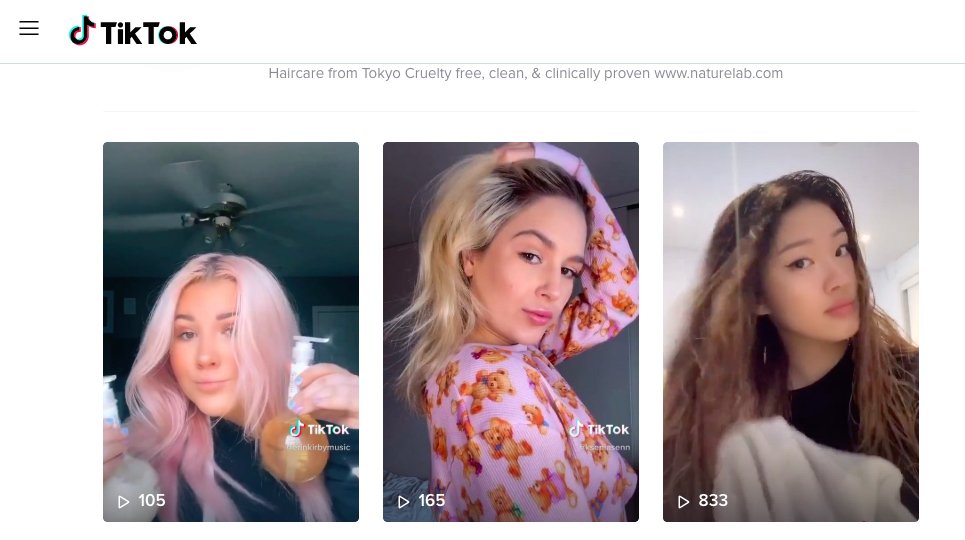 Here's What Indie Beauty Brands Should Be Thinking About Before Making A Quarantine-Timed Jump Onto TikTok
Before the coronavirus crisis, TikTok had emerged as the newest "it" social media network with an estimated 800 million monthly active users worldwide and a quarter of Americans aged 12 to 34 years old swiping through the 15-second videos on its app.
Now, with 75% of United States residents ordered to stay home, TikTok is poised to become an even more powerful platform. As quarantined homebodies search for distractions, Nielsen predicts media content consumption could soar 60%, undoubtedly leading to a surge in TikTok signups and time spent browsing its posts.
Some of beauty's biggest players and a few forward-thinking smaller companies have dipped their toes into the TikTok pool, but it remains a relatively open environment for emerging brands. The challenge for indie beauty brands is understanding how to deploy their social media strategies on the network known for its dance challenges and strong gen Z following. Beauty doesn't fit as obviously into TikTok as it does YouTube and Instagram, at least not yet.
Prior to putting their energies into TikTok, brands should determine if it's right for them. The primary considerations are their target consumers and objectives. If a brand's audience is older than millennials, TikTok is probably not worth an investment at the moment. "It needs to feel like it makes sense for TikTok while also feeling on-brand," says Christina Garnett, digital strategist for social media agency ICUC. She advises brands to dig into what their customers want to see, what they offer and the manners in which their offerings are used. Garnett says, "Going viral is great, but you also need to see ROI through increased brand awareness and revenue."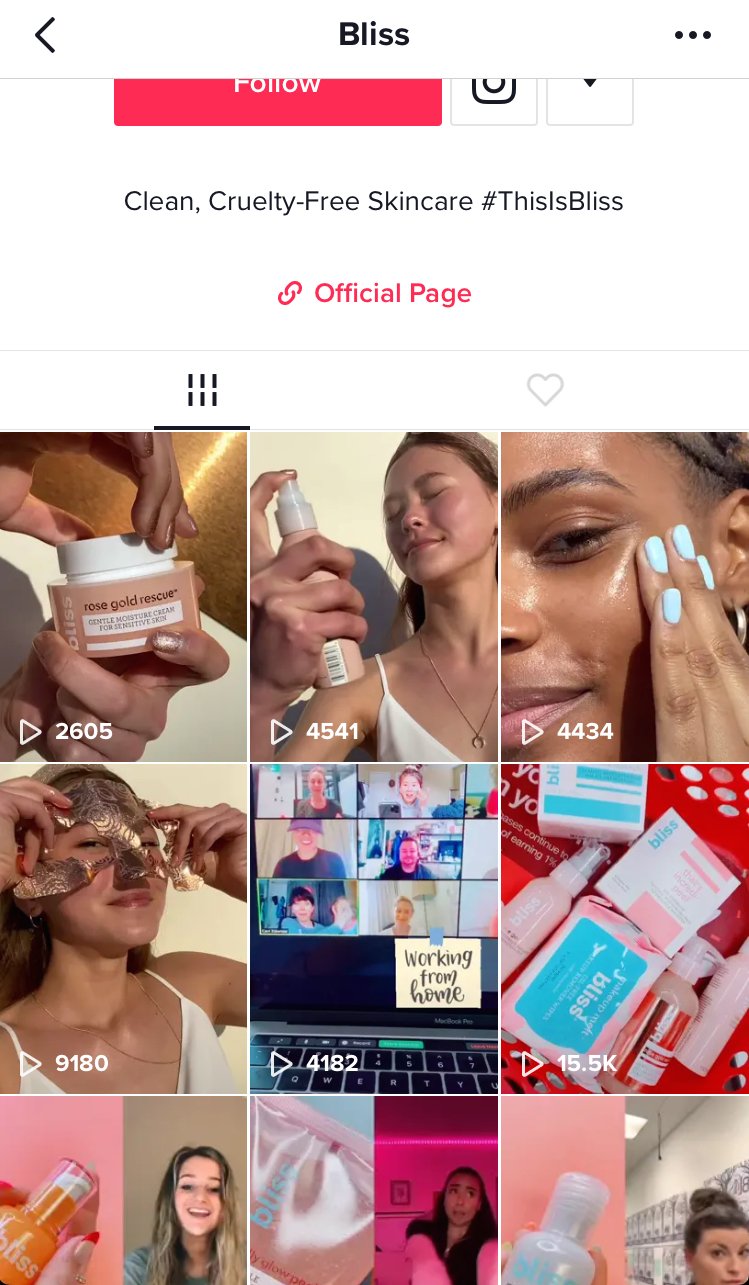 Posts that garner thousands of Instagram likes don't necessarily translate to TikTok. TikTok content tends to be not as heavily produced as Instagram content. "Instagram is our main communication channel with our audience, but we believe the reason why people may be shifting to TikTok is because of how transparent the platform and content are," says Andrea Lisbona, CEO and founder of Touchland, a hand sanitizer brand that started experimenting with TikTok in December.
Reesa Lake, executive vice president and partner at influencer marketing agency Digital Brand Architects, emphasizes content should tailored to individual platforms and that it's essential for TikTok content to not seem as if it's advertising. DBA worked with Bliss on a TikTok campaign in which the brand's product was incorporated as a prop in dance videos rather than an item that influencers had to tout. Lake says, "The reason it resonated with the audience is because it was not prescriptive and over-branded."
The brands E.l.f. Beauty and Hero Cosmetics have thrived on TikTok. In October, E.l.f. Beauty went viral with the song "Eyes Lips Face." Amid the pandemic, it's updated the song to encourage social distancing. Last year, Hero Cosmetics executed a TikTok campaign spotlighting content creators on the platform showing their morning routines with its Mighty Patch acne patches and the hashtag #schoolsurvivalkit. After its launch, the brand revealed the campaign was seven times more cost effective than Instagram Stories and resulted in a 12% engagement rate versus a 4.5% engagement rate on Instagram.
"The beauty of TikTok is the content can come across unpolished or highly edited, but it needs to feel human."
Fabien Ouwehand, founder of short-form content agency UPLAB Asia, says many brands repurpose Instagram Stories content for TikTok, but he believes repurposing isn't wise because TikTok is a unique social media beast. "The younger generation has a very short attention span," he says. "People don't want to spend 15 minutes watching a YouTube video. They want the same story in one minute. TikTok is changing the way we consume social media." On the other hand, Ouwehand suggests content designed for TikTok can be shared with reasonable success on Instagram. He figures he's helped content creators attract hundreds of thousands of followers on Instagram via reposting TikTok clips.
Lake says, "We are seeing the audience starting to crossover, and influencers whose growth was stagnant are now increasing from their followers on TikTok discovering them on Instagram," She points out DBA recently signed several native TikTok influencers, including Riley Hubatka, Seth Obrien, Sterling Monett and Amelie Zilber, but that it's seeing influencers such as Chriselle Lim and Brittany Xavier that flourished on earlier networks grow quickly on the platform, too.
Indie beauty brands should take advantage of editing and musical features available on the app and tap into content that's already making noise on it. Lake says, "TikTok is a trend-driven platform, so whatever content is trending on the app is typically what will perform best, whether it be a song, a dance, challenge, etc." Lisbona shares, "We tend to jump on trending sounds and use them to record videos of our products or recreate any dance/trend using them." Touchland has amassed 3.7 million views and 373,000 likes on TikTok in three months. "One of the beauties of this platform is that anyone can go viral with any type of video," says Lisbona, noting a single video review of Touchland's hand sanitizer drew 3.4 million views.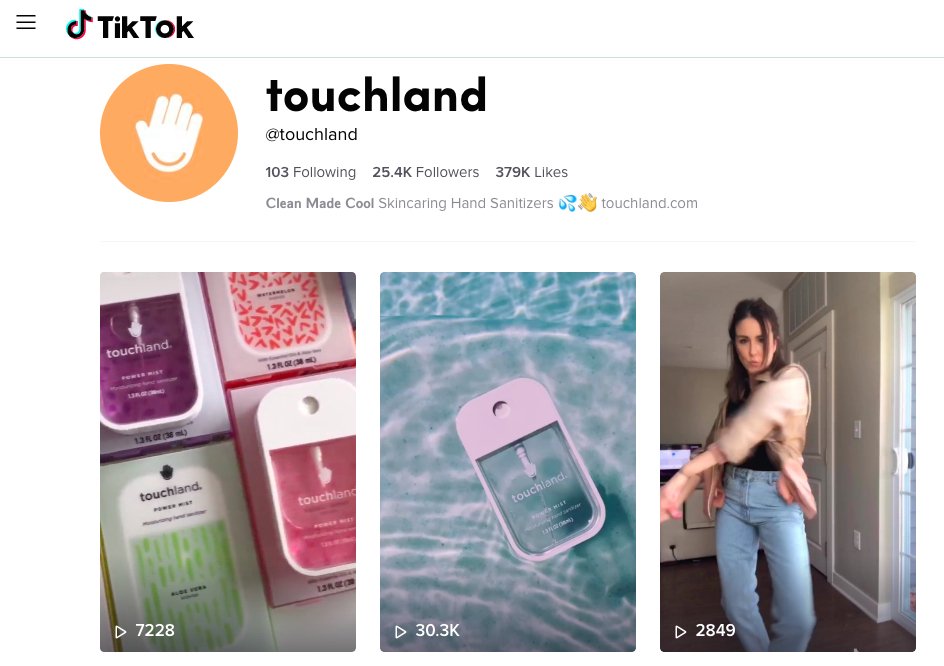 Tutorials and pithy snackable videos are keys for beauty brands entering the TikTok conversation, but Ouwehand stresses creators are incredibly important assets on the platform. He asserts brands that perform well on TikTok leverage them skillfully, and they're not necessarily the brands with the hugest budgets. Ouwehand says, "If you want to succeed as a beauty brand, focus on user-generated content for your brand account."
The paid component on TikTok isn't as mature as it is on Instagram and YouTube, leaving space for indie beauty brands with limited sponsorship dollars to make headway. Garnett's tip for indie beauty brands is to cultivate relationships with micro-influencers. The micro-influencers are more likely to be interested in product rather than payment and produce relatable content. Garnett says, "The beauty of TikTok is the content can come across unpolished or highly edited, but it needs to feel human." Lake says, "If a creator really puts time into finding their niche on the platform, the payoff can be huge."
According to Ed Valentine, managing director of haircare brand NatureLab Tokyo, reach and engagement carry greater weight on Instagram than on TikTok. He recommends indie beauty brands zero in on the type of content being developed for the platform rather than audience metrics. Valentine says, "Literally everyone has a shot at their content taking off. So, for us, it's been more about finding those perfect matches in terms of the content."