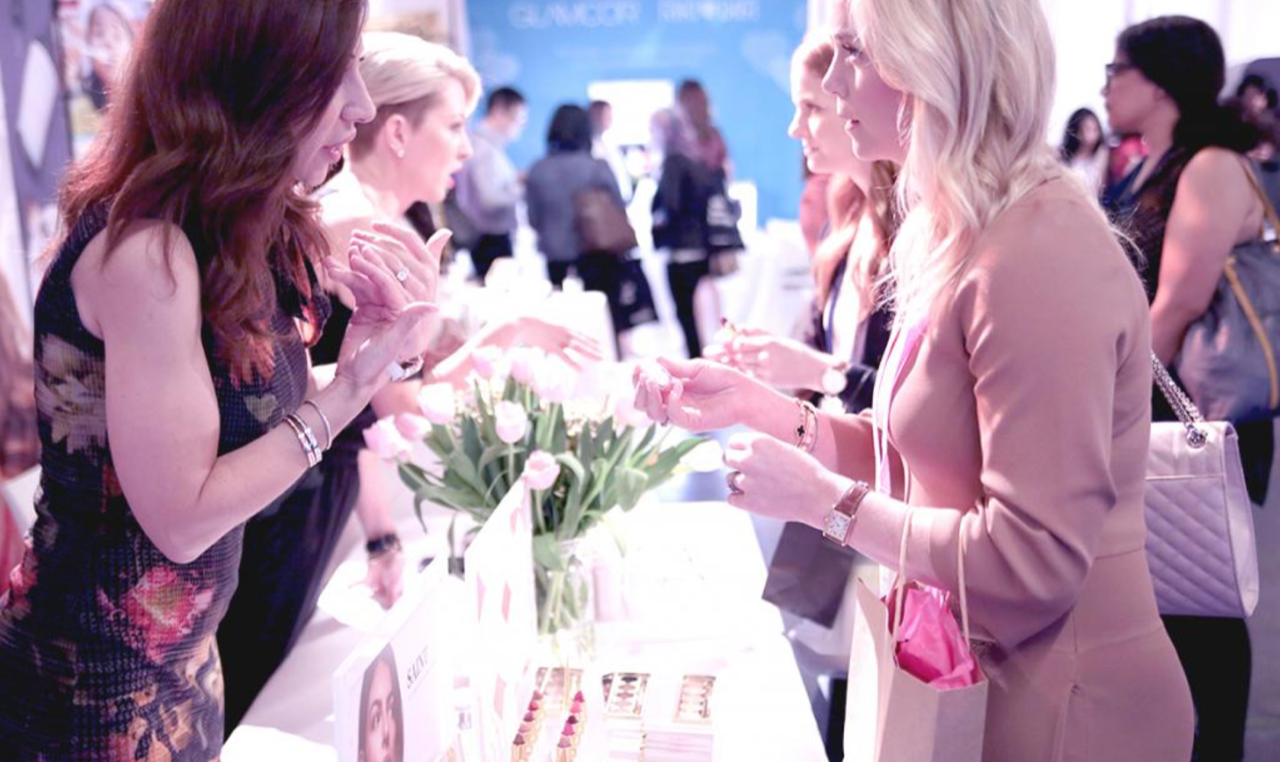 Indie Beauty Media Group Expects Record Buyer Turnout For Fifth Anniversary IBE New York Show
Indie Beauty Expo will return to New York City next month to celebrate its fifth anniversary with the biggest show yet.
IBE New York 2019 will take place Aug. 21 to 22 in Manhattan's 133,000-square-feet Pier 94 and share the massive hall with a new companion event, Uplink Live, an exhibition for solution providers such as public relations firms, distributors and ingredient suppliers supporting independent beauty and wellness brands.
IBMG co-founder Jillian Wright, who founded an eponymous skincare brand and New York City spa prior to IBMG, understands how important it is for beauty and wellness entrepreneurs to have access to great service providers, and has seen the market change in the last five years to make indies impossible to ignore. "If a service provider or retailer hasn't figured out how to work with smaller companies, they will lose out," she says. "It's been a ripple effect. We have many conversations every day and, no matter if it is a service provider, investor, corporate executive or PR, everyone has seen the shift and is trying to work better with or better serve indie brands."
Indie Beauty Media Group, producer of IBE, Uplink Live and parent company of Beauty Independent, is expecting 1,000 buyers from the world's most prestigious retailers to flock to Pier 94 to scour the offerings of the 250-plus beauty, wellness, personal care and lifestyle brands that will be on display at IBE NY from New Zealand, Australia, Israel, Denmark, Poland, Germany, Finland, England, Ireland, Hong Kong, South Korea, South Africa, Ghana, and Mauritius, as well as across the United States and Canada.
Like IBE exhibitors and retail attendees, IBMG is international. In the past 12 months, the company has expanded its expo platform to include shows in Berlin and London in addition to its domestic editions in Los Angeles, Dallas and New York. It's also struck successful retail partnerships with leading retailers Neiman Marcus and Feelunique.
IBE is regularly attended by buyers from Neiman Marcus, Feelunique, Anthropologie, Ulta Beauty, Sephora, Whole Foods, Target, The Detox Market, Sally Beauty, Nordstrom, Goop, Saks Fifth Avenue, T.J. Maxx and Urban Outfitters and others. At the upcoming New York show specifically, first time attendees will include representatives from emerging retail concepts Plum Market, Clean Market and Verishop, exploring cutting-edge wellness and beauty merchandise.
While big names are lauded as big wins by the IBMG team, the organization celebrates bringing rising niche retailers into the fold, too. "New for this year is Space519," shares Natasha Goldberg, who heads the retail and buyer relations team at IBMG. "It's a wonderful boutique in Chicago that sells designer clothes, jewelry, home goods, accessories and has an apothecary section. I've been wanting them to come for forever, and they finally are."
IBMG co-founder Nader Naeymi-Rad created the company's retail and buyer relations arm after meeting the Neiman Marcus beauty buying team at the first Dallas IBE in 2017. The luxury retailer was eager to stock indie beauty and wellness brands, but Naeymi-Rad felt a structured program would be necessary to assist both the luxury retailer and the brands with onboarding. Neiman Marcus's connection with IBE has led to brands including Beneath Your Mask, Arcona, Circcell, ikoo, Mila D'Opiz, Eighth Day, O'o Hawaii, Olive + M and Sea Buck being featured by the retailer.
Goldberg and her team know there will be brands at the expo looking to forge relationships with boutiques like Space519 before considering the possibility of entering 1,800 Target doors—an outcome that's happened for past IBE exhibitors. However, several brands at IBE New York will be ready to make a robust retail footprint. More than 20% of exhibiting brands, all of which must be majority owned by the brand founder, generated 2018 revenues in excess of $1 million. Two of the brands in the $1 million-plus club, Toronto-based holistic skincare range Province Apothecary and Green Bay, Wis.-based clean color cosmetics brand Au Naturale, were early IBE exhibitors. Au Naturale was on the floor at the first IBE New York at The Altman Building in 2015, and Province Apothecary joined IBE for the first LA show in 2016.
"We were looking to find our footing in wholesale without a developed network of other thought leaders in beauty, buyers and supply chain," says Ashley Prange, founder of Au Naturale, recalling her brand's IBE debut. "Our continued attendance at IBE has not only developed these networks, but has also evolved our brand to a mature point where we are recognized internationally." To date, Au Naturale has exhibited at a dozen IBE shows, including the first ever IBE Berlin this past March.
Prange launched Au Naturale in 2011 with 60 products and has since grown the line to over 180 items for face, lips and eyes, all manufactured at the brand's Green Bay facility. Though her brand is sold widely at retailers from Whole Foods domestically to Beautysaur in Hong Kong, Prange still attends almost every IBE. She says, "Being in attendance at IBE is essential not only to staying relevant in a rapidly evolving beauty landscape, but also to allow us to develop community that enhances the scope of Au Naturale and delivers an ROI."
Julie Clark introduced Province Apothecary in 2012 with 48 organic skin, body and hair products, and brought her then three-year-old brand to the first IBE. "We were so happy to have the opportunity to meet so many of our stockists we had never met face to face," she recounts. "We thought it was an amazing place to connect with our retailers and meet new ones that were interested in green beauty."
Today, Province's products are sold at 350 retailers, and Clark has pruned its offering to 30 products to focus on the bestsellers. At IBE New York this year, she'll debut Province's latest collection. "We are bringing something new to IBE, our back bar professional training program and new professional line," reveals Clark. "We are excited to meet new retailers that are interested in holistic organic facials. Exhibiting at IBE helps us stay connected to the indie beauty community in general. It's so much fun going to the show year after year and be so amazed by the growth of this industry. We find it inspiring."
Wright and Naeymi-Rad launched their expo business in February 2015, just six months before the first IBE in August that year. They were trade show neophytes operating on a truncated timeline, but managed to attract 82 independent beauty, wellness and lifestyle brands to the inaugural show. Half a decade later, Naeymi-Rad is proud of the organization's growth and glad his hunch about the importance of buyer relations was right.
"We are delighted to celebrate IBE's fifth anniversary with a breakout show in Pier 94," he enthuses. "Over 250 independent brands along with 1,000 buyers from around the world will be joining us. We are especially proud of our buyer participation as it reinforces IBE's position as the definitive destination for retailers to source independent innovation."