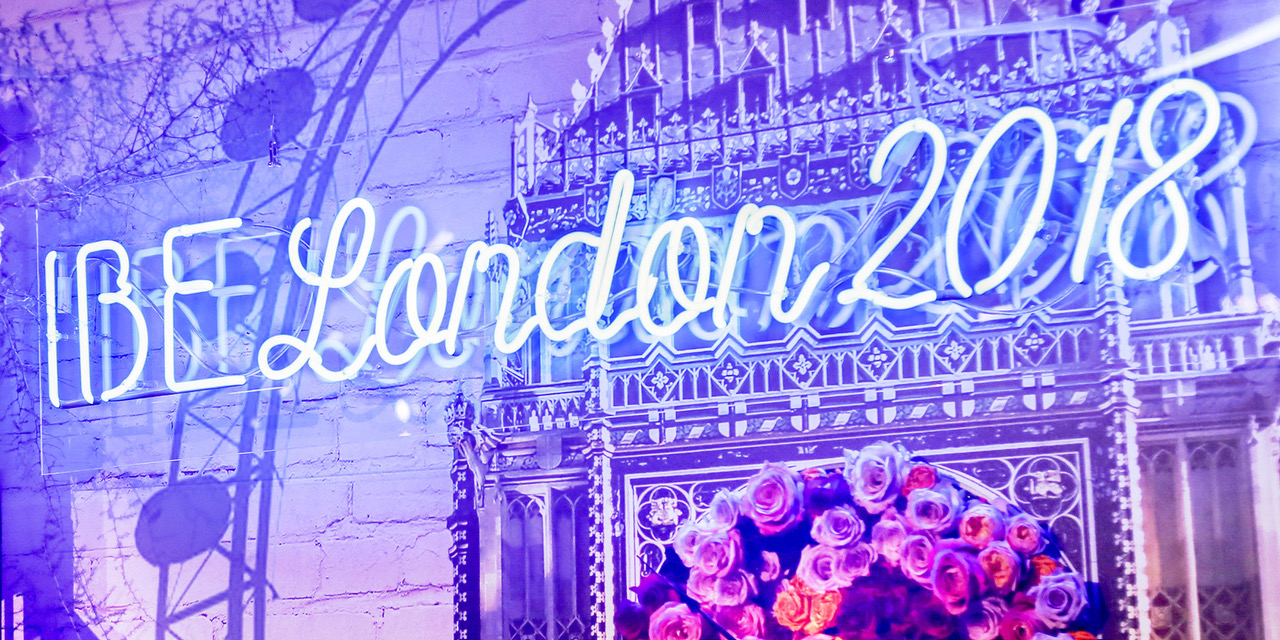 The Biggest Beauty Trends From IBE London 2018
The indie beauty phenomenon isn't just an American affair.
Indie Beauty Expo traveled from the United States to the United Kingdom to make its international debut at East London's Old Truman Brewery last month and serve as a catalyst for the global expansion of indie beauty brands. The show drew 71 brands from 21 countries, including Indonesia, Canada, South Africa and the small European nation of Luxembourg, spanning over 20 product categories.
More than 200 buyers from retailers the likes of Boots, Harrods, Harvey Nichols, Douglas, KaDeWe and The Hut Group swarmed the IBE London venue to check out rising beauty stars. The buzz among European press was palpable, too, with editors from i-D, Marie Claire, OK!, Popsugar, Refinery29, Vogue and WWD as well as British beauty bloggers Caroline Hirons and The Glow Getter's Ailish Lucas in attendance.
For anyone who couldn't make the trip, Beauty Independent was on hand at IBE London to scout brands and products gaining momentum on the international scene. Here, we dive into eight trends emanating from those brands and products to the rest of the indie beauty universe:
Related: The Biggest Beauty Trends From IBE New York
Related: IBE Dallas 2018 Exclusive Trend Report
Related: 10 Standout Trends From IBE Los Angeles
1. Quasi-Customization
Not everyone has the hankering to become a beauty brand founder, but many consumers wish they could tweak store-bought formulas to meet their skin's ever-changing needs. Several brands at IBE London met consumers' desire to play at-home formulator, and created unisex skin, hair and body-care ranges allowing customization that doesn't require a chemistry degree.
One Skin: Veteran skincare expert and former spa owner Noele Hammett has been using her 23-product range One Skin for over a decade in her Essex-based Skin Clinic. In the spring, the line became available for worldwide distribution. It's divided into five subcategories: prepare, repair, treat, protect and personalize. The personalize subcategory is comprised of seven one-ingredient boosters—glycolic acid, omega oil and squalene among them—that can be blended together in different combinations to tailor skin solutions. Key to the brand's ethos is its suggested product application method: "multi-layered; micro delivery." Customers are instructed to apply small quantities of each product onto the skin in thin layers and in the recommended order to allow for optimum absorption.
Emulsion: Launched in August, British brand Emulsion's assortment consists of 43 gender-inclusive products designed to ease customers into skincare, haircare and body-care personalization. "Its not like they're swimming in the ocean. It's customization, but it's guided," says co-founder Helen Bannayan. "You have your bases and, then, depending on your needs or your mood, you can choose from a number of add-ons." Add-ons include three varieties of exfoliants and eight targeted essential oil blends, which can be paired with the 15 base products. There are also nine natural fragrance options, including oud, lavender, sweet dust and neroli, that can be added to haircare and body-care bases.
Alex Carro: Launched by Alexandra Nodes in 2016, Alex Carro offers a tightly-curated range of five products covering an array of skin issues. "We empower our users to take our products and combine them together so they can create unique solutions for their skin," says Nodes. "The idea is you can take those products and adapt them according to your skin care needs, how much time you have and as a way of responding to environmental conditions. I can take those five products, mix and match them, tweak them depending on what I'm looking for." Two years into the brand, empowering its customers has paid off. They're keen on sharing the ways they use the products. Nodes exclaims, "That is magic. You open the door for people, but, once they get that confidence, they run with it."
2. Mother-Loving Products For Moms-To-Be
Most expectant mothers are too busy picking out the safest carseats and swiftest strollers to lavish themselves with luxe personal care products. A handful of brands at IBE London realized that the time when a woman is expecting and immediately after her bundle of joy has arrived is an occasion for pampering that calls for more than just a scented candle and carefully-wrapped soaps.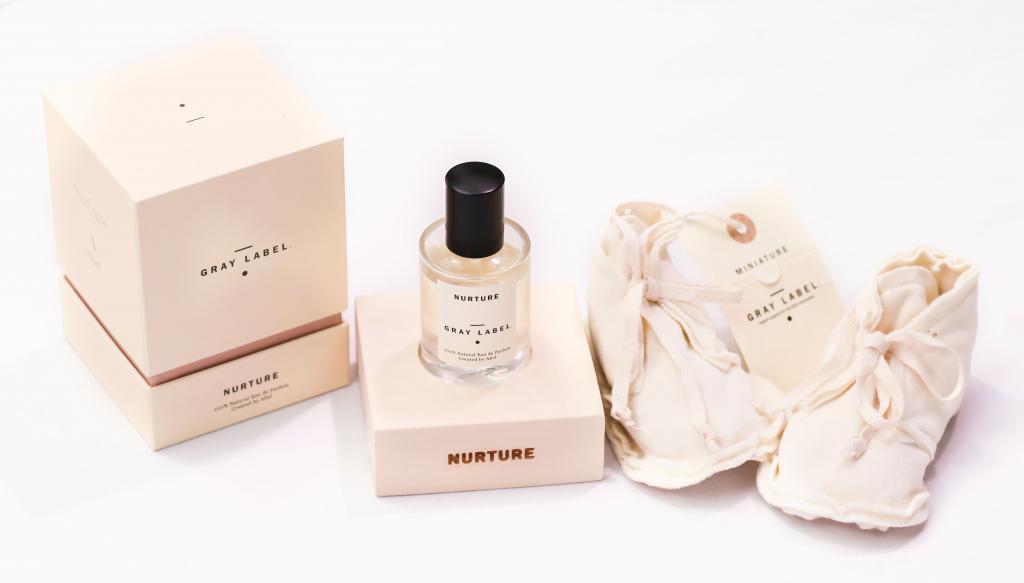 Abel: Natural perfume house Abel collaborated with Gray Label, an Amsterdam organic children's wear brand, to create Nurture, a fragrance for mothers-to-be and new mothers. "People often get interested in natural products when they're pregnant. They start thinking about what they put on their skin, what they eat, it's a bit of a trigger moment in that sense," says Abel founder Frances Shoemack, continuing, "Also, once you're pregnant, you're often told to stop wearing your synthetic perfume from your midwife. From my own experience, when you're pregnant, your sense of smell is so sensitive. I love coffee, but I can't sit in a cafe when I'm pregnant." Shoemack knows, though, that scent in its best form can be comforting. She mentions most of the ingredients comprising Nurture's scent were selected for their herbal medicine properties. "There's ginger for nausea; orange blossom is uplifting; bulgarian rose is good for calming the mind; [and] sandalwood is grounding," she details. "We wanted to make a scent with ingredients that were meaningful."
Balipura: Balipura's seven crystal-infused auric sprays were developed to enhance healing by supporting a shift in the auric field. The brand's Birthing Auric Spray was formulated to be used during pregnancy, after birth and for life transitions. "The Birthing Spray was originally created for a friend of mine that was about to have a baby and, because of the success it had, we decided to leave it as part of the regular line," says Balipura founder Micaela Restano. "This spray aids in adaptation to new life circumstances, regulating the circadian rhythms of the person using it, sleeping and eating habits as well as the different liquids and waters in our body. It's good for water retention and regulation of milk production." Amethyst, carnelian, chrysocolla, malachite, moonstone and quartz are tapped for the Birthing Auric Spray. The brand cleanses the crystals it uses with a protocol involving sunlight and moonlight, incorporates palo santo in the production process, and closes out the process with a Balinese ceremony. 
Atlantis Skincare: Zane Piese, founder of Atlantis Skincare, was inspired to create her brand's award-winning Stretch Mark Oil when her daughter was pregnant with Piese's first grandchild. "I've always taken great care of my skin, but I have friends who developed stretch marks during their pregnancies, and I have seen first-hand how this has impacted their confidence," she says. "I didn't want this to happen to my daughter, so I [developed] this natural, luxurious oil that would ensure she didn't develop any stretch marks." The Stretch Mark Oil, which contains seven oils to increase skin strength and elasticity, and moisturize, features coconut oil, vitamin E, and essential oils chosen for relaxation purposes. Piese's daughter approves. "My daughter now has two children and never developed any stretch marks," reports Piese. 
3. Big Mouth Strikes Again
Kissers continue to receive the creative attention of the beauty industry. From at-home devices to no-needles-necessary pout plumpers to formats designed to deposit long-lasting color and more, brands at IBE unleashed pucker innovations well-positioned to grab shares of the $1.9 billion global lip-care market.
Winky Lux: Fast beauty brand Winky Lux introduced its whimsical collection of accessible color cosmetics to the IBE London crowd. Known for churning out new products at a fevered pace, Winky Lux brought a number of new launches in tow. One fun addition to its massive line is the pH-activated Watermelon Jelly Balm. "It works with a person's pH and body heat to create the perfect pink for you after a couple of seconds," explains Tianna Johnson, account executive for beauty incubator Glow Concept, parent company of Winky Lux. The melon-scented color-changing balm goes on clear and quickly turns lips to a pink hue.
PMD: The Kardashians were part of the inspiration for PMD's Kiss lip-plumping device launched in May. "In 2012, there were some bloggers and influencers that we were working with that were actually taking out the exfoliating discs from our personal microderm device and using the vacuum to plump their lips," says Mike Alexander, director of sales at PMD. "We [saw] there was a need in the market for a way to plump your lips without bruising them." It took four years for the PMD team to develop Kiss. The challenge was perfecting the device's vacuum element. "We had to invent a vacuum that releases pressure," says Alexander. "We have a patent on the pulsating vacuum. People can truly plump their lips without damaging them because, once the pressure gets to a certain point, it will release. That's what makes it different from any other lip plumping product."
Clē Cosmetics: Minimalist beauty brand Clē Cosmetics delivers cutting-edge K-beauty color cosmetics by way of California. The brand's $20 Melting Lip Powder relies on microcapsule technology to transform from a pigmented, easy-to-apply powder into a long-wearing, matte-finish tint. The versatile product comes in eight shades that can be layered or mixed together, and can be applied to cheeks and eyelids for pops of color.
4. Accessible Color With A Conscience
In the clean beauty segment, where brands are clustered on prestige retail shelves, the idea that a business should be about more than just sales has become commonplace. Today, every segment of the beauty industry is boiling over with brands considering their impacts beyond the bottom line.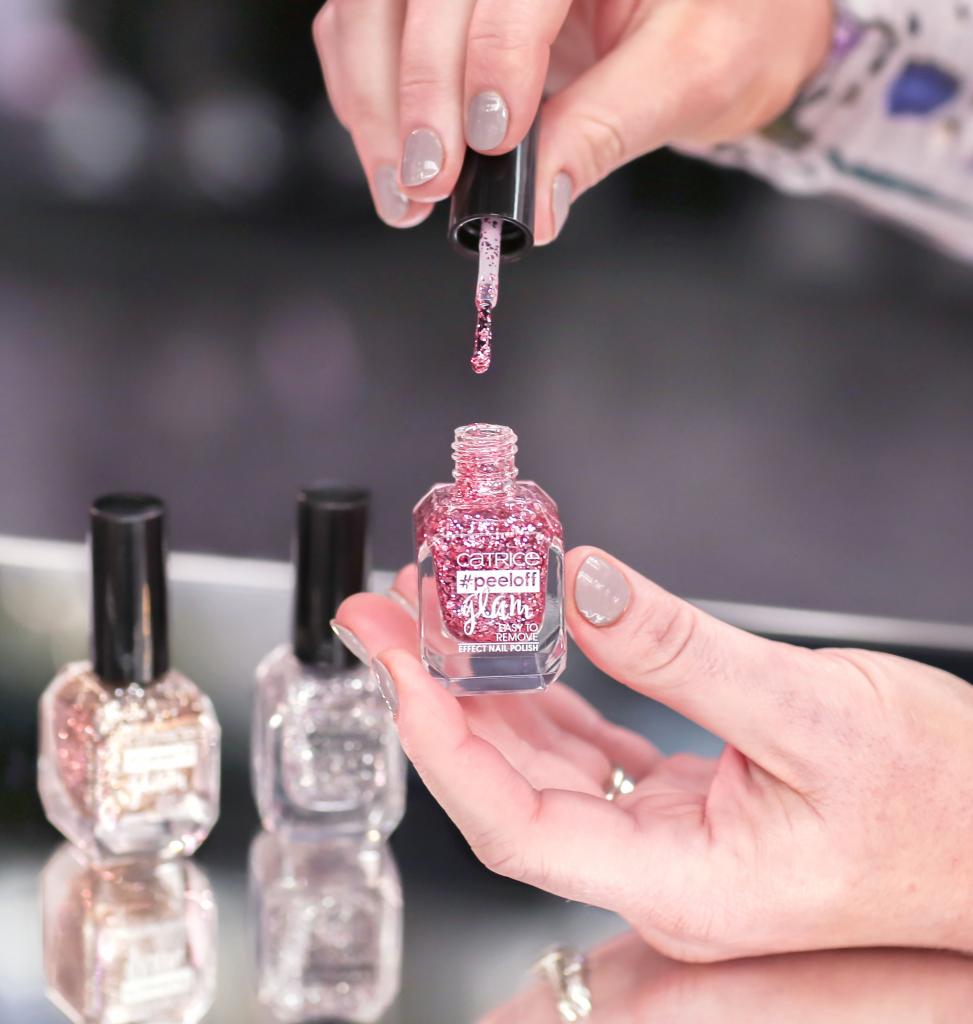 Catrice Cosmetics: Catrice Cosmetics' thesis is that high-end cosmetics don't have to be pricy. Its bestselling HD Liquid Coverage Foundation is $10.99 while its concealer Liquid Camouflage is $5.99 and Prime And Fine Contouring Palette is $7.99. Owned by Cosnova, the German brand launched in 2004 and entered the U.S. in 2015. It's currently available at Ulta, where millennial and gen z shoppers gravitate to its color payoff and cruelty-free positioning. On its website, Catrice offers tips to customers seeking to make cruelty-free beauty purchases. Before CoverGirl gained Leaping Bunny certification, the brand was committed to animal-friendly product development and manufacturing processes, which are enshrined in EU regulations. The EU banned animal testing in 2013.
Kryolan: Launched in the wake of World War II, German-born Kryolan made products for the makeup artistry segment to withstand the scrutiny of exacting professionals. From the very start, its founder Arnold Langer's credo was, "First comes the human being, afterwards the company." He passed away in February at the age of 97, but his philosophy lives on at the company he created. Kryolan products have never been tested on animals, and the company touts that it depends upon cosmetic ingredients with the highest levels of purity. Kryolan conducts regular clinical tests on them to ensure formulas don't irritate skin. The brand is expanding and, within the last year, opened stores in Paris, Rio de Janeiro and Antwerp.
Essence: Affordability doesn't have to come with value compromises. Cosnova's first brand, Essence, is easy on the bank account and the conscience. Its product prices largely run from $1.49 to $9.99, enabling customers to delve into trends without much pain in the pocket. The brand is found at Ulta, Fred Meyer, Forever 21, Shoppers Drug Mart and Harmon Face Values. When customers spend on Essence products, they do so with the understanding they're supporting causes bigger than their beauty purchases. The brand has donated to the organizations Operation Prom, Feeding America, Dress For Success and Family to Family. Essence doesn't test on animals; 95% of its products are manufactured in the EU; and it meets EU ingredient standards. The rigorous standards don't inhibit newness. At Cosnova, which launched Essence in 2002, innovation is a key component of the competitive strategy. The company updates 50% of its product assortment annually.
5. I'd Lather Not
The girl on the go is getting her beauty needs met like never before. She doesn't even have to stop at the sink to wash with soap and water if it's too onerous for her. Beauty brands are coming out with wipe-on and -off liquid cleansers and toners that require nothing more than a cotton ball.
Pretty Athletic: The brand is hitting the pre- and post-exercise trend hard. Its Workout Glow Hyaluronic Workout Tonic is a three-in-one product designed to cleanse, nourish and hydrate to reduce the skincare load gym goers have to lug around. Leyla Cooper, a former lawyer, and founder and CEO of Pretty Athletic, elaborates, "Coconut-derived cleansers work to remove sweat, dirt and impurities; a lightweight hyaluronic acid derivative hydrates, and vitamins, including niacinamide and vitamin E, nourish. The base is rosewater, and it's a spritz. So, it's also really lovely to use, very refreshing and lightweight. You don't need to be near a sink or shower to use it. We have women telling us that they don't just have their Workout Glow in their gym bag, but they also keep a Workout Glow in the car, at their desk, in their handbag, you name it."
Girl Undiscovered: New Zealand based skincare and body-care brand Girl Undiscovered was created for the unfussy millennial who wants take great care of her skin, but doesn't want to resort to a million products to do so. Under The Waterfall is a cleansing micellar water infused with citrine and rose quartz crystals as well as the brand's signature thanaka extract to gently remove makeup, cleanse and hydrate the skin in a few swift strokes.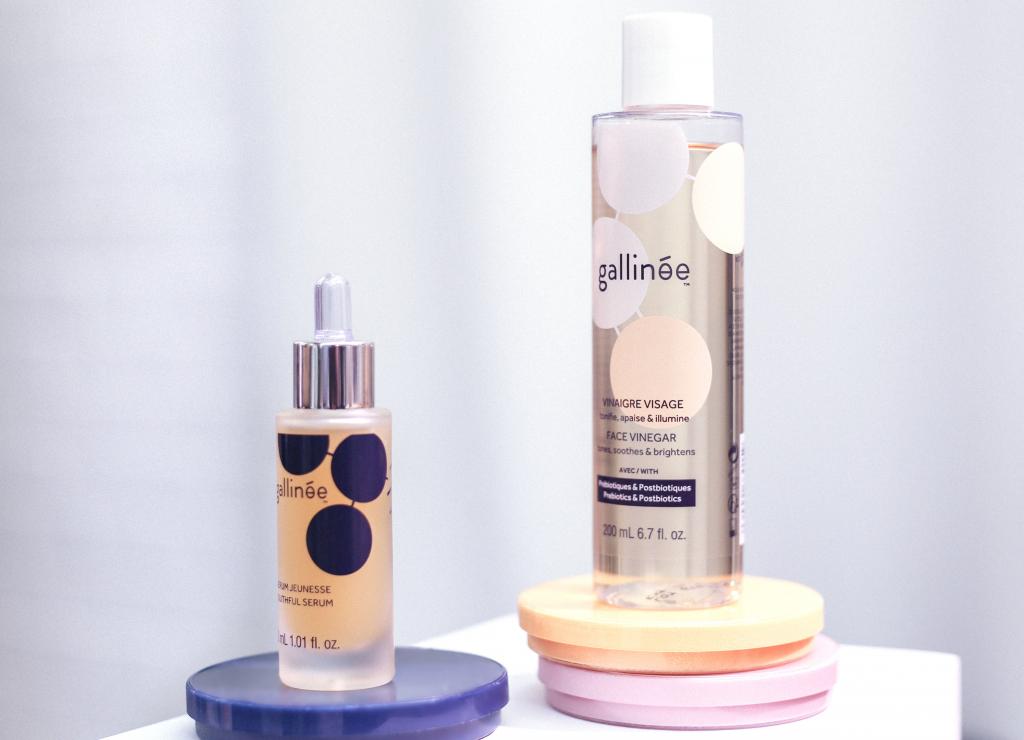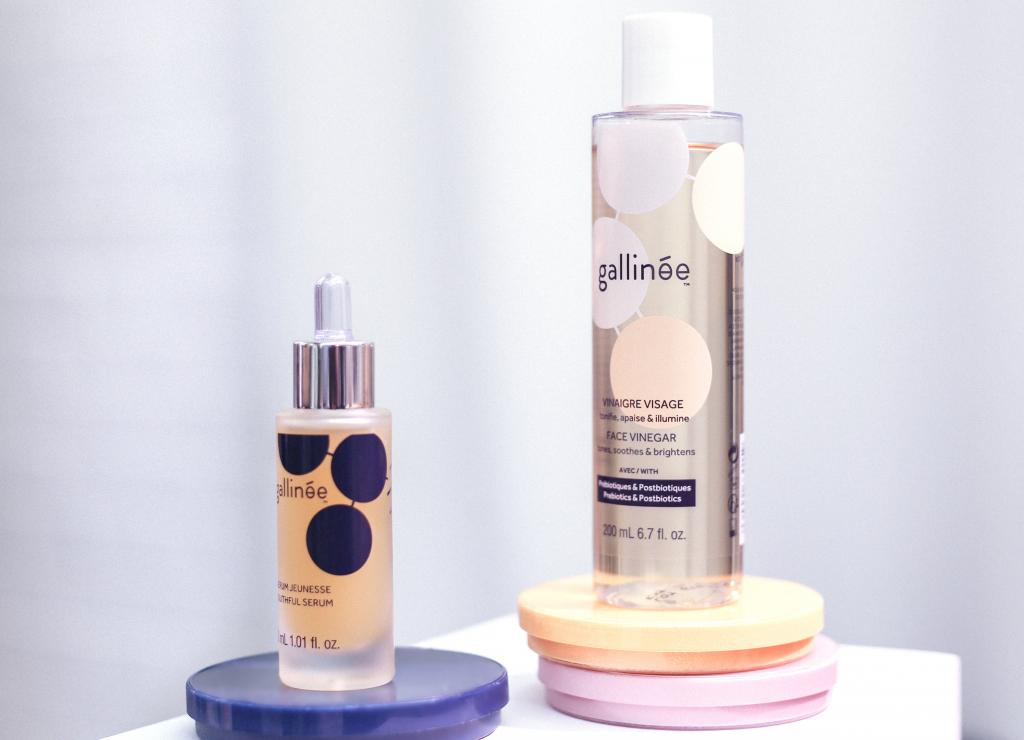 Gallinée: Dubbed by the brand as a "toner, but so much better," Gallinée's latest launch, the dual-patented Face Vinegar, contains hibiscus vinegar and two types of prebiotics to cater to several skin types. "[Vinegar] is produced by bacteria, so it has interesting effects on bacteria on the skin," explains Gallinée founder Marie Drago, who uses Face Vinegar to remove her eye makeup. "We also use prebiotics from algae. It's purifying and astringent because of the vinegar, but it's also soothing and anti-redness because of the prebiotics. It's indicated for oily skin and sensitive skin, which is really rare. It doesn't burn or sting at all. It's not sticky. It's not greasy. It's liquid skincare, to be honest."
6. Pen Station
Brands were sticking it to us on the show floor with new products in petite pen-like packages. These portable creations were designed to refine eyes, lips and face while only taking up scant space in makeup bags.
Oscience: Most products made for lids aren't designed for lashes as well. French clinical skincare brand Oscience has created Eye Zone Global Repair, a magic wand powered by the brand's CXOS complex addressing the whole eye area. "We are interested in aging in its entirety, especially by focusing on a sensitive area in women: eyelashes and eyebrows," says Oscience's biologist founder Claire Bianchin. "This is the basis of the concept of Eye Zone Global Repair, an unprecedented global repair solution for both the eye contour area and eyelashes and eyebrows. Our choice of active ingredients stimulate cellular activity, hair growth and restore the integrity of the dermis/epithelial sheath junction for optimal anchorage." In other words, the dermatologist- and ophthalmologist-tested Eye Zone Global Repair is formulated to reduce dark circles, refresh eye contours and combat wrinkles while improving the length, thickness and strength of eyelashes and eyebrows—in two months. "Thanks to its dual-ended applicator, it is the first to target the entire eye area in a single movement," says Bianchin. "It has a sponge tip at one end for the eye contour and a brush at the other for the eyelashes and/or eyebrows. It's simple, unique and, above all, it works."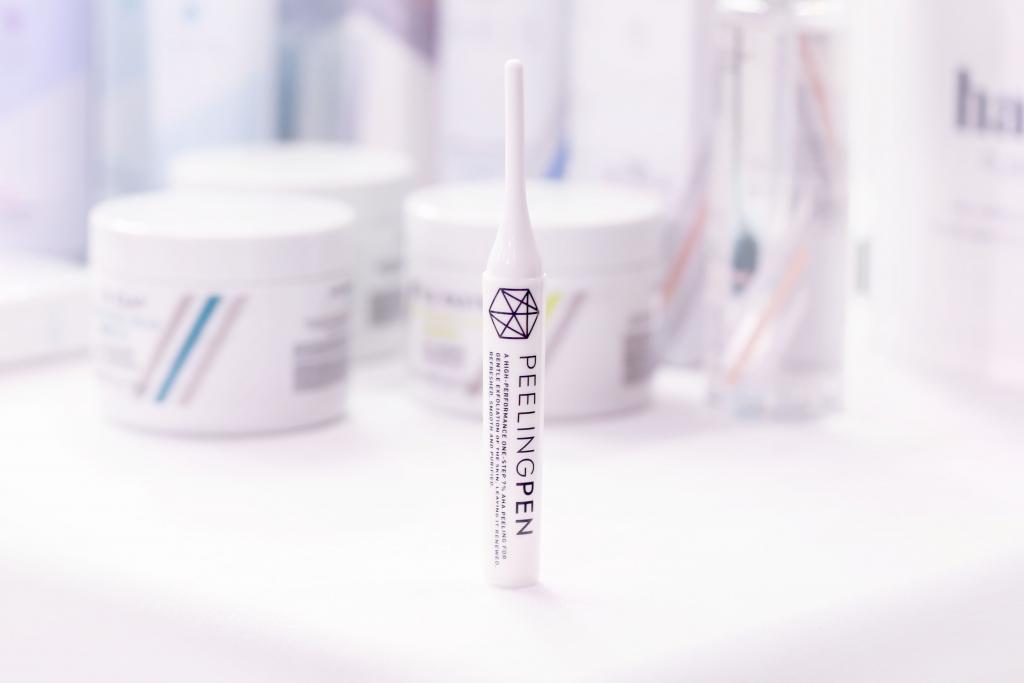 Eleni & Chris: Scandinavian skincare and haircare brand Eleni & Chris added to its robust product offering by revealing a new twist—and twist cap—to the at-home peel category. Its Peeling Pen uses cloudberry extract, glycolic acid, lactic acid and hydrolyzed collagen to amplify glow, gently remove dead skin cells, and rebuild and restore moisture. "In Scandinavia, we have a simplified beauty routine and love products that are hygienic, smart and practical," says co-founder Christinah Nicolaisen, who runs Eleni & Chris with her mother, Ellen Nicolaisen. "I always felt something like this was missing in the at-home peeling category. We're happy that we could create a gentle yet effective product with our signature ingredients for the ultimate beauty lover on the go."
L.O.V.: The most upmarket brand of brand incubator Cosnova's three color cosmetics lines, L.O.V. harnesses innovative technology to deliver timeless textures and colors to customers lips, lids, nails and more. L.O.V.'s Perfectitude Black Lip Scrub Pen comes in a stick form to glide smoothly onto lips like a balm, then gently scrub away dry spots. It gets its black color from activated charcoal. The activated charcoal helps lift lip color residue from lips so customers have a clean slate to create on. Perfectitude Black Lip Scrub Pen also contains vitamin E and shea butter to leave lips soft and ready for even the most matte lipstick.
7. Products With Pedigree
In an age filled with mass produced-merchandise that falls apart fast, there's a yearning for the care that yielded the goods of yesteryear. Beauty companies increasingly are responding to that desire for brands that turn back the clock on manufacturing, aesthetics and customer relationships while springing forward on formulations.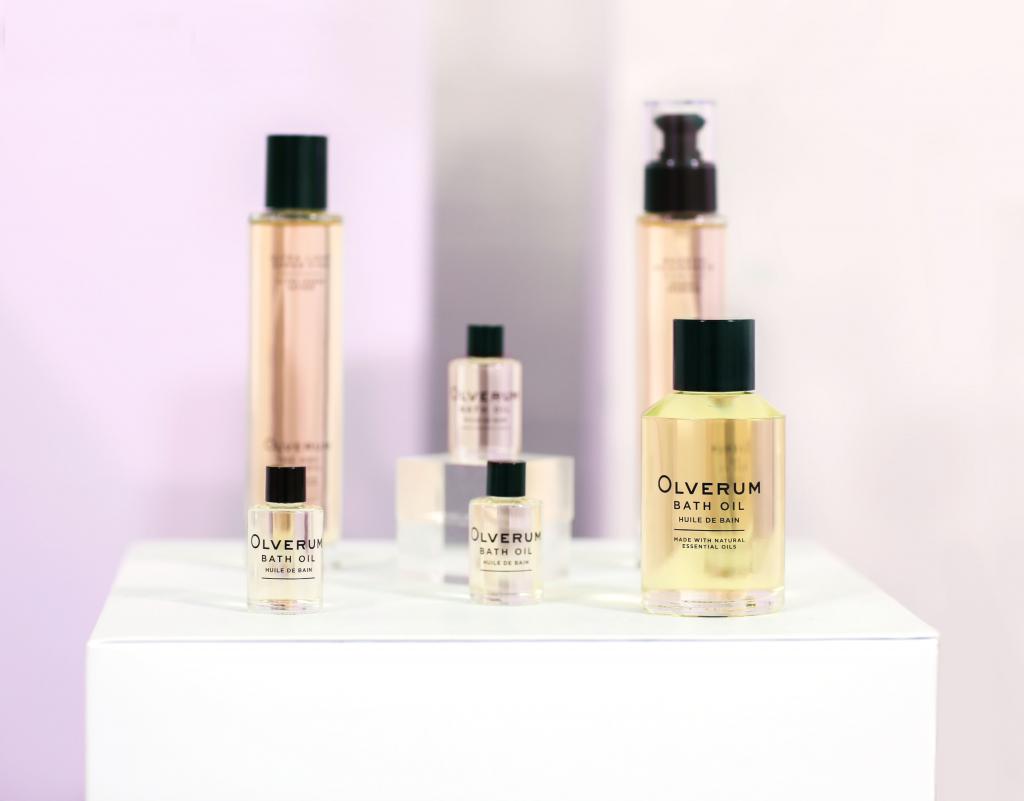 Cosmydor: Long before clean beauty was a term in the beauty lexicon, Cosmydor launched in 1877 with a completely natural cleansing eau de toilette. Not one for the mass market, the Parisian brand went dormant in the 1960s when beauty went big. In 2017, Cosmydor was resuscitated by entrepreneur Xavier Quattrocchi-Oubradous, who renovated it for contemporary consumers. Today, Cosmydor harkens back to its past with cold-pressed soaps made with gentle manufacturing processes and few ingredients, but it has moved well beyond them with a packed lineup of face creams, hand creams, balms, liquid soaps and ethical totes. The updated brand uses certified organic ingredients and no plastic packaging. "We decided to trace and revive the brand's DNA, its modern spirit, its incredible aesthetic history, and not fall into any vintage trap," says Quattrocchi-Oubradous. "We aim to be a timeless brand which has a rich history and serious roots, relevance for today's consumers, and a clear innovative eye on the future."
Olverum: Olverum's history dates back to 1931, when married German aromatherapy devotees Franz Otto and Edith Klein released an oil promising restorative properties. In 1980, Prince Philip, the Duke of Edinburgh, introduced the brand to the United Kingdom. "He heard about this quirky and highly therapeutic oil from Germany to help recover from exertion and sport," says Olverum commercial director Dominic Hawksley. "It is a favorite with the royal family and very popular with aristocracy generally." Today, the restorative properties of the plant extracts incorporated into Olverum's Bath Oil remain of the utmost importance, but the brand has spread outside of Europe to the U.S. at stores such as Aillea, Anthropologie and Follain. Hawksley says, "One of the most compelling things about the brand is that the bottle was never created with a business in mind. It was created by enthusiasts as a hobby to create the world's finest therapeutic oil."
Benamôr: The brand was founded in 1925 by a pharmacist and the creator of Nobre laboratories with beauty recipes focused on ingredients grown in Portugal such as aloe vera, lemon, rose and almond. The rose-driven formula for Benamôr's face cream Crème de Rosto dates back to its origins. In addition to Crème de Rosto, the brand's large product portfolio extends to hand creams, solid soaps, lip balms, liquid soaps, body creams, shower gels and body butters. The line revolves around scents, including the iconic scent Rose Amélie, a tribute to Portugal's Queen Amélie, an early fan of Benamôr. It's a blend of citrus Alantoíne, floral Jacarandá and amber Gordíssimo. The formulas are 90% natural. Benamôr is based in Lisbon, and the products are made in the town of Alenquer by the manufacturer Nally, which produces more than 7 million units annually out of a facility built in 2009.
8. With Nail And I
New nail products are trying to rev up a nail category that's lacked vibrancy of late. Whether with intriguing natural ingredients, unusual formula formats or eye-catching packaging, the brands behind them are doing what indies do best: unveiling products that aren't in the arsenals of mainstay beauty behemoths.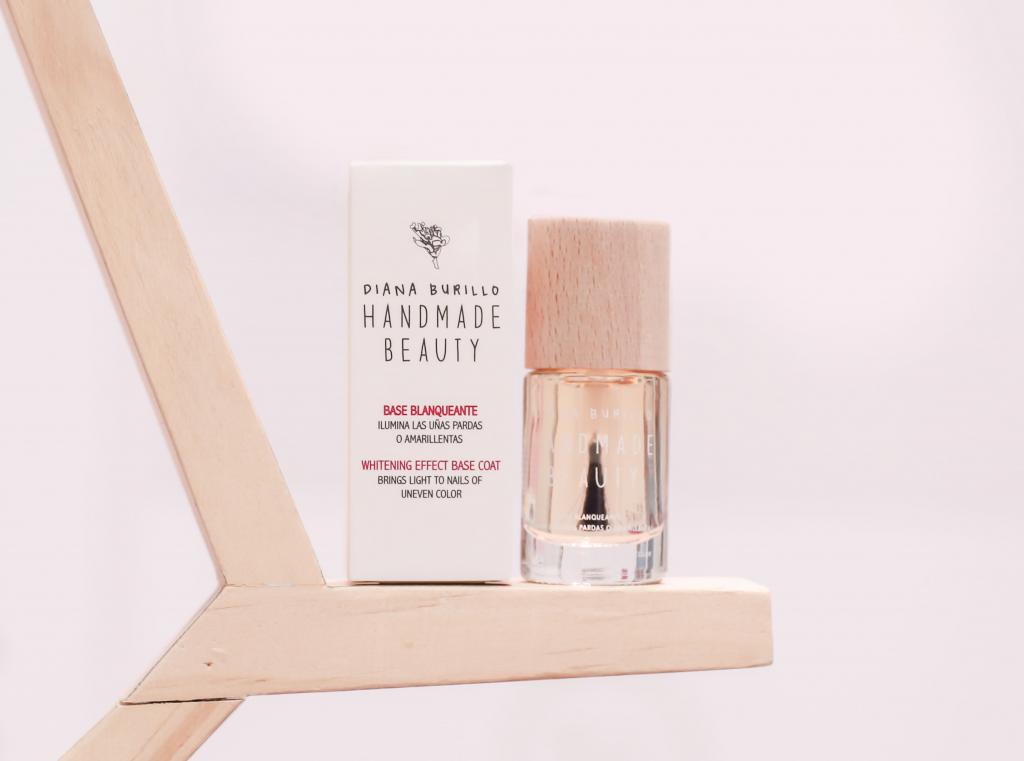 The Sign Tribe: The latest brand from Cosnova, The Sign Tribe is starting with Remove And Chill, which it proclaims is the first nail polish remover cream in the world. The lightweight cream's subtle fragrance is a marked departure from the unpleasant fumes of most nail lacquer removers. While removing polish, Remove And Chill provides the added benefit of enhancing nail health with a complex of macadamia, almond, argan and sesame oils, vitamin E and premium waxes. Packaged in a bright red tube with bold graphics, Remove And Chill is quickly barreling into retail with launches at Zalando Beauty in Germany and Beautymart in the U.K.
Balade en Provence: Cuticle oil isn't a product that often gets people excited, but Balade en Provence is out to change that. Its cuticle cream isn't actually an oil, it's a 99% natural balm with sweet almond oil, cocoa butter, candelilla wax, sunflower wax and olive oil. "It is easy to apply and massage on the cuticles, so it penetrates really well," says Balade en Provence business development director Alexandre Vidal, who notes it's one of the few vegan cuticle balms on the market. Made in Provence with fragrance from the region, it has an apricot scent Vidal insists puts a smile on most faces. The packaging is smile-provoking, too. The cuticle balm comes in a bright orange apricot-shaped vessel. After the balm is finished, Balade en Provence encourages users to find creative ways to upcycle the packaging. Anyone for an apricot-shaped vitamin case?
Handmade Beauty: Launched in 2012 by vegan entrepreneur Diana Burillo, Handmade Beauty made its mark on the Spanish beauty landscape with a range of health-conscious products and services. It has two locations in Madrid to showcase its complete selection. Nail products are a specialty of the brand, and it demonstrates its distinct take on them with various treatments and basecoats centered upon natural ingredients to address an array of nail concerns. Handmade Beauty's Water Basecoat is powered by a seaweed concentrate; Crystal Basecoat contains ginseng, lemon essential oil, sativa oat extract, cornflower and bentonite clay; Strengthening & Remineralizing Basecoat has sweet almond oil and pantothenate; and Moisturizing Basecoat With Aloe Vera boasts, of course, aloe vera, but also organic bamboo extract and vitamin E. Handmade Beauty's nail treatments include Two-Phase Oil with vitamin E and glycerin, and Antifungal with ciclopirox olamine, an ingredient that fights skin infections.