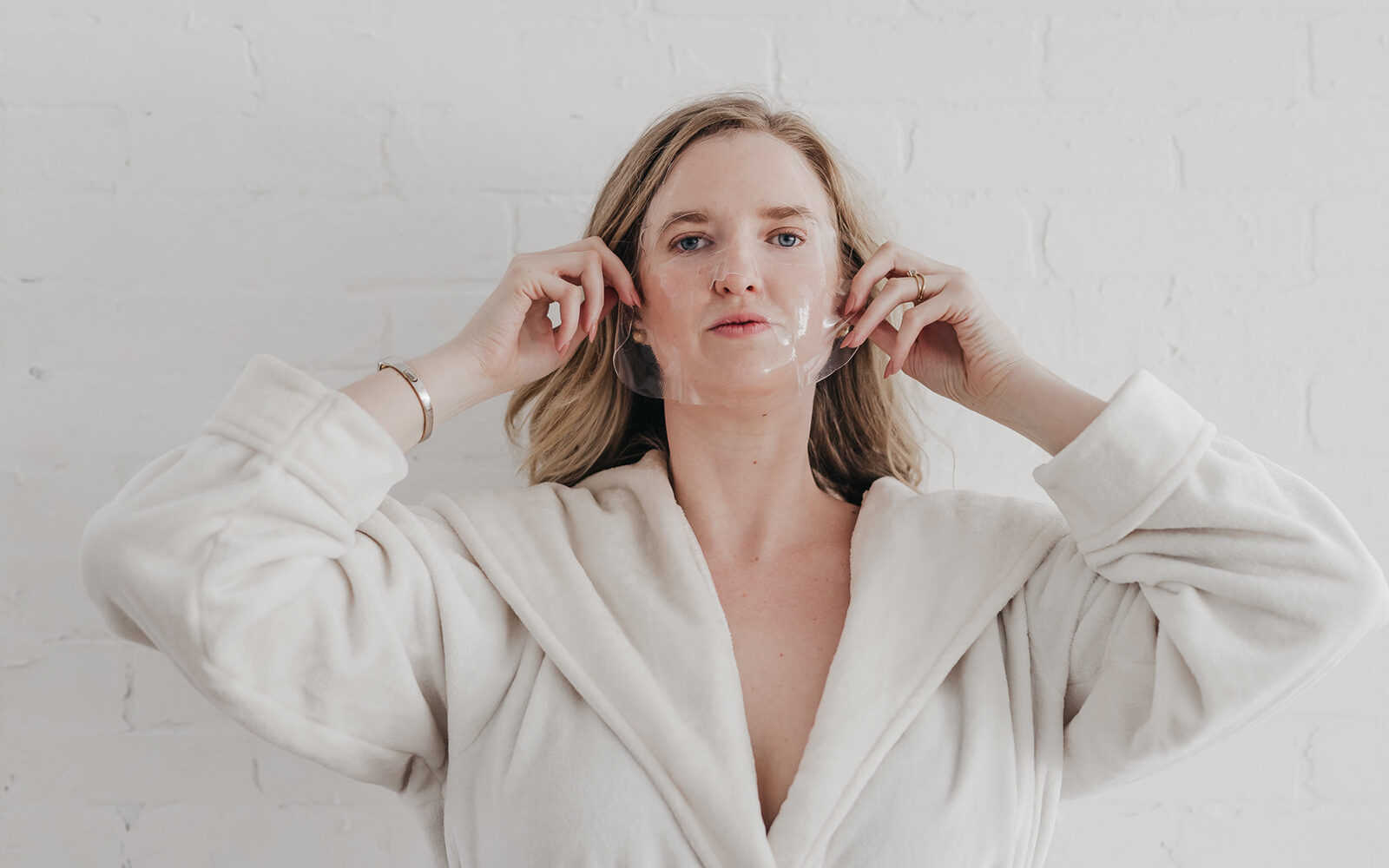 Influencer Reagan Hart Brings A Circular System To Sheet Masks With New Brand Low Beauty
To Reagan Hart, low impact doesn't mean low performance.
The clean beauty and lifestyle influencer has launched the brand Low Beauty with the idea of developing effective products that don't leave a lasting imprint on the earth. It's kicking off with Hydrating Green Tea Facial Mask, a hydrogel sheet mask with packaging customers can return to Hart to be recycled. The mask dissolves in hot water.
"I plan on all of my products having a circular disposal system for the waste they create," says Hart. "I won't create or release a product that isn't low waste. It's hard because I understand the term 'zero waste' is relevant to my product, but nothing is zero waste. Everything we do or consumer has some waste to it. I want to create circular systems for lower waste clean beauty products."
The Hydrating Green Tea Facial Mask is contained in a pre-paid business envelope that Low Beauty's domestic and international customers fill with the satchel the mask is housed in, and fabric and plastic materials lining it that are removed for application. The brand collects the contents of the envelopes to give to TerraCycle for recycling. Although TerraCycle has been in hot water over its claims, it's business model revolves around recycling hard-to-recycle goods. Priced at $16, Hydrating Green Tea Facial Mask is on the high end for sheet masks. Hart says the mail-back program is a big part of the reason why.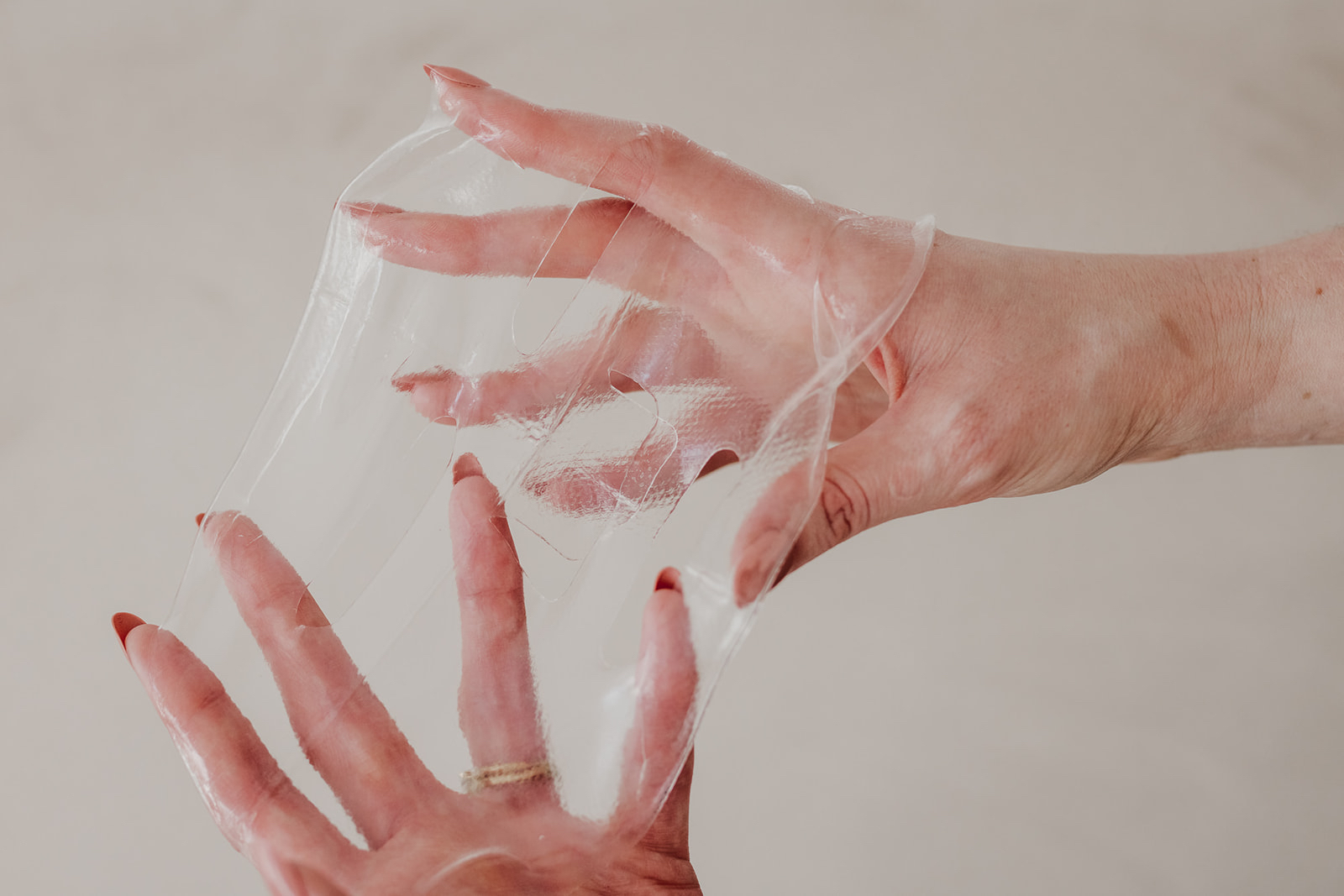 Also, Hart's focus on clean ingredients elevates the pricing. The hydrogel mask is designed to provide moisturizing benefits, particularly for people with dry skin. Key ingredients include glycerin, red seaweed, sodium hyaluronate, and green tea and rose extracts. Hart was careful that the formula avoid fragrances she worried could be irritating. The mask is intended to be applied for 15 to 20 minutes.
"I love sheet masks. I feel like they are one of the only things that have an instant effect," says Hart, who was originally introduced to sheet masks living in Hong Kong in 2012. She adds, "I tell my mom to do it once a week, but I do them a couple of times a week. I usually do one on Sunday night and Wednesday night. It's great pre-event or pre-filming. I know a lot of people are into content creation in some way, shape or form. We are just taking a lot more pictures nowadays. It really does help to plump out the skin and hydrate before doing them."
"I want to create circular systems for lower waste clean beauty products."
Hart entered the clean beauty world in 2013 at an internship in Shanghai for the company Green Gorgeous. Back then, she was studying apparel at Kansas State University, the closest major at the university to beauty marketing. After graduating, she moved to Taiwan to study Mandarin and met the man who became her husband. Next, she moved to Israel with him and, feeling lonely and isolated in a new country, she began blogging.
She later returned to the United States to settle in Silicon Valley, not a likely destination for a fashion and beauty enthusiast. She took positions at Ulta Beauty and a spa while dabbling in aesthetician school. She didn't end up finishing school and concluded retail wasn't for her. Instead, she decided to concentrate on content. Currently, she's posting at least three YouTube videos and five Instagram posts a week. She has 6,340 subscribers on YouTube, where she's amassed over 1.4 million views, and 4,515 followers on Instagram.
Hart's most popular videos are on period underwear, Kjaer Weis products, natural deodorants for men, and hair ties and brushes. Informed millennials constitute Hart's core audience. She reports her fans gravitate to brands such as Tata Harper, Ilia and Kosas. Hart's content has evolved as her product choices have widened. "I used to be super strict about ingredients. I still am, but I also understand that having some synthetics is OK," she says.
As a backlash against clean beauty has emerged, Hart finds herself often agreeing with the critics' arguments, but she hasn't decamped from clean beauty. "I don't like the fearmongering and that aspect of the clean beauty space. At the same time, we have seen the industry change, especially in the last 10 years, to create products that don't have as many questionable ingredients," she says. "I understand having criticism of clean beauty, it's a marketing term, but a lot of consumers have real concerns. People want better products that are more transparent."
"People are starting to think more about where their waste is going."
Since diving into content, Hart thought about how she could produce better, more transparent products. In 2019, she traveled to Taiwan to scout sheet mask factories. "Some of the factories I went to were like, 'Yesterday, we had a team from Macy's come,' and I was just showing up by myself alone, this 27-year-old, but I really enjoyed the process." Hart really enjoyed viewing the factory she ultimately selected for Low Beauty to receive assurances its product quality standards and employee conditions were up to par.
"It was really important to me to have a factory that was clean, and that the workers were happy and well-compensated, and I found that," says Hart. She elaborates, "I speak the language, so, when I'm walking around, I can hear what people are saying, and I got to see the entire factory from top to bottom. The environment is very sterile."
Hart figured it would take about six months to get Low Beauty off the ground, but the pandemic interfered, turning the anticipated six-month development process into a two-year journey. She invested $25,000 to launch it. Her goal is to sell 10,000 masks in 2022.
Hart is spreading the word about the brand among her network of fellow influencers. At the moment, she's sticking to direct-to-consumer distribution, but her goal is to place Low Beauty in retail as soon as next year. Clean beauty stores are on her dream list of retailers. In the summer of 2022, she expects to unveil a product for the eye area as a follow-up to the mask.
"Another goal that I have for five years is to be able to make this truly an in-house circular system where I own the machine that can break these down," says Hart. "I'm feeling really hopeful and confident, and I think people are starting to think more about where their waste is going, but there's a lot more education that needs to be done."