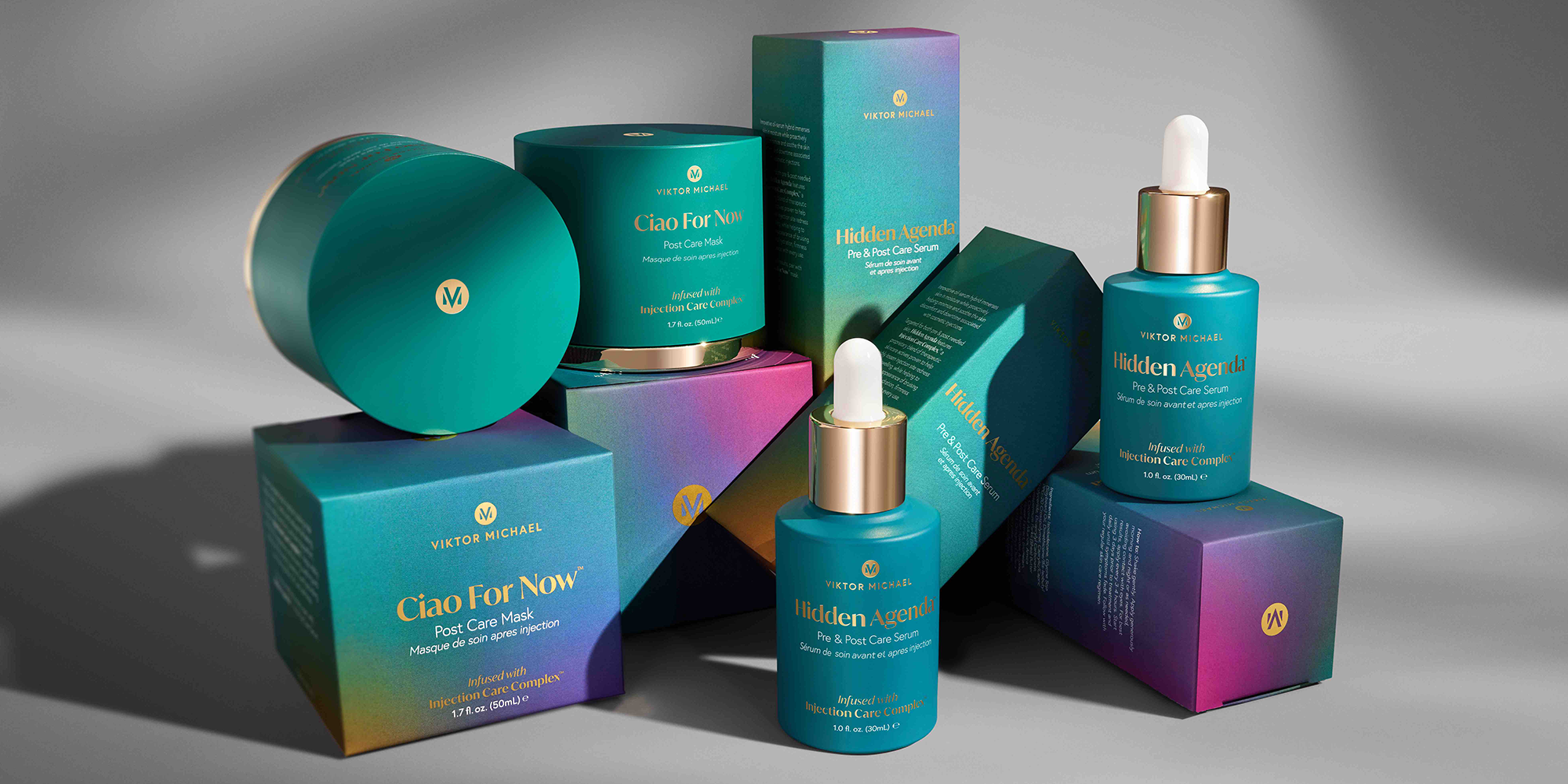 As The Injectables Market Soars, New Luxury Brand Viktor Michael Is Slashing Downtime In Style
At each of Nadya Kozlova and Shay Sim's three Kucumber Skin Lounge med-spa locations in the Seattle area, an average of 15 to 20 clients arrive daily to receive injectable services, including Botox, Juvéderm, Radiesse and Restylane.
For years, the clients were told to use icepacks and Arnicare to lessen any swelling and bruising prompted by the treatments. Starting in 2016, Kozlova and Sim began questioning why the aesthetics industry wasn't providing better options for pre- and post-injection care. Without a great answer, they decided to develop one.
Kozlova and Sim have launched Viktor Michael, a brand dedicated to improving the recovery from injectable services. The brand is beginning with two products—$157 serum Hidden Agenda and $112 mask Ciao For Now—designed to slash the downtime from injectables in half and support the results clients are striving to achieve from what they're paying for. They're instructed to apply the serum for three days prior to injections, and the serum and mask for at least nine days following them.
"Viktor Michael truly sits at the intersection of luxury skincare and recovery care. This is a brand-new category," says Kozlova. "The conventional treatments are very therapeutic. They are not skincare. They are not supporting you in between injection cycles." She adds, "We created the brand because of a necessity in the industry. It's not like we created a product trying to see how to fit it into the market. There was a need, and we created the products based on it."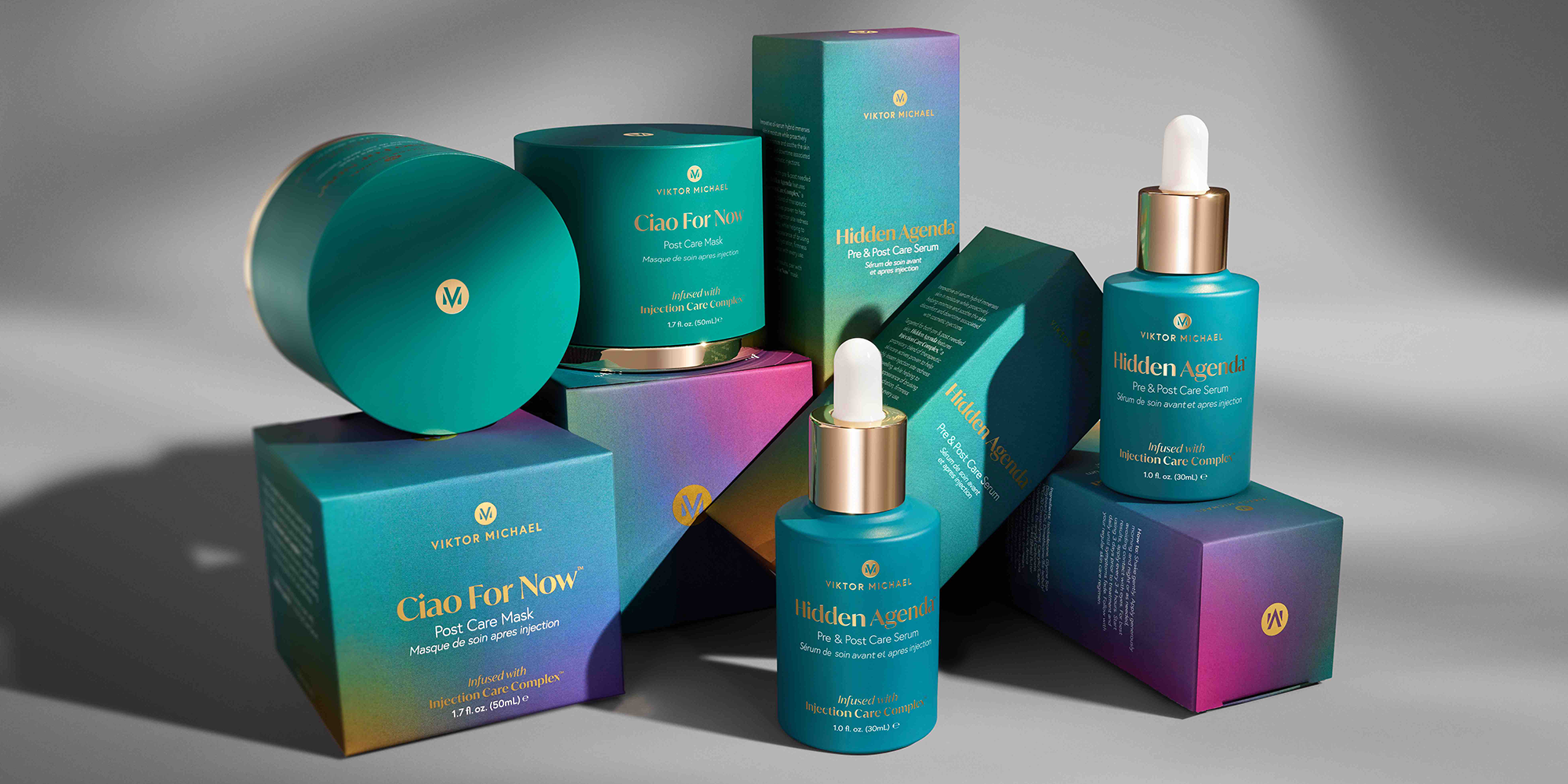 Viktor Michael's products are powered by a proprietary pre- and post-injectable service ingredient blend the brands calls the injection care complex. The complex contains arnica montana, bromelain, dragon's blood and babassu oil. Formulated with guidance from cosmetic chemist Susan Goldsberry, founder of Project Chemistry and co-founder of Ina, the products marry the complex with other ingredients such as shea butter, coco caprylate caprate, caprylic capric triglyceride, isododecane, lentil fruit extract, kaolin clay, sodium hyaluronate, bisabolol, and argan and moringa oils.
Viktor Michael trialed the products for a year in Kucumber Skin Lounge locations and tapped The Benchmarking Company to conduct a two-week consumer perception study with 34 participants. The study timeline was structured to account for two weeks of possible downtime from fillers like Juvéderm and a week of possible downtime from wrinkle-combating injectables like Botox.
"Viktor Michael truly sits at the intersection of luxury skincare and recovery care. This is a brand-new category."
The Benchmarking Company discovered that 100% of participants agreed Hidden Agenda and Ciao For Now are the best post-injection products available, and 100% agreed the products are gentle and non-irritating. At eight days, 97% of the participants detected a visible reduction in swelling, bruising and tenderness. Overall, 93% saw a reduction in redness, 95% noticed a drop in discomfort, and 97% said their post-injection skin appeared calmer.
"We set a new standard in recovery care," says Kozlova. Sim chimes in, "We are addressing all levels of action when it comes to injections, that is pre-care, downtime, helping to promote skin renewal and creating a healthy balance in the skin barrier for the healing process, and how your skin looks after. Can you use it daily to fit into your skincare routine? You absolutely can. It delivers hydration and has properties to rebuild collagen and elastin."
Kelly St. John, founder of KSJ Collective, a strategic growth consultancy building Viktor Michael's retail distribution, says, "There is an industry-wide lack of consistency in pre- and post-procedure protocol. Nadya and Shay have spent years working with a leading chemist to develop clean, clinical-grade luxury skincare products that help aid in post-injection skin renewal. I think that there is a growing niche in the market and Viktor Michael's first-to-market comprehensive offering for pre- and post-procedure care, but the real beauty of the line is that it is also highly effective for ongoing skincare needs as well. I have incorporated it into my daily regime."
Rachel Roberts Mattox, founder of Oyl + Water, an agency Viktor Michael turned to for branding and design, says, "I believed that Viktor Michael could ignite a new conversation around injection culture, and I was confident that the results spoke for themselves. I rarely see consumer perception studies with 100% approval ratings. After launching dozens of brands, I can say with confidence that Viktor Michael is a category-defining brand with huge growth potential."
"After launching dozens of brands, I can say with confidence that Viktor Michael is a category-defining brand with huge growth potential."
Sim and Kozlova, who both have careers in the aesthetics arena spanning roughly two decades, have made a big bet on that potential. Combined, they poured $500,000 into bringing Viktor Michael to life. The brand forecasts it could cross $1 million in sales this year. By 2026, the objective is to reach $25 million in sales.
The forecasts are grounded in Sim and Kozlova's belief in the strength of Viktor Michael, but in the strength of the injectable sector, too. The market research firm Grand View Research valued the global aesthetic medicine market at $99.1 billion in 2021 and estimates it will expand at a compound annual growth rate of 14.5% from 2022 to 2030. In 2021, management consultancy McKinsey & Co. noted the aesthetics injectables market has historically grown 10% a year, and it predicted it would grow 12% to 14% a year over the next five years. In 2020, the American Society of Plastic Surgeons figures Americans had 13.3 million minimally invasive procedures done.
In May, Viktor Michael will make its retail debut at the beauty boutique Shen. Beyond Shen, it aims to enter high-end clean beauty and department store retailers like The Detox Market and Neiman Marcus. Along with traditional retailers, it's targeting med-spas for distribution. Viktor Michael expects to roll out a directory on its website highlighting places people can go for injectables that incorporate its products.
Kozlova and Sim emphasize Viktor Michael, which is named for Kozlova's late grandfather and Sim's late father, doesn't require a hard sell for med-spas. At Kucumber Skin Lounge, Sim recounts that the injectors say, "Please don't come see us until you are pre-treating." Kozlova says, "We don't have to sell it. The sell-through is incredible because people come back to it. People see the results, and they don't want to be injected without it. The instructions and use of the products are simple, and they perform."
Future products will maintain injection care complex at the core of their formulations. Viktor Michael has a lip offering and a concealer on its near-term product roadmap. "As founders, we are not interested in developing a huge skincare brand. We are interested in creating individual SKUs to fit a specific need that a customer may have when they get injected," says Kozlova. "We plan to speak with and listen to the customers to see what things we should be adding to the line."