Digitally Native Hair Brand Insert Name Here Modernizes Old-School Customer Service To Generate Loyalty
When ColourPop launched four years ago, twentysomething friends Jordynn Wynn and Sharon Pak appeared on the digitally native cosmetics brand's social media feed to talk about eyeshadows, blushes and more in a goofy, affable way. Their banter, passion for products, willingness to experiment with makeup, and closeness with customers and influencers were critical to ColourPop's early success. Now, Wynn and Pak are putting their brand-building and social media skills to use at Insert Name Here Hair, an extension and wig business they created with Kevin Gould, a former talent manager at William Morris Endeavor and founder of Kombo Ventures
, an investment, incubation and consulting firm. Since its debut almost a year ago, INH Hair has generated in excess of $2 million in revenue. While Gould, Pak and Wynn are hyper-connected to technology, their brand trades in the stuff of old-school customer service and clienteling: personally reaching out to shoppers, forging bonds with them based on trust, and responding to their preferences for products and communication. Wynn emphasizes, "For Sharon and me, something that's really important is maintaining the relationship with our followers so they really believe that we aren't going to say anything we don't mean." Beauty Independent touched base with her and her partners at INH Hair about the brand's Insta baddie community, promotional activity, customer text messages, the future of influencers and Ariana Grande's trendsetting dominance.
How did you come together to create INH Hair?
Gould: I come from a talent background and was working managing talent, but I was one of the first investors in Beautycon and got very familiar with the beauty space over the years. I saw the distribution and sales power that influencers had. As an investor in Beautycon, I learned about ColourPop, and Jordynn and Sharon. We came together a little over a year ago to form Insert Name Here.
Wynn: I worked with Sharon at ColourPop, who I went to Pepperdine with, and we were the first two employees at the brand. Under the Seed Beauty umbrella, we helped concept and launch all the brands. Now, they have four [ColourPop, Kylie Cosmetics, Fourth Ray Beauty and KKW Beauty]. We were lucky because the team stayed pretty small for the first two years, and we really got to have our hands in a little bit of everything from customer service to sending packages to the press to loading products on the site. We were cold e-mailing all the influencers. This was at the beginning of when influencers and brands started to build relationships.
Sharon and I were there for quite a while, and we worked so well together. We have a huge love for the beauty space, but it's obviously so saturated. Everybody is launching brands, especially in makeup. There appeared to be more of a hole in the hair space. A lot of our influencer friends were wearing wigs, and they were starting to be more open about the fact that they were wearing wigs. We noticed it was hard to find quality products from a reliable brand. A lot of the brands out there had bad customer service and quality, and they weren't really digitally present. Sharon and I ran across Kevin about the same time we began chatting about the fact that hair was something we wanted to go into.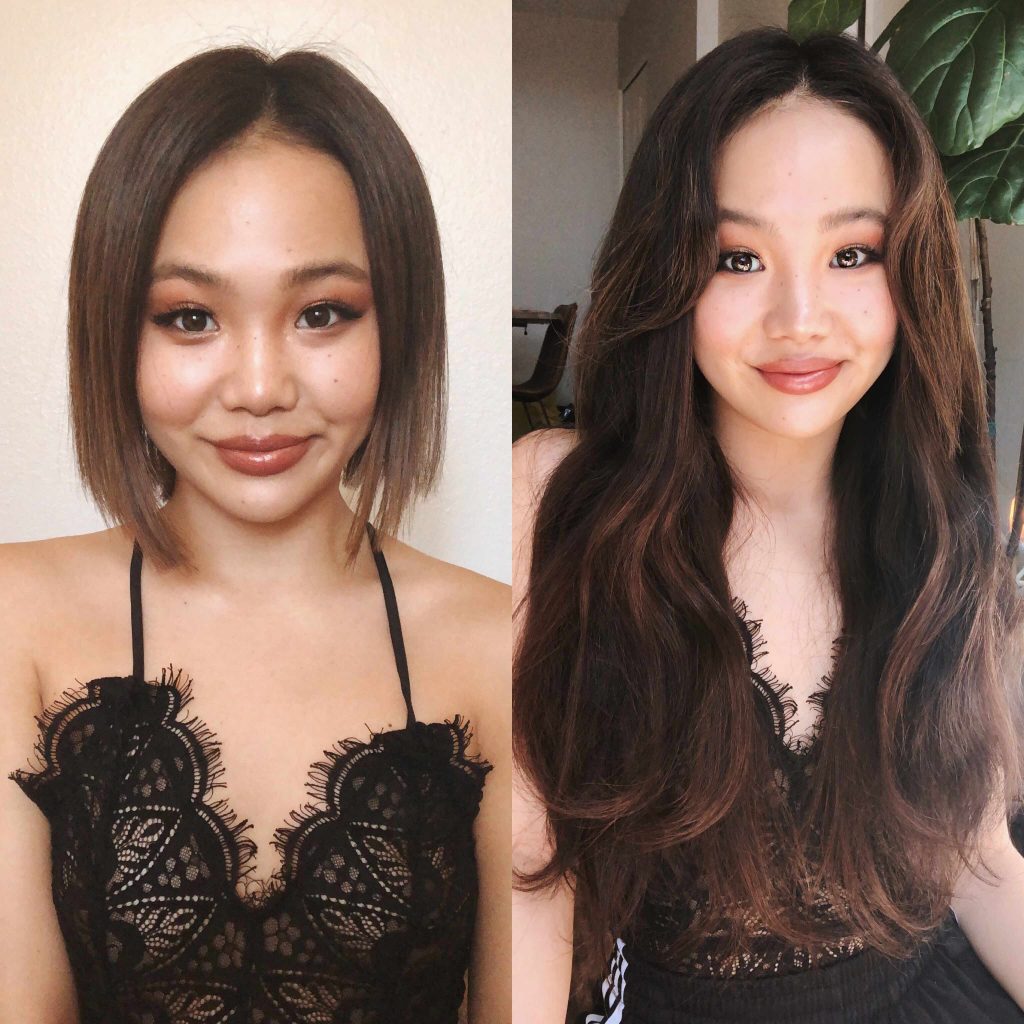 At the beginning of ColourPop, was it planned that you were the dedicated social media faces of the brand?
Pak: We never anticipated being the faces of ColourPop. It's not like we are insanely gorgeous or super makeup experts. We were relatable, and we had a very real connection with the people who loved ColourPop.
Wynn: The really fun thing about ColourPop was that we were winging it. Sharon and I became the faces of ColourPop because we were such a lean term, and we loved interacting with customers. We didn't have any contracts tying us down as the faces of the brand because it just kind of happened. As attached as we were to ColourPop, it was our first job out of college, and we wanted to do something that was ours. I remember that, when we told the founder we were doing our own thing, I was so scared, but she was so supportive.
Gould: We started concepting the brand in mid-summer 2018. Our speed to market was quick. We launched in October 2018. When you look a socially native, Instagram brands—I put ColourPop at the time of the list in beauty and Fashion Nova in fashion—they have visually transformative products that you can show through social media. There aren't many other categories where you can transform a look. There have obviously been hair brands for years, but it was a growing category where we thought we could apply the principles of visually appealing, socially native digital brands, and there was a growing trend of experimentation in hair with the younger 18- to 24- demographic. We really span 18- to 40-year-olds, but the 18- to 24-year-old demographic is experimenting with ponytails and wigs for the first time.
What did you want to do differently on your own?
Wynn: As far as how we interact with customers, we wanted to replicate a lot of what we learned at ColourPop. We wanted to react to trends really quickly. We wanted to offer a product that was accessible and experimental, and that offered up the opportunity for transformation. When we started at ColourPop, people weren't really doing bold makeup outside of lip color. It was exciting to be part of the movement to get people excited about cosmetics, and it's exciting to be part of the same movement in wigs and extensions.
What was your launch strategy for INH Hair?
Wynn: When we first launched the brand, it was a soft launch. Sharon and I hadn't told ColourPop that we were leaving or that we had a launched a brand. We weren't even sure if we were planning on leaving at the time. We started reaching out to influencers and press, but we weren't saying it was Sharon and my brand. It was growing quickly so, by March, we felt we needed to announce that it was ours. We did an exclusive with "Bustle" announcing it was ours, and we got a lot of supportive DMs and e-mails telling us they remembered us when we were babies at ColourPop and, now, we were growing up, but it was encouraging that the brand had legs on its own before Sharon and I announced it was ours.
How did you get the brand off the ground quickly?
Gould: At a macro level, it really comes down to building a community and a culture around your brand. From the beginning, that came from having the voice set the right away on social and amplifying that voice through influencers. To scale a brand, once you have that community built, it's about pulling marketing levers: great e-mail marketing, text message marketing and paid acquisition. Building a brand today is so different than it was five or six years ago, and you have to nail the entire consumer journey and marketing funnel to scale, but it all comes down to a strong voice and community. Today, you will see a lot of brands spend a ton of money, but that's zero sum if they don't have a strong voice and community.
Also, one thing we did early on was to have our team personally DM every follower. If you look at our DMs, there are tens of thousands of them. To this day, you will still see comments saying, "Oh my gosh, you are so responsive." For me, that was a really big moment. We learn so much about the community through interacting with them.
Wynn: From time to time, we do this thing where someone on our team will look at our customers' profiles, and we interact with them. We saw this one girl who really loved poems, so we customized a poem book for her and sent it in the mail to her with an INH package. Loyalty comes from doing things like that, and you can't put a price on it.
Pak: We don't treat them like just customers. A lot of brands think, "There are a ton of customers, we don't have to worry too much about them," but we go the extra mile to build a relationship with them. We make sure we like and comment on almost all on our tagged INH photos. We know they are going the extra mile to like the brand, so we are going the extra mile to recognize that.
How did you cultivate INH Hair's voice?
Wynn: We did a lot of vision boards to brainstorm, and I remember a particular brand brainstorming conversation we had in an Uber when we said, "It's like Bella Hadid, a Doberman and cherries." Building a brand is about a lot more than products. It's about having an aspirational aspect and feeling to the brand. Our brand is aspirational, but still achievable. When we did ColourPop, NastyGal was a big inspiration. Sharon, the founder of ColourPop and I were trying to emulate NastyGal, but, a couple months in, we realized none of us talked liked that, and the voice became our own. With INH, we wanted the voice to be how we normally talk. We are typing the copy every day, so we don't want it to be something that's hard for us to grasp.
Pak: Visually and through our branding and voice, speaking our customer's language is really, really important. Our customers love Hot Cheetos, sparkly things and nails. We go beyond the products to create a world that they can relate to on multiple levels, even in the captions, where we ask a lot of engaging questions and spark conversation.
How is the influencer landscape shifting?
Pak: When we started at ColourPop, macro influencers were so important to brand building. If Jaclyn Hill talked about a shade, we saw direct results from that. Some brands don't work with macro influencers anymore, but I think they are super important to validate the brand. They might not drive the same amount of traffic, revenue and conversion, but they do bring a lot of value. Our focus at INH, though, is building authentic relationships with smaller influencers. We DM them personally and have real relationships with micro influencers that pay off.
Gould: I think we will see a growing trend of people like Jordynn and Sharon that have real influence with their audience starting brands over the next few years. There could be someone that was early at Glossier that cultivated an audience of their own and has a lot of influence that may end up leaving and starting their own brand. It all comes down to credibility and the relationship they have with their audience.
Because of the algorithm changes, it has gotten harder for people to grow on Instagram. There's a moat in two ways. There's a moat around macro influencers. There will be few others that will able to get to their scale. There's a moat around brands. It's really hard to get to the scale of a brand like ColourPop. If you're an influencer, you have to find a sweet spot where you're going to stand out, and it's the same for a brand. How can you really stand out?
You have found text messaging to be effective. Tell us about the sorts of text messages you send to customers.
Gould: Some of them don't include an offer. We could just say, "Hope your day is going well." Others are similar to an e-mail acquisition strategy where we are pushing new product launches. Today, we might be launching new wigs and, sometime next week, we will send you a text message about the new wigs. It's a balance between using texts for brand awareness and promotion, and you can't just focus on one thing. Just because text is working really well doesn't mean we aren't leveraging e-mail.
What do you do with e-mails?
Wynn: Promotional emails are the most popular, but Sharon and I have direct connections to a lot of our customers, and we have personalized some our emails where there are no graphics, but a typed-out letter from Sharon and me. Those have performed so well that we are considering doing a newsletter just from us with brand updates. People don't always want to feel like they are being sold. They want to be part of the journey.
What's your approach to promotional deals?
Wynn: We have been doing a lot of testing to see what performs best. Right now, our approach is holidays and, then, also doing surprise ones on different platforms. We have exclusive deals we give you only if you are part of our text message platform or on e-mail or social media. You have to keep the deals surprising. If you are always saying it's 20% off site-wide, people get bored.
Pak: We do deals, but we are not a discount brand that's discounting three or four times a week. It cheapens the brand if you are constantly blasting deals all the time. Layering them in consciously on the different channels is important for us.
What trends are impacting sales?
Wynn: Our No. 1 trend-based product that's super popular is our clip-in ponytails. We have two that are really long like Ariana Grande's ponytails. One of them called the Miya sold out four times. Since our ponytails have been received so well, we will be updating them with limited editions. We call it the 30-second ponytail because it really is. You can transform your look, and it only takes 30 seconds. It's DIY at home for your hair. A lot of people are also try out the clip-in ponytails first. That's their gateway product, and they will come back within a month or two and go into the extension category.
There's a strong correlation between what's going on in pop culture and what we do. Kylie Jenner has made the teal wig very popular, and we have one coming up. We also have a pink wig called Bunny that's been hard to keep in stock, and it's similar to the one Ariana Grande wore in her 7 Rings video. She also wore one of our ponytails in the "In My Head" video that she did with Vogue.
How dependent are you on paid advertising?
Gould: Our paid traffic is less our organic traffic. We want to have a lot of organic growth and interest rather than just leaning into paid. I think some brands build unsustainable businesses because their paid traffic is 80% to 90% of their brand. Your margin on paid isn't very high, but, if you have a majority of sales coming from organic, you have something with long-term value.
What's a tweak you made that's been impactful to the brand?
Wynn: I would say one involves the audience we thought we were tapping. When we first started, we were referencing some of the other brands, and we thought our audience was the bachelorette girl with long hair and beachy waves. We were using lifestyle imagery on the beach with soft filters that was very Pinterest-y. I loved it. I love a big braid, but we found our girl is more edgy. We call her an Insta baddie. She's more into a sharp winged eyeliner, high Ariana ponytail, tube top and crazy nails. Our girl wants all the bling. She's really confident and wants to shake it up.
How do you see your roles evolving?
Wynn: A big subject in the influencer space is how authentic conversations are. You can even see the aesthetic changing to where it looks like you just captured it on your phone raw, and I think that's emblematic of where everything is going. What's really important to Sharon and me is to encourage other female entrepreneurs who want to get into the beauty space. I know it sounds cheesy, but we want to encourage them to chase their dreams. Sharon and I are both from small towns in the middle of nowhere. There were nine people in the graduating class at my high school. We had moms that encouraged us to do whatever we wanted, and we took that to heart. That's a big message we want to promote through social media. The sky is the limit.