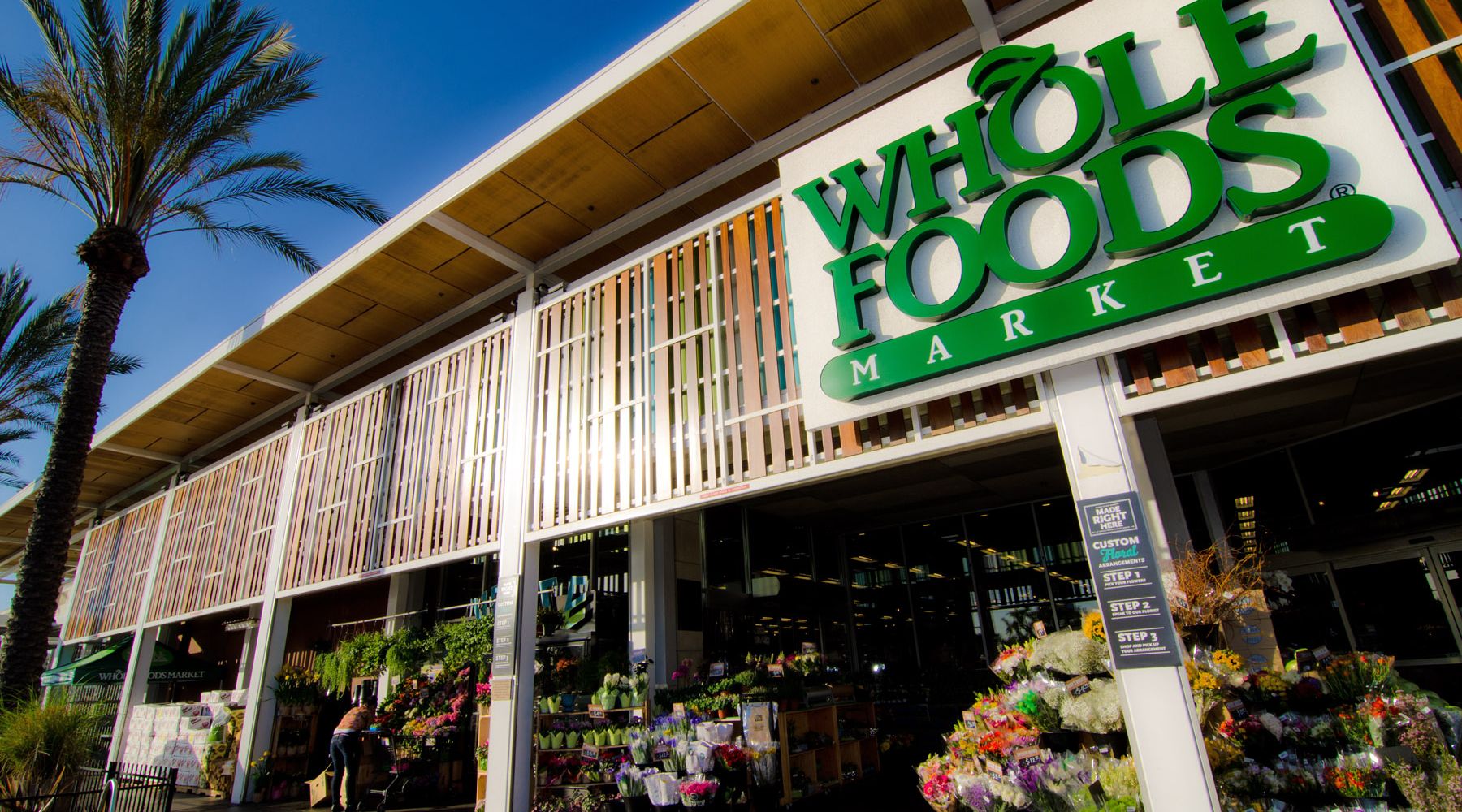 Global Category Manager Amy Jargo Pulls Back The Curtain On Whole Foods' Whole Body Department
For natural beauty brands, 487-unit Whole Foods Market has been one of the primary stages for gaining national exposure, building relationships with compatible consumers and generating sales on a broad scale. It's been a standard-bearer for ingredient scrutiny – it doesn't allow more than 400 ingredients of concern under its premium body care guidelines – and the elevation of emerging vendors. But Whole Foods is undergoing rapid change as it adjusts to Amazon, which acquired the chain last year, and faces its leadership in organic produce being challenged by grocer and big-box competitors, and pole position in clean beauty tested by growing retailers the likes of Follain, Credo, The Detox Market and Aillea.
Whole Foods isn't giving ground easily. It's brought in beauty expertise from Target with the hires of Alyssa Vescio, global executive coordinator, Whole Body, and Amy Jargo, global category manager, teamed up with Amazon to offer compelling deals, including a Prime Day deal giving Prime members $10 in Amazon credit for every $10 they spend at Whole Foods, and stays on top of rising cosmetics and skincare products and brands. "I'm constantly in the market at a lot of trade shows like Indie Beauty Expo, and I'm also active on social media and looking at internal and external data to identify the right brands for us," says Jargo. Beauty Independent spoke to her about joining Whole Foods in March, cracking its doors as a small brand, coping with the costs of hitting shelves, providing value for shoppers, surging beauty trends and her shelfie skills.
What led you to Whole Body?
I was the senior buyer in haircare and skincare at Target. I loved it, but I learned about this opportunity at Whole Foods and really couldn't pass it up. I personally love natural beauty. It's been a journey for me, and I'm excited about being in this role to share that with others and educate shoppers on the products that they are not only putting in their body, but on their body. My goals in beauty here at Whole Foods are [focused on three areas]. First, we have excellent quality standards here, and that's so exciting. We do the work for the shoppers, and have a high level of trust in terms of the transparency of the ingredients. Secondly, there's the assortment itself. My goal is to create the best clean beauty assortment and provide everything the shopper is looking for. The third piece of the strategy is education. Our natural beauty shopper needs a lot of education. What do the ingredients mean? What are the stories behind the brands? And how does she get the look?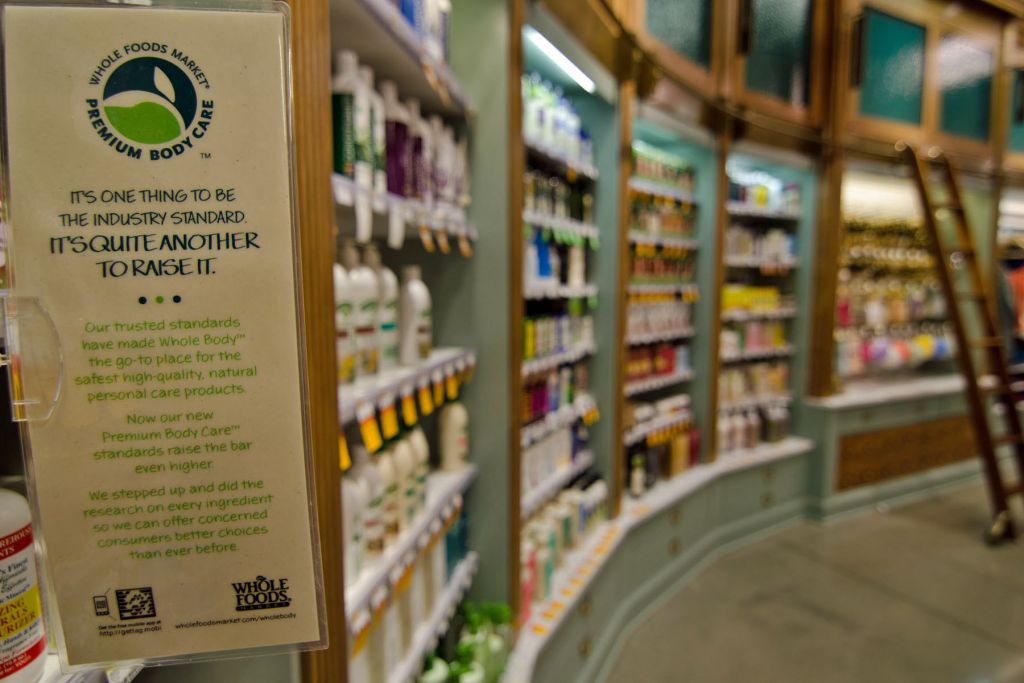 What should a brand do if it wants to enter the Whole Body selection?
First, it's all about the quality standards. Those are on our supplier portal on our website. A brand should do their research and understand what we are looking for from an ingredient perspective, and make sure their products truly match our definition of clean. Beyond ingredients, we have additional standards regarding transparency and claims. For example, if something is claiming to be organic, that means it has to be actually USDA certified organic. Secondly, as with all retailers, we are looking for new and innovative products, and a brand really needs to fill a gap. Something that no one else is doing excites us. Lastly, I'm looking for brands that match our values, and that includes our value for doing good for the environment and community.
Is there a certain time of year that brands should reach out?
Brands are invited to submit products for review at any time. On our supplier portal, our brands can also see the calendar of when we are reviewing a product.
What do you wish brands would do when they pitch you?
I need them to help me understand how they are differentiated from what we carry today, and how they are advancing the industry with their product. We really love brands that are doing good for the world. Communicating and submitting through our supplier portal is a great tool for brands looking to contact us at any time.
What products are on the upswing in Whole Body?
We are really excited about facial oils, toners and sunscreens for summer. We see single-use masks for face and hair like the face masks from Andalou doing really well as are multifunctional products, anything you can toss in a gym bag and use for many purposes like Cocokind's sticks that come in matcha, beet and turmeric. One of the biggest trends we are seeing is our beauty shopper really taking an interest in ingestible collagen, and other hair, nail and skin ingestibles to achieve the right beauty regimen from the inside out.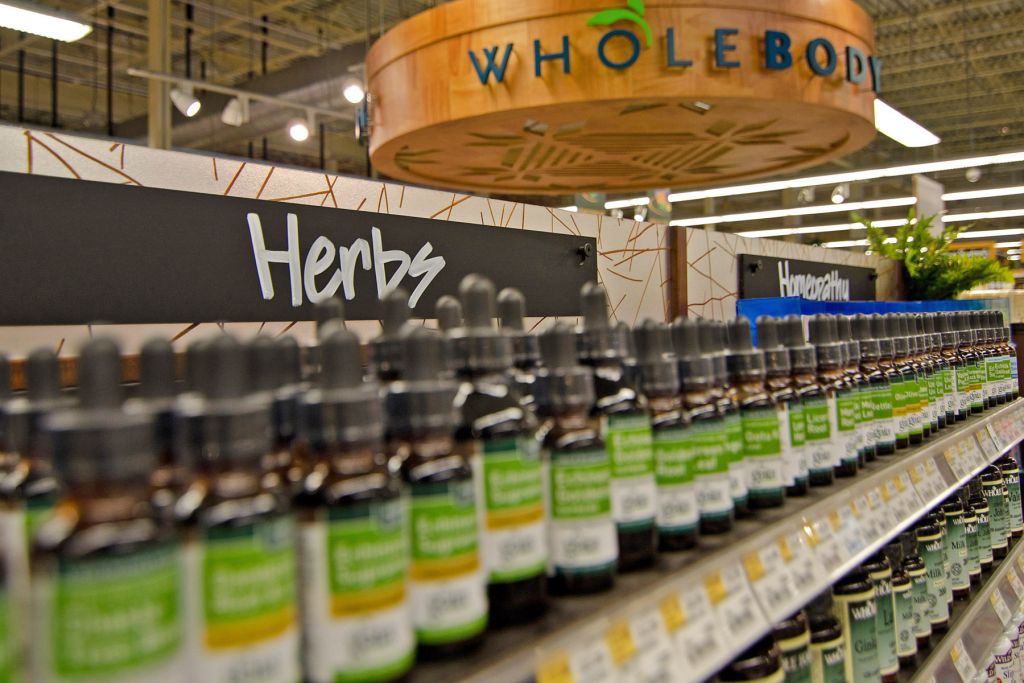 What beauty trends are coming on the strongest?
Absolutely beauty from within. At Indie Beauty Expo Dallas, we saw at least three vendors taking that approach to beauty, and it's something our Whole Body shopper loves. The shopper also loves facial oils like the ones from Mad Hippie and Trilogy. I'm seeing that vitamin C can really do no wrong. Mad Hippie has its Vitamin C Serum, and Derma e has a great one. Toners like those from Dr. Hauschka and Thayers – Cocokind has a great one as well, and Evanhealy has beautiful hydrosols – are having a resurgence now, especially in the summer when they are so refreshing. With the recent sunscreen legislation, we see shoppers asking a lot of questions and educating themselves on sunscreen ingredients. We launched our 365 Everyday Value sunscreen, which is really lovely. This is going to come as no surprise, but other popular ingredients are turmeric and hemp. We are launching CannaCell products from Andalou made from hemp stem cells.
Can you tell us about successful brand launches?
Two of our favorites are Mad Hippie and Cocokind. Those brands are so successful first because they are extremely efficacious. The ingredients are very on trend and really resonating with our shoppers, and these brands do such a great job of talking to their consumers, and educating them on how to use the products and have fun with them. Another brand that we are really excited about is Au Naturale. They are vegan, cruelty-free and free of all the ingredients on our no list. They also have extremely efficacious cosmetic items that come in fun forms. The cream eyeshadow is one of my favorites. Their eyeshadow colors are amazing.
How is beauty presented at Whole Foods outside the Whole Body department?
Our destination for body care and beauty products will always be the Whole Body department first and foremost. Our strategy across the store is to meet our shoppers needs and that means, if there's an item elsewhere in the store such as a facial mask near the register, it's because the goal is to provide the shopper what he or she needs at that moment. Additionally, we love to create extra space for promotions that we have going on. So, another reason you might see Whole Body products outside of Whole Body is because of a really great deal.
What beauty products do you use at home?
I'm the luckiest person in the world that I work in this space because I love to try new things. I just love beauty products. When I was young, I would line them up on my shelf as trophies. I may have taken the original shelfie with my disposable Kodak camera. I have such a wide selection of clean products to choose from, so I'm totally clean now. Part of that is I really have to be. I have a few skin issues that led me to learn about this category even before I came to Whole Foods and Whole Body, and that really sparked my passion for the category.
Some of my favorites are Dr. Bronner's Peppermint [Pure-Castile Liquid] Soap. It's so refreshing after yoga or a run. I use Thayers [Witch Hazel Toner] in rose petal. I use the Trilogy Rosehip Oil that so many of our customers love. I love the Cocokind Chia Facial Oil. I even mix it into my body lotion for an extra treat. I love the Mad Mippie Vitamin A Serum. I alternate that into my routine because it's more of an exfoliant for the skin. The Evanhealy Lavender Facial Tonic is so refreshing for summer. I have some of that at my desk.
I'm really picky about mascara. It was one of the hardest transitions to clean for me, but I love the Pacifica Dream Big Mascara. It has the best wand for me. I use W3ll People for foundation and bronzer. My routine is so fast because its sticks are so easy. I use Au Naturale's [All-Glowing Crème] Highlighter in The OG, and it's beautiful. For hair, I love the Alba Botanica Coconut Milk Shampoo and Conditioner, and it wouldn't be Whole Body if I wasn't doing something for the inside of my body as well as the outside. I use Vital Proteins Matcha [Collagen] as a hot tea.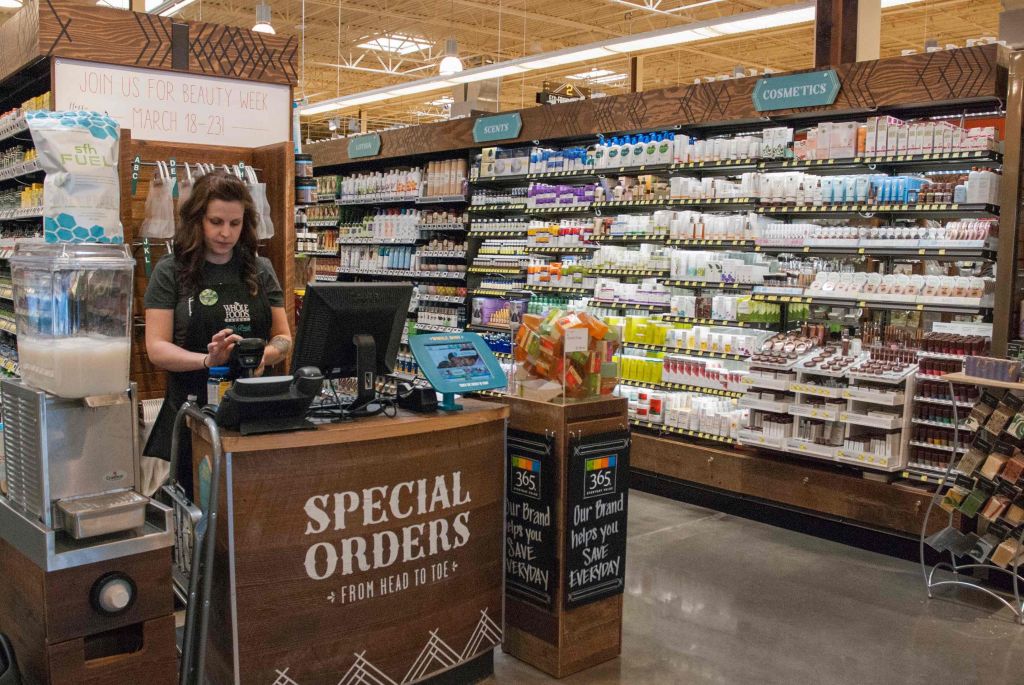 In recent years, Whole Body has updated its cosmetics presentation. Can you share what's been going on?
Our goal in cosmetics is always to showcase our brands and allow our shoppers to try new products. All of our brands have testers available. We really invite our shoppers in each store to come and learn about our products, and play with the various brands. All of our displays are arranged to do that, but stores are set up differently. In some stores, we have cosmetics tables that are a great way to showcase the brands to the shoppers.
It can be costly to enter Whole Body. How do you help brands sort through the costs?
One of our core values is win-win supplier partnerships. We pledge to work with our suppliers to help them understand the costs involved in doing business with us. The Pacha Soap brand started in one store and, by working with our team, it has grown into one of the top brands in Whole Body. It won supplier of the year for non-perishables at Whole Foods. We will educate brands on the costs of doing business in order to help them understand all the pieces of it.
How does Whole Body support emerging brands?
We definitely partner with the brands upfront to really understand their capabilities and ensure that growth is going to be a win-win for both of us. It's about one-on-one conversations with the category management teams and the brands to set them up for success. We also have a local producer loan program that allows some of our small local suppliers to apply for grants to help them grow and develop their businesses.
What's the relationship like between Amazon and Whole Body? If a brand is on Amazon and Whole Foods, can synergies be realized?
We have separate merchandising teams, so I can only speak to Whole Body. Our quality standards and processes have not changed.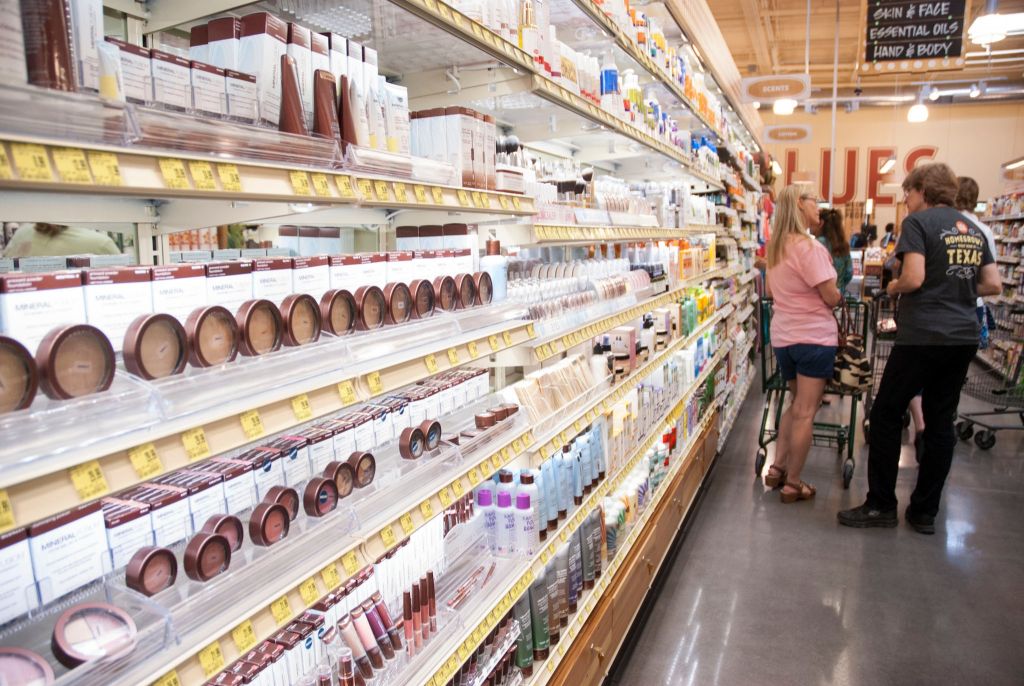 During the recession, there was talk about value pricing. What are you noticing now in terms of how beauty consumers relate to pricing?
My priority is that we carry products at all price points to meet each consumer where they are. I like that you mention the word value. Price is one part of value. My goal is to offer the best value in beauty. In addition to price, value can mean clean ingredients, doing good in the world, and product efficacy.
There's been concern about the move from regional to centralized buying at Whole Foods. Can you explain that transition?
This is one of the reasons I'm on board. We are evolving to create the right foundation for growth, and that includes having a global category management team. The purpose of that team is to make the right data-driven decisions to create the best Whole Body assortment for our shoppers. Our regional buyers partner with the global management team to create the global strategy. They are key partners, and they are instrumental in identifying regional and locally-relevant brands.
Competition in the green retail space has exploded. How do you confront that competition head-on and differentiate Whole Body?
Shoppers are becoming more and more educated, not only in the food they eat, but in the products they are using. This is such an exciting space to be in right now. What will always differentiate Whole Body is our ingredient standards. Our shopper knows that, when she walks into the Whole Body section, it has the most transparent and clean products. We have a quality standards team that evaluates each of the products and that takes the onus off of the shopper. She doesn't need to read an in-store sign to trust the ingredients and products. She knows she can trust our team. One more point is that, in Whole Foods, we provide the entire clean lifestyle for her that goes from collagen supplements to organic and natural food, and more. We are a one-stop shop for the best natural and organic products.