"Move With Intention": How Inside Outer Beauty Market Created A Diverse Selection And More Than Doubled Sales
During an exceedingly tough time for retailers, Inside Outer Beauty Market has more than doubled its year-over-year revenues.
For the clicks-and-bricks concept, which dealt with its physical store in Allentown, Pa. being closed for five months last year, going against the grain is the norm. In a clean beauty category catering primarily to white women customers and touting white entrepreneurs, founder Dixie Lincoln-Nichols was a champion for diversity early on. Around 70% of the nearly 3-year-old Inside Outer Beauty Market's beauty, wellness and personal care assortment are BIPOC-led brands. The care Lincoln-Nichols takes in putting it together and educating customers on the brands within it, including bestsellers Jacq's Organics, Labruna Skincare and Frigg, has resulted in a 24% customer return rate.
Last September, Inside Outer Beauty Market was recognized as the Beacon Awards winner for Best Small Indie Retailer. Lincoln-Nichols' laser focus on her clientele and her push for best-in-class products aimed at BIPOC shoppers' needs made Inside Outer Beauty Market stand out to the judges. "They wowed us with their expert curation of nontoxic products, consistent messaging and customer engagement," said judge Rahama Wright, CEO and founder of SheaYeleen, during the Beacon Awards ceremony. She continued, "They simply epitomize the best qualities that a small retailer can bring to its customer base." Beauty Independent talked with Lincoln-Nichols about starting Inside Outer Beauty Market, selecting brands, strengthening e-commerce and building a business with intention. 
What were you doing before opening Inside Outer Beauty Market?
Prior to Inside Outer Beauty, I spent 14 years teaching biological science and the health sciences. At one point I decided I just couldn't stay here anymore because even though I love the body, the sciences and biology, it just wasn't the capacity in which I wanted to work and to use my skills and my talent. So, I started a small bath and body products company, and I launched three SKUs. It didn't live very long. About a year and a half into it, I had to quit and decided to pivot. At the end of 2012, I took a self-care sabbatical, and my journey led to Inside Outer Beauty Market. It was just kind of divine how everything happened. 
What was the impetus for creating the store and why did you feel you could turn the concept into a business?
Right as I left my job, I was diagnosed with uterine fibroids and cystic acne, and that led me to a journey of healing, which then unfolded into a lot of discoveries, including the toxic problem that we have within the beauty world. I was using products that weren't necessarily helping my insides. Also, I was having to fine-tune what I was putting on the inside to get a hold of the problem. Then, through my research, I learned that Black women were spending $7-plus billion in a beauty space, [and there was a] lack of diversity, equity, equality and inclusivity in the space. It dawned on me, if Black women are spending all of this money in a space that's so meaningful to them, why aren't they being included in stores and on shelves? And that was a problem for me. They were also being—and still are to a very large degree—marketed some of the most toxic ingredients. I was able to marry my love for biology, my own health and wellness experience, and the fact that Black women and other women of color are being so underrepresented within the beauty industry and start a business. Of course, I wasn't sure what I was doing. I just started and learned as I went along.
What is your curation process like?
Instagram is loaded with tons of indie brands. A lot of them find us, and some we spot ourselves. The first step is to ensure that they don't have any of the ingredients from our forbidden list. Once we get past that, then we engage our senses in their products for about 6 to 8 weeks. We want to make sure that the product does what it says it does, and we make decisions based on our abilities and what we're capable of handling at any given time. Once a relationship is feasible, we onboard. We're looking for brands that are very passionate about toxic-free beauty products, that are passionate about simple products. Once we realize that synergy is there, we know it is a relationship that we can cultivate. 
Inside Outer Beauty Market has been a leader in putting BIPOC-owned brands in its assortment, which has about 30 brands. What's been your approach to doing that?
I'm a Qigong instructor, and we have this saying, "Move with intention as opposed to force." So, we don't force anything. We attract what we want because of our message and our position in the market. I think people know by now that we are a multicultural brand. We center people of color because they've been the ones who have been primarily excluded from the market, so brands of color find us. And we are looking for them. We want to offer them shelf space because shelf space isn't a luxury that a lot of Black-owned and Indigenous people of color brands have. One of the reasons why we started Inside Outer Beauty Market is to be able to fill that gap and offer shelf space to these amazing brands that are out there, and a lot of them are being overlooked.
What are ways you are driving sales?
For one, being consistent with our message of beauty inside and out. We firmly believe that skincare is not just about slapping products on the face or on the skin. It's about the core, which is on the inside. So, we are very consistent with that message. We consistently show up and engage with our community and potential customers. What we do really is rooted in education and the need to bring some of that equality and equity I was talking about earlier. I share my lived experience with acne, with uterine fibroids, and I connect with our potential and present customers that way. What I have found is that engaging people with your shared experience is very powerful because they're real people with real pain point, and they want to know that the people who are offering them services and products really care and understand what they're going through. 
What's changed since COVID-19?
Prior to COVID, online sales were about 20% to 25% of our revenue. We put most of our attention in the brick-and-mortar world, and we've had to get with the program online. So, we did that really quickly, and our sales have grown 184% year-over-year online. Now, we see the potential. We understand the potential of online marketing, connecting with that audience online and driving them back to our e-commerce site, which is something we will definitely continue to do. And we will continue to hone our skills in that area so that we can maximize the benefits. It's been hectic. We have those loyal customers who are coming in and supporting, and we have new customers that are finding us, which is great. So, we're able to keep our heads above water here while this whole thing is going on. It's not easy, and we've not had an easy time staying here. We offer curbside pickup and my store is small, 400 square feet. We have a capacity of like two people in here, so people feel comfortable coming to our store. They know that there's never this huge crowd at one time.
What pandemic-era changes in shopping behavior do you think will last?
E-commerce and virtual connections will definitely continue, but, with that said, I believe that post-pandemic we'll see an intense revival of the outdoors. And, of course, that will include person-to-person connections in store because, right now, people are dying for personal connection. Perhaps they're not going to want the big grand mall experience or big department store experience, but I am certain that small and intimate settings will be where it's at. 
Many companies pledged to better support people of color in 2020. Have you noticed a change?
I see some brands attempting to live up to their promises and to be more inclusive—and that's wonderful because that's what we want. However, inclusivity, diversity, equity, equality in the beauty space, in any other space for that matter, is not a fad. So, only time will tell. It is way too early to determine whether or not these brands are really living up to their promises. I think for far too long, the consensus has broadly been that the so-called "superior" race was the one that was catered to, and there wasn't really an intentional effort to make sure that Black people, Indigenous people of color were being catered to, and that's what was missing from the entire equation. 
You have these facts that Black women are spending more than any other group on beauty, and an intentional effort is not being made to support their needs. That in of itself is so alarming that you have to understand why Black women take it upon themselves to start their own initiatives, to create their own spaces, to make products and services that address their needs. I think, when inclusivity and diversity is occurring, it has to be done intentionally and not by force because, with force, it will never work out well in the long run. It's just about continuing to demand what we know we're worth and and, then, the people who are in charge and in the places of power, just letting them do what they say they're going to do, giving them the opportunity, but also keeping our eyes on what those promises are and making sure that they are fulfilled.
Is there an emerging segment or trend that's really exciting to you?
Menopause and perimenopause products because they are two very distinct stages that women go through. I'm excited to dip my foot in that space and also to see what brands are doing, how they are going to provide support for women who are going through those crucial stages.
It seems like every day there is a new celebrity beauty brand. What effect do you think that has on indie entrepreneurs?
My heart is with the indie brands. I love indie brands. To me, they are the heroes in the space. They are the pioneers, the innovators, the movers and shakers, the change makers, the risk takers. They are risking everything to create the changes they want to see in this world like with efficacious, environmentally ethical and toxic-free products. There are times they are overlooked and not recognized for their brilliance because celebrity-backed brands have access to resources. Celebrities recognize the financial opportunities, swoop down and crush the indie competition.
Some brands feel discouraged, but indie brands should never stop creating. They are able to do what they do because they think independently, and they act independently. And I think it will encourage them to be even more innovative and more disruptive. I'm really excited to see what's to come. I also want to say that what would be great is for those celebrity brands to invest in these young indie brands that have paved the way for them to exist and profit because it's the indie brands who are doing that. [They should] not to be performative as well and be intentional and outspoken about their desire to help indie brands who are, again, the ones paving the way for them to become profitable.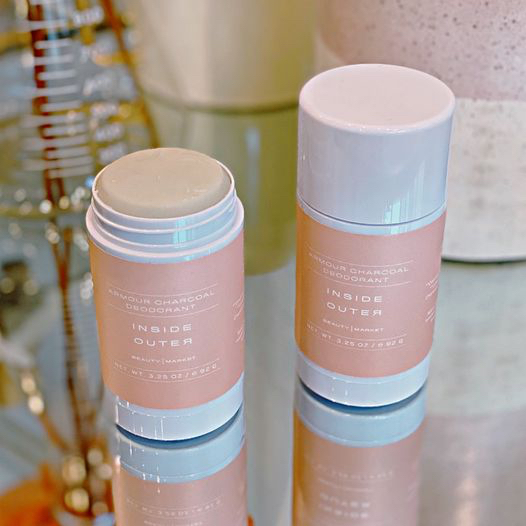 Who is Inside Outer Beauty Market's core customer?
Our core customer is women between the ages of 30 and 55 who are seeking and willing to invest in simple, conscious, but efficacious beauty and wellbeing products. They care about what's at the core and that's inside. So, for them, it's about a simultaneous approach to support that inside and outer beauty. They love that concept. 
How has the store changed since you opened?
When we came into the market, we came in with vendors, third-party artisans and partnerships with amazing brands. We've now begun to create our own products. We launched a body wash, and we just recently did a soft launch with our charcoal deodorant. We're finding that there is space for us to be able to create our own products for our customers and reach new customers, but we can also bring other brands along with us. That's a major change for us in terms of how we look at retail. 
What is your growth plan for the next five years?
We definitely want to take on outside financing and put ourselves in a position to scale and grow the company in the way that it's capable of growing. We're working on that. In the interim, we're working on continuing to grow our sales year over year. We've not decided on a cap for numbers of brands we'd like to onboard over the next five years. But, for this year, I want to bring on about maybe five to 10 new brands. I believe brick-and-mortar is going to have its time again. It will be changed, but it's going have its time again. So, I definitely would love to see some pop-ups across the country and, being the dreamer that I am, I'd love to see a pop-up in the UK.
What advice do you have for your fellow entrepreneurs?
One of the most important things that I've learned is to lean into my love and passion for what I do. I advise this to anyone because it will see you through some rough patches. In essence, what's your why? Like, why am I doing this again? I've also learned to ask. Ask and don't take no or ignorance and, when I say ignorance that's people not responding, personally. It's not about you personally. Keep going, keep asking, be consistent, show up. One of the best lessons I've learned is to show up and be impeccable with your word. If you say you're going to do something, do it. Don't worry about the outcome. Just do it. If you've got to switch and pivot, so be it, but be consistent. I've also learned that there is no dream without a team, even if your team is two.