Inside The Box: Solving The Mysteries Of Paper Packaging
Bottles, jars and tubes aren't the only beauty packaging units affecting the environment. Secondary packaging is a big part of the story, too.
"Sixty-five-plus percent of secondary packaging is made out of paper," said Nader Naeymi-Rad, co-founder of Beauty Independent parent company Indie Beauty Media Group and host of Wednesday's In Conversation webinar on sustainable paper packaging supported by paperboard manufacturer Iggesund. "If you think about the overall impact that we can have in our industry, in the area of packaging and secondary packaging, practically every product has to have it."
Made from wood-derived cellulose fibers, paper is the go-to material for exterior cartons because it can easily be finessed to fit a brand's design preferences. It's light as well, which keeps down transportation costs, and can be a comparably sustainable option if its lifecycle is taken into account.
As brands assess their environmental footprints, they shouldn't forget the trees providing the wood for the paper they house their products in, suggested Johan Granas, head of sustainability at Iggesund. He noted that, if the trees are in less biodiverse regions, they generally don't disrupt the surrounding ecology as much as if they are in incredibly biodiverse regions. Also joining Naeymi-Rad and Granas was Tom Pollock, Associate Director of the Sustainable Packaging Coalition, a program of nonprofit GreenBlue, for the webinar.
It's difficult for brands to audit timber resources themselves. Instead, Granas advised them to rely on trusted third parties to do the work for them. "If you are interested in sustainability and want to keep it simple, use certified products or ask about certifications. The problem with the forests of the world is that 90% are not certified," said Granas. "And look at the lowest possible carbon footprint. If you have that, and sustainably certified forestry or sustainably certified raw materials, you have done a lot for the environment." He detailed certifying bodies can ensure acreage is set aside to prevent it from future harvesting and facilitate the planting of trees to compensate for brands' paper consumption.
To fill webinar attendees in further about how paper goes from trees to secondary packaging, Granas and Pollock explored paper manufacturing, recycling and disposal. Here's a rundown of their main points.
Paper Manufacturing
A brand should consider circularity, which involves the evolution of a material's existence, when evaluating packaging suppliers. To help with that evaluation, Granas outlined three central components of the paper manufacturing process. The first concerns utilization of whole trees and the second net energy use. Net energy use can be limited by converting scraps into biofuel.
"Leftovers like sawdust, bark [and] sometimes branches that are not otherwise used can be burned to retrieve the energy," explained Granas. "We turn all of those things into biofuel that is powering the whole production. Eight-hundred people producing 350,000 tons of packaging material are powered using these leftovers from the wood. Renewable raw material, renewable power."
The third component is the expended water and carbon dioxide emissions that result from the manufacturing. After manufacturing, water should be treated prior to going out to the sea or other bodies of water. Emissions should be scrubbed before reentry into the environment. Granas stressed, "By cleverly using the energy that is inherent in the wood, the wood product can really take down the levels in terms of our carbon footprint."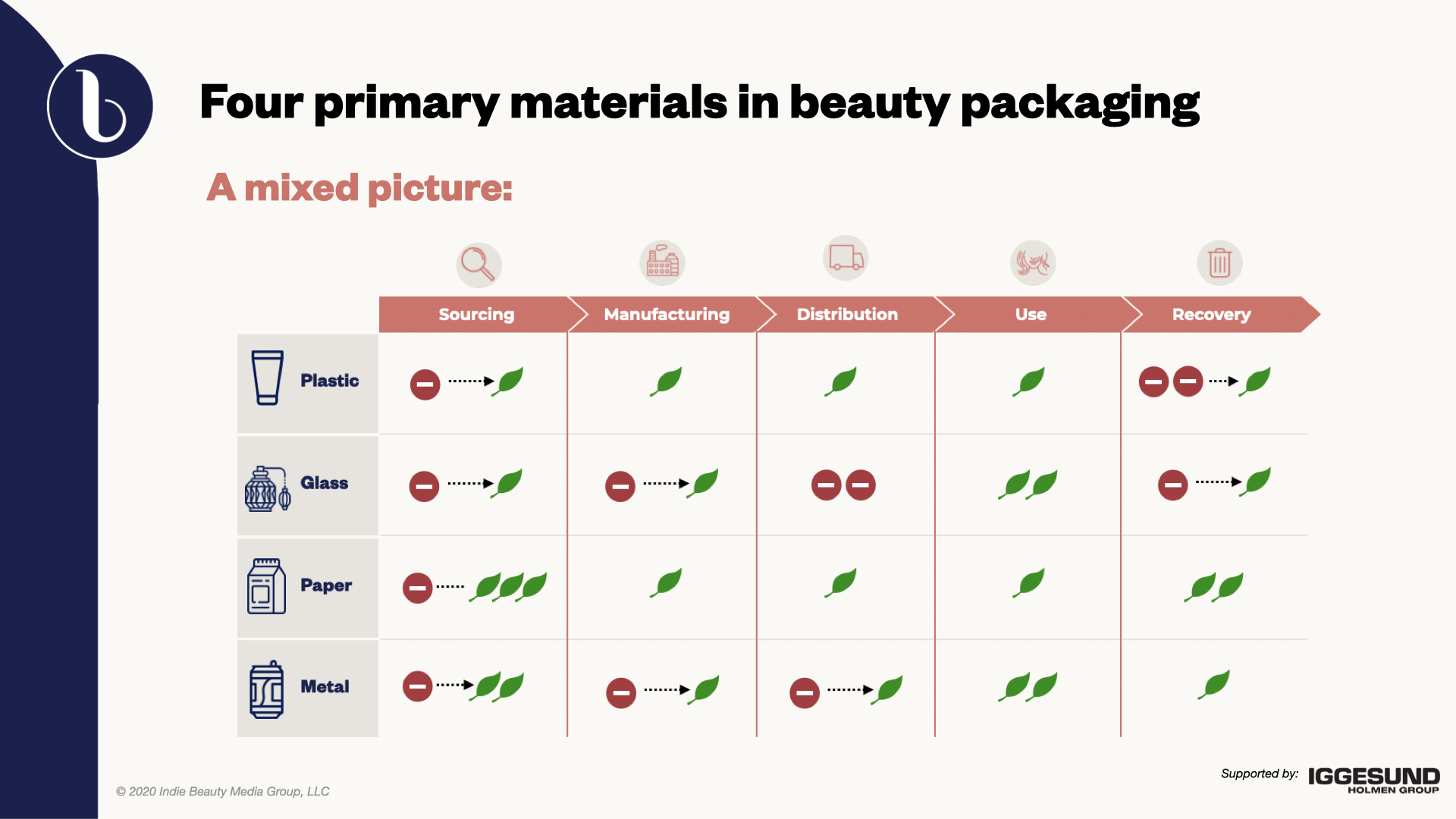 Paper Recycling
Fibers sourced directly from the raw material rather than recycled can offer better performance, particularly when it comes to design, depending on the application. As it breaks down during recycling procedures, recycled paper loses some of the structure its virgin counterpart has. Every time it's recycled, fibers shorten and strength is reduced, yielding a finite lifespan for paper materials. Given its diminished performance, recycled paper is often relegated to products for which aesthetics or bleaching aren't as important like pizza boxes, shipping containers and brown paper bags.
"We've seen so many reasons why you want to recover as much paper as possible, and you want to use as much recovered paper as possible," said Pollock. "However, even if we use every scrap of recycled fiber, it can only be used on the average five to seven times." Because paper can't be repurposed indefinitely, a recycled paper market requires fresh fibers. Pollock remarked, "It's really not about thinking about recycled versus virgin or recycled versus fresh fiber. It's all part of the same system."
Paper Waste
About 66% of paper-based packaging is recycled. The rest usually winds up in landfills. While paper decomposes, it does so anaerobically and releases methane, a greenhouse gas that's 20X more potent than carbon dioxide, according to Pollock.
"Other than greenhouse gas emissions, it's a lost opportunity to take advantage of a usable material. Not only can it be used for paper, but it can be an energy source, it can be used for compost, there's lots of other ways to use paper," he said. "So, by putting it into the landfill, you're really wasting an opportunity."
Pollock elaborated that landfills take up an enormous amount of physical space and, if paper constitutes 12% to 13% of that space, proper recycling can make a sizable dent in saving space for material that's not recyclable. He emphasized it's crucial for brands to inform customers about how to recycle their paper packaging. "The game here is to improve recyclability," said Pollock. He recommended that brands lean on their suppliers to clarify recycling protocols that can be conveyed to consumers.
GreenBlue has created a guide called How2Recycle that can help brands gather information to communicate to their audiences about whether their packaging is able to be recycled locally and how to go about recycling it if not. Brands should also understand the recycling implications of the adhesives, coatings, coatings and inks on recycling.