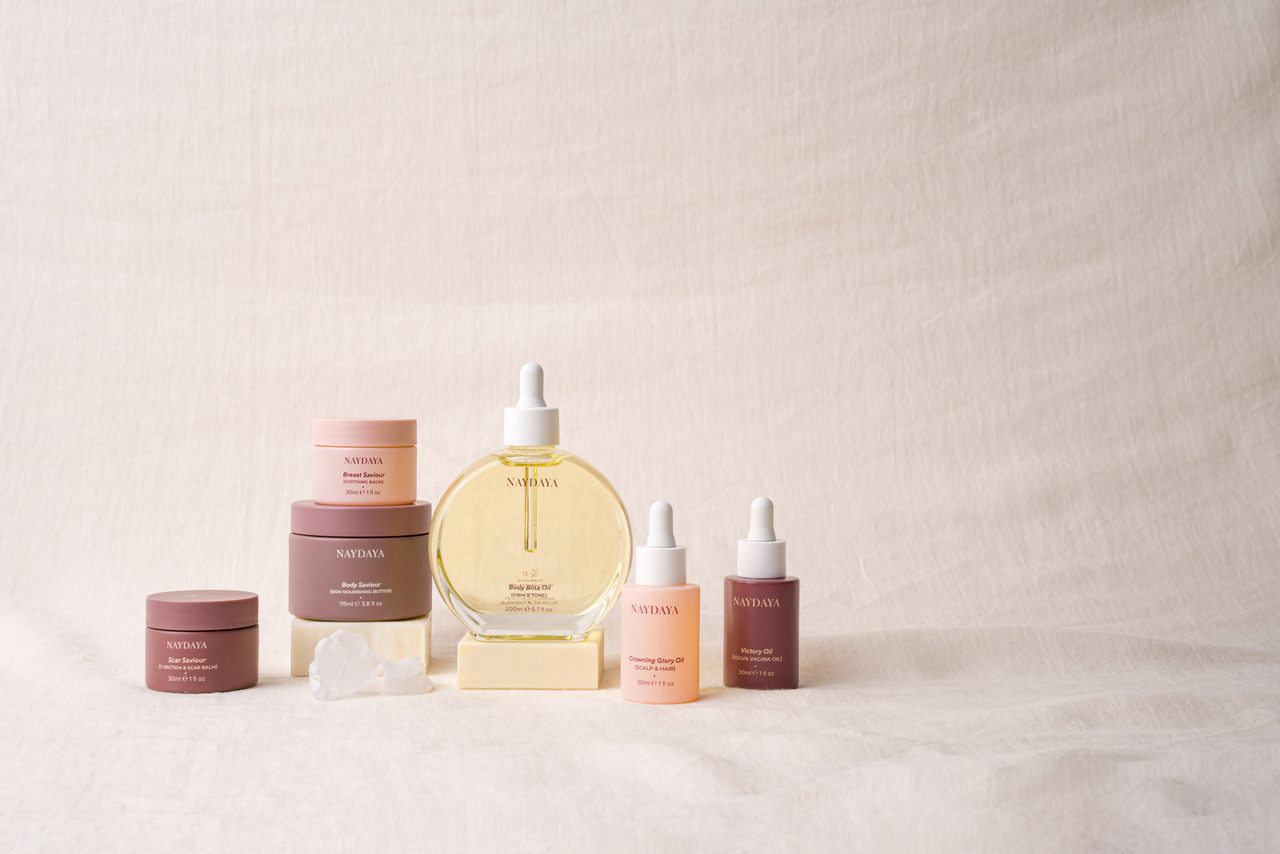 Intimate Wellness Brand Nessa Organics Rebrands As Naydaya, Launches At Cult Beauty
Nessa Organics has rebranded as Naydaya to go from being a postpartum care specialist to a 
comprehensive wellness brand for women across various stages of their lives, from pregnancy to menopause.
The entire updated eight-product range, priced from 19 to 45 pounds or about $22 to $38 at the current exchange rate, launches today on the e-tailer Cult Beauty. With the rebrand, Naydaya introduces two new supplement offerings priced at 36 pounds or about $41 each: The Menopause Capsule and Stress & Anxiety Capsule. Nessa's Nipple SOS, a rich balm created to soothe nipples chapped from breastfeeding, has been rebranded as Naydaya's Breast Savior to convey its function as a broader breast wellness product.
"We had it as Nipple SOS. It was very much a nipple product, but because so many women are using it as a breast cream, and we're trying to promote this daily wellness ritual for women, we changed the name to make it a little bit less new mom and more for everybody," says Naydaya founder Fiona Toomey. "With the whole launch, we're trying to make everything a little bit more inclusive for everybody." 
Toomey, a former finance project manager at Warner Bros. and management consultant at Slalom Consulting, IBM and BearingPoint, launched bootstrapped London-based Nessa Organics three years ago. The brand's overhaul was driven by its customers' behavior. While it debuted in the new mom category, about a year and a half ago, its product Victory Oil began attracting menopausal customers, demonstrating it could have a wider reach. The product's hydrating formula, containing radish seed extract, castor oil and mango seed butter, was created to tackle hormonal dryness on the vulva and perineum, and restore elasticity. 
"They now represent 65% of our customer base, and they are just shopping for this one product," says Toomey of menopausal customers. "It's been absolutely huge for us. We've set up Facebook Groups and have a really good connection with these customers. It's been a bit of a journey for us."
After menopausal consumers connected with Nessa Organics, Toomey began to understand how underserved they felt and concluded the brand should be revised to speak to them. "As Nessa has grown over the last three years, we realized that so many women were feeling unsupported at every stage of womanhood, not only in motherhood, but also in menopause," she says. "Menopause has been been a taboo subject for far too long. As we grow as a brand, we didn't want these women to be an afterthought or 'add on' to the Nessa brand. All women deserve to be the protagonists in their own story."
As Nessa Organics shifted to Naydaya, supplements seemed like the right way forward as a wellness solution for the growing group of menopausal women turning to consumer goods for alternatives to medical remedies. "It's a huge amount of women, especially in the U.K. They might be on HRT [hormone replacement therapy], some of them might not be able to take HRT or it might not suit them," says Toomey. "A lot of people want to use holistic options alongside it, so we felt the supplement range can really make a difference. Women are really suffering, and they're looking for things because drugs are great, but there are different reasons why you may or may not use them. People are also looking for a wellness option that can really make a difference."
Cult Beauty carried Nessa Organics, and Victory Oil sold out regularly on its website. In joining its brand roster, Naydaya's merchandise will be among an extensive selection of sexual wellness, intimate care and postpartum products, including Weleda Stretch Mark Oil, Deodoc Intimate Cleansing Oil, Coco de Mer Radiant Bloom Anal Lubricant and Smile Makers sex toys. Naydaya will launch at Credo and Anthropologie, where Nessa Organics was stocked, in 2023. 
Toomey estimates she spent about 80,000 pounds or $92,000 on the rebrand, and it took about eight months to complete. Nessa Organics' products were packaged in glass, and Naydaya is keeping the same bottle color as Nessa Organics. As a result, Toomey was able to burn off the current name and print on the new one. "I hate wasting anything," she says. "We're very eco-conscious, that is part of our ethos. It was a little bit more expensive at the time, but instead of ordering 20,000 of every single SKU, we were able to do that in the U.K. We didn't waste anything there." 
With the rebrand complete, Toomey's next project is fundraising to fuel growth. Additional launches at British retailers are slated for early 2023.