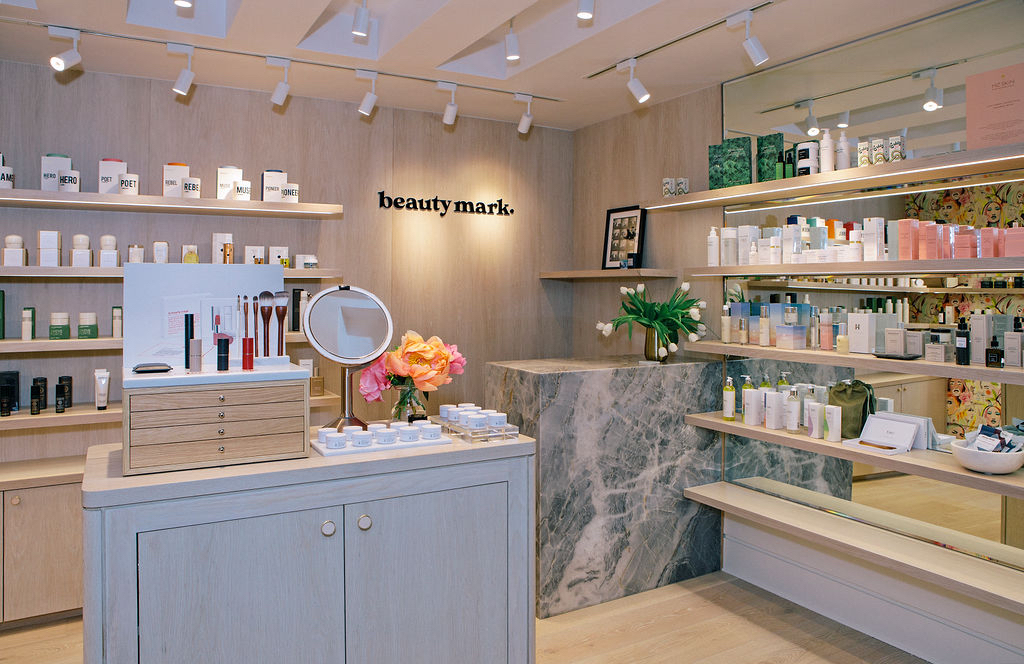 Starting From A Tiny Outpost In Jackson Hole, Beauty Mark Aims To Become A Nationwide Beauty Retailer
When Jen Visosky nabbed her first job out of college as an assistant buyer at Neiman Marcus, she would spend entire paychecks on the department store's luxury skincare. It turns out that spending was for research. Last year, Visosky opened a 130-square-foot outpost of beauty retail concept Beauty Mark inside an existing store, Habits JH, in her hometown of Jackson Hole, Wyo., where she offers individual skincare consultations and sells around 50 brands, including Retrouvé, Testament, Esker, Ignae, Augustinus Bader, Macrene Actives, Costa Brazil, Irene Forte, Monastery and Carbonnique. "While there is so much in our valley that caters to the tourist, there's very little that caters to the locals," says Visosky. "It was important to me to make this feel like a local neighborhood shop."
Beauty Mark has a small footprint now, but Visosky's ambitions are to make it much, much bigger. She's teamed up with Shannon Drake, founder of beauty, jewelry and home goods sales, marketing and distribution company God Made Me Funky, who she met over two decades ago on the elevator at Neiman Marcus, to spread Beauty Mark to several locations as soon as this year. Beauty Independent chatted with Visosky about building Beauty Mark in Jackson Hole, what she's learned from its business so far and her plans for its future.
What led to Beauty Mark?
I was born in Jackson Hole in the early 70s before it was what it's becoming. I went to school in Arizona and, when I was graduating, Neiman Marcus came to the school and did the career fair. I got a job as an assistant buyer at Neiman Marcus in Dallas. I was there for a few years and then went to LA, where I managed the Victoria's Secret swimwear business. I worked for Authentic Fitness, which owned Speedo. I worked for Red Carter before he was Red Carter. I had transitioned from buying into sales.
Sept. 11 happened, and I was ready to be back home in the mountains. I came back to Jackson Hole in 2002 and started an interior design business. So, for 20-plus years, I ran Frame Design Co. I've always been excited about and interested in beauty, and studied the beauty and wellness industry. I went to an In Goop Health event in Santa Monica the year before the pandemic and loved the whole experience, the access to different brands and speaking to people who were like-minded.
I knew that nothing like it existed in Jackson Hole. I felt like, when I was ready to close the interior design company, it could be a great opportunity to bring beautiful skincare and clean makeup to the people in Jackson Hole. We are a community that attracts a very affluent person. We've got loads of billionaires building homes and setting down roots. They are here for six months of the year, and then we have people here just truly for the mountains, living in their cars or with roommates. That piece of Jackson Hole hasn't changed.
What hasn't risen to the occasion in terms of luxury is retail in this valley. There are few shops that do things really beautifully. Mostly, we have been marketing to tourists, so T-shirts and tchotchkes. We get a lot of people traveling to Yellowstone and the Grand Tetons. Last summer, we had 2.5 million to 3 million over three months. It's a magnificent artery that's growing quickly. There's been one to two retailers that do a little bit of skincare, but there hasn't been anyone dedicated to giving people access and the ability to test. So, that's what I did with Beauty Mark.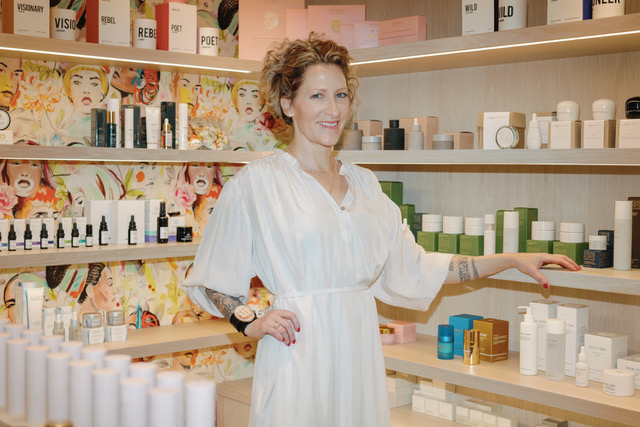 Why did you bring in the brands you've brought in?
Every brand was really chosen for their brand story, my connections to the products and the exchange I had with the founder or the team. Some brands I wanted because I knew a lot of people had heard of them and other brands were just getting going, and I was happy to support them. I said to all of my brands at the beginning that the first year was a test, so I was minimal with initial buys. I didn't want to get in over my head. I wanted to make sure this was something Jackson Hole was ready for.
While I do get a fair amount of walkthrough traffic with tourism, my efforts are really directed to locals so they feel they have someone to talk to them with brand knowledge. I spend anywhere from a minimum of 20 minutes to an hour with everyone that walks in. It's very rare that someone comes in, takes something off the shelf and leaves. Everyone so far has wanted the dialogue.
I'm trying to work with brands that want to work with me exclusively. It's important for me not to compete with Terra and Altitude, which are clothing retailers, but also carry beauty. There are so many collections out there that I don't think it's necessary to compete. Everybody has been open to it. I think it's in part because I'm a dedicated beauty retailer. I don't have clothing or jewelry or art. I'm not trying to sell a lot of other things, and I'm really focused on education. I just want it to feel special, and I want people to come in and feel that they can't get what I have anywhere else unless they go into a city or online.
The brands that are doing well are the ones that are staying exclusive. I've had a lot of feedback from people that, if it's in Sephora, I will just get it from Sephora, whether it's because of better pricing or they are just traveling through—and that's fine. There might be education I can do to support smaller businesses. I've done the research, I've tested the products, and I'm offering things I know are beautiful and work for different skin types.
Do the uber-wealthy people in Jackson Hole shop differently from others?
Yes and no. I have a lot of uber-wealthy clients that will walk in and just shop. Anyone who comes to the store that's going to spend $150 or more wants to support a small business.  The real difference is a lot of more affluent customers will buy everything in the store over time because they want everything on their vanity. They want to try it all. I do find a lot of them don't repeat buys. That's really interesting to me.
I would say my top 50 clients who are religiously supporting me, they will text me ahead of time before they come in. There's very much that personal service element where they are reaching out to me when they want something to make sure I'm there. That one-on-one interaction has definitely helped me. Otherwise, you could go anywhere.
What have you learned so far from purchasing patterns?
I have learned that people want to feel like they're getting something that nobody else has. For instance, I brought in nine or 10 of Ayuna Terra Viva and sold out of it within five minutes because I knew the people I reached out to about it would want it. They 100% wanted something new and limited that they didn't already have on their vanity.
I suspected that a range of products in terms of price point is very important to attract more people. Where I'm located and maybe because of the level of clients I had working in interior design, there's an assumption that people can't afford anything. That's something I work on from a marketing perspective because I have everything from a $34 to a $400 face cream.
I've also learned that everybody in this valley seems to have very sensitive skin. It's extremely dry, so the hydration piece here is king.
Are you making changes to the assortment?
Always. My winter client is buying differently than my summer client, so I think there will be eight or nine lines that I don't bring back in and three or four I just bring in certain times of the year. On a few of them, I went really broad and didn't need to. There are a handful where I will do key items.
I would like it to be a beautiful balance of lines and products that have a cult following and repetitive buy—really my staples—and dollars for trying new brands that really align with the ethos of Beauty Mark. I will be expanding fragrance. I brought in Westman Atelier, which is probably one of the best decisions I made. I'm super grateful they approved me because it's been incredible. There hasn't been that much in terms of makeup in Jackson Hole, so to have a line that works beautifully for most people's skin, is super hydrating and people are seeing all over social makes sense to get people excited.
With a couple of years, there will be a handful of tried-and-true brands, but things will also rotate. I am seeing that people want new and different. People that live here come in every week and want something new every time.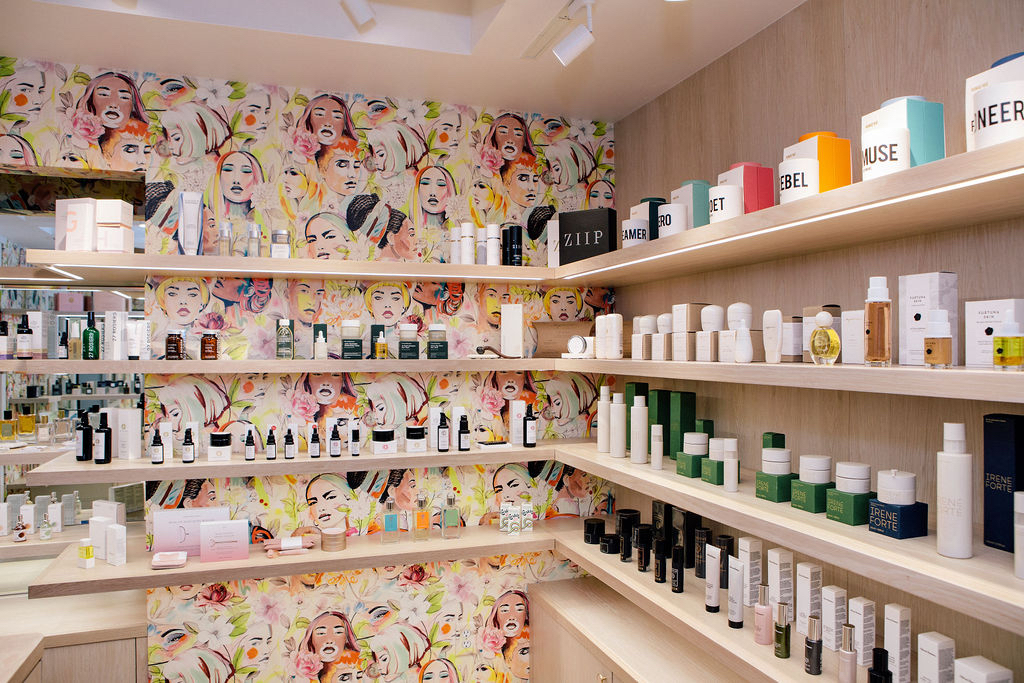 What brands have been hits?
Irene Forte. I have a hard time keeping her Hibiscus Night Cream in stock. That brand has been my No. 1 since the day I opened, and they have been brilliant to work with. They are very supportive of retailers. We did an Instagram Live with them, and she sent me a video to post. I absolutely love working with them, and people love the line because it's so nourishing and gentle.
Heraux has my top-selling serum. Since I get a lot of people with sensitive skin, I tell them, if there's one thing I would buy in the store for it, it's Heraux, and 90% of the time, they walk out with it. It works. I did a video of a friend with rosacea I gave a bottle to, and the results were insane. The brand La Fervance is going bananas. Its product smells beautiful, is super luxurious, makes your skin feel calm and keeps you hydrated all day. It's flown out the door.
Are there gaps in your selection other than fragrance that you'd like to fill?
Hair. I've done a little with Maya Chia, Venn and Royal Fern, and I brought in Mason Pearson, which has done well, but hair is a category I need to work on. I think I need haircare that's not from a skincare company. I have Maude and Vella, and they've done well, so I know I can expand sexual wellness. The wellness category needs to grow. I'm looking for more space because 130 square feet feels extremely small to me now. I don't want it to look so full that if feels overwhelming or not curated.
What are trends you see among your customers?
Skin hydration is bar none the main thing people talk about. I also see more and more women who say, "I'm done doing cosmetic procedures. I just want beautiful skincare." There are less frozen faces and more of a focus on natural beauty, really glowy, healthy skin. People are saying, "I've done this and that for too long, and my derm recommended it, but it's been too harsh. I want something clean."
There's definitely a balance between people who want super pure products, and people who don't care what garbage is in it, they just want it to work, but those aren't my clients. I have a yoga instructor and personal chef who come to me. Their skin has changed so beautifully with the products they're using. They are walking billboards for Beauty Mark. I get a lot of people from their circle in because they've seen what good skincare can do.
What can brands do to support your business?
I have a fair amount of brands that I have seen post sales online on their websites, which I think is unhelpful. At least they should give their retailers or someone who is super small like me the opportunity to match. I have clients who come in and say, "This brand is offering such and such," and that kind of blows. I think brands can be better about promoting their retailers and being more collaborative. It's hard to compete with online, so that's why I'm really trying to not compete with online.
I know it's controversial because of waste, but Irene Forte sends me many samples to put on people's skin, and that's a main reason why it's done so well. People do really want to try things, and a lot of brands don't do samples anymore. I completely respect that, but they're definitely key, especially for a small company like mine.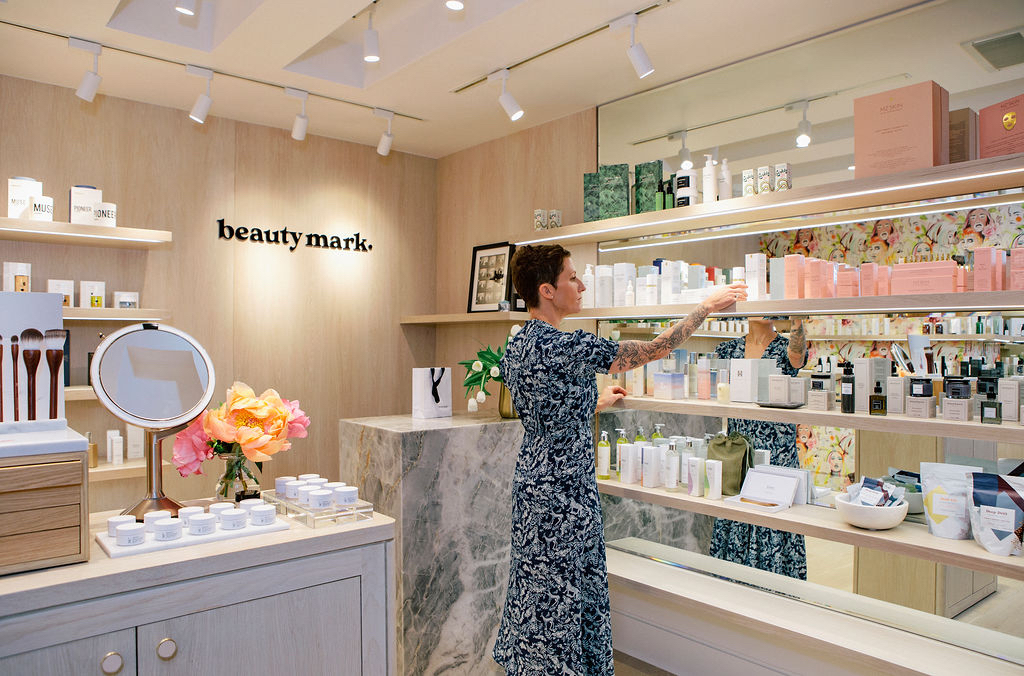 What are your aspirations for Beauty Mark in Jackson Hole?
Definitely to find more space so I can grow the business. I am looking for people to work for me. In this town, we have a massive shortage of people because we have a terrible housing crisis, which I know is everywhere, but here there aren't people to fill positions. It's been just me running it. My goal this year is to hire a couple of people and find a larger space.
I would like to have 800 to 1,000 square feet to add a treatment room and space for people to explore. I've done a few private parties and those have been wildly successful. I'd love to bring in speakers. Having a space to host them properly is important to me.
How has business gone?
The response from most people is they feel it's super special, and Jackson Hole needed a place like this. I'm thrilled with the feedback I've been getting. I was open for eight months in 2021 and beat my budget for the year. For Christmas, New Year's and January, I doubled my projections. I sold out of so much. I didn't know how much to have. I'm gaining more experience to have a stronger understanding of the inventory I need to have on hand.
What makes someone come into a brick-and-mortar store?
It's probably the main reason I don't focus on my website. I've got it, but my focus is on brick-and-mortar because of the human connection and the experience of going into a beautifully curated shop that makes somebody feel seen. They have the opportunity to smell things, try them on and talk about their skin challenges and needs.
With the state of the world over the last few years, people are dying for connection, and I'm trying to offering it. I know it's in a small way, but it's something that just feels good. I know I was tired of buying things online. Melanie Simon used to be my facialist when she lived in Jackson Hole, and I would buy everything she told me to because I trusted her. She could have sold me anything.
I'm a believer in brick-and-mortar, and I think there are places where it makes a heck of a lot of sense. I've had a lot of people say to me, "I wish something like this existed in my town." A lot of people had given up on brick-and-mortar because of the costs and the internet, and I get it, but I like the experience of it, and I believe the space is engaging enough for people to come in.
Where do you want Beauty Mark to be in five years?
I hope we have opened more Beauty Marks across the country in locations like Jackson Hole where dedicated beauty options don't exist. They are already in the works. We are looking at the South for locations. My business partner is from the South. I would love something in Vail and Salt Lake City. I think we will take it slowly, but we definitely have plans to open several.
We are looking at locations of between 800 to 1,200 square feet on main streets. I want to be in town, but I don't necessarily need to be on the town square. In the summer, my local clientele won't come into town period because the traffic—there are only three ways in and out—is so horrendous. So, locations are going to depend on the area.
What would you like Beauty Mark to be known for?
My goal for Beauty Mark to be known for exceptional and intentional curation of brands. The industry is so robust that it's easy to be overwhelmed with the social noise, the marketing and the insane amount of videos of people washing their faces. I want to take the guesswork and overwhelm out of helping people find what will work for them—and specifically for them. It's why I spend so much time speaking with every single person.