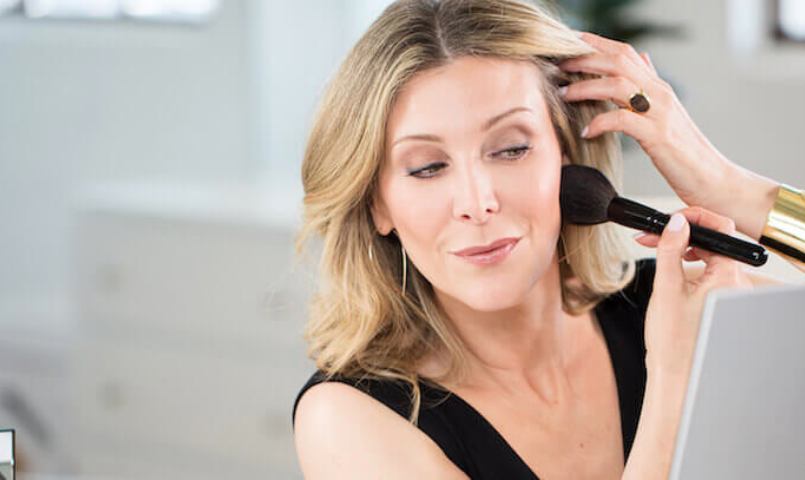 Move Over Millennials, Gen X'er Jenny Patinkin Is Making Waves In The Makeup Brush Business
Jenny Patinkin doesn't waste time on the insecurities of youth.
Pushing 40-years-old when she began training as a makeup artist and pushing 50-years-old now, she plows past rejections to propel her namesake cosmetics brush brand to new heights. The latest coup for the label is holiday distribution at Neiman Marcus, which is selling the Jenny Patinkin Lazy Perfection Petites Brush Set for $50 and Patinkin's grown-up makeup primer Lazy Perfection for $20.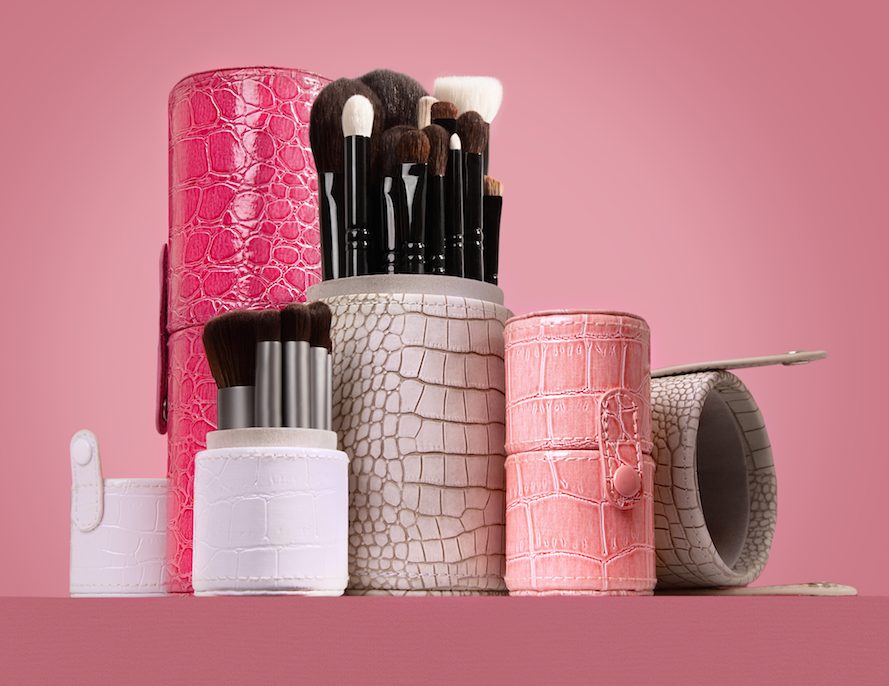 "The beauty of going into business as a slightly older woman is that I'm much more comfortable taking risks," she says. "If the worst thing that happens is that someone says no, I have the perspective at this stage of my life to say, 'OK, it's not going to work. I have a million opportunities elsewhere.'"
Without the fear of rebuffs stymying her ambitions, Patinkin pursues the retailers she considers good fits for her brand. Attracted by Neiman Marcus' attention to customer service and education, she sent an unsolicited email a few years ago to the retailer informing it about her makeup brushes and has been following up ever since to stay on the radar of the department store. The tactic helped get her foot in the door.
"My biggest accounts and successes in business have been from cold calls," says Patinkin. Referring to Neiman Marcus specifically, she continues, "It's a big move for me. It's definitely going to give me more visibility. The set is an easy way for me to go into a big chain like this because it doesn't require a lot of training for the sales team or a ton of countertop space. When you are stepping into huge distribution, it can be overwhelming, so this product makes a lot of sense."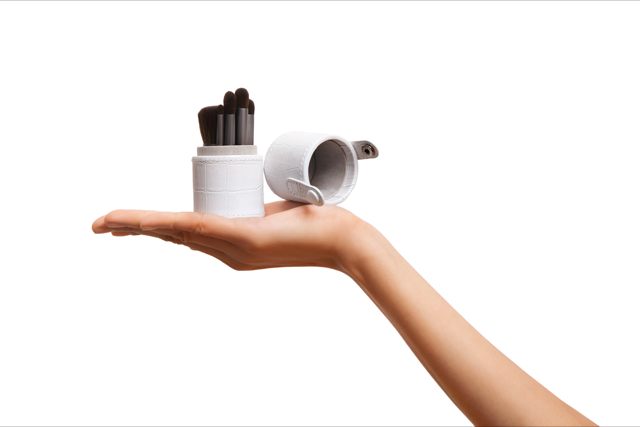 For the Neiman Marcus set, Jenny Patinkin designed an exclusive buffing brush that's shaped to produce airbrushed finishes. With four small vegan brushes, the set is $15 cheaper than sets with five small vegan brushes the brand previously put together. "Even though they are palm-sized brushes, I wanted them to be functional, not only adorable, so I weighted the handle to balance in your hand the way a full-sized brush does," explains Patinkin.
Last year, Jenny Patinkin launched Petites vegan brushes that have been hits at retailers the likes of Credo and Lorde. "We are seeing a huge shift to vegan brushes. Consumers are very interested in clean beauty, as I am," she says. "Historically, it's been difficult to find a synthetic brush that performs as well as a natural one. You lose flexibility because of buildup on the surface of synthetics, but the quality of synthetic brushes is getting better and better. Vegan fibers look, feel and perform the same as natural fibers."
While she declined to discuss financials, Patinkin indicates her brand's revenues are increasing nicely. She's not anxious to supercharge sales by bombarding the market with products or rushing into stores. In addition to Neiman Marcus, Credo and Lorde, Jenny Patinkin's makeup brushes are carried by Space NK, Cos Bar, Ron Robinson, Striiike and C.O. Bigelow.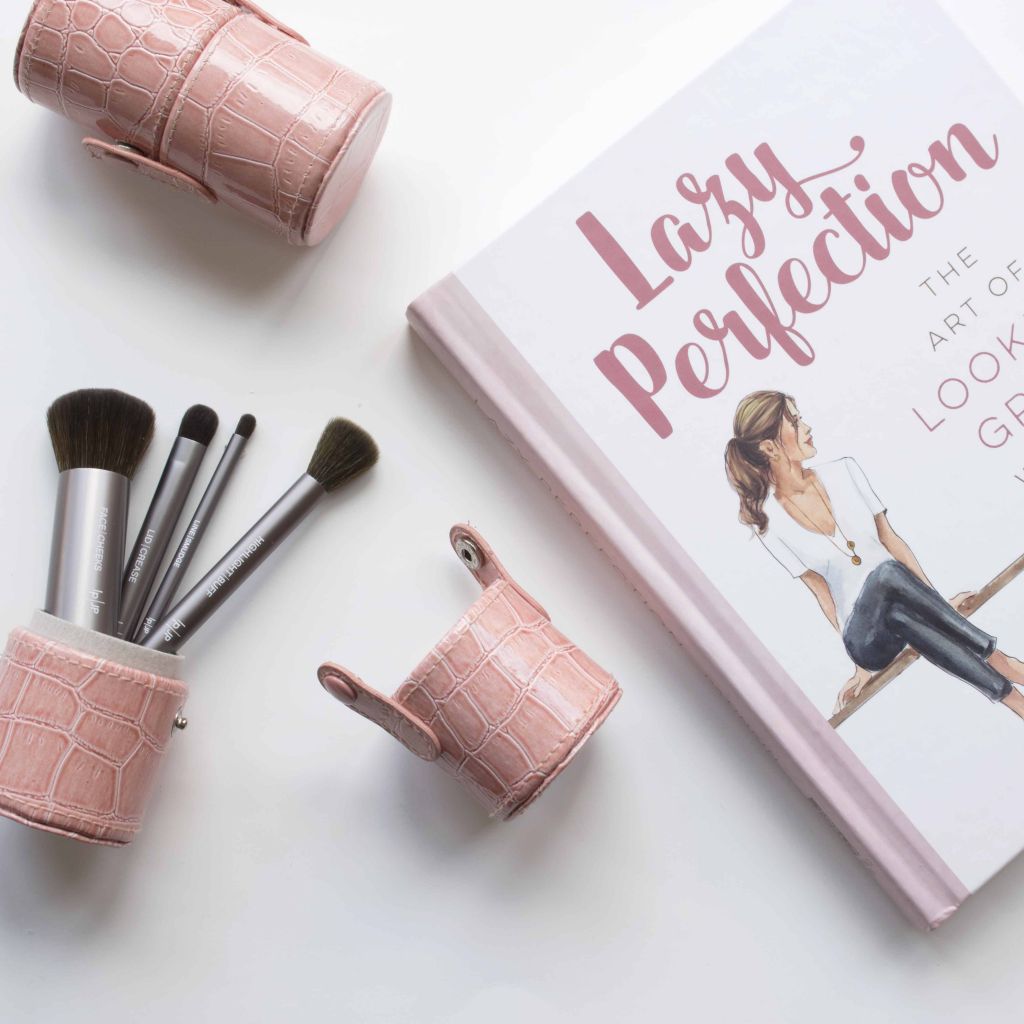 "I always joke that I have the worst business model in the beauty industry because I have a tight collection of high-quality products that don't need to be replaced very often," she says. "I didn't want to get into a situation where I was trying to manipulate consumers into thinking they need more than they actually do."
Still, Patinkin is planning to carefully release further products. She's introducing a collection of full-sized vegan brushes next year and is creating a concise line of color cosmetics. "The biggest challenge is that I get in my own way," laments Patinkin. "Writing my book Lazy Perfection was a wonderful, transformative experience, but a huge time suck. It set me back a bit in the rest of the business. Along with the other things I do – professional makeup artistry and seeing private clients – I just didn't have the bandwidth for everything. Product development was probably what suffered most."
As she turns the dial up on product development, Patinkin's role as a makeup artist informs her merchandise choices. "Working with regular women makes me happy. That's where the Lazy Perfection idea of looking great without really trying started to gel. It occurred to me that women wanted to wear less makeup – and I do, too – and I didn't feel anybody was talking to us about that," she says. "That's where makeup brushes came in. The tools I was using were slowing me down. They didn't feel good on the skin. They were rough and uncomfortable, and I feel quality tools are so important."