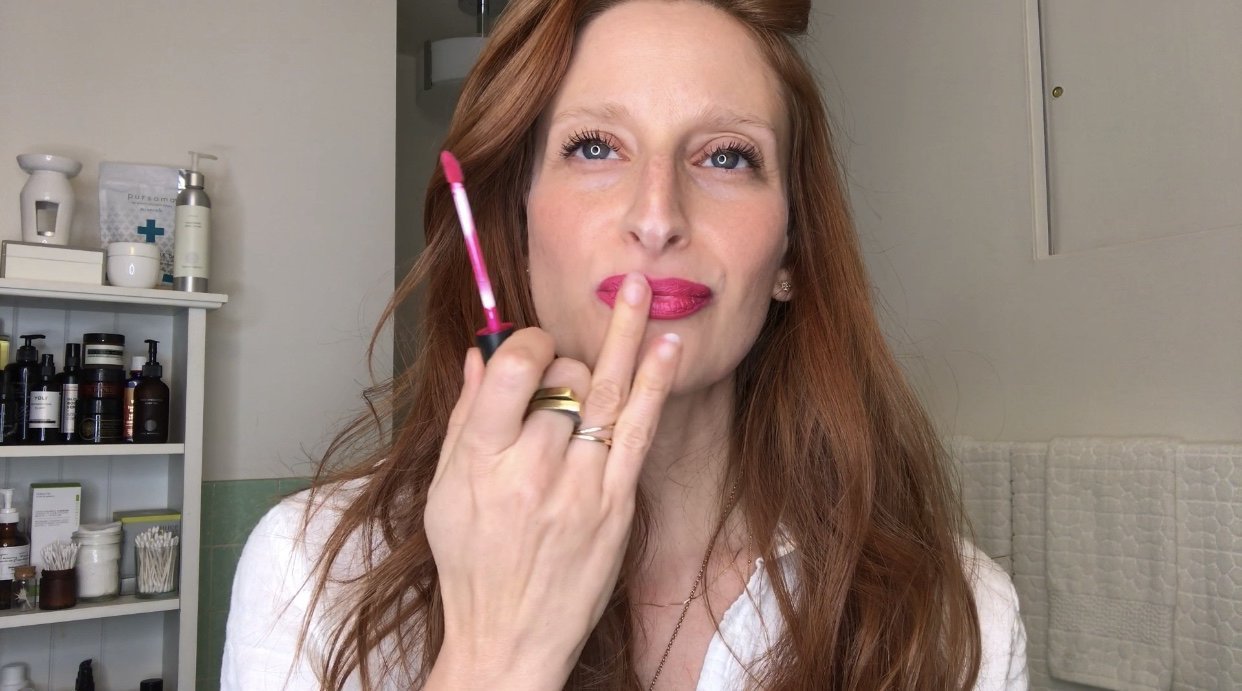 Katey Denno's Improbable Path To Makeup Artistry, Clean Products And Social Media, And Plans To Change The Beauty Industry's Future
Social work isn't the most obvious path to makeup artistry, but Katey Denno isn't one to make obvious choices. Denno, whose clients were sexual assault survivors and HIV patients before she prepped celebrities the likes of Judith Light, Amber Heard, Connie Britton, Amanda Seyfried and Felicity Jones for press junkets, photo shoots and premieres, embraced clean beauty and wellness about a dozen years ago when the terms were hardly well-known. Today, she's interested in pushing the categories forward to improve formulations and results. "Although I've spent my entire career using clean products on clients going on the red carpet, there are plenty of holes that necessitate me using mainstream products still for a lot of things because I know the payoff and longevity is not there," she says. "It's great where it is, but it can only get better." Beauty Independent grabbed a few of Denno's sparse free minutes to discuss the importance of true differentiation, social media pros and cons, her amiable break from Burt's Bees, dream to create an accessible and eco-friendly beauty brand, and distaste for impersonal pitch e-mails.
Your route to makeup artistry is quite unusual. How did it happen?
I was a social worker prior to getting into makeup. I worked with women and children in difficult situations, often dealing with sexual assault and domestic violence. One of the ways I connected with women was to put together a package for them to make them feel at home and that generally included moisturizer or lip balm that had been donated. Toward the end of my social work career, I worked in HIV services in the Bronx. I worked with a lot of male-to-female transgender clients, and they showed me the processes they used to transform themselves. It made me realize how amazing makeup is.
One night, I happened to sit down at a dinner party next to an assistant for a famous makeup artist in New York. She told me you could make $150 to $300 a day as an assistant, and I had thought I would never make more than I was making as a supervisor at the clinic in the Bronx. I said to myself, "How could I not explore this?" She said, "Why don't you come and assist with me on a campaign I'm assisting on?" She texted the makeup artist who said, "Sure, we need another person."
I showed up and was super nervous. I stood next to the assistant and was quiet. I did whatever they needed me to do. The head makeup artist said to me, "Your friend won't come with me on travel jobs because they're too intense. Sometimes you have to wake up at 3 a.m., make the kit waterproof and swim with it because we're going in the tropics on the job." I thought, "Oh my God, this is a world I know nothing about that's full of exotic luxuries and fun." I assisted a few times with the makeup artist who suggested I swim with his kit.
I made a hand-drawn spreadsheet with the photographers I wanted to work with and the makeup artists on shoots. Then, I looked up the agencies the makeup artists were with, and I started cold emailing the agents. Very early on, I started assisting and working with the agency, [The Wall Group,] I have been with for 12 years. I had heard that good assistants were hard to find, and I was like, "I'm here to work."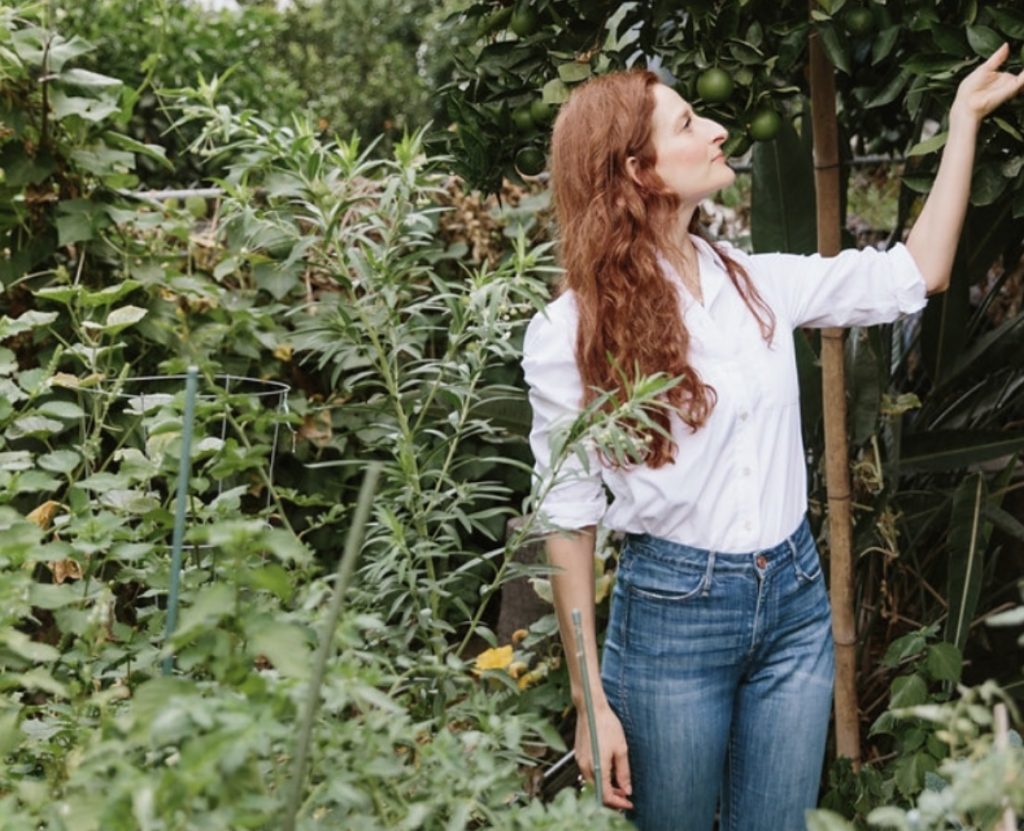 What were important early learnings?
After two-and-a-half years with the agency, my agent one day pulled me aside and said, "Listen, things are changing. There's something called Twitter, and you have to get on. There are a lot more artists flooding the industry, and this thing called social media is taking us my storm. You have to have a point of differentiation. If you don't, you will be left behind." Two days later, I was telling a girlfriend who was going through chemotherapy about this. She said, "What don't you have your point of differentiation be about health because you are so into it?" That's how I started being interested in clean beauty. I had been working on health for so long as a social worker. Also, I had always been figuring out how to treat the earth has kindly as possible. Finding companies with that mission became paramount for me.
How did you start working with celebrities?
I needed to assist to learn the rules of being on set or going to a celebrity's house, but my agency thought I was ready because I was a social worker, and I could meet clients where they are. They sent me to work with a celebrity who is notoriously difficult. Afterward, the celebrity's publicist called my agent and said, "She wants to work with Katey forever." At the time, working with celebrities was not that cool. If you worked in fashion, it was beneath you, but I thought, "I can definitely do this." It's where the money is, so I will gladly do it.
A month later, a famous makeup artist I had assisted on two jobs couldn't do final touch-ups on Christy Turlington for the Met Ball. She asked if I could go to Christy's house to touch her up for the Met Ball. Getting to go to Christy's house and having the true pleasure of touching her face was so cool. I will never forget, a few days later, I was going through the breakup of my marriage and being upset, and there was a delivery man at my door with a huge orchid plant and a note from Christy saying, "We are so lucky to have you in this industry, welcome." She started booking me for everything and, soon after that, her friends started booking me. Everything snowballed from there.
What are you recognized for?
I have always believed in less is more, even in the very beginning when I did a ton of editorial work with graphic shapes and bizarre colors. I realized that was true to me and many of my friends, especially those of us who were in our 30s then, and now we are in our 40s and 50s. I didn't want to do a 12-step cat-eye. I started doing a lot of red carpet early on and, at the time, glowy skin was not in at all. It was all about a matte face. I thought what was very beautiful about old Hollywood looks was very open eyes and a super glow from within. It's become my style, and people have called it the Denno eye. It's a super exaggerated curl to the lash paired with glowy skin.
Around the time of the Christy Turlington story, I went with a hairstylist friend to the launch of RMS and met Rose-Marie Swift. I went home with her Living Luminizer and started using it. Everybody who I put it on loved it. I started getting calls from InStyle and Allure, and they all wanted the glowing cheek and bridge of the nose. Of course, I wanted to accentuate the cheek bones, cupid's bow and bridge of the nose. It's been interesting to see the metamorphosis of beautifying tools, and now the highlighter is a staple of everyone's makeup kit.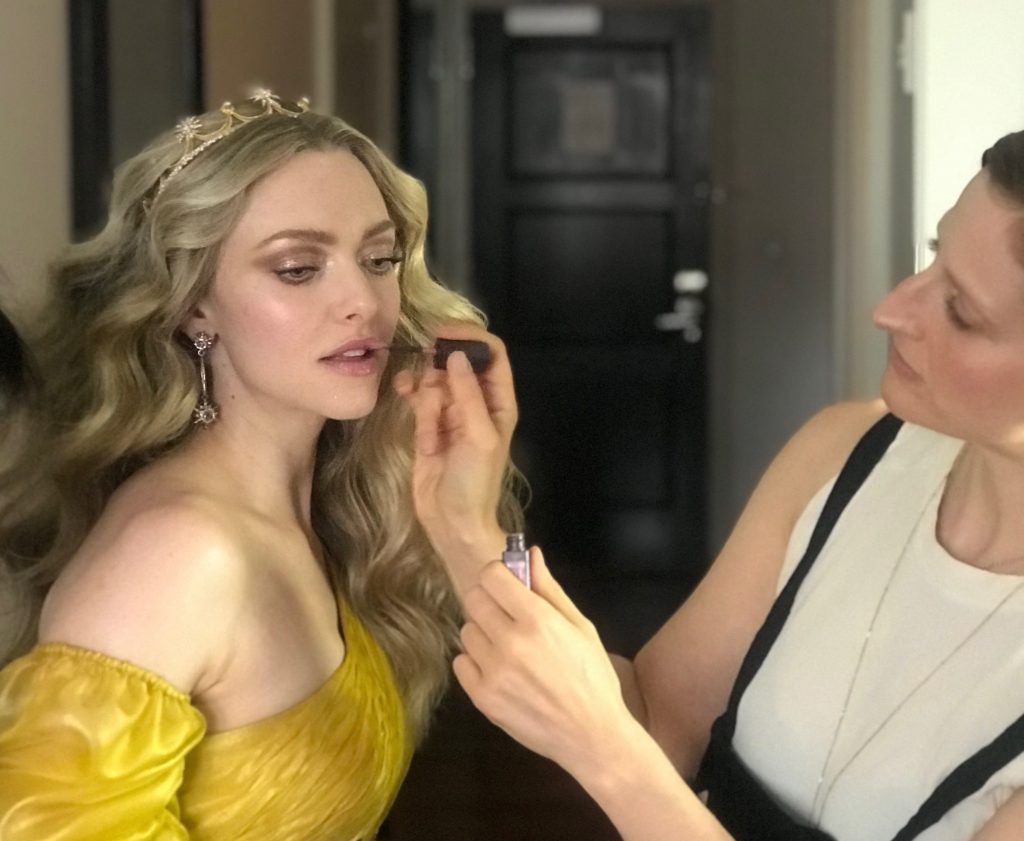 How did you begin working with brands?
In the first two years, I started researching which brands were clean, and I reached out to them. I walked into ABC Home in New York and saw a display of Ilia lipsticks. I looked up the brand online and reached out to her [founder Sasha Plavsic]. I said, "I'm a makeup artist and, if you need any help, let me know." We became friends and started working together. I heard Kevyn Aucoin's business and life partner [Eric Sakas] was one of the early people behind Vapour. It was one of the first times I asked for free product, and they sent me a huge bag. I stayed up until 4 in the morning playing with the products and stalked the founders on Facebook. I said, "I'm in love with your product. I can't believe it exists."
Then, I reached out to Burt's Bees. I said, "You need to have a stronger presence in the makeup artistry world. What can we do together?" I was sitting on my couch after just getting out of the shower, and I got a call from them. It was around eight years ago. I met with them. They didn't have any social media accounts. I remember them saying to me, "You just started using Twitter. We might be interested in getting into that." That was my very first contract.
We grew together. They decided to do a makeup line, and I was involved in that at the beginning. I remember them calling me years later. They said, "We've decided you are too clean and green. We need to branch out." I accepted that, and I thought that was smart of them because my base at the time was only people who are clean and green. For me, it was extremely important to focus on clean and green.
All of the major mainstream makeup brands came to me over the years to put me under contract, and I said no. At first, I think my agency thought, "Are you kidding me? How will we make money on you?" But they've been very supportive. I have not taken money from brands that aren't in alignment with my philosophy.
What's a partnership that's been successful?
When I first moved to LA after living in New York for 15 years, I used to teach classes at Whole Foods. I had gone there for a cooking class for survivors of cancer with my friend who was going through chemotherapy. I remember watching all these people going into Whole Body and thinking, "I know about all these products. I should be teaching a class." I approached someone at Whole Foods about it. They said, "Sure, you can use the cooking classroom." I ended up doing classes that would sell out.
On the heels of that, I went to the juice shop right next to The Detox Market with a girlfriend. She said, "What's the store next store?" At the time, it was great, but it was very minimal. They didn't have much going on at the store. I walked to the counter and said, "My name is Katey Denno." She said, "I follow you on social media. I'm a huge fan." I said, "Is the owner here? I want to talk about doing classes." She grabbed Romain [Gaillard, founder and CEO of The Detox Market,] and he quickly became one of my best friends in the industry and a business mentor to me. I have worked with them over the years to identify off-the-radar brands and the best products from those brands. I started doing classes there.
There's a brand named Jenette All Natural. The founder is a facialist who really cleared up my skin when I moved to LA. Everyone told me before they could clear up my skin, but she really did. My skin has become amazing through using her products and going to her for treatments. It's been amazing to witness all these brands' growth from Jenette to Ilia to The Detox Market.
What's your approach to social media?
I have tried to use social media as a force for change by way of makeup artistry, skincare and wellness. In the beginning, I was living this life of wellness, and I didn't realize how hungry the public was for that and how commodifiable it would become, not for me necessarily, but for the Goop's, Credo's and Follain's. I've been authentic almost to the point of being foolish. I get approached at least three times a week if not more by someone saying, "I will pay you $5,000 to post this." I generally don't take money for posts. I post about what I truly believe in and use. That's my point of difference, and it also means I will never become super wealthy. I want to help people find the truly best products. I listen to my agency's team that tells me to post once a day, if not five times a day, and to showcase yourself. To me, that feels weird because I'm not the star. I'm only a conduit to bring information forward.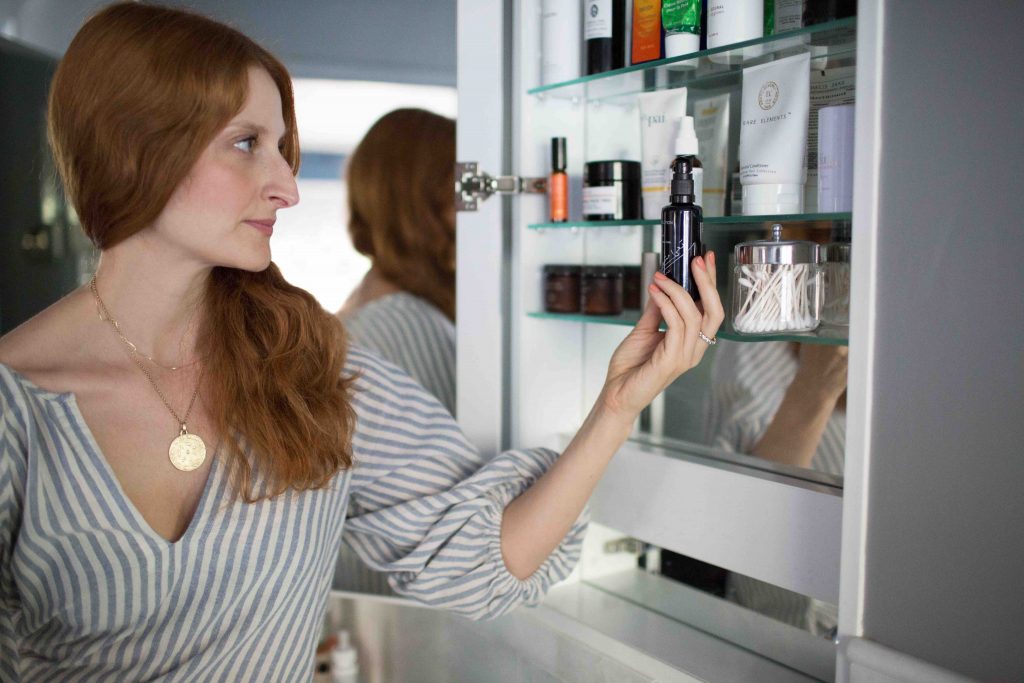 What's your take on the impact of social media on makeup artistry?
I've been in the industry for 12 years, and there are a lot of people who have been in it for a lot longer than me, and they were up in arms about it. I hadn't been in the industry for a very long time before social media and, suddenly, I had a fan base. A lot of the people who came before me said, "Who are you?" Makeup artistry was a private part of getting people ready for public consumption. Because I came from social work, where everything was kept private with clients, I came in with that mentality. I was shielding my clients saying, "We don't want to do this," but I realized I needed to make a change, but I still didn't feel comfortable with it. A lot of people ask me, "Why don't you film more with celebrities?" It doesn't feel right to me.
It's been crazy to witness YouTube and Instagram makeup artists, the rise of makeup sales, and this idea that you can't leave the house without a full face of makeup. There's a lot of pressure. Being constantly bombarded by these images has only reinforced the problem of women not feeling as good as we should. The implications for self-love and acceptance are profound. I think it can really hurt people.
At the same time, it's been amazing for a lot of young women and men, especially those who live outside of LA, New York or London, where there aren't as many opportunities to become a professional makeup artist. There's been a lot of discussion in the makeup artist industry about, "Who are all these people? Why are they taking our jobs? Why are they piling on so much makeup?" There's room for different aesthetics. For me, it's important to showcase natural beauty and not try to redraw a face on top of a face. I'm not into retouching, but we are so used to seeing faces that are heavily retouched, and it's unlikely the pendulum will swing the other way.
What advice do you have for indie beauty brands?
Every day, I get emails from aspiring brands. I have my personal email on my Instagram because I'm all about helping brands find their way. I think it's important for brands to realize the market is saturated. You have to really stand out. I get emails all the time from brands saying, "I've created a facial oil," but what is it about your product that's better than the 10 other oils I got today? Like what my agent said to me, you have to figure out your true point of difference. We don't need more products in the world.
Recently, I started thinking about the money YouTubers have made over the years, which is amazing. I began using an affiliate program for my YouTube channel. In the beginning, Spirit Demerson, creator of Spirit Beauty Lounge, said, "Why don't you sign up for ShareASale? People make thousands of dollars of month off of me." I didn't want to make money off of her, but, when I launched my YouTube channel, I did it, and I couldn't believe how much I made off of 10% of a beauty sale. I encourage all the indie brands to sign up. MagicLinks has cut all the beauty brands I referred to them a deal.
Another thing I tell a brand is, "Please don't send me samples in small packages." I know it's expensive, but no one wants to see tiny products on social media. People want to see the full-size products they will actually get if they make a purchase. And don't have your publicist send out a form letter. Personal outreach makes a difference.
What do you want to be doing 10 years from now?
I see two options for myself. I envision that, 10 years from now, I will have created a product line, and that product line will, of course, be 100% nontoxic, extremely eco-friendly and, of utmost importance to me, accessible to all, and for everyone. For years, I've been looking for the right partners to do it with. Social workers are people who don't have much money, and they work with people who often don't have much money. When I jumped into this world of clean beauty, I saw prices that make it financially prohibitive for people to buy nontoxic beauty products, and I've really struggled with that. That's why working with less inexpensive lines is so important to me, and why working with Burt's Bees was a goal very early on in my career, and why I now work so closely with Weleda. I've spent my entire career pushing the idea that nontoxic formulations should be a given, and it's from that baseline that I look forward to further innovation. I'm waiting to meet the right chemist/formulator who wants to push the envelope with me.
Alternatively, it's a dream of mine to work with one of the big conglomerate mainstream brands as their clean beauty color cosmetics ambassador and to have a real hand in the development toward clean. I've been approached by a number of them over the years, but, ultimately, none has been ready to make a serious commitment to go fully clean. So, I wait. I know the holes in the market. I know what works and what doesn't. I know the right people to supply the best ingredients and the best eco-friendly packaging manufacturers. It would be so fun and fulfilling to make that happen and to be part of driving change on such a massive scale. Imagining all that we could accomplish over the next decade with the right resources and reach, it makes me tear up thinking about it.