Kinfield Executes Its Biggest Product Launch Yet In Tandem With Madewell And Outdoor Voices Events
Between this month and last, Kinfield founder Nichole Powell has traveled or will travel to Los Angeles, Brooklyn, Austin and Miami for her 2-year-old outdoor essentials brand's first-ever
series of IRL events to fete its most significant launch yet and debut sunscreen product,
Daily Dew.
Kinfield is making up for lost time. A host of summer happenings planned were canceled last year, and Powell is excited to finally meet her brand's customers in person. The in-person stops include a series of pop-ups with Madewell, where the brand is carried, a dog jog with Outdoor Voices and a dance cardio class in Brooklyn. "We're on a little bit of a tour," says the entrepreneur on her mobile phone mere minutes upon arriving in Austin. She will be in attendance at all pop-ups and activities.
Typically, Powell reports 50% to 75% of Kinfield's sales are from its direct channel, but she says that, after stores being closed due to the pandemic, retail is now "back with a vengeance." In addition to Madewell, the brand is available at Thrive Market, Goop, Grove Collaborative, Anthropologie, Urban Outfitters and Free People, where it premiered a month ago, as well as network of 120 independent retailers around the country. 
"The majority of our physical footprint is made up of those smaller, local boutiques, which is frankly how we like it," says Powell. "We'll see how that changes as the company grows, but it's been a great way to have that mix of bigger online partners who might be able to expose the brand to customers who might not otherwise have heard of us while then also having physical touch points so that, if a customer wants to buy the product same day, we have a really great local shop to be able to send them to." 
In development since the genesis of the brand, $24 Daily Dew SPF 35 is a hybrid of performance sunscreen and daily moisturizer designed for everyday use. The lotion formula is water-resistant up to 40 minutes, and enriched with sea kelp, glycerin and non-nano zinc. It features a light, natural salty and citrusy bergamot fragrance. Powell worked with a fragrance house to fashion a scent inspired by the smells she encountered on a camper van trip along the Algarve in Portugal.
"Sunscreen has always been a part of the plan with Kinfield because our focus is on thinking about everything that you need for your time outside, and SPF is a really important part of doing so safely and enjoyably," says Powell. Explaining the timing of Daily Dew, she says, "Pre-launch, when we were starting product development, we had the opportunity to start working on the repellent [Golden Hour] and on sun care for the launch. Both of those are really complex categories and really complex products to develop. They're also pretty significant in terms of resourcing requirements and from a regulatory perspective. It came down to being a small brand and saying, 'We have a really clear picture and path forward with the repellent. We think it's going to take a little while for us to get sun care right.'"
With Daily Dew, she sought to perfect a hydrating mineral formula that didn't leave a white cast no matter the complexion. She turned to Kinfield's consumer testers called Field Testers to vet the formula. They requested a non-tinted formula that wouldn't streak if they got sweaty. "To my knowledge, I don't know of any other daily sunscreen that's not traditionally marketed as a body sport sunscreen that is water-resistant," says Powell.
The last hurdle was the required FDA testing, which has to be done in a controlled setting on real people. Not an easy feat during a pandemic. "Those labs were hideously backed up, so that ended up being a delay as well. But I am glad that we took the time that we did with the formulation itself, because that I really think is reflected in the final product," she says.
Daily Dew officially launched on June 15, and early feedback and sales have been promising. While Golden Hour, the brand's bestselling DEET-free insect repellent, is what the brand is most known for, Powell teases "there might be a new kid on the block" with Daily Dew. Kinfield's other recent launch, $14 Relief Balm, an anti-itch skin stick, is resonating with Kinfield's consumers, too. "Relief Balm was a much-requested product. When it launched, we saw the numbers on our site fairly immediately," says Powell.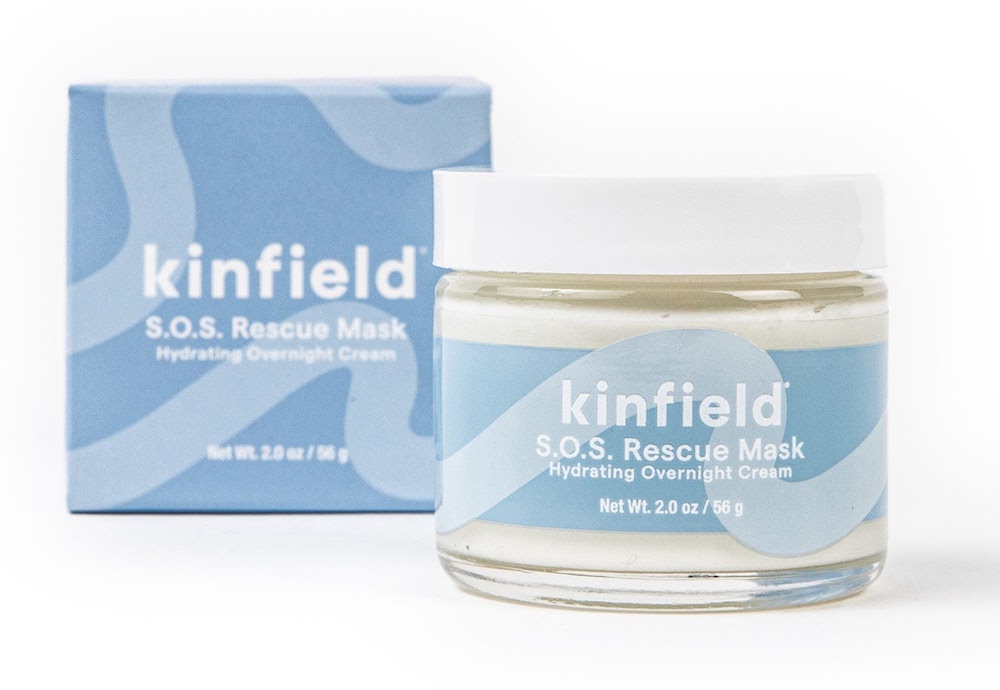 In April, Kinfield's e-commerce sales were up 430% from last year. In May, it reached its sales goal in two weeks, marking a 126% month-over-month increase. One week into June, Kinfield surpassed its April sales. "We have greatly benefited from the fact that people are outside more than ever," says Powell. "Our mission has always been one of inclusivity and get outdoors for whatever way that moves you, whether that's a backyard barbecue or if this is your first ever hike, let's go and do this together. We're so proud of you for getting out there. I think that combination of many people for the first time getting outside, looking at road trips instead of traveling abroad over the last year, from a macro industry perspective, we are one of many outdoor brands that has seen a boost because of that." 
Newness has helped fuel Kinfield's growth as well. It launched initially with three products and will be introducing four new products over the course of this year, with three of those, Daily Dew, Relief Balm and Rescue Mask, Kinfield's proper foray into beauty, already out the gate.
She says, "We've had a very busy spring, and that obviously gives people more to be able to purchase. The responses to all of those products have been very good, so we're continuing to see that compounding effect all at once."
The founder is also focused on growing her team, which operated remotely pre-COVID, to support her expanding business, though she's doing so without fundraising—yet. Powell raised a pre-seed round in December of 2018 to get Kinfield off the ground. Participants included a mix of friends and family, angel investors, and two institutional funds, Precursor Ventures and Congruent Ventures. "I'm not fundraising at the moment, but the pace of growth that we're on may put us into that perhaps sooner than I would've expected," she says.