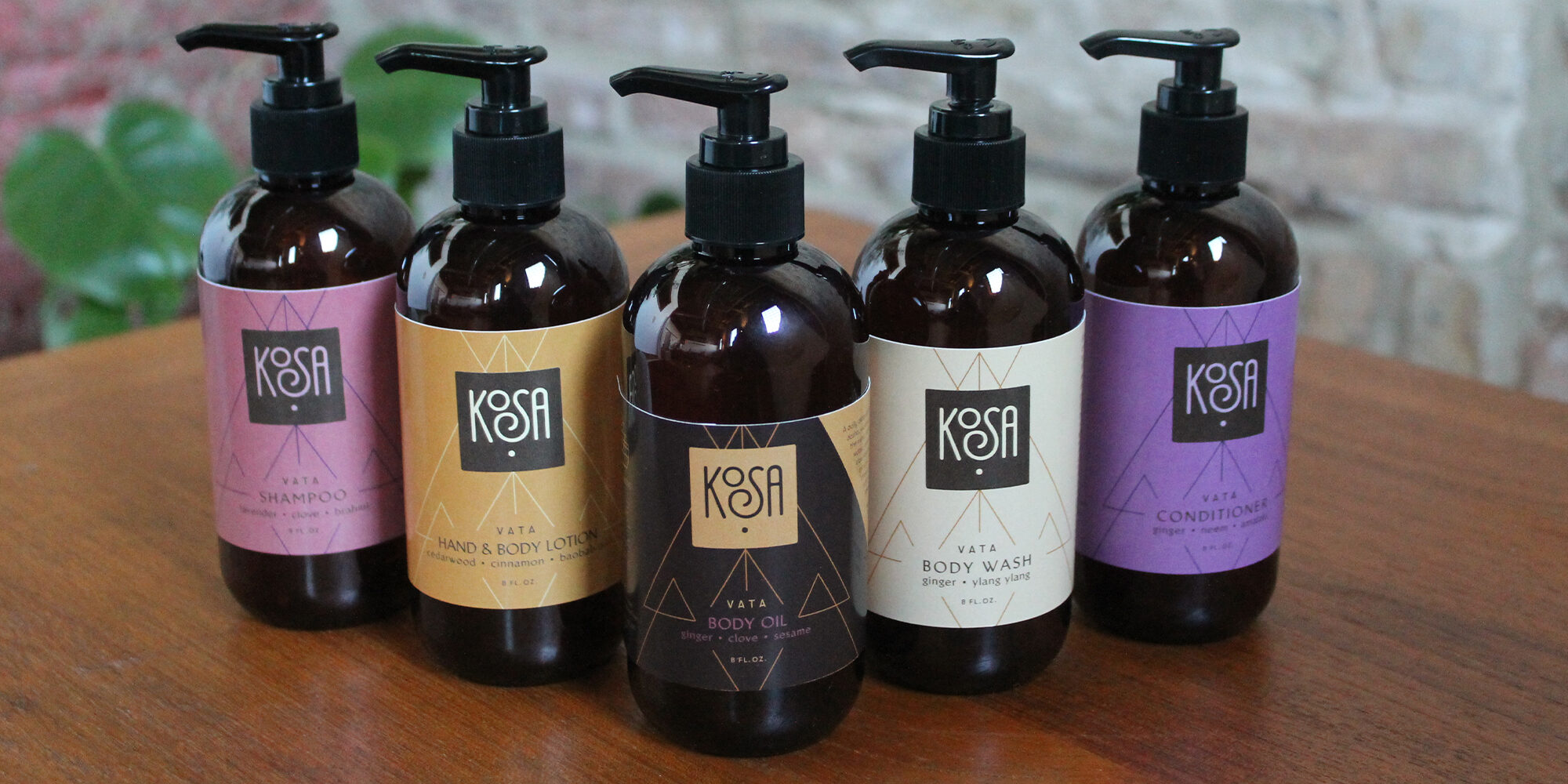 With Kosa Body Care, A Sustainable Design Expert And Spa Owner Harnesses Ayurveda's Healing Benefits For Hair And Skin
Kosa Wellness Spa founder Shilpa Sankaran was born in India, but spent her grade-school days in the small American town Middleton, Wis. As a kid attempting to integrate, she says, "I tried to separate myself from my culture and my heritage, but, at home, I had a different experience. My parents wanted us to acclimate into the culture, but, at the same time, we learned about Indian cultural traditions and rituals. We ate Indian food, and Ayurveda was just a part of our lives."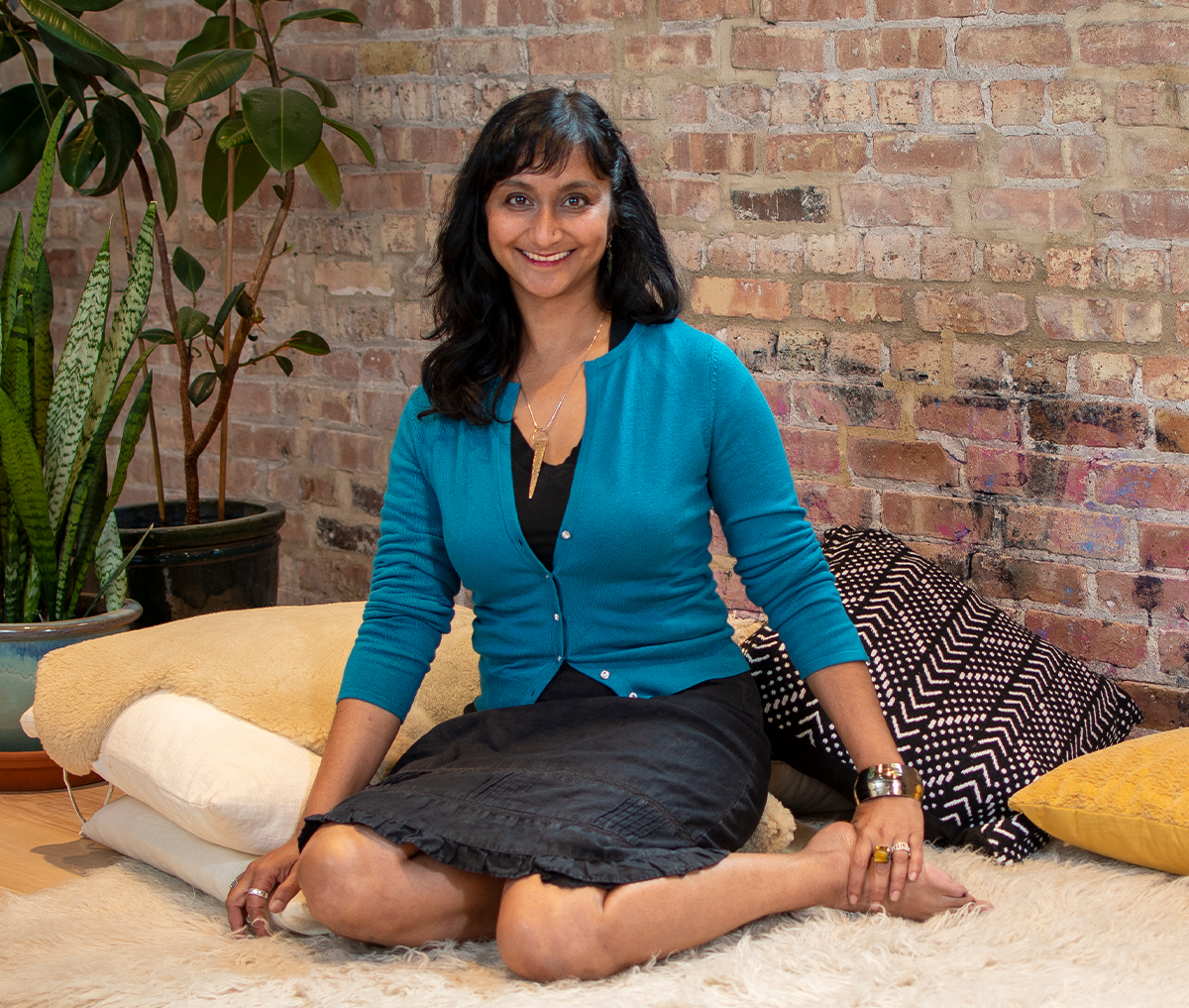 Sankaran's mother wove Ayurveda's holistic healing traditions into the running of her household. "Just the way that she would treat us when we were sick, the foods she would cook, the teas, scraping our tongue, those were just things that we did. So, it was all part of my life, but I really created a wall between those two American and Indian identities," says Sankaran. "As an adult, it's been a process of pulling that wall down again and trying to reintegrate myself."
About eight years ago, Sankaran's interest in alternative healing modalities gained momentum. She had loved ones struggling with cancer, heart disease, chronic skin problems and more. "I was watching everybody take care of these issues through traditional medicine, but it wasn't really ending their suffering," says Sankaran. "I started to become more interested in other ways of wellness. I started to read about Ayurveda. I also was ready to reconnect with my ancestral history." She decided to travel to India in what she says was "a piece of that" reconnection.
Once Sankaran arrived in India from San Francisco, where she was residing, she and her husband Greg Rasmussen already hatched the idea of opening an Ayurvedic spa in the United States. During her stint abroad, Sankaran dove into research. She recounts, "I had treatments and tried different products, and bought little lotions and oils and things like that, but I came back to San Francisco, and started a different company [focused on sustainable housing design], and my life took a different turn."
"In Ayurveda, everything you use on your body has a purpose, and every plant has a job to do."
In the months and years after her journey to India, Sankaran didn't lose touch with her vision. It even endured significant personal changes. Sankaran became a mother and returned to Wisconsin. "I had a notebook with lots of plans for the future Ayurvedic wellness retreat that I wanted to build," she says. "Every time I had a new idea, it would go in the book. I always imagined I'd build a zero-energy retreat center somewhere in nature. And, then, we moved back to Madison, and we knew we could build a retreat here. There's beautiful countryside."
While the idea simmered, Sankaran began working on the restoration of Garver Feed Mill, a destination with a mix of businesses focused on wellness and artisan food. Built in 1906, the property had been vacant for 18 years when Sankaran became involved with it in 2015. "[Real-estate development group Baum Revision] brought me in to work on a hospitality component of the project, which was building zero-energy, tiny homes. I'd done that in my former life," says Sankaran. "But, then, I thought, 'This retreat center wants to be here. There's still that oasis feeling, but it's in the middle of the city. It's much more accessible. I wouldn't have to build the whole spa.' And the energy of the building was so magical, but, of course, I had some uncertainty."
A sign cleared up Sankaran's uncertainty. Roughly eight months after becoming involved with the project, she was standing outside of the mill when she noticed three iron stars on the exterior of the space where her spa would go. "There were none of the rest of the building," says Sankaran. "And that was the moment where I said, 'I can't ignore that. That's where Kosa has to be.' Three stars have significance in my family. When my parents lived apart from one another—my dad was in the U.S. getting his MBA, and my mom was still in India with me—at night, when they would see the three stars in Orion's belt, they would think of each other."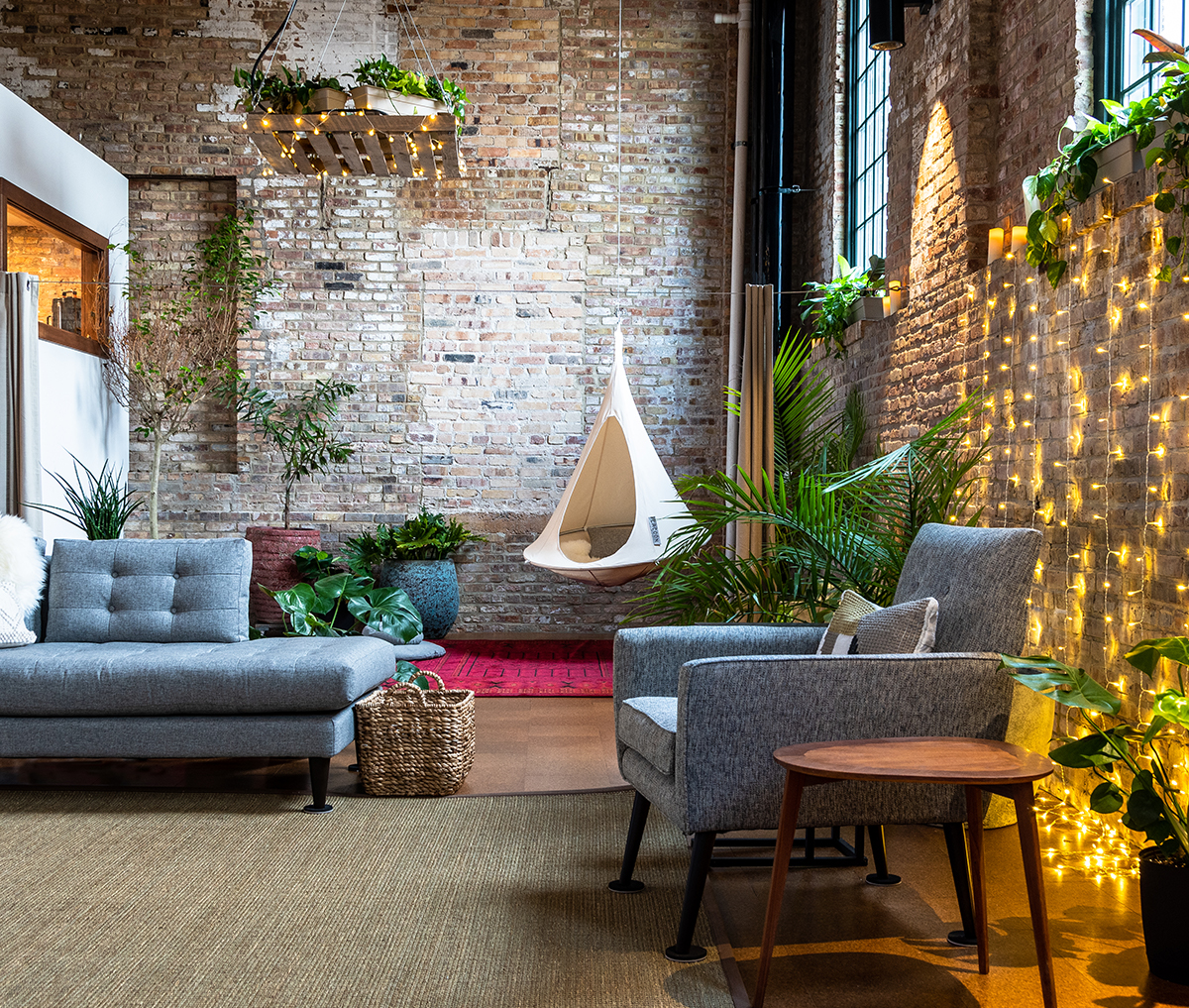 Garver Feed Mill's renovation ultimately stretched over three years. "They did it brick by brick," says Sankaran. Amid the renovation, Sankaran fleshed out her idea and cultivated a community by hosting local Ayurvedic cooking classes under the Kosa umbrella. She also conceptualized the design of the spa, incorporating elements of wellness centers from around the world.
She took cues from Japanese and mid-century architecture in the design of the space. Sankaran explains she aimed to "strip things down so that the place is really more about the person in it, and less about the place." Inspired by European hot springs, she opted to to bring a sauna and cold shower into the spa, and serve food as an integral part of the experience. Sankaran says, "We always envisioned a very central, communal place, which is now our on-site Sanctuary, where people can just eat and have a quiet space to hear their own voices."
The spa opened in November 2019, but closed its doors in March 2020 as the pandemic set in. "The first thing we did was to create free self-care videos and resources for people hoping that, if they were sitting at home, they could really be paying attention to their mental well-being," says Sankaran. "I think, by offering self-care and connecting with people more over social media during the pandemic, we started to build more community when we were closed." With the spa was closed, Sankaran turned her focus to creating Kosa Body Care, a product line grounded in Ayurveda that kicked off with shampoos, conditioning scalp scrubs and body washes.
"The pandemic has accelerated the need that we all have to get closer to our bodies and be more mindful."
"In Ayurveda, everything you use on your body has a purpose, and every plant has a job to do. You choose which products you need to use based on your specific needs," says Sankaran. "I just couldn't find anything like that. There was no major brand for me to choose from. We started out with haircare because that was the biggest gap." Wanting to keep production local, Sankaran partnered with a Wisconsin vendor to help formulate the line. She says, "We source the herbs as well as the essential oils. Everything that's chosen is cruelty-free and vegan, and comes from companies that we believe in."
Sold via direct-to-consumer distribution, the products are formulated for the three specific doshas or the three energies—Vata, Pitta and Kapha—that characterize people's constitution as laid out by Ayurveda. Shoppers can identify the dosha they most align with by taking an online quiz. Sankaran details, "Pitta would be more dominant in the fire element, and you would see things like skin inflammation, outbreaks…In the hair, you might see hair fall, thinning and dull hair." To address those issues, Kosa's Pitta hair products are made with cooling plants and herbs, including lavender, peppermint and rose.
Intended to revive dull skin and hair, the Kapha products have ingredients described as "warming and uplifting" such as rose geranium, jasmine, grapefruit and jojoba. Finally, products designed for concerns associated with the Vata dosha are meant to be hydrating and warming to treat thin and dry skin and hair. Ingredients include ginger, clove, and amalaki, neem and baoboob oils.
Sankaran declines to disclose what it cost to launch Kosa's products specifically, though she does reveal that she had to be "very resourceful" in her process, particularly during the pandemic. But based on her business background — which included strategy consulting for companies such as PricewaterhouseCoopers — she estimates that a similar startup would require about $40,000 to $50,000 of investment. As for Kosa, sales really began when visitors were able to test the products in the spa once it reopened in February of this year. Now, Kosa's product sales are amounting to some $1,000 a month. Sankaran says she's seeking investment to take the line "where it needs to go." Her sales projections are being complicated by the pandemic, particularly the uncertain progression of the Delta variant.
"I don't even know what our sales are going to be next month," says Sankaran. "It's just so unpredictable right now. Even with online retail sales, it's really just been all over the place." She's more confident in her prediction that Ayurveda will have a stronger presence in the beauty market. "People are in crisis in terms of anxiety," says Sankaran. "We have problems in this country that are cumulative and a result of our culture. We work ourselves to the bone." Speaking about Ayurveda specifically, she continues, it is "going to resonate. It's definitely a source of buzz right now, though it's not reached the mass market yet, but, given the trend, it certainly will—and especially now. The pandemic has accelerated the need that we all have to get closer to our bodies and be more mindful about how we treat ourselves, others around us and the planet because now we realize how precious it all is."
Meanwhile, an Ayurvedic skincare brand Kosa's technicians had been using is no longer available for wholesale. "So, now we have to create our own," says Sankaran. "There are other lines that are out there—and some are lovely—but they don't serve our purpose at the spa to offer customized Ayurvedic skincare. We want to treat each dosha specifically. So, that's in the works right now."