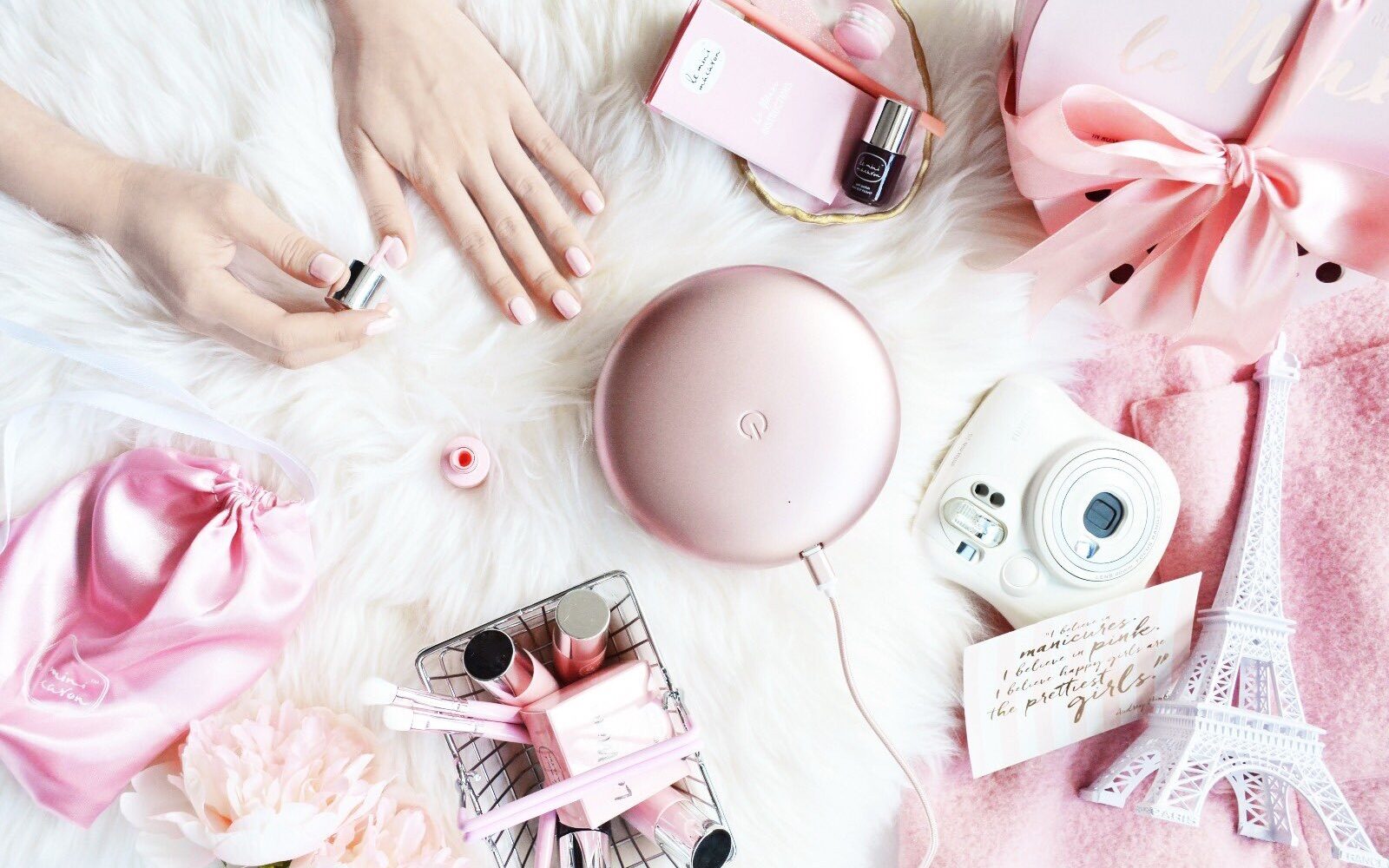 Le Mini Macaron's US Business Sweetens With A Target Launch
Le Mini Macaron is finding its retail sweet spots in the United States.
The brand known for its Gel Manicure Kit featuring a macaron-shaped LED light launched at 250 Target doors for the fourth quarter and will double its door count at the chain in January. A TikTok video posted by Target on its kit has racked up over 678,000 views and 3.5 million impressions. Le Mini Macaron originally debuted in the United States four years ago. Today, it's in 94 Nordstrom stores for the holiday shopping season as well as selling at Ulta Beauty, Aerie, Madewell, Urban Outfitters and Amazon.
Leading up to its entrance in Target, the U.S. accounted for 20% of Le Mini Macaron's business, while Europe accounted for roughly 70% and Asia 10%. Outside of the U.S., it's in retailers and e-tailers such as Sephora France, Lane Crawford, Asos, Zalando, Feelunique and Lookfantastic. In 2022, as Le Mini Macaron's presence expands at Target, co-founder Christina Kao predicts the U.S. could become the brand's top market.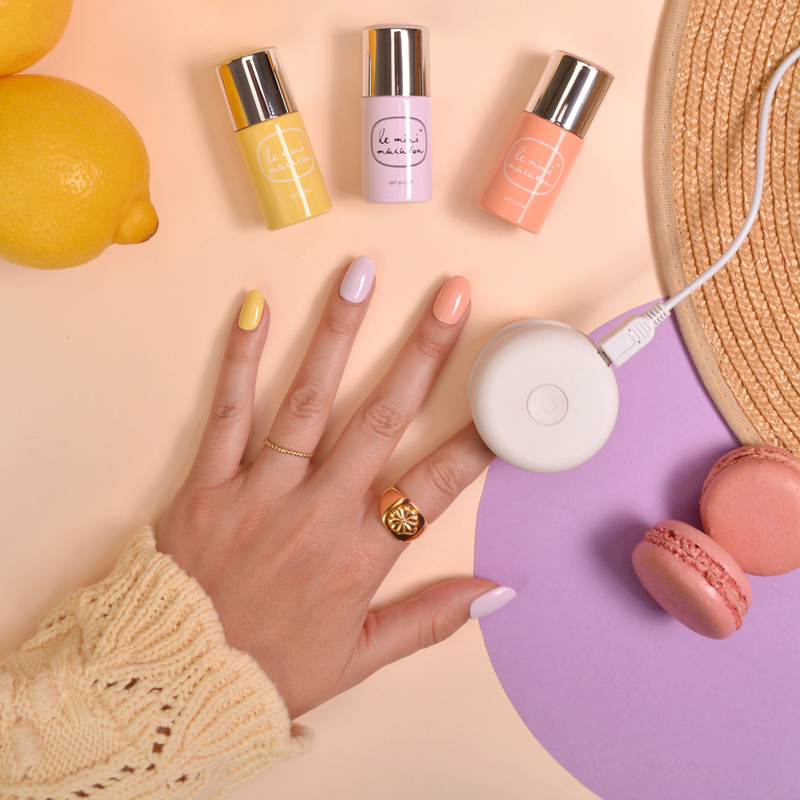 "With the pandemic, we saw so much lift in everything we were doing the U.S. that it seemed like a good time to roll out to a wider audience," she says. "Making it more widely accessible is a great step forward, and going into mass retail at a destination that is very focused on beauty and is really committed to growing beauty is just really exciting."
In the third quarter, beauty along with essentials, and food and beverage was a standout category at Target that delivered a same-store sales bump in the mid-teens. Target has demonstrated its commitment to the beauty category by installing Ulta Beauty in-store shops at 100-plus locations, a number expected to jump to 800 in the next few years.
Le Mini Macaron generates between $5 million and $10 million in annual sales and, amid the pandemic, its revenues tripled. To handle the sales boom and help stoke sales in the future, Le Mini Macaron has tripled its workforce since 2020 to around 30 people. Eminently giftable, about 40% of the brand's sales occur in the holiday shopping season at the end of the year, but Mother's Day and Valentine's Day are big for it, too.
"Making it more widely accessible is a great step forward."
Originally from Birmingham, Ala., Kao spearheads Le Mini Macaron from Barcelona, where she moved in 2017 from Shanghai. She started her career in advertising and 14 years ago took a position at the agency TBWA\Auditoire in Shanghai to experience life abroad. Following TBWA\Auditoire, she supervised business development at the restaurant company David Laris Creates, a role that gave her a taste of what it's like to steer a startup.
In 2013, Kao created Le Mini Macaron parent company Carmelia Beauty with her co-founder Francois-xavier Humbert, previously a purchasing manager at the beauty brand Peggy Sage. The combination of her advertising, business development and marketing chops, and his knowledge of the manufacturing landscape in China made sense. However, Kao admits getting the company off the ground wasn't easy. "The first three years or so, it was pretty painful," she says.
Prior to Le Mini Macaron, Kao and Humbert introduced a brand called Shine & Sheen with nail art stickers in various prints. The brand provided tons of lessons on how to operate—or, rather, not operate—in the nail segment. "We basically did everything wrong," laughs Kao. "For example, we put a lot of items into the set and the costs exploded." She details, "It was 15 to 17 different items in a box, and we retailed it at $35, but the market told us people wanted to pay $25 and, if we wanted to distribute in Latin America, it had to be under $20. That was challenging. You have to do your pricing research."
After Shine & Sheen, Kao ventured into gel manicures with a line named My Trendy Kit. The line gained traction in Sephora China and at retail in France, but lacked compelling branding. "We weren't really building the storytelling," says Kao. Another issue involved forecasting accurately for 200 Sephora China locations. Discussing the retail business generally, Kao says, "As we have gotten bigger, we have brought on people with that experience. It gets to a point where, if you want to compete, you have to professionalize it. If you want to not just keep up, but really grow that business, you need to be able to speak their language."
Kao put the lessons she learned from Shine & Sheen and My Trendy Kit into action with Le Mini Macaron. Kao turned to Kickstarter to premiere the brand in 2015 and test the market. The Kickstarter campaign raised $31,417, smashing its $15,000 goal, and enabled Le Mini Macaron to gauge responses to pricing. In addition, Kao studied the prices OPI and Sally Hansen were charging—roughly $70 to $80 for larger sets—to determine a price the market could bear for its kit that would drive sales.
Le Mini Macaron's Gel Manicure Kit, its No. 1 stockkeeping unit out of some 200 SKUs, containing a single-finger LED light with a USB cord, bottle of gel polish, cuticle stick, mini nail file and 10 remover wraps is $35. A Deluxe Gel Manicure Kit with a full-hand LED light, four gel polishes, 20 remover wraps, travel pouch, full-size nail file and cuticle stick, and decorative decals is $65. At nail salons, Le Mini Macaron estimates gel manicures cost $45 to $100, making its kits a comparably affordable alternative.
"We are about DIY at home and a moment of self-care."
Kao concentrated on the brand storytelling in a manner she hadn't in the past. Initially, she zeroed in on Le Mini Macaron's functional benefits. Its Gel Manicure Kit gives customer a 15-minute gel manicure at home without a top coat or base coat. It's highly portable and designed to provide glossy, chip-free results that last up to two weeks. "What we are offering you on top of the saving is that you have the freedom to do your nails when you want where you want," says Kao. "You aren't tied to having to go to the salon."
Particularly during the pandemic, Le Mini Macaron has been increasingly spotlighting the emotional benefits of its products. "We are giving you happiness at your fingertips. We are about DIY at home and a moment of self-care. You can change up your nails to match your outfit and mood," says Kao. As the pandemic hit, she elaborates, "The gel category at home spiked so much, and we recruited a lot of people into the brand. Whereas before people were constantly on the go, now they are looking for at-home nail care and color, and they're also looking for beauty entertainment."
Today, Le Mini Macaron is busy boosting brand awareness, refining its product release strategy, and readying to unveil a refresh that updates its packaging and emphasizes the brand's message of happiness, positivity and play. Kao projects Le Mini Macaron will 2X to 3X its marketing budget in 2022. It recently established an ambassador program and a private Facebook community, and hired the firm Six One for public relations. In the past, Le Mini Macaron released gel polish colors as often as monthly. Kao wants to retreat from that exhausting pace, but still spark consumer excitement.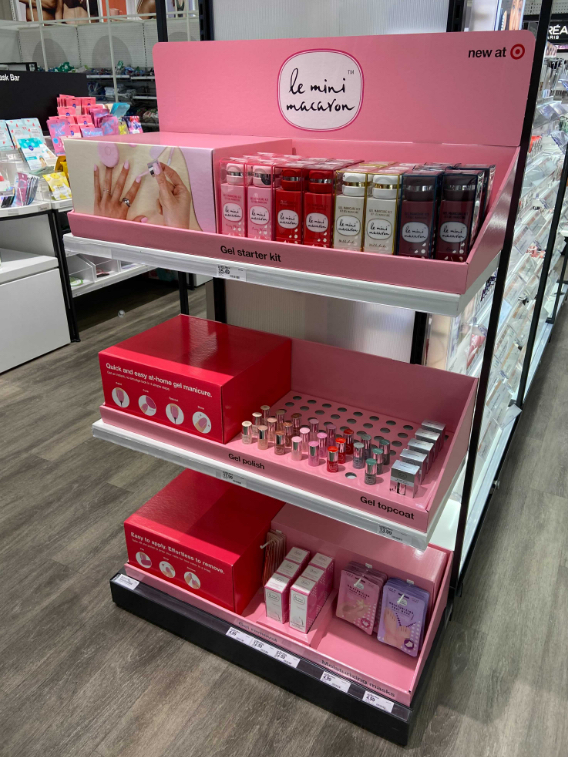 "We will keep doing colors, but we are trying to figure out how to do it in a way that's more manageable. We used to do a lot of singles and, now, we are going to try to bundle them into collections," says Kao. "We are going to be talking about using nail care as a moment to play. Our average consumer is in her early 30s, but we have women in their 40s and 50s who have embraced the product. They want to play with their nails and express themselves. It's an opportunity for us to tap into that youthful spirit."
Le Mini Macaron is self-funded, and Kao says she's evaluating the investment necessary for the brand to "play on a much larger scale." She explains, "We are really trying to see what is our ambition with this. We didn't start the business saying, 'Hey, we just want to sell it.' There are people who start businesses to do that, but we really love running the business. We are trying to figure out what the next five years will look like for us."