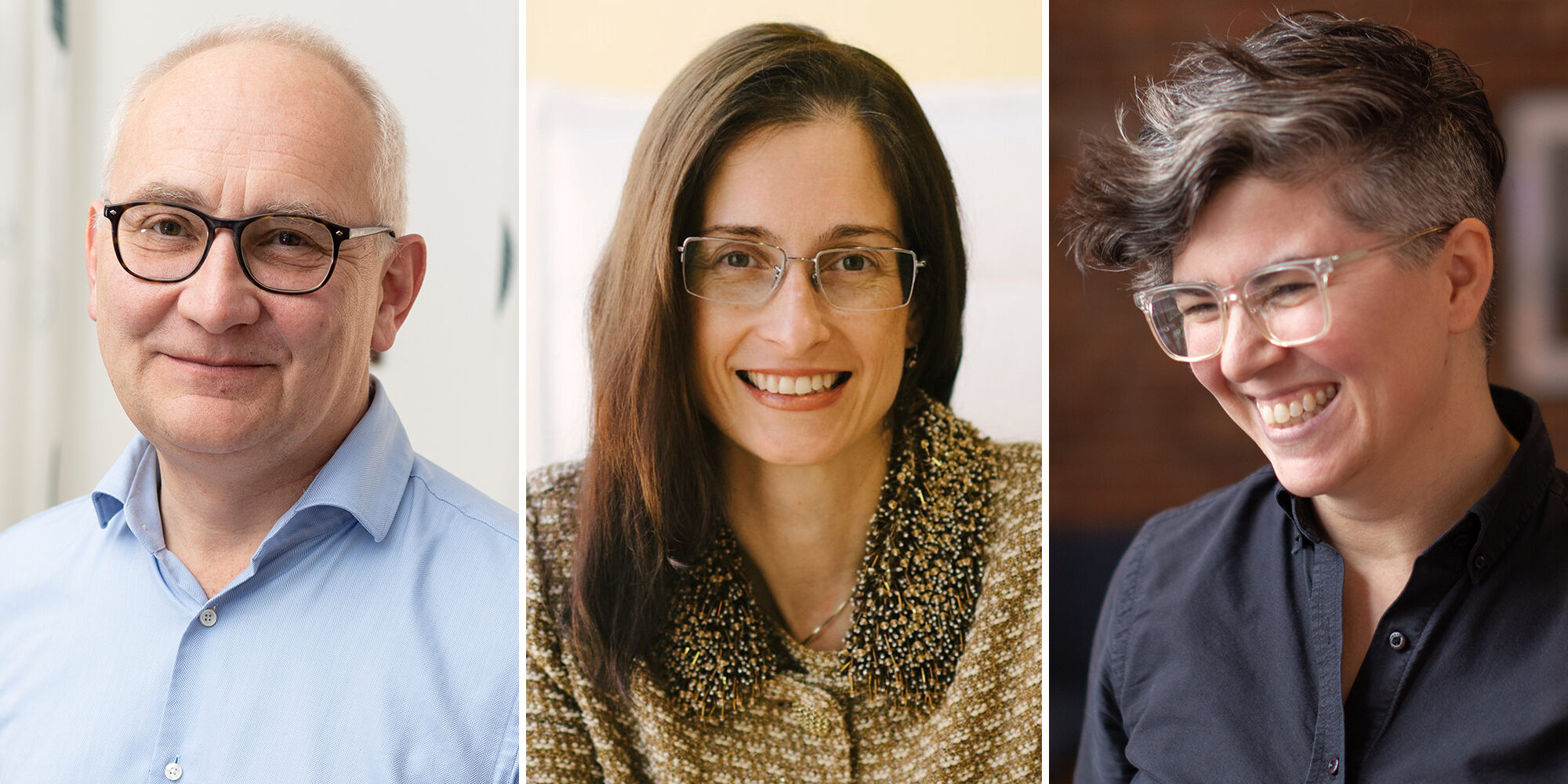 Lifting The Veil On Beauty Packaging Materials
For brands concerned about the environment, sustainability can't be a postscript.
In a Beauty Independent In Conversation webinar last month, Brandi Parker, head of realization at design and branding agency Pearlfisher, offered four recommendations for those considering environmental impacts: identify sustainability goals at the outset, start small and take incremental steps toward reaching the most ambitious goals, rely on the expertise of a multidisciplinary group of suppliers, and reset goals as the business and broader landscape evolve.
"Once the project is underway, make sure you are implementing sustainability that is true to the brand," she said. "It cannot feel like a gimmick. It cannot feel like an add-on. It must feel like it is from the heart."
Parker joined Philippe Letzelter, director of product management at Iggesund, the paperboard manufacturer sponsor of the webinar, and Barbara Paldus, founder of science-driven beauty company Codex Beauty, for the webinar that touched on eco-conscious packaging materials and their costs, and the next frontier of green packaging. Here are key highlights from their discussion.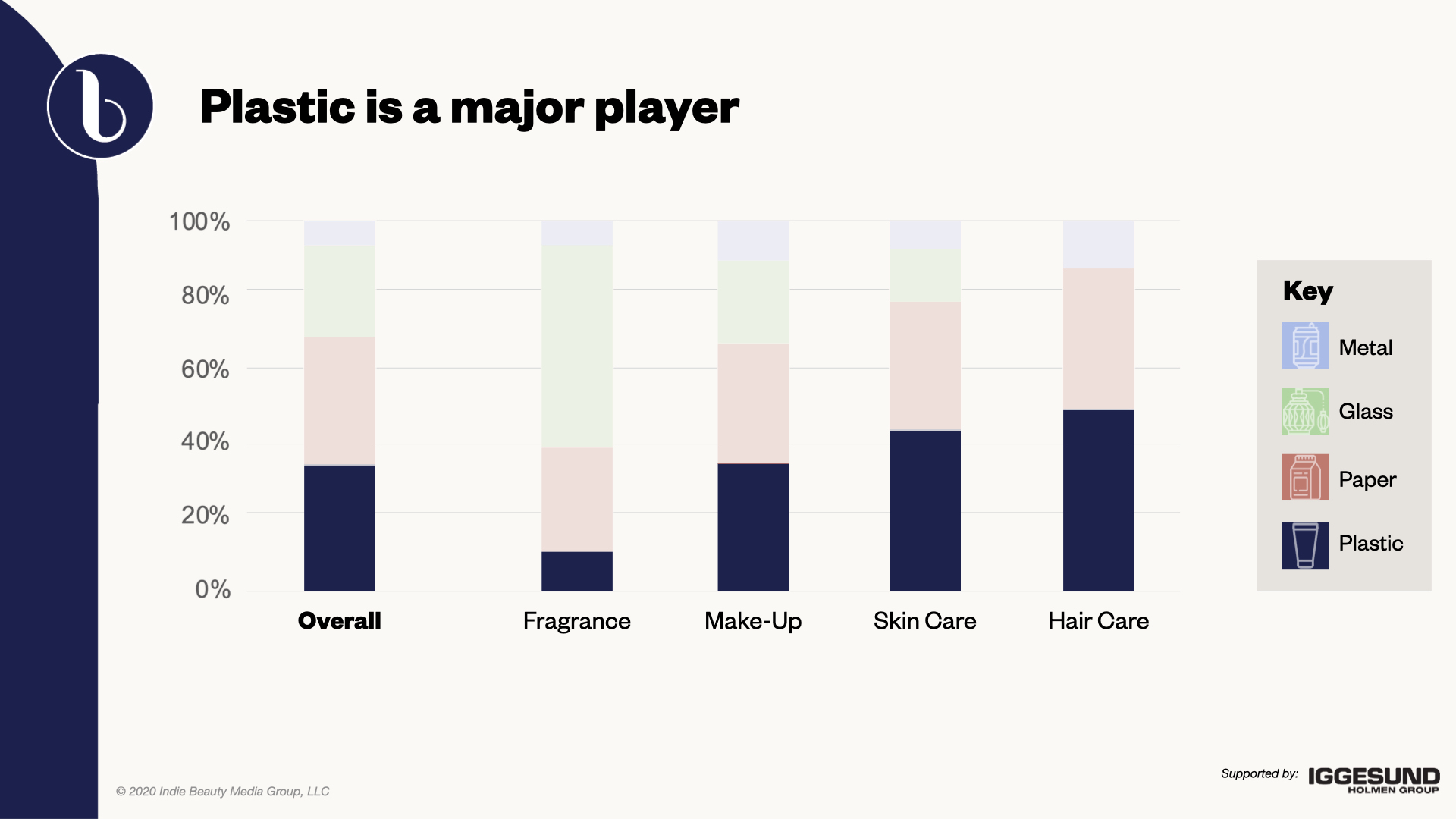 Packaging
To give webinar attendees an understanding of the materials used in the beauty industry, Paldus presented data showing paper is the most ubiquitous beauty packaging material followed by plastic. The material mix varies by beauty category. Plastic is the go-to material for haircare brands while glass is the material of choice for fragrance brands. Overall, plastic is popular because it's comparably light, easy to form, durable and inexpensive. Paldus divulged a plastic bottle is typically less than half the price of a glass bottle.
Plastic can be fossil fuel-based or bio-based meaning that it's made out of renewable resources, including sugarcane, corn, soybeans and bamboo. Plastic from both sources can be biodegradable or non-biodegradable and recyclable or not recyclable. The bio-based field is expanding, but bio-based plastic remains relatively costly. According to Paldus, non-biodegradable sugarcane plastic is 5X more expensive than its virgin fossil fuel-based plastic alternative for small tubes and 2X more expensive for large tubes.
She says, "It will affect your bottom line." Parker said, "Any shift over to any new material, I don't even care if it's more sustainable or not, usually incurs an increase in cost. So, the more that we can level set those expectations at the beginning, the better off we are and more successful we will be."
Codex Beauty selected sugarcane-based polyethylene for its packaging. It ran the packaging through an extensive study to ensure it wasn't leaching into product formulas. The company also did a complete lifecycle analysis on the material and discovered it's carbon-negative. Paldus detailed every carbon atom in green polyethylene is absorbed by the atmosphere during the growth of sugarcane. She added sugarcane cultivation is efficient land usage, and specified two football fields worth of sugarcane yields three tons of green polyethylene or enough for 200,000 125-ml. tubes.
Ingredients And Manufacturing
Packaging isn't the only beauty product element that should be examined to diminish a brand's environmental effects. Ingredients and manufacturing processes have to be factored into the equation. Food byproducts (e.g., grinds, rind, brines, seeds and oils) can be sustainable ingredient options. Ingredients bioengineered by companies such as Geltor, Mibelle and Genomatica should be evaluated, too, to develop eco-friendly formulas.
Paldus explained bioengineered ingredients are potent, and the manufacturing processes producing them minimize water. She singled out a natural butylene glycol that Genomatica sells as an example of a bioengineered version of a common petroleum-based ingredient. The company relies on sugar beets, corn and wheat microbes to manufacture ingredients.
Paldus noted heating and cooling processes that are required to create creams combining water and oil are responsible for 90% of the manufacturing energy output. Cold processing or manufacturing at room temperature is a greener alternative that has the benefits of being cheaper and faster as well. Paldus lamented, though, that available cold process raw materials are limited.
If they depend on ingredients and packaging without substantial environmental footprints, Paldus described cold-processed soaps as a hero of clean skincare due to their eco manufacturing process. Unlike hydration products that are 60% to 70% water, their solid format is water-free. Oil-only products, powders, ferments and tabs are additional water-free possibilities.
"Let's basically be mindful of every single step we do in our product development," emphasized Paldus. She pointed to EcoVadis, Achilles and Uplink, a directory of solutions providers owned by Beauty Independent parent company Indie Beauty Media Group, as valuable tools for beauty brand founders hunting for sustainability information and suppliers.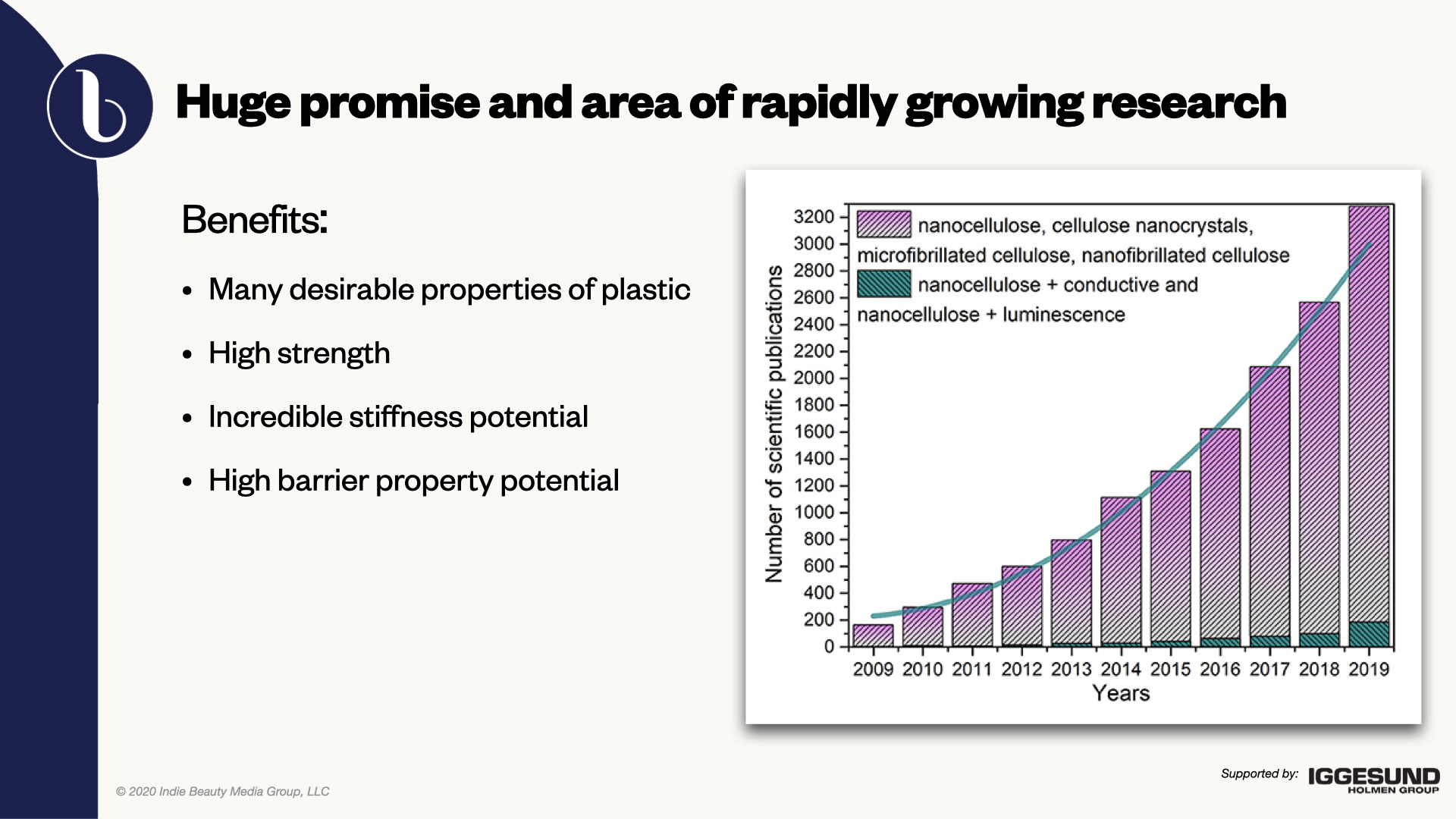 The Next Frontier
Secondary packaging has been the province of the paper industry, but Ledzeltzer shared it's pushing into primary packaging. He said, "The industry is looking at where can we replace plastics with paper or fiber-based materials…The next step is usage of the fibers to make molded three-dimensional products."
Bottles, tubes and more will be crafted from paper materials. In particular, Ledzeltzer spotlighted nanocellulose or incredibly small fibers that can be packed tightly to make packaging with strong barriers. Ledzeltzer said, "We are looking at nanocellulose as being able to replace aluminum, for instance."