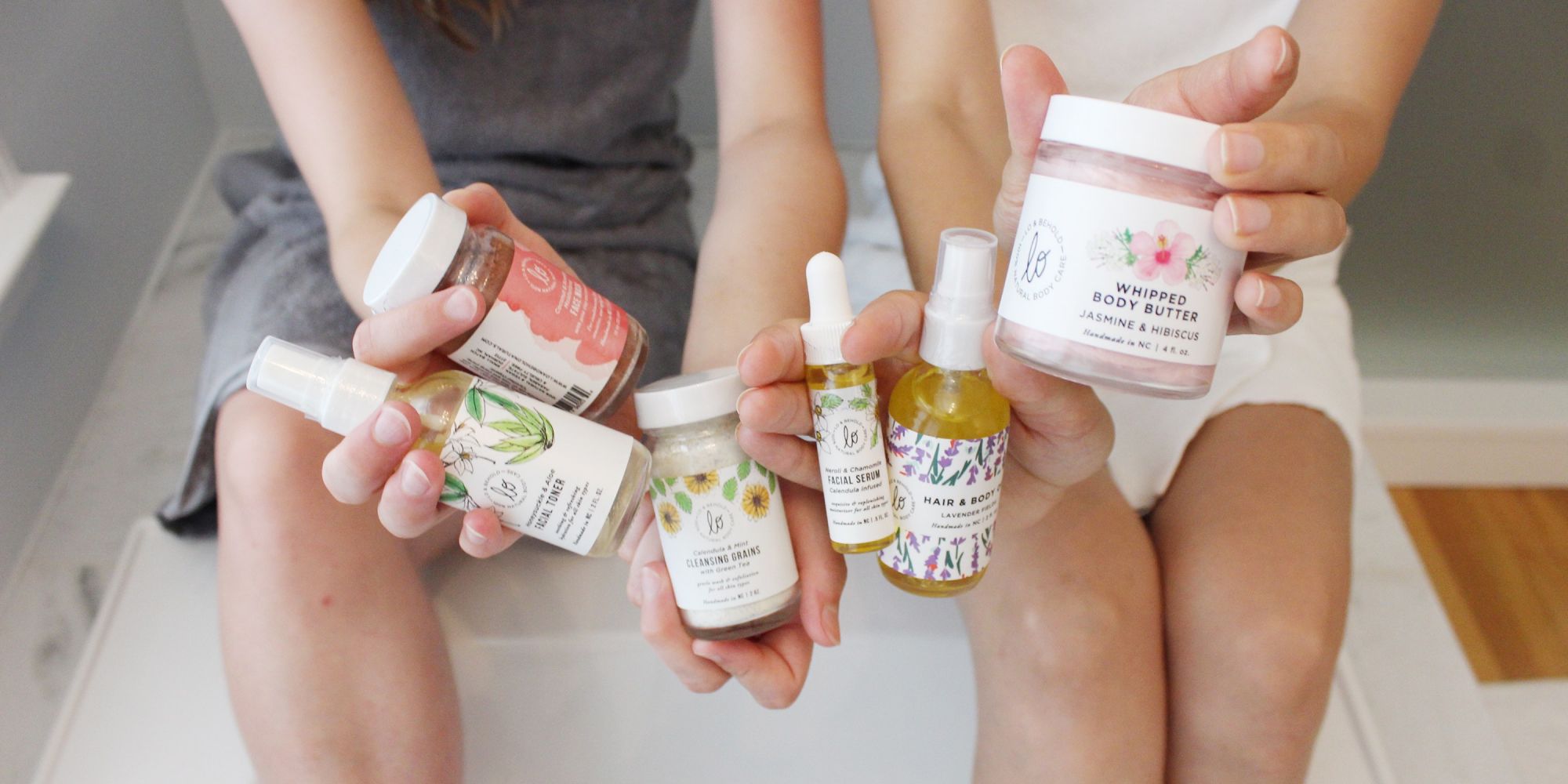 Lo & Behold Gets Ahead By Not Following How Other Brands Get Ahead
Lo & Behold founder Elisabeth Chadbourne traces her passion for natural ingredients back to high school when she worked on a farm in her hometown Durham, N.C., with an herbalist. After learning how to use plants like echinacea and goldenseal for healing, she felt confident enough to tinker with her own homeopathic formulations. Chadbourne didn't get serious about formulating, though, until a post-college job as a teacher left her unsatisfied. "I hated being inside. I didn't want to do the same thing every day. I wanted to be creative," she says. "I started looking at the ingredients of the natural products I was buying. I remember specifically I was buying one of those products that was a natural face exfoliant, but was just made of rice bran flour. I paid $60 for it. I was like, 'Why am I paying that? I can make this.'" She set out to decipher exactly how to make it and gained a career in the process. Chadbourne spoke with Beauty Independent about building Lo & Behold as a farm-to-bathroom brand, taking a non-preachy approach to marketing, sticking to the local market, and ignoring customary business advice.
You quit your teaching job in Baltimore to return to Durham in 2012. Once you moved back, did you start working on Lo & Behold right away?
I knew I wanted to start my own business, but I had to support myself. I got a job with a mobile farmer's market called LoMo Market in Durham. It was a really fun job. I got to drive around a 40-foot truck. That was really empowering. My boss was really supportive of me wanting to start my own business, too. If I hadn't had another entrepreneur who was supportive of the fact that I wanted to be an entrepreneur, I don't think it would've gone as well. I always looked up to her. One of my jobs was being in charge of sanitation. I thought, "What am I doing with my life?" Then, it actually ended up being really useful for making products later. I knew what needed to be sanitized. There was a two-year period where I was working seven days a week while trying to start my business. 
How did you transition from your full-time job to focusing on your business?
I was making these products. Everyone was telling me that they were really nice, and that I should sell them. I thought, "Well, maybe I should." I felt confident about it being in North Carolina because, at that time, there weren't that many green beauty brands down here. I feel like [my experience with the LoMo market] was really essential because it really sets me aside from other business owners. I never took out a loan. It's such a specific way to start a business, bootstrapping it. My parents loaned me a little bit of money to get started. When I could grow, I did. We still do it that way.
How much money did it take to launch Lo & Behold?
It was a few thousand dollars. I started it from my one-bedroom apartment. I was working from home. I still work from home.
What were the first products?
I started with moisturizers. I spent all of this time developing a natural lotion. I wanted to start small and focus only on North Carolina. When I imagined the entire industry, I feel like I would shut down. Imagining North Carolina and the farmers' markets, I was like, "Oh, I can do that." So, I started being a local brand. I started at the Hillsborough Farmers Market because they accepted me. I had lotion, a body oil, a lip balm and a body butter, all just moisturizers.
How much experimenting did you have to do with the formulas before they were right?
I probably worked on things for a year-and-a-half before I started selling. But, when I look back, that was still an experimental stage. The only thing we still sell now is the Whipped Body Butter and the Rose Ginger Hand Salve. And the labels looked really different.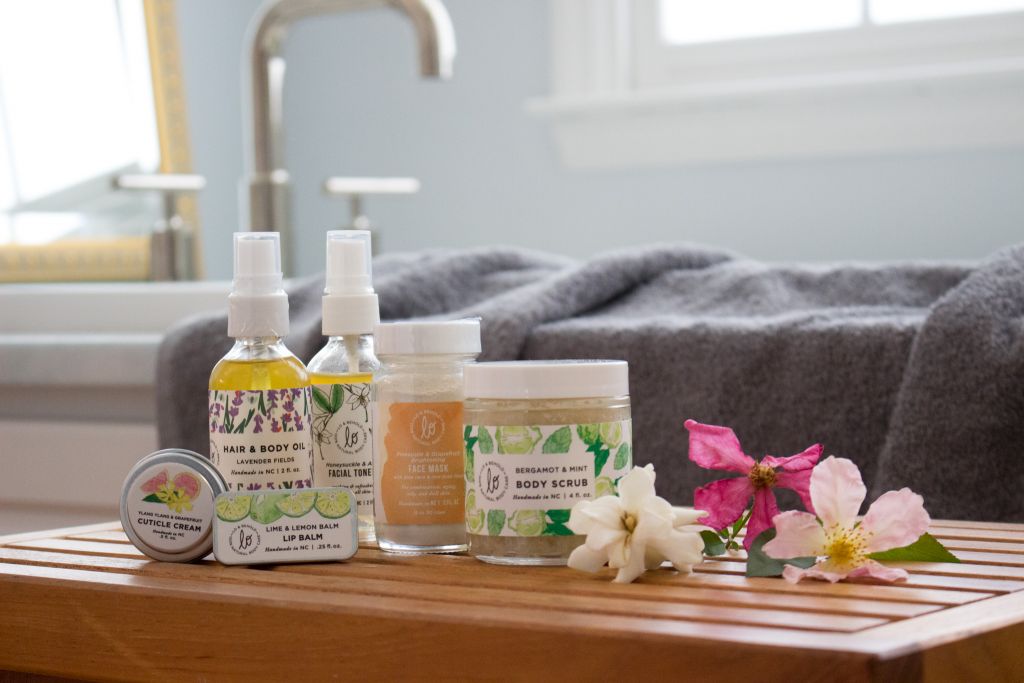 Where did the name Lo & Behold come from?
An old friend actually gave me it. Everything started with lotion, which is funny because I don't even make lotion anymore. But I always called lotion "lo lo." She was like, "What about Lo & Behold?" It's a nice expression. I could never have thought of another name, so I stuck with it. It works. I always thought of it like, "Lo and behold, it's natural!," like you wouldn't expect it to be.
I liked the name all over again recently because a customer sent me a the most lovely passage from a book about being confident and being a woman. There's a whole passage about the act of beholding yourself and taking care of yourself. She said she read it and, "All I thought about was your products. It makes me feel like I'm taking care of myself." Then, I started crying. In 2018, that's what I think of as the meaning behind  the name.
Tell us about the label design.
When I was at one of our stores, I noticed you [didn't] even notice our stuff. We're all about being natural, and we're all about these ingredients. I want people to see look at our stuff and see that right away. I started doing more craft shows, and I was meeting these amazingly talented people. The woman I bonded with the most was this artist Amy Richards. I told her I wanted to change our labels. It was so serendipitous. She was like, "I would do art for your labels."
How do you describe Lo & Behold's branding?
I want it to be really vibrant. I feel like a lot of natural skincare brands want to be really minimalist, which is great, but it doesn't have to be black and white. Why not see the beautiful flower that you're excited about rubbing on your skin?
Did you think about how the labels would appear on social media?
I thought it would be something in the long run that would really separate our brand. I feel like, [among] the brands I compare myself to, there's a small circle of ones that are really fun. Everyone else is black and white. It's trendy, but I have a feeling that trend might pass, and we might have a more timeless look that sets us apart. People love our labels. They're like, "Oh, you have a fancy graphic designer from LA?" I'm like, "No, she's here in [the small town of] Carrboro."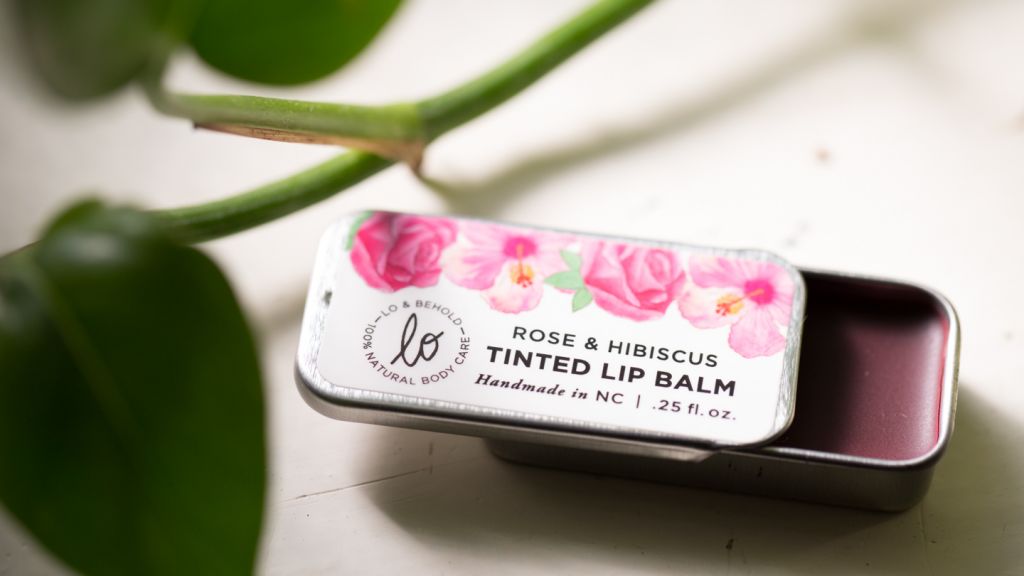 Give us a quick pitch on your brand.
We are 100% natural, no synthetic ingredients. We're handmade in small batches. We use as many local ingredients as possible. We use original local artwork. A little goes a long way. We don't use any fillers.
What's an example of a product with local ingredients?
I especially try to focus on local for the face line. In the Calendula Mint Cleansing Grains, the mint and the calendula are locally grown by small farmers. Pretty much all of the herbs and the flowers we use are locally-grown. The pink body butter is infused with hibiscus, so is the lip balm. For a while, using local felt limiting because farmers couldn't grow enough for what we needed to use. Actually, I was telling someone that I couldn't get enough hibiscus, and she was like, "Why don't you make it a blend of local and organic? That way, when you run out, you can get organic, and you can still support small farmers, but you're not limited." I was like, "That's the perfect solution." I'm always trying to put out new stuff. We're putting out a new under-eye cream in the fall with local white turmeric. If I could, I would do everything local.
What is your process like for introducing new products?
I am obsessed with this podcast called "Entrepreneurs on Fire." The guy was talking about not worrying about having a scalable business. What's funny is so many things that have worked for us go against traditional business advice. When I first started, I went to a small business center and got advice. I love making new products. I have enough product ideas to take me through the next 20 years. I've always been obsessed with putting out new stuff, and everyone has told me not to. Everyone was like, "You want to scale? You want to make money? Start with two products and scale it up."
I know I needed to try to do that, but my gut was like, I want to make all of this stuff. We have bug spray and facial care because that's what my customers asked for. I listened to this podcast at the right time. They were like, "Don't do things just because of scale." There are a million businesses out there doing traditional things, and what makes you shop less traditionally is because they don't treat you traditionally. That felt more natural for me. I want to be our local resource for green beauty. I want you to feel like you're a part of the product.
How many products are in the assortment now?
We have 31 total products, but, if you include multiple sizes of products, it is 45. We have two newbies coming out in October. There is more facial stuff coming: A new cleansing cream and a new under-eye cream, [and] more scents in some of our varieties like an elderberry lip balm. Facial care has killed it for us. People love it. When I go to UNC and do a market there, I'll sell out of facial products.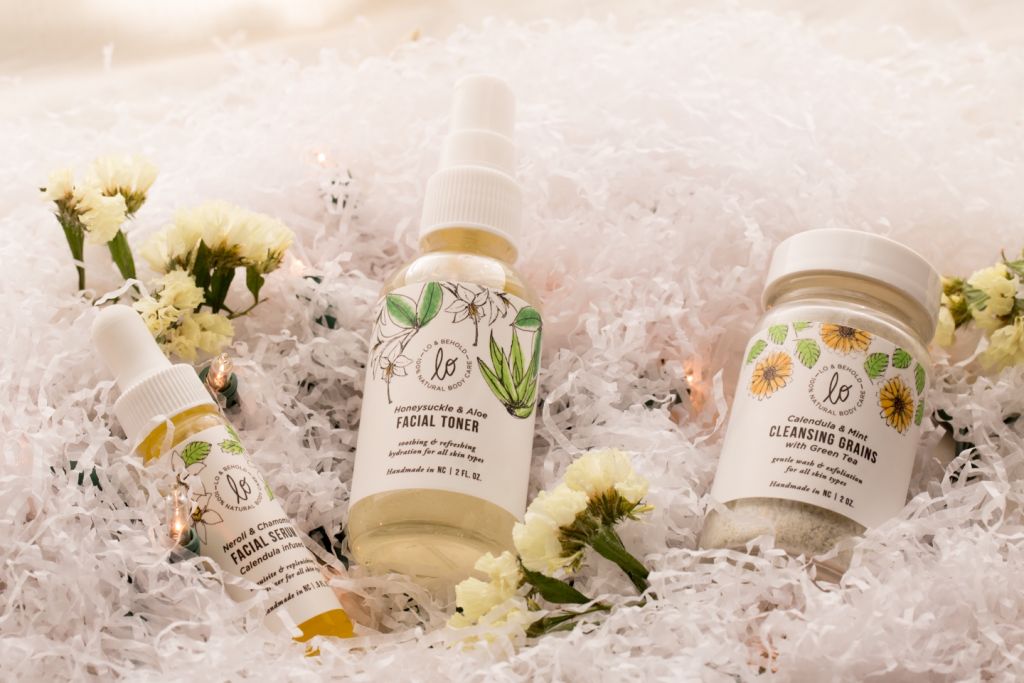 What is the hero product?
In terms of demand, it would be the body butter. We never have enough made. There's no fillers in it, and it's really luxurious. Once you start using it as part of your routine, it would probably be hard to go back to anything else. It works really well  on people with eczema and psoriasis. The green beauty stores we sell to tell me that we need to get it into every store because it's better than anything else out there. You know what I think it is? Body butter is really hard to make. You have to actually whip it on and off for several hours. It's an all-day process. We made it more difficult because we wanted to add herbs, and we wanted to make it more pink. We're not always doing the easiest thing we can.
How many stores is the brand in?
We're in over 40 stores, most of them are in North Carolina, except for one in Virginia, one in South Carolina, one in Maine, and one in Florida. We also just got picked up by West Elm in Durham. That's our first corporate account.
Where do you register the most profit: wholesale, e-commerce, farmers' markets or social media?
From our wholesale accounts. We're still eagerly doing as many markets as possible, but we need to be focusing more on the website and online sales. We do get business from Instagram, but my big goal for this fall is to research more about online advertising. Since we have the nicer labels, I've seen an uptick in sales. I think my customer is already educated on non-toxic and green beauty, and they want something fun. If I put up any of those preachy, watch-out-for-chemical posts, I don't usually sell anything. I have a marketing intern, and we really talk about this a lot. She was like, "You have a really fun brand. Let's not freak people out by making them worried." I want people to choose natural because it's a safe option that they are already into. They don't need to buy it because they are afraid of what's in their other products. I want them to choose it because it appeals to them anyway.
What is the price range?
Our cheapest product is $7 for the lip balms, and most expensive is the $35 large body butter. Prices have been really influenced by wholesale taking off. At this point, it would be really smart for us to raise our prices, but I am trying everything I can to keep it as is.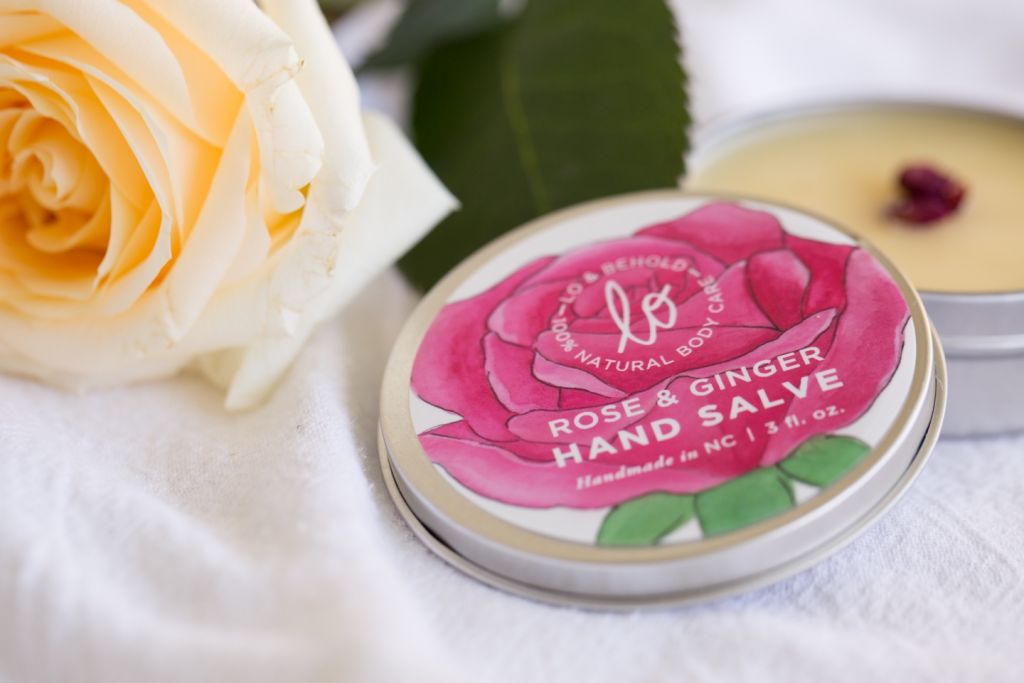 What packaging splurges are worth the money?
The bath pouches. The bag itself is pretty cheap, but it's pretty time consuming to fill them up. Same thing with our face masks. Small things are more time intensive to prep. So why do it?  People love getting little things. You don't always want to invest in a face mask that's going to last you two years. You may just want to try it and see if you like it. We know we're not going to make a huge profit off of any of our smaller items, but they lead to investing in more. Once you try the lip balm or the face mask, you want to buy more. I think of it as a gateway. I learned that from my time working with the LoMo Market truck. My boss was like, "Our number-one seller is cookies, but do you actually make anything off cookies? No, they will come back and buy a steak."
It has totally set us apart with retailers because most natural companies don't have tiny things. It's usually big products. I want people to feel that they can take a risk, and it's not a huge investment. I feel like it builds trust. Everything we do, we have different sizes of. Once something becomes popular enough, we put out a big size. Then, we have the options for the diehards.
Is there a supplier you couldn't work without?
Definitely, all of our small farmers. It's so important to me to use local ingredients. They are all female farmers, which is total coincidence, but it's awesome. I bet every other small skincare company out there would also say this: New Directions Aromatics. They are the best. They are out of Canada. They supply all of our essential oils. You cannot get that quality at that price anywhere else. They also supply a lot of our other ingredients like alcohol-free witch hazel. If every other big supplier had to go, I don't feel attached, but New Directions has my heart.
When did Lo & Behold reach profitability?
We reached profitability two years in. We've just had such low overhead. I've always worked from home. I don't live a decadent life.
What would you do with a big cash infusion?
I really want to get a warehouse. We've made it this far without taking out a loan. We never did Kickstarter. The only thing I did was I got a professional label maker, which I put on a credit card. But, besides the credit card, we haven't had to do anything. We've made it this far growing organically, and I want to be able to stick with that. I hope, by 2020, we get a warehouse or we buy a huge house and, then, use rooms in back. Right now, we just do everything in two rooms. I've talked to a lot of other business owners, and they say the first year you get a new space, you have to be ready to not pay yourself.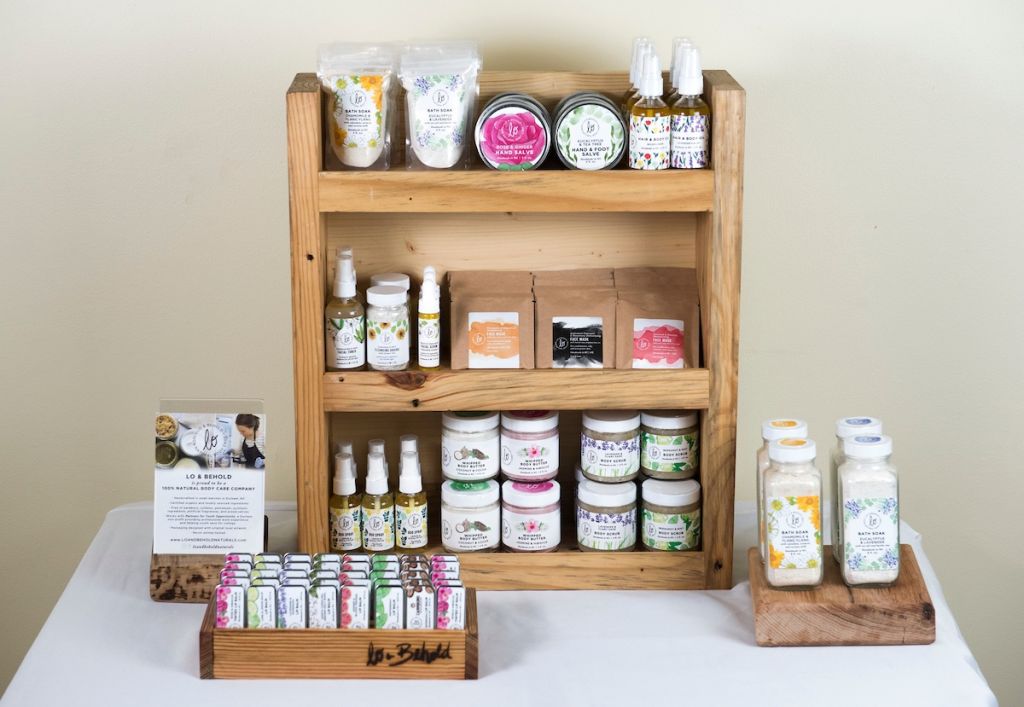 What's a long-term business goal?
My main goal is to still be a North Carolina brand. We aren't in the Asheville area, and I would like to be. Regional is appealing to me. In the long run, it would also to be in more national green beauty stores.