Locked In To The Loc'd Community, Haircare Brand Peculiar Roots Is Blossoming
"You have to be strong within yourself to get locs. I have several companies, but, if I show up in a meeting tomorrow, I'm going to be perceived differently because people may have negative stereotypes about locs. Even though I'm a founder and in the loc community, I still deal with those issues," says Tara Darnley, who created the hair products brand Peculiar Roots with her husband Carl. "I'm taking on the mantle of being the change I want to see."
The change she wants to see is a society that doesn't discriminate based on hairstyles, including loc'd hairstyles that are coiled, twisted, braided or rolled, and she's fighting for it with Peculiar Roots, which provides haircare, education and emotional encouragement for its dedicated customers with locs. In the United States, African Americans can be fired from jobs in 43 states for their natural hair. Seven states—Maryland, California, New York, New Jersey, Colorado, Washington and Virginia—have enacted the CROWN Act to prohibit such intolerance.
With unmerited notions about what constitutes "right" hair receding and the pandemic forcing people to skip salon visits, there's been an increased willingness to try locs, but loc'd hairstyles are often not a carefree choice, points out Darnley. Peculiar Roots assists consumers every step of the way with podcasts delving into wearing locs in different settings and at different ages, haircare products for the newly initiated to loc experts, and motivational merchandise like affirmation cards offering reminders that locs are an expression of pride.
"A lot of people that may have just started their loc journey, their family may not be supportive, and they may not know how to navigate that mentally. It's hard to be told by your mom or dad that your hair looks horrible today," says Darnley. "So, we have cards that will reaffirm them when they don't have someone around them that's doing so."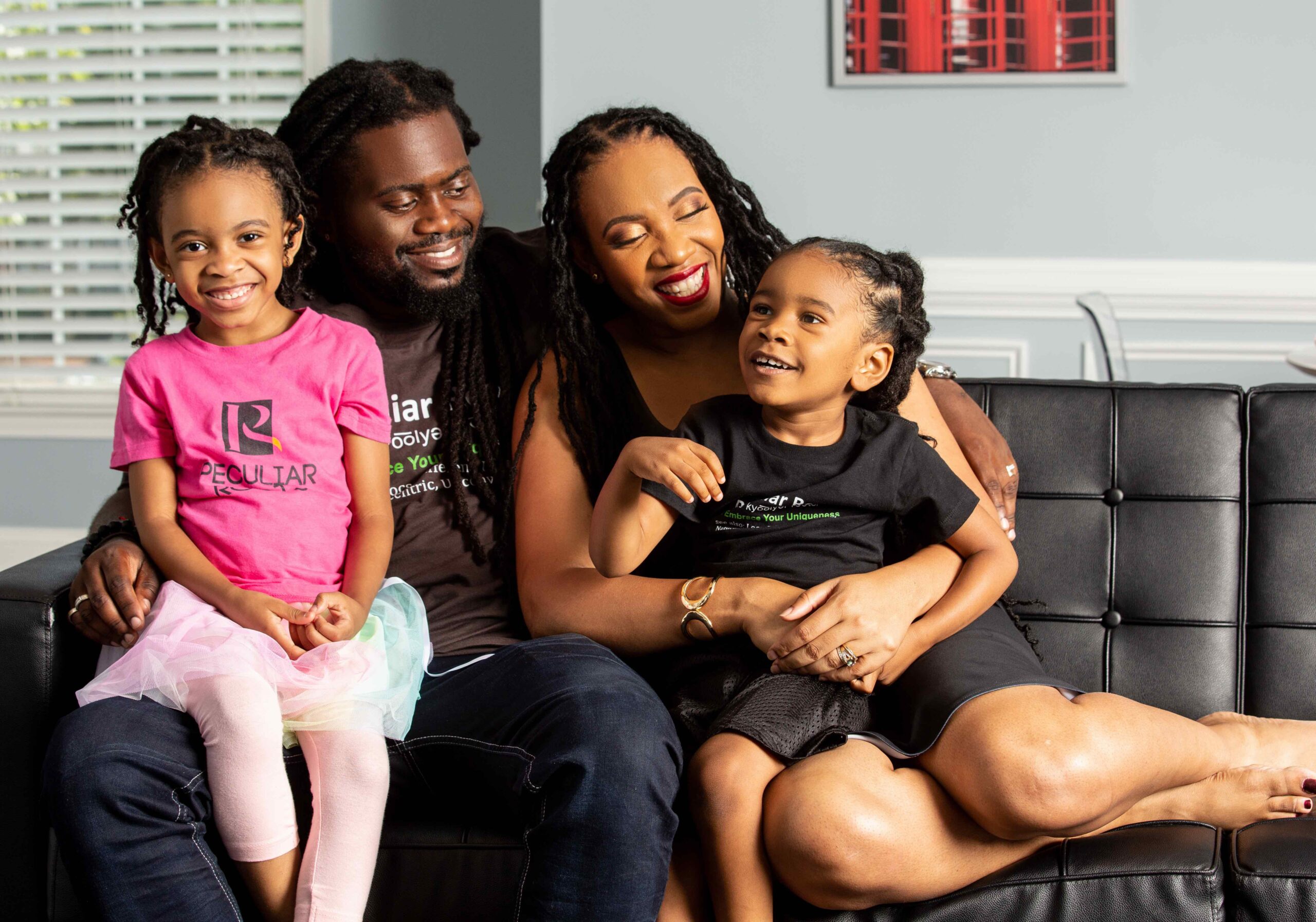 Darnley's loc journey started over a decade ago. Bumps along it were due to difficulties finding products that didn't cause unwanted build-up. Five years ago, the idea for a brand selling products designed for locs that Darnley felt were missing in the market began to crystallize, but she was focused on another brand. In 2014, also with her husband, she established Darlyng & Co. with Yummy Mitt Teething Mitten, the only teether that worked for her 2-month-old daughter. The brand has since expanded to more than 100 products and entered around 30 retail locations worldwide.
But the idea for a locs haircare line stubbornly stuck around. The haircare market hadn't shifted to become brimming with locs-oriented products. "One of the things about Peculiar Roots is we are reaching an underserved community in the beauty industry," says Darnley, a small business consultant at her company Dreams Inspire Reality as well as a haircare and baby goods entrepreneur. "What I mean by that is there are millions of people with locs, but there is no brand that has fully catered to the loc community, and that is what we have done differently. We are fully invested in the loc community."
About a week before Peculiar Roots debuted with six products—shampoo, conditioner, pomade and conditioning hair oil among them—coronavirus disrupted the U.S. economy. The Darnleys opted to move forward with the brand—after all, they'd been amassing its following for six months in anticipation of going live—but in a muted manner. A major marketing campaign was shelved in favor of a soft launch. It didn't matter. Peculiar Roots' products were sold out in the brand's first week. As a result of pandemic-sparked bottle shortages, it wasn't able to restock for a month.
"It's more than a beauty brand. It's a lifestyle."
Customers with locs flocked to Peculiar Roots for its lightweight formulas. "If products are very heavy, they can embed themselves in your hair, and it's very hard to remove," says Tara Darnley. "So, you have to use lightweight products that are easily able to rinse out and don't stay on the surface of your hair follicles. We made sure we weren't using heavy waxes or oils because they were against what we were trying to accomplish."
Peculiar Roots' delicious scents haven't hurt. Darnley describes developing the scents as the hardest part of finalizing Peculiar Roots. She sought scents that crossed gender barriers and didn't smell medicinal. The most popular scent is Caribbean vibez. "Caribbean vibez literally seems like you are on the beach in Jamaica sipping from a coconut," says Darnley. She's quite familiar with Jamaican beaches. Originally from Jamaica, Darnley immigrated to the U.S. at 17 years old.
Peculiar Roots' Refresher Spray is its bestseller. "It really helps boost confidence because, when you look at some of the stereotypes that go with having locs, people may think people with locs don't wash their hair and that their hair smells horrible because it hasn't been washed," says Darnley. "With this product, our customers are able to moisturize their hair and know that it smells amazing." She mentions people with locs tend to resort to Febreze to freshen their hair, and Refresher Spray is a big improvement. Darnley says, "A lot of the products are about getting people away from alternatives that are harsh for their hair."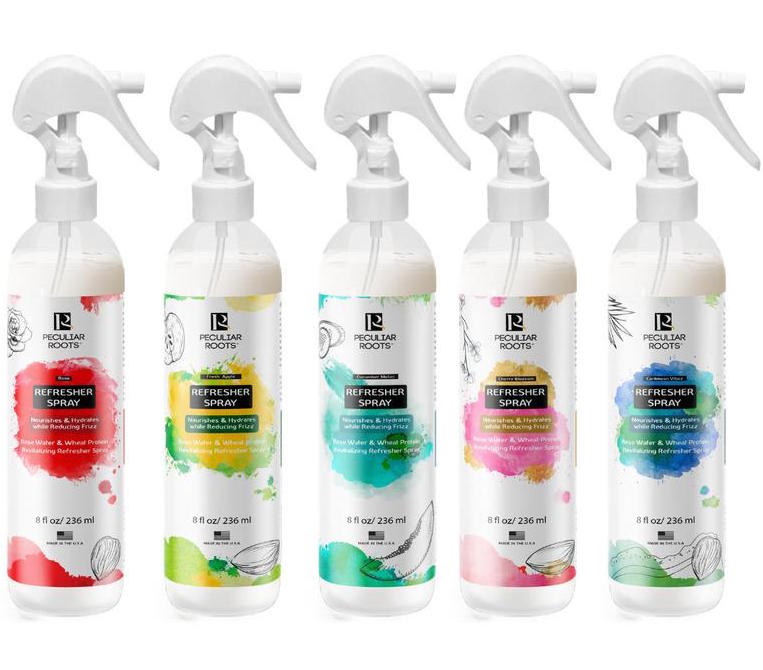 Peculiar Roots' assortment has swelled to 50-plus products priced primarily from $9.99 to $20—it extends beyond liquid haircare to apparel, brushes, bonnets and head wraps—and Darnley estimates it could have up to 200 products by the end of the year. Customers' needs guide the product pipeline. For example, Peculiar Roots introduced a shampoo and conditioner for color-treated hair because Darnley noticed customers were experimenting with hair color. Peculiar Roots has placed six of its leading customers on a board that informs marketing and merchandise decisions. "That shows how much our customers are involved in the brand," says Darnley. In addition to its public Instagram account, the brand has an Instagram account solely for VIP customers to engage with each other and it.
At the outset of Peculiar Roots, the Darnleys planned to sell its products on the brand's website, and online at Amazon and Walmart. Sally Beauty Holdings' Cultivate accelerator program, though, presenting an appealing opportunity for the co-founders to gain retail insights and obtain a $15,000 award. Peculiar Roots was in the program's 2020 cohort and, now, is available on Sally Beauty's site. "I've won pitch competitions, and it's always been, 'Here you go and move on,'" says Tara Darnley. "This is the first time where we've felt like a program is invested in us winning. That's not what you see every day."
JC Johnson, group vice president, digital strategy and innovation at Sally Beauty, says, "Peculiar Roots received access to widespread distribution to better reach natural hair consumers around the country. It has been so rewarding to see the brand continue to flourish with the help of Sally Beauty Holdings' resources. We have a longstanding history of fantastic partnerships with both female and Black-founded businesses. We look forward to watching Peculiar Roots grow and innovate for the natural hair community."
To deepen its innovation bench and retail reach, Peculiar Roots is ready to pursue a seed round. Asked about the case she will make to funders, Darnley responds, "We grew in the first three to six months to six figures, and we are continuously growing. Those are numbers unheard of for a brand that has had little to no publicity. We have grown everything organically, and we have really cultivated a community. That's something you can't buy. Whatever we launch, our community gravitates to. It's more than a beauty brand. It's a lifestyle."