A Look At The Beauty Industry Today: The New Lipstick Index, No IPOs, Cost Hikes And Inelastic Prices
Sorry beauty brands and consumers, costs aren't coming down.
At least that's what Nini Zhang, investment banking director of luxury, beauty and apparel at Credit Suisse, is predicting. In last Wednesday's Beauty Independent In Conversation webinar, for which she was joined by Larissa Jensen, VP and beauty industry advisor at The NPD Group, and Megan Lesko Pacchia and Alexis Wolfer, partner and engagement manager at McKinsey & Co., respectively, she said consumers should expect costs to rise in the summer and likely again before the holiday season. That's on top of double-digit price hikes on certain merchandise already.
Despite the cost surge, people have been buying lately. According to McKinsey, sales across the beauty, personal care, apparel and household categories advanced 12% in February compared to pre-pandemic levels. Beauty and personal care sales specifically jumped 32% year-over-year, per McKinsey.
NPD estimates prestige beauty sales were up 19% in the first quarter of this year to hit $5.3 billion. Jensen noted haircare sales benefited from strong innovation in the category, while fragrance sales swelled due to consumers' preference for pricier scent options. Pricier preferences aren't the only dynamic pushing up sales figures. Jensen said prestige beauty units are growing at a double-digit rate. 
Gauging whether sales lifts will persist, Zhang pointed out analysts are paying close attention to retailers' and consumers' reactions to ongoing price elevation, especially mass-market retailers such as Target and Walmart. "They are serving a more value-conscious consumer, and there is a limit to where folks can take pricing up, and they certainly want to make sure they're protecting that everyday low price for their consumers," she said. "So, where does that pushback start to happen? And who's going to eat the cost, so to speak?" 
Consumer Sentiment
Beauty shoppers seem willing to absorb price increases—for now. Prices have remained relatively inelastic, mitigated by wage gains at the outset of the year and further boosted by tax refunds. Credit Suisse's data shows tax refunds are significantly higher for 2021, nearly $1,000 more than previous years. Price inelasticity is evident in prestige beauty as demand has only climbed as prices have ascended. 
Zhang said there's been a divergence between the labor market and consumer confidence, which has dipped this year. Currently, she highlighted people feel good about their job security and prospects. However, their wallets are being slammed.
"This may result in pull back on discretionary spend in lower earning homes, but will not likely affect those at the top. There is obviously a very different sort of equation that higher earners versus lower earners go through," said Zhang. "Higher earners will just expand their total expense pool even though they're seeing higher energy bills and gas prices, whereas for lower wage earners that needs to come out of something else." Prestige beauty shoppers tend to be high earners. NPD finds over half of them earn in excess of $100,000 annually. 
Designer lipsticks usually priced 75% above mass-market lipsticks were the fastest-growing makeup product in 2021. "Consumers are indulging this way," said Jensen. "I think [this consumer sentiment] actually puts beauty in a very positive position. We are that escape, right? Whether it's the lipstick or treating with a fragrance, consumers are so emotionally tied to our industry."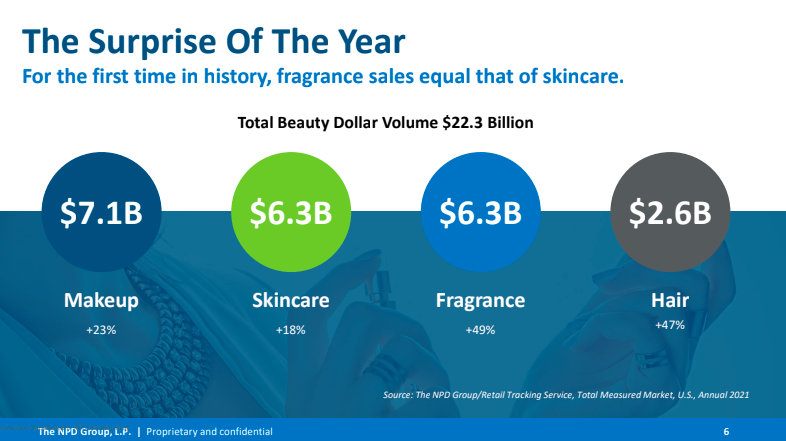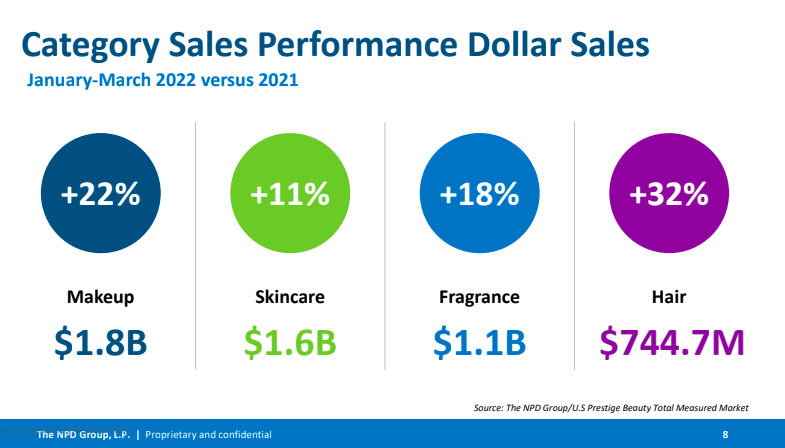 Beauty Product Standouts 
Consumers are increasingly putting on makeup—and taking it off. NPD has tracked a 30% sales spike for makeup removers. Body product sales have risen 26% year-over-year. Pre-pandemic, there wasn't much action in the prestige body care category, but 2020 changed that. Body care became the strongest performing category within skincare, and consumers' penchant for it hasn't disappeared in 2022. Body care brands are featuring traditional skincare ingredient stars like vitamin C, algae and various acids. 
Sunscreen is having a huge moment. Typically, warmer second-quarter months are its peak season, but, in the first quarter this year, prestige sun care sales soared 60%. "Sun products are actually seeing notable share increases all year round," said Jensen."Consumers have fully embraced that education that our industry, and of course, countless dermatologists have been saying for years, and it's that anti-aging begins with sun protection."
Styling products were key to haircare's banner first quarter. Their sales leapt 35%. Perhaps surprisingly, hair color products have done well despite salons returning to full capacity. "Some consumers who were forced to color their hair at home during the pandemic lockdowns realized that they could save some money in between the professional treatments or even maybe in lieu of those professional treatments and just DIY it at home," explained Jensen. Almost a quarter of hair product consumers report they are coloring, treating or styling their tresses at home.
Premium fragrance sales ballooned to almost equal skincare sales in 2021, marking unprecedented performance for the category. Jensen doesn't anticipate a fragrance slowdown this year. "We've reached these levels, and now we're going to kind of stay on these levels," she said. She underscored purchases of higher-ticket items rather than inflation pushed fragrance category growth.
"While overall prices did go up, and we saw $90 fragrances go up to $93 and $300 fragrances maybe go up to $305, that gain in average price was actually driven more by the product choices," said Jensen. "Consumers were buying that $300 fragrance as opposed to the $90 fragrance."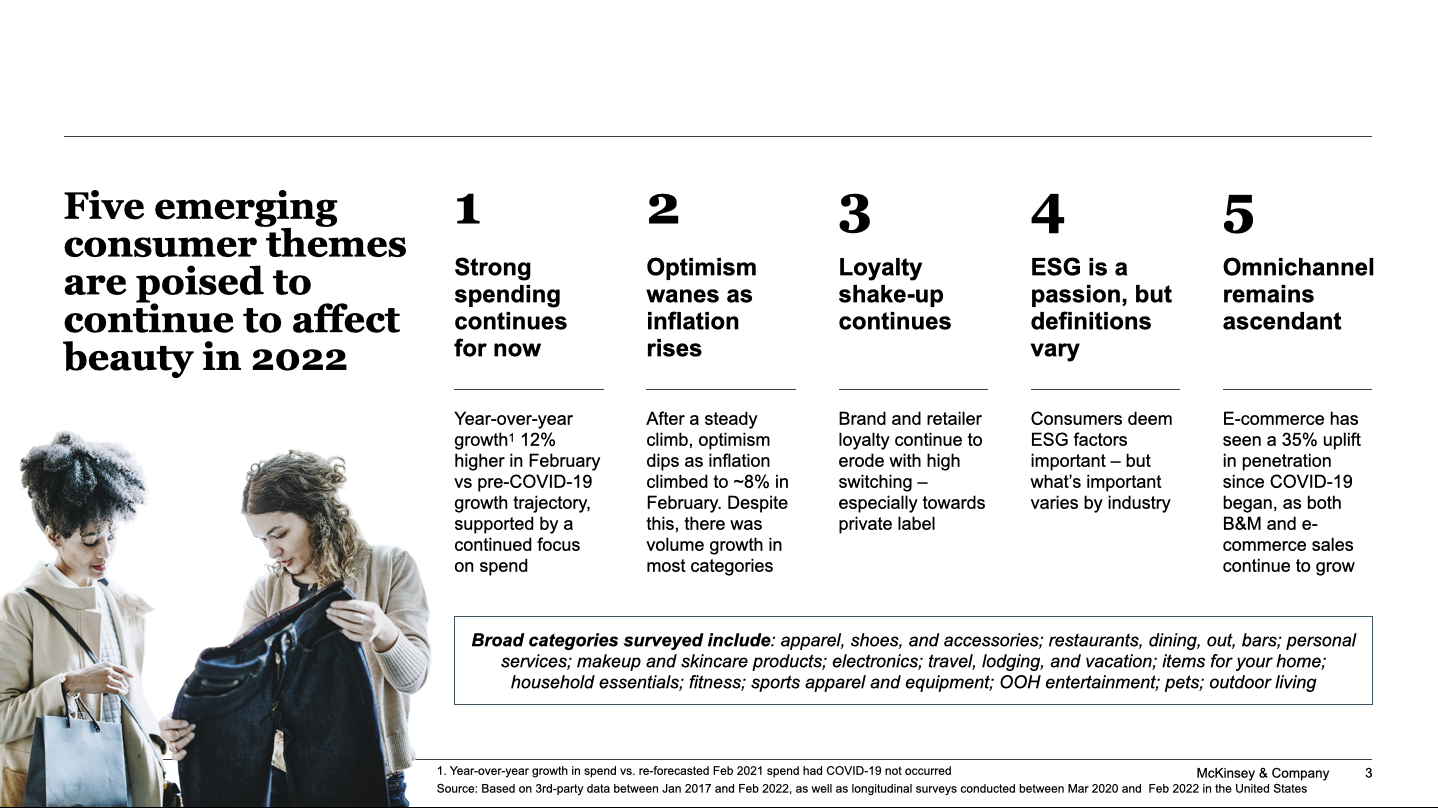 Consumer Trends
Lesko Pacchia forecasts the digitally-driven shopping behaviors that took shape during the pandemic will be sticky. Categories with high online penetration, including beauty and personal care, saw a dramatic spike in e-commerce penetration amid lockdowns and are seeing close to a 20% sustained increase in e-commerce penetration.
Compounding the digital drive in beauty, McKinsey data accentuates that social media has an outsized influence on shopping behaviors in appearance-based categories like beauty, apparel and fitness. Social media apps impact purchase decisions, particularly purchase decisions of gen Z and millennial shoppers.
More consumers have been switching brands and stores, but private-label products aren't what's luring them to do so. McKinsey research has detected price changes and out-of-stocks are the primary reasons for brand switches. Wolfer says masstige stores and brands with products that have luxury sensibilities at affordable prices are resonating. 
Minority-focused and -owned brands as retailers like Target and Sephora have been growing, and subscription services are expanding as consumers seek regular replenishment. "There's probably going to be a bifurcation in how we think about the subscription-based beauty space," said Wolfer. "For example, I know that this is my hair color, and I'm doing this every six weeks. Madison Reed sounds great, sign me up, versus if we're talking about fragrance or discovery, that is probably less so."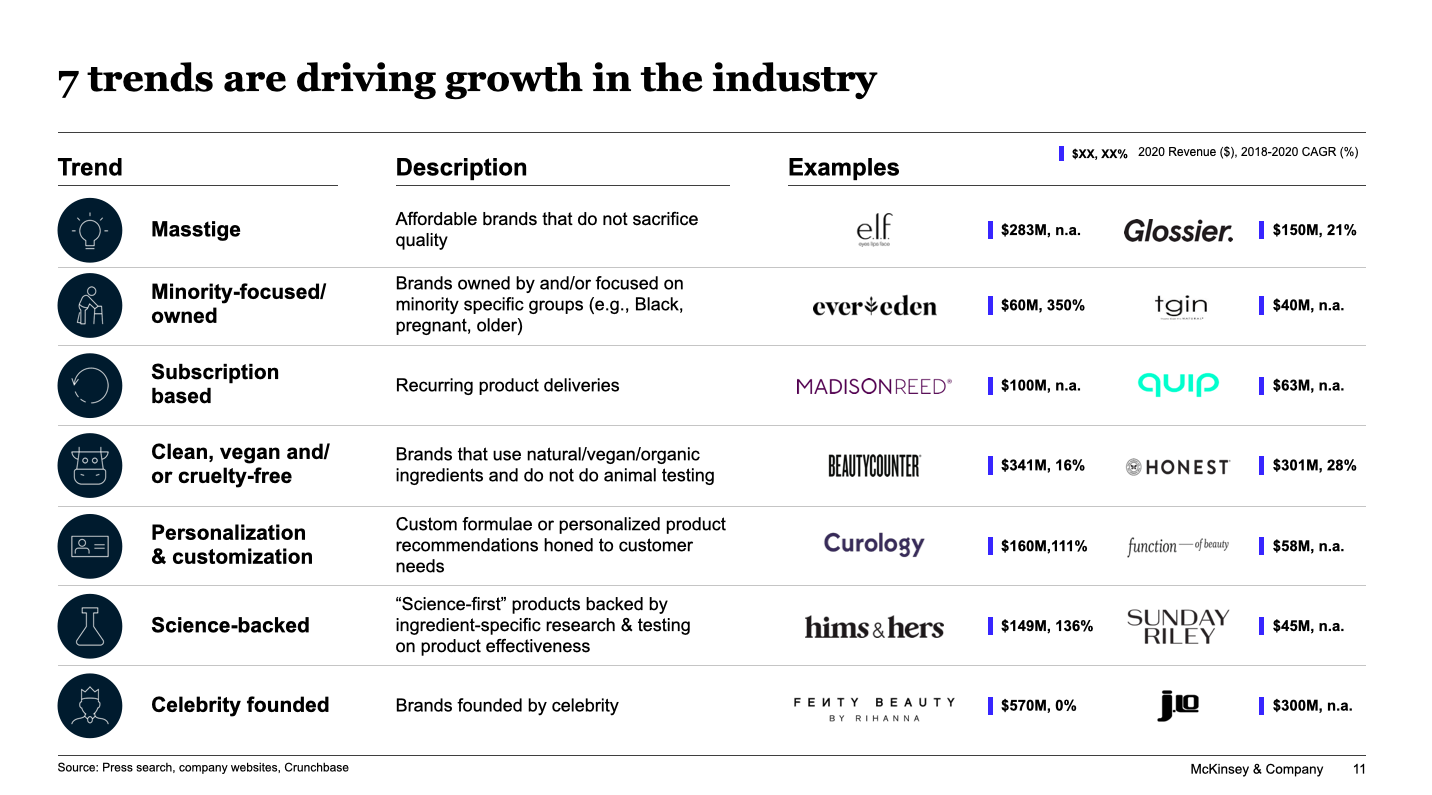 Interest in science-backed products is mounting, but consumers are still flocking to products marketed as "clean" "vegan" and "cruelty-free." "The huge question mark is what do those words mean, and how do consumers understand those words?" said Wolfer. "So are there more certifications and stamps of approval on products? Or does it continue to be a kind of muddy linguistics space with a lack of clarity."
Deal Activity
Large beauty conglomerates have posted strong top-line growth—Estée Lauder  and Procter & Gamble are among those that have had robust organic growth in nearly all categories—but they've lowered their earnings per share guidance for 2022 as the grapple with supply chain issues, economic pressures and China's coronavirus lockdowns. Lauder's stock price has decreased roughly 35% from the beginning of the year. 
Zhang said investors have a "risk-off" mindset. She detailed total shareholder returns for high-growth stocks are down 50% to 60% since the middle of last year, causing significant value erosion for investors who participated in IPOs. "We're sitting here in May, there has been zero, not one, IPO in the consumer and retail space," said Zhang. "There's a huge backlog of folks waiting to go, but we do not have a constructive equity capital market environment currently."
What does the lack of IPOs mean for future beauty and personal care exits? Brands that had considering IPOs will turn to alternative exit paths. "Large CPGs are continuing to go out and access M&A markets quite successfully," said Zhang. "We have not seen a deterioration in valuations, especially for highly desirable growth-oriented assets." 
Venture capital firms' and private equity funds' interest in emerging beauty and personal care brands hasn't faded because the fundamentals of the sector—favorable margins, repeat business and innovation—are consistent. Although there are healthy fundamentals, operating a beauty business isn't easy. Zhang mentioned nascent brands have to think hard about how they're going to scale from $1 million to $100 million in sales. 
"That's the hard thing because of the tremendous increase in cost to acquire customers on the digital platforms," she said. "Do you have to think about retail? Are you building a more differentiated and better mouse trap to get that consumer?" 
Profitable and differentiated VC- and PE-backed brands have the best chance of moving forward and monetizing via a strategic partner. "Can you be profitable in the next six months to a year?" asked Zhang. "What do you have to turn off in terms of marketing to get there, and how is it going to impact top line sales? If you're not big enough to IPO—and Estée or whoever has a similar product—what are you going to do?"
To replay this Beauty Independent In Conversation webinar episode and others episodes in full, head to our Replay Library.