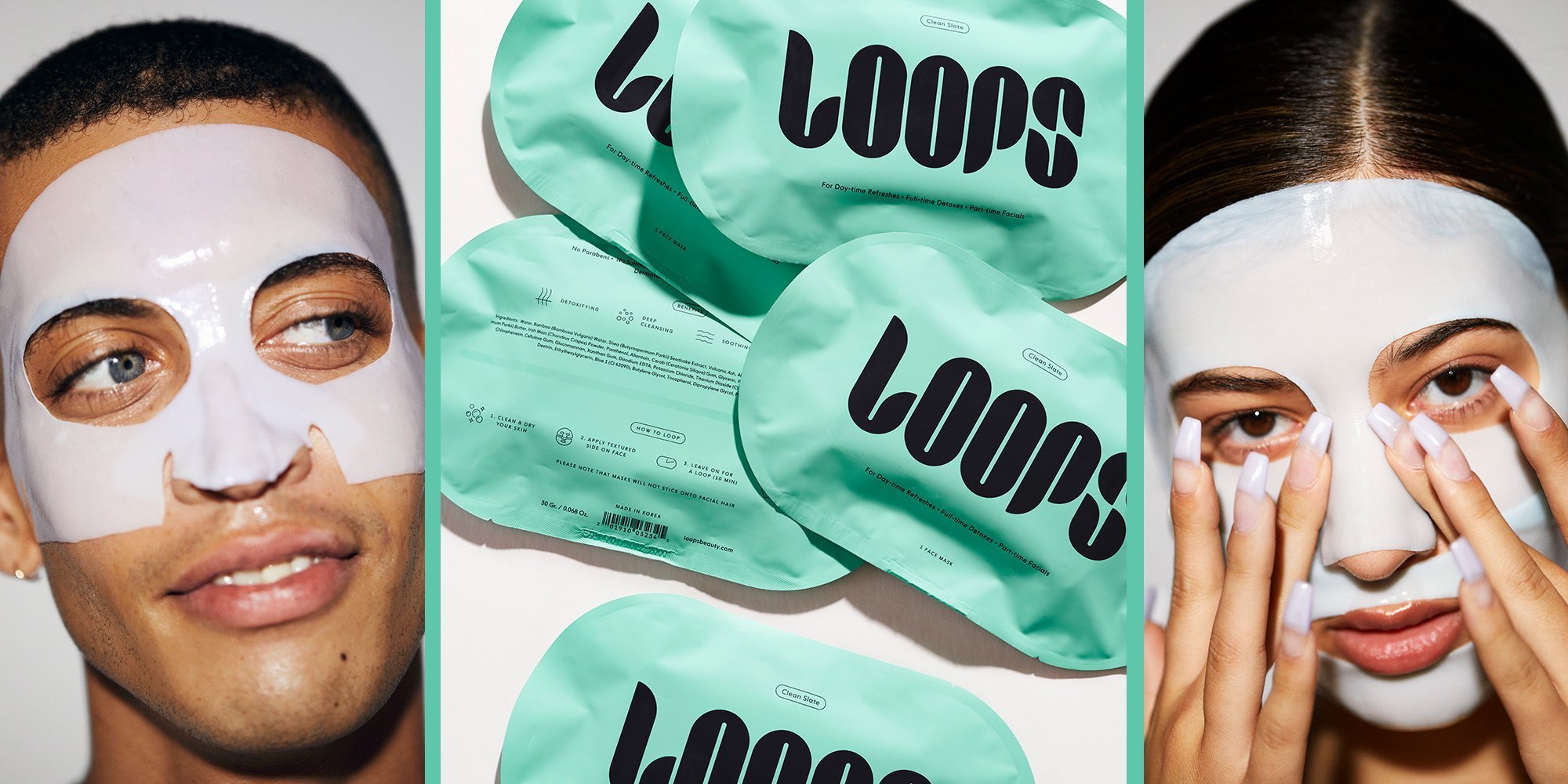 New Skincare Brand Loops Turns Face Masks Into Cool Fashion Accessories
New consumer packaged goods brand incubator Syllable's slogan, "Syllables make words. Names make products," is indicative of its proposition that so much more than stuff goes into the stuff people purchase.
In partnership with content production house Shots Studio, its first brand Loops brings an edgy streetwear sensibility to a face mask segment often characterized by cutesy design and science-fueled messaging. Syllable is banking on the brand widening the reach of skincare products beyond diehard beauty fans to men in particular that identify with its bold aesthetic and eco-friendly approach.
"If you look at men, most of them aren't using face masks because they don't speak to them. If there is a face mask out there for men, it's super bro-heavy," says Colin Peek, co-founder and chief creative officer of Syllable. "We are looking at building a face mask brand in the vein of Nike. Both men and women wear Nike shoes."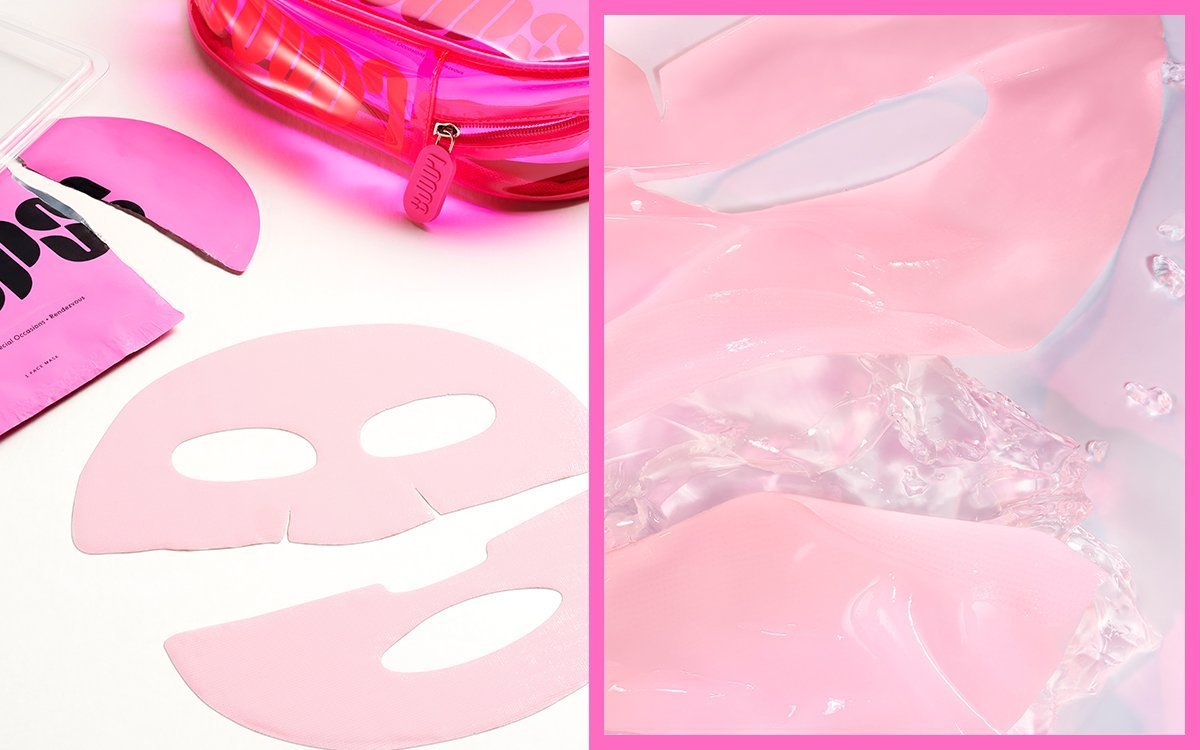 Peek, a former NFL and University of Alabama tight end who founded creative consultancy Mnemonic, established Syllable with Tushar Adya, former president and COO of candy retailer and brand Dylan's Candy Bar; Aditya Julka, founding partner at health companies Anibim Labs and Florence Health, and online art auctioneer Paddle8; and Jennifer Stith, previously chief brand officer at dating app Bumble and business director at Kardashian-Jenner management company Jenner Communications. Syllable is among several brand incubators trying to shake up the CPG scene. Others are The Center, Brandable, Beach House Group, Maesa, Luxury Brand Partners and Hatchbeauty.
Syllable plans to introduce three brands this year, including Loops, according to Peek. He says the brands will be in the "skincare, health and wellness, and lifestyle categories." The term "lifestyle" is central to Syllable's philosophy, and Peek calls Loops a "lifestyle beauty" brand that's meant to resonate with consumers' tastes in music, apparel, sports and media above the commodities in their bathroom cabinets.
"We are looking at building a face mask brand in the vein of Nike. Both men and women wear Nike shoes."
Discussing Syllable's driving force, Peek says, "From a macro perspective, you have holding companies such as LVMH that sit at the top end of the luxury market in consumer goods. Then, you have a company like Procter & Gamble that focuses on daily consumer goods. Why hasn't someone built a company that fits the mass aspirational level focusing on things that matter to contemporary consumers?"
Loops posits the things that matter to gen Z and millennial shoppers are the planet and convenience. The brand's name refers to the amount of time—10 minutes—that's recommended for the usage of its masks, and it will assemble playlists to enliven mask application. Constructed out of hydrogel perfected in Korea, Loops' masks are biodegradable and compostable. They're housed in recyclable polyethylene terephthalate (PET) trays. The masks feature the ingredients baobab oil, volcanic ash, aloe vera, and shea seedcake, honey, cactus, pumpkin and rice extracts, and avoid parabens, sulfates, phthalates and synthetic fragrances.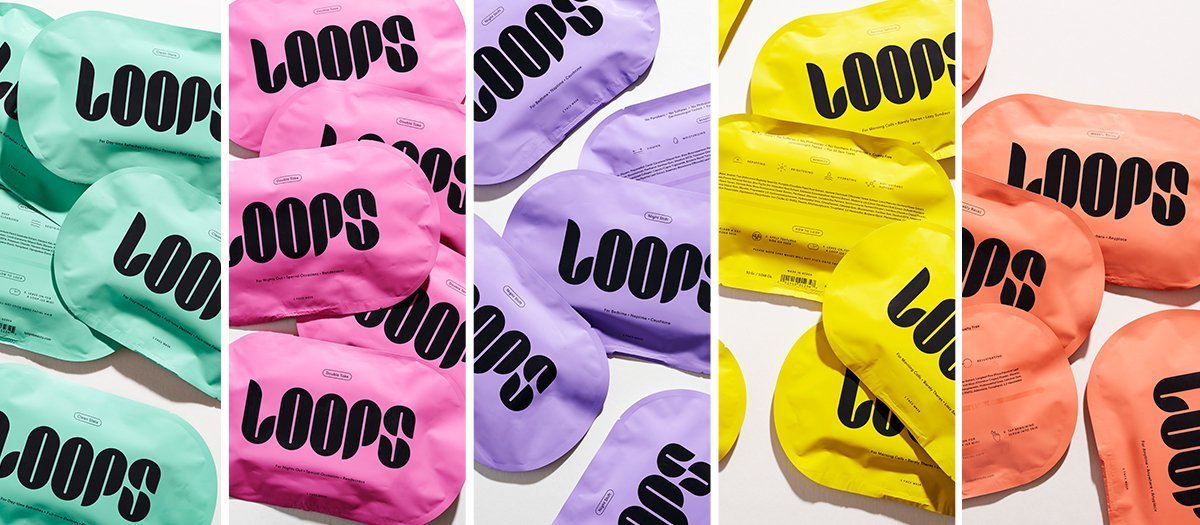 "We've removed barriers to entry and pain points that consumers didn't like," says Peek. "Sheet masks have been labelled the plastic straws of the beauty industry. Our face masks are made out of hydrogel instead of sheets, and everything about our product is clean. They cling to your face like a suction cup. There's no dripping, so it doesn't look like a wet soggy napkin on your face. Beauty normally speaks to a female audience. We're looking to create a brand that's androgynous to speak to both males and females. We would love it to be 50/50."
Loops is kicking off with five face masks priced at $30 for five packs, and eye masks and lip masks priced at $20 for five packs. The face masks are formulated for specific occasions. Clean Slate is intended for post-workout purification; Double Take for glow amplification prior to a special event; Weekly Reset for major skin rebalance and moisture; Sunrise for an awakening beginning to the day; and Night Shift for evening replenishment.
"The beauty industry can get pretty complicated. What we wanted to do is make a high-quality product that is easy to understand."
"The beauty industry can get pretty complicated. What we wanted to do is make a high-quality product that is easy to understand," says Peek, emphasizing, "You don't have to worry about a 12-step K-Beauty routine that no one has time for."
Syllable is tapping content creators in Shots Studio's network to spread the word about its products. Lele Pons, Hannah Stocking, Delaney Glazer, Rudy Mancuso and Anwar Jibawi are participating in the brand launch. Combined, they boast 73 million social media followers. Peek mentions additional celebrities involved in Loops will be announced at a later date. He shares Shots Studio and the content creators it helped enlist in Loops have stakes in the brand.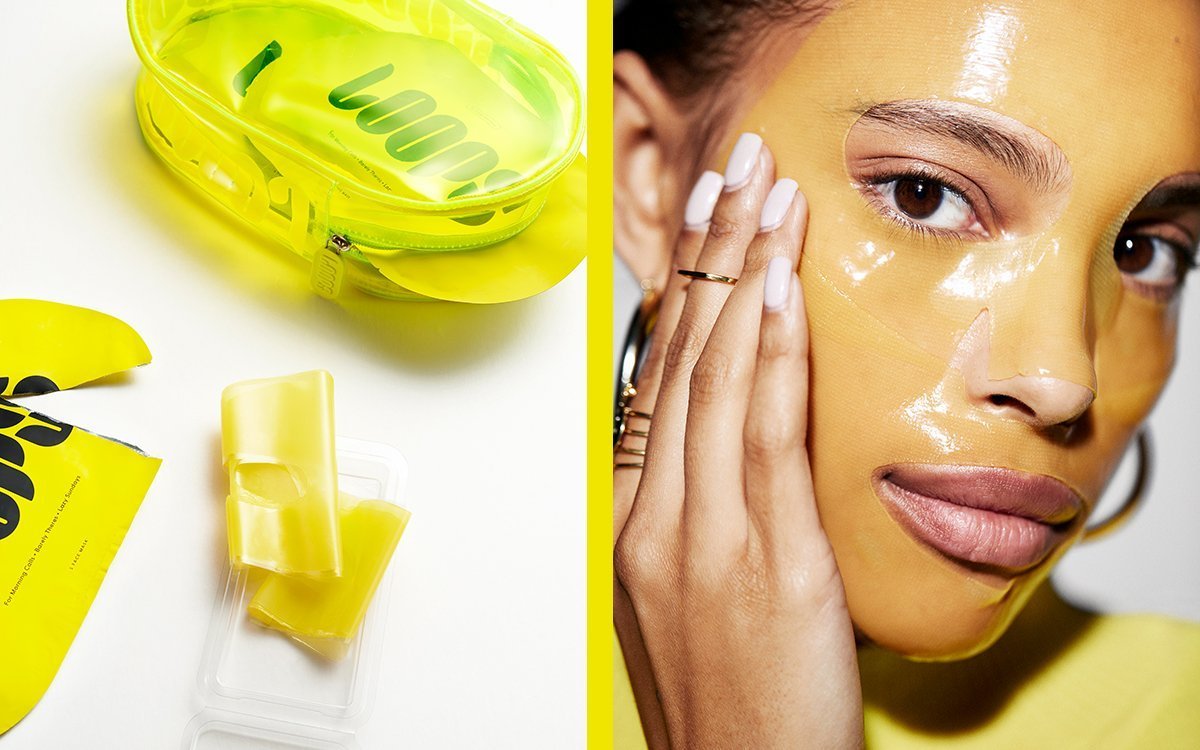 "We want people to be equity partners in this," he says. "We at Syllable always hold a majority-plus ownership in the brands that we build, and we build them from start to finish from the creative strategy to the operations." Specifically on the content creators, Peek continues, "Traditional sponsorships and endorsement deals are an arbitrage against the person who is driving the value: the creator, celebrity and influencer…Through our framework, you are allowing the creators, celebrities and influencers to build something that's more authentic and better for their audiences."
Loops is sold via its website currently, but Peek suggests retail partners aligned with its positioning are in its future. He points out Syllable is interested in domestic and international stores for the brand's distribution. Peek declines to discuss the investment Syllable has put into the Loops and sales projections. Befitting its eye-catching colorful packaging, the firm doesn't expect it to be a brand that flies under the radar.
"The goal is to build a big company. The aspiration from everyone involved isn't for it to be a niche brand," says Peek. "We would like it to be something that speaks to audiences across this country as well as globally, and that will build a new space in skincare and face masks, which is lifestyle beauty."