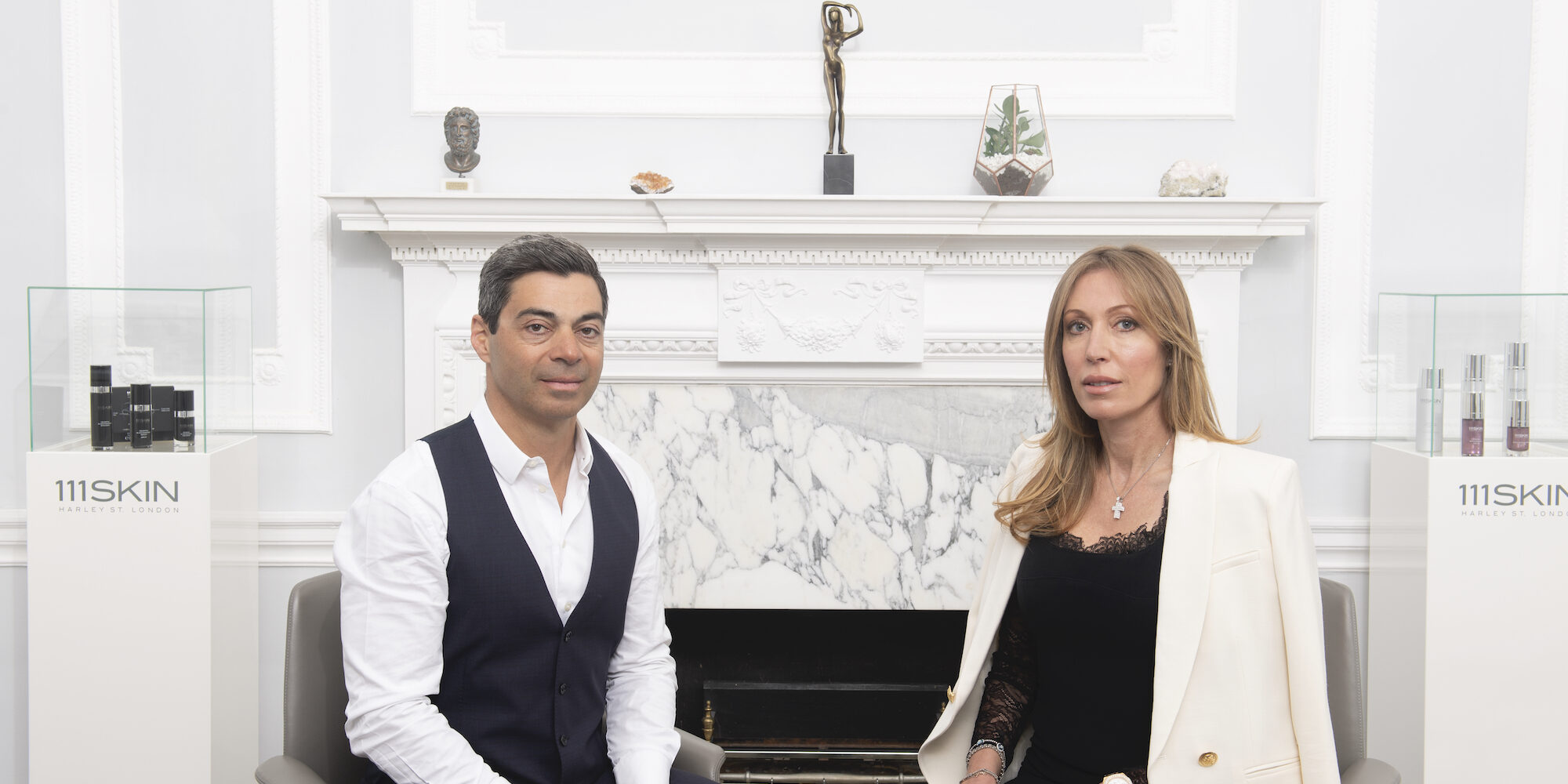 Luxury Brand 111Skin's Founders On Clinical Studies, Experiential Spas And Funding
A few months after receiving a multimillion-dollar cash infusion from London-based venture capital firm Vaultier7, luxury skincare brand 111Skin is making moves to take its business to the next level.
The size of the investment wasn't disclosed, but Gisou backer
Vaultier7, founded by
Montse Suarez and
Anna Sweeting,
usually invests
2 million
to 10 million pounds or roughly $3 million to $14 million in companies with sales
of 3 million to
15 million pounds or about $4 million to $21 million.
Led by husband-and-wife team
Yannis A
lexandride and 
Eva Alexandrides,
111Skin has taken a measured approach to growth, focusing on key products and select prominent retail placements. The slow and steady approach has worked.
What started in 2008 as one small-batch product now in 111Skin's Reparative range made for the clients of plastic surgeon Yannis
Alexandride's swanky
London clinic has blossomed into a comprehensive selection of cult skincare offerings ranging priced from $15 for one of its bestselling sheet masks to a whopping $995 for a 50-ml. tub of Celestial Black Diamond Cream. Today, 111Skin is in the world's most luxurious retailers, including
Harrods, Saks Fifth Avenue, Neiman Marcus, Violet Grey, Net-a-Porter and Harvey Nichols. 
The brand reports that its 2020 sales increased 5
0% from the year before despite the temporary shuttering of almost all of its retail partners. During the pandemic, 111Skin has successfully leaned into its digital presence, which accounts for 43% of its sales.
Beauty Independent spoke to Y
annis and 
Eva Alexandrides, CEO of 111Skin, about why they chose to raise capital,
what the funding will be used for, the evolution of the spa industry and the brand's place in it, the Kardashian effect and more. 
Why did you choose to raise money now?
Yannis: We've been thinking about raising some capital for the last two years. We felt that we were in a crucial point in the lifespan of the company. We felt that the time is now expand. Also, from our standpoint, it would give us more flexibility to focus more on new product development, which is our strength, and recruiting key people in areas where we were lacking before.
Eva: We have always been profitable. We have always stayed within our means, and we didn't feel comfortable raising money. This is our culture. My husband is a surgeon who comes from a family of doctors. He has been working. I come from a very humble upbringing. For us, it was unforeseeable to be raising money. We felt we only wanted to raise money when the business was very stable.
Also, this is not a very even playing field. A lot of our competitors are quite cash-rich, and they have the ability to pick and choose what they want to invest in. For us, it has always been a bit of a choice, and it has been investing in NPD or in people, but there's more things that we want to do, which is creating more products, having better content, expanding our global distribution. So, it was the right choice, but only just now at this time for us.
You must have had a lot of offers. How did you choose the partner that you did?
Eva: We were being bombarded by emails.
Yannis: Because of my job, my time is very precious. However, I spent so much time in these conversations. My friend who's in finance was kind of surprised. He said, "Usually a company will hire someone to do this for them, but you take it upon yourself to do it." I did learn a lot meeting with people, understanding what they offer. At the beginning, it was more about finding a person, but, then, you realize that it's more about what would be the right strategic fit. It wasn't just about the money. It was about, what do they bring to the table?
We are still what I consider a small brand. We don't have the experience of other brands who have executives that have done this many times. We are really something organic. I wanted to find a partner that would bring some strategic advantages in terms of finance, intelligence about how to carry on from point B to point C, and to also connect us with other players in the field that we were not connected to before. That played a major role in our decision. 
And, of course, the personal connection. In choosing a doctor, there has to be a connection between the patient and the doctor. Also, in this situation, it's so important because these people are going to be sitting on your board and making decisions. You have to have some kind of connection. Otherwise, it would be a very tough battle in the future. And, of course, it comes down to the terms. Eventually, it becomes a contract where you want to be happy with what the terms are. 
Eva: At the end, we had three amazing companies. Normally, you have a broker that helps you make all these decisions. But, because we have this mentality that every penny counts, I couldn't envision spending a few hundred thousand on fees when we have always lived on little resources. I would rather invest this money in new products and developing the brand.
It was a very, very difficult decision, but having made the final decision, we are so happy. [The Vaultier7 founders Suarez and Sweeting] fit very much with how I want to conduct the business. They're very gentle, but very knowledgeable. They also, from what we have seen so far, really value what we have achieved, and they want to be there as a sounding board rather than forcing us to make decisions.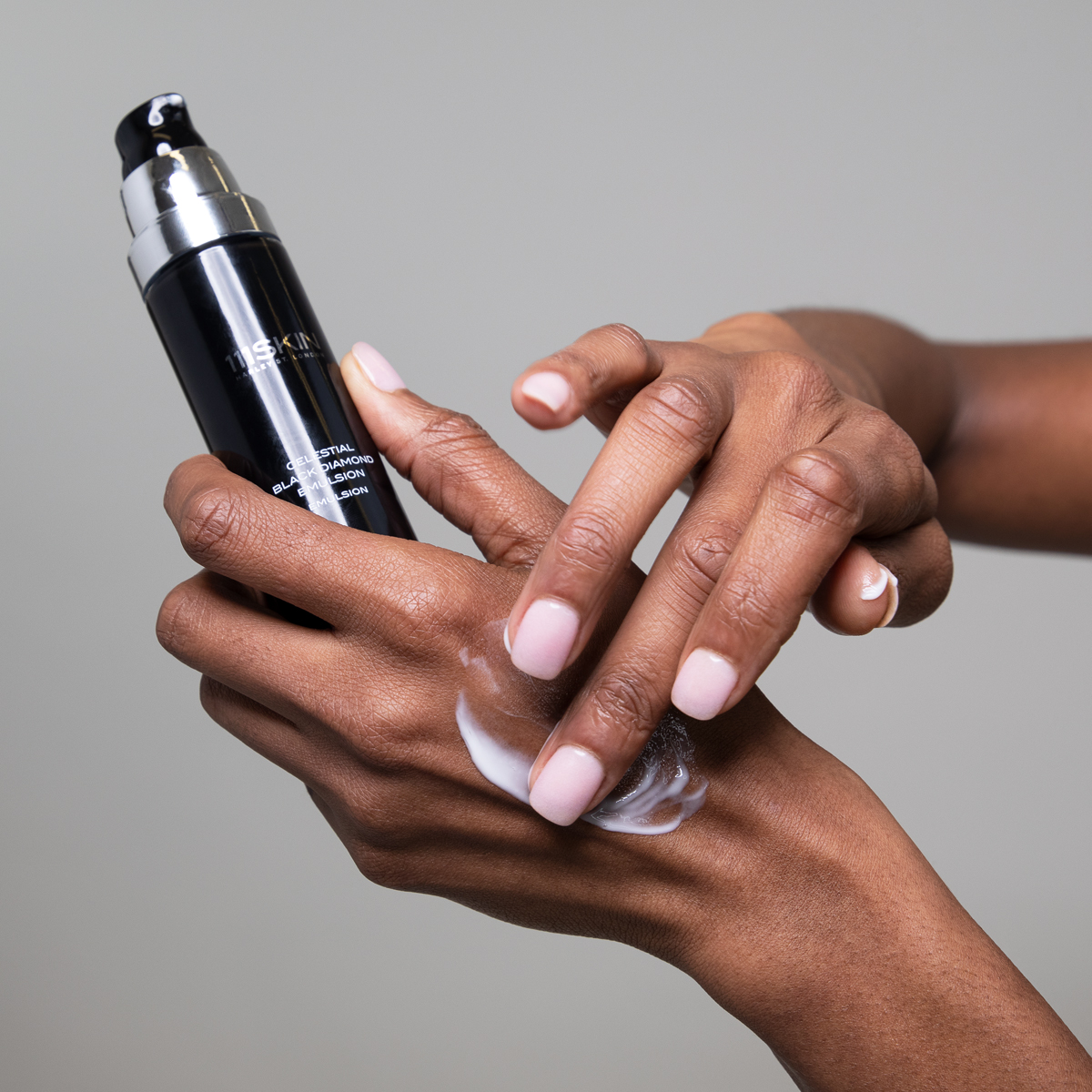 What markets are you looking to enter with 111Skin? 
Yannis: The two markets that stand out, actually there are three of them, because I would consider the online world to be the big market. This is our No. 1 priority and where we've done very well during the crisis. We survived the crisis I think because of that. We are really looking to expand that. Following that, the two markets that we see a great potential and a lot of optimism right now is China and the United States. These two markets have advanced overall financially, ahead of Europe. They are showing signs of a full recovery in the next few years, with a very big interest in beauty right now.
EVA: On the digital front, it's very important to find the [technology] to really enhance the customer journey because we are very much a retail brand. We started in Harrods, then Barneys, when Barneys existed. We had a proper brick-and-mortar presence. These accounts gave us the opportunity to be the brand we are because we connected with clients. We were able to tell our story as a highly scientific brand. On the digital front, we don't want to lose that personal touch with the clients. I think this is the most challenging thing. How do you have virtual consultations, use AI? That's where you have to invest in order to maintain that amazing experience.
How receptive are your customers to the science behind the brand? How technical can you get with them?
Yannis: People are looking for brands that are effective and have science behind them. There's no doubt about that. For [presentations I make], I have to refresh my memory with all the ingredients because I know I will get asked in great detail.
When we first launched the brand, we had a clinical study on our hero product and that clinical study was requested so few times. I used to take it with me on trainings and stopped because people were not so interested. Now, it's a complete shift. We are doing clinical studies on all of our new product launches, and it's kind of the driving force in all of our marketing activities. People want to know the percentage of increase [in results] and exact specifics. The audience is very advanced. I'm happy that we have a lot of science to share with them because I like to be in that space where we have really amazing ingredients and are science-led. It's a great communication [tool] with us and our clients.
Apart from being very scientific, we have luxury in our DNA. As Eva said, we were born in Harrods after my practice, where we created the first product. I recognize that, for someone to really embrace a skincare brand, it's not just about the results, it's also about having a ritual that's a pleasant experience in order to continue with it. I think that appeals to a lot of people. That's a driving force.
Are the customers different online and at stores? 
Eva: Yes. It always keeps surprising me how things are shifting and changing. We have our direct retailers, Harrods, Selfridges, Neiman Marcus, Saks Fifth Avenue, Bergdorf Goodman, but then we also have distributors selling our products, and it's a bit difficult to get their data. We have a totally new customer coming to us on our dot-com. What we're finding is that we cannot really pinpoint one specific target audience. They are from 17 to 87. It's such a vast range of clients. It's hard because, as a brand, you really want to know more specific targets so you can direct all your marketing.
Because we are a scientific brand born in a clinic on Harley Street, these are the type of clients [Yannis] sees, and these are the type of clients we develop products for. The ones that are 17 to 20, they have acne problems, and they come to us for our Clarity Range, which is a mild version of a medical grade acne regime. Then, we have clients who are 40, 50, 60-plus that very much gravitate towards our Intensive Range. 
Also, around 20% of our clients are male. Our clientele is also very international. We have people coming from Asia, Americans, Europeans, we opened an account in Africa. That's our biggest challenge. How do we target to all these groups, which are really global groups?
Yannis: We do have quite a few ranges in the line, which address different conditions and different age groups. The Black Diamond, the intensive line, is for more mature audience. We have the Reparative line, which applies to everybody. So, [the collection] is quite diverse now, and I'm not surprised that it attracts different ages.
Khloé Kardashian listed 111Skin's Rose Gold Booster as one of her favorite products in her collaboration with Ipsy. Did you see a ripple effect from her mentioning your brand on followers, sales, etc.? 
Eva: No. No one influencer gets that ripple effect with us just because we are quite the complicated range, and it's not an easy purchase. You need to understand our positioning, our price points, you need to understand the brand—and we want people to do that. We don't want someone to see something, go click, buy. We want them to familiarize themselves with what we are because we believe, if you invest in one product and you understand our brand, then you'll become a long-term client.
To be very fair, the more influencers we have, that's when we see the ripple effect. In the last 10 days, for example, we've had Victoria Beckham, the Kardashians and so many other people. We haven't done any send-outs or gift giving. Today, in my commercial meeting, we saw the sales of the Sub-Zero De-Puffing Eye Mask have gone through the roof in all of our locations. So, they all have connection, but, I think, for us, it's never just that one person. That's why, even now that we have finances, we are not looking to have an ambassador or a face of the brand because, for us, it's very much about multiple people, word of mouth.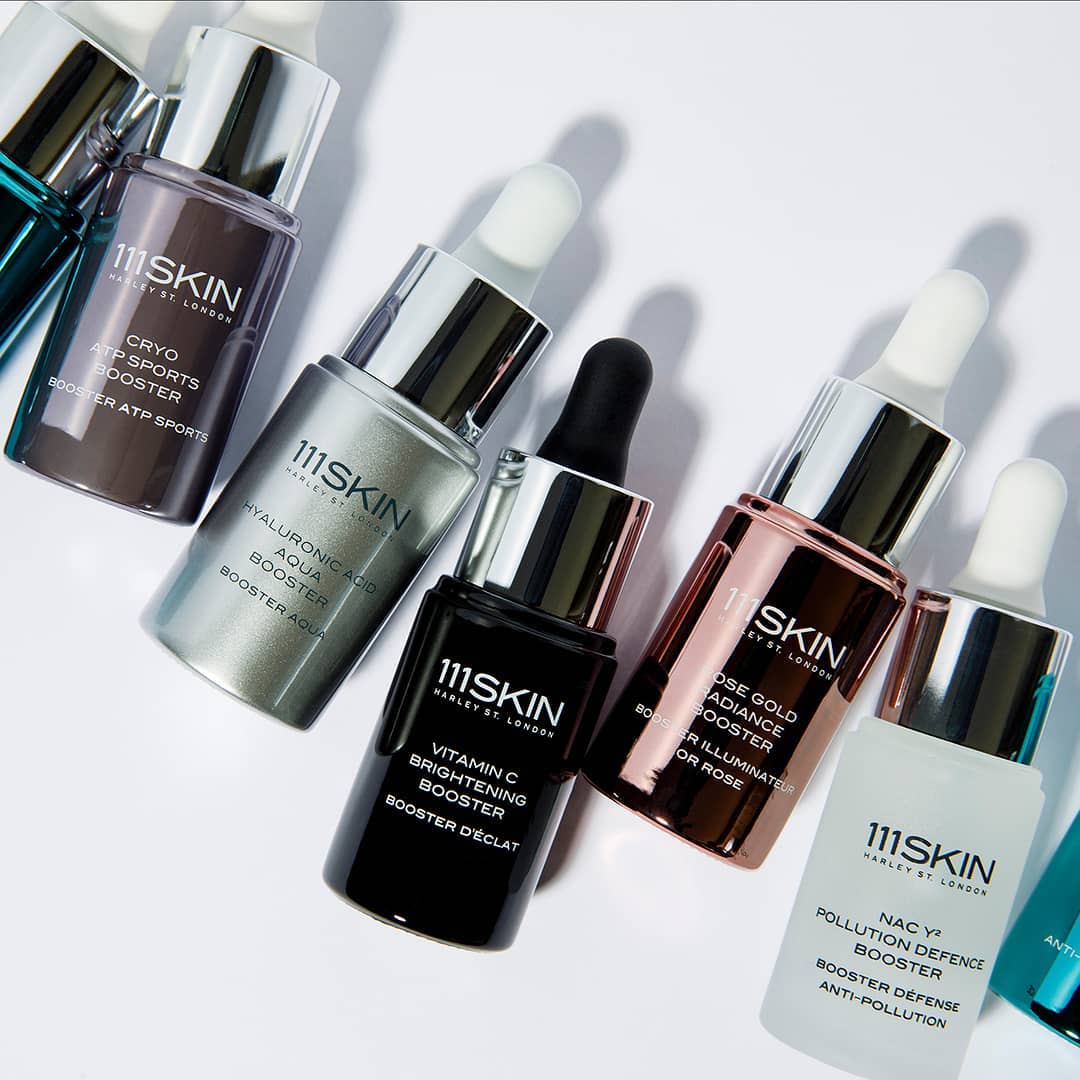 What's next for the brand?
Yannis: We are interested in wellness a lot. My role as a plastic surgeon is not just performing surgery, but also bringing solutions to people to have healthier lives. We have incorporated a few treatments such as whole body cryotherapy in London, and we want to continue on this trend and to proceed more into the area of wellness and the medispa world.
And, although it's not a hundred percent the same kind of company, it is an idea that is growing day by day. For me, it's more about being more free to make decisions and freedom from my clinic a little bit, so I can devote more time in the business and, also, as I said before, finding key people. I think you are strong as your team is. So, I'm still looking for some key people that will help us strengthen the whole organization.
Eva: A very important part of what we want to do is more experiential beauty in addition to our retail presence. I feel like we are already in all the right places we want to be in. I don't know how much more we want to expand. In London, you'll find us in Harrods, Selfridges, Harvey Nichols, Liberty. If you're in New York, you will find us in Bluemercury, Neiman Marcus, Bergdorf, Saks Fifth Avenue.
So, I don't want to open another 20 doors in the same vicinity, but what can really make a difference is that category of experiential beauty, which can be spas. We work with some of the best spas in the world, and we are very selective. We don't align with one spa—let's say The Four Seasons or the Mandarin Oriental—and go globally with them. We select the [locations] that are the right fit for us. We do have Mandarin Oriental, we do have Four Seasons, but specific properties. In London, we have the Bulgari Hotel. In Barbados, we have Sandy Lane. We kind of cherry-pick properties. 
That's where we can take it to the next level, not just introduce our products to people, but they can experience proper scientific treatments. I believe that spa is kind of the next frontier of where real change and shift can happen because, for so many years, it has been just about the pampering experience, but I think people are now very intrigued with, if I'm going to spend an hour and a half sitting in a room versus running or swimming or being on a holiday or with my children, I want to have something that's very results-driven. This is the direction where we will be expanding and where this investment can give us a bit of room to be more experiential.
We were first company to bring cryo technology to London. We established that trend of experiential beauty treatments on the go, when people come and you have an immediate uplift in spirits and clarity of the mind. We had been asked by our retailers, prior to COVID, to come up with a concept that we can establish [in stores]. Now with COVID, we're just reevaluating, but I think it's even more prominent now because people understand health is the new wealth.
Some hotel spas can be very traditional in their approaches to treatments. Are they receptive to what you're doing?
Eva: This is the reason why we're in Equinox in the New York. It was a choice between Equinox and one of the very, very premium established spas on a global scale. We chose to be with Equinox because we understood that that can be a proper opportunity for us to grow in the direction where we have more freedom to do the things we believe are the future of wellness. I love it. For example, they have our masks in the minibar, and jump ropes and other things. It takes a little bit longer because hotels are established businesses, but it's good to be one of the disruptive brands playing in this field. I think it's quite exciting.