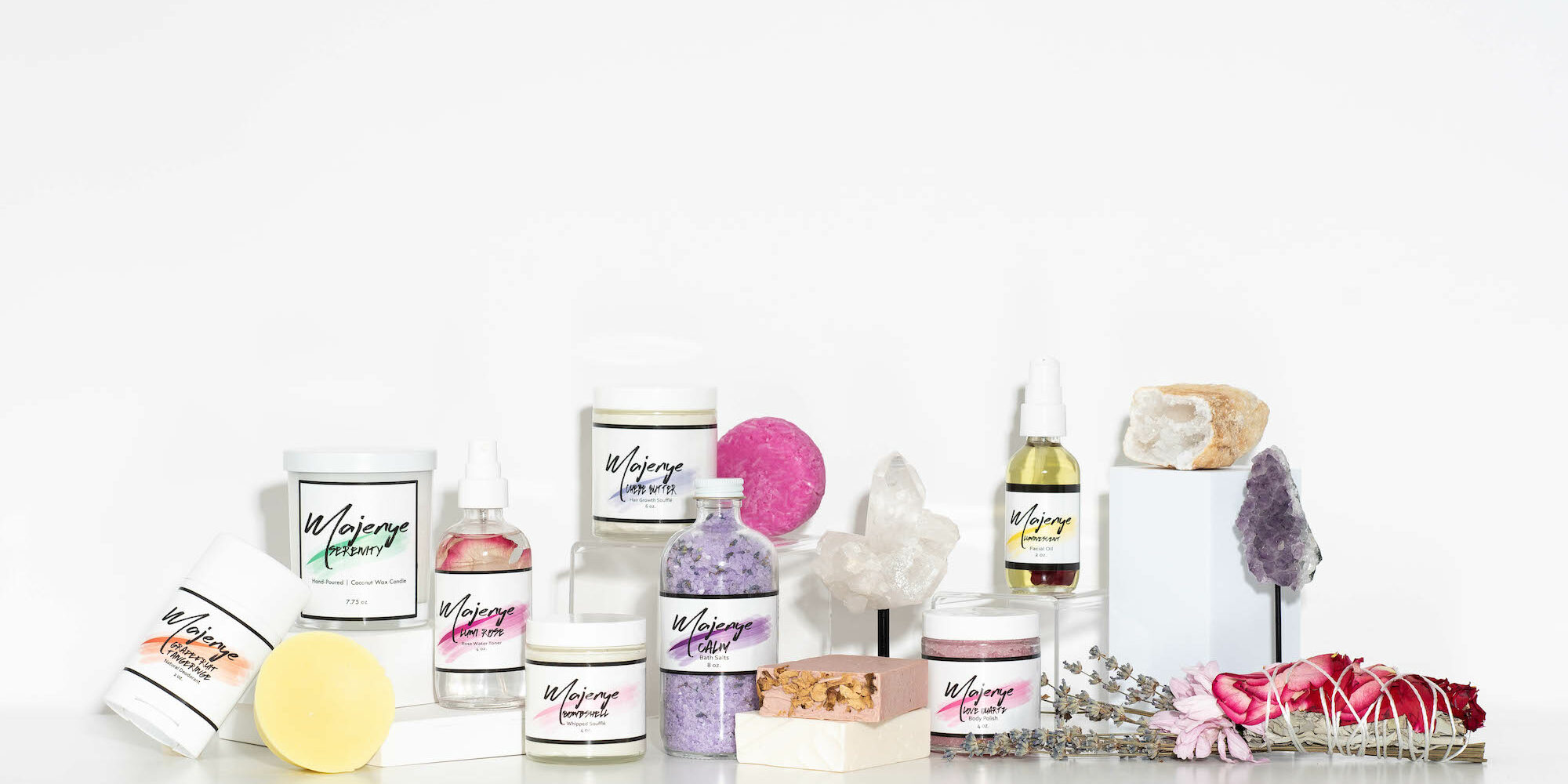 Majenye Founder Yetunde Alabi Manifested Her Crystal-Infused Beauty Brand Into Whole Foods
While living in Florida, Majenye founder Yetunde Alabi's skin was the best it had ever been. "It was just super dewy and glowing and pretty," she says. After leaving the south to settle in Washington, D.C., where Alabi went to college at Howard University, her moisture barrier had a hard time adjusting. "I developed dry spots and I was getting rough patches," she recalls. "I would apply lotion in the morning after taking my shower and, then, by like 11 a.m., I was reapplying. And I'm like, 'OK, I've never been ashy before, what is this?'"
Alabi turned to the internet for a solution, researching natural remedies with ingredients like shea butter to restore her skin. The botanicals, superfoods and essential oils she scoured online became the foundation for Majenye's wide range of products extending across body, face, hair and home fragrance. The brand's $22 Bombshell Whipped Souffle is a standout as is the $34 Luminescent Face Oil. Newer additions include the $14 solid Starburst shampoo and $16 Saffron conditioner intended for customers with curly hair.
Majenye's most popular product is the $42 candle Sweet Memories designed to have a strong scent throw. "Basically, what that means is, when you light the candle, it fills the room not only quicker, but it has a broader range," explains Alabi. Majenye's candles, which come in Pink Sands and Moonlight Breeze varieties as well, are free of phthalates, housed in recyclable glass jars, made from coconut wax and feature crackling wooden wicks. Alabi chose the coconut wax because the coconuts used to produce it are sustainably grown.
A number of the products are infused with crystals such as rose quartz and moonstone. A paralegal by trade, Alabi has a habit of clearing her work space from negative energy with gemstones, palo santo, sage or lavender. "I know that there are people that may not necessarily be into crystals, but this can be an easy way for them to get introduced," she says. "I want all of my products to be a ritual and allow people to set their intentions and ground themselves in the experience." She mentions Majenye's target consumers are mostly eco-conscious women between the ages of 22 and 35 "who are really really into reading ingredients and don't want a bunch of harsh chemicals" in their products.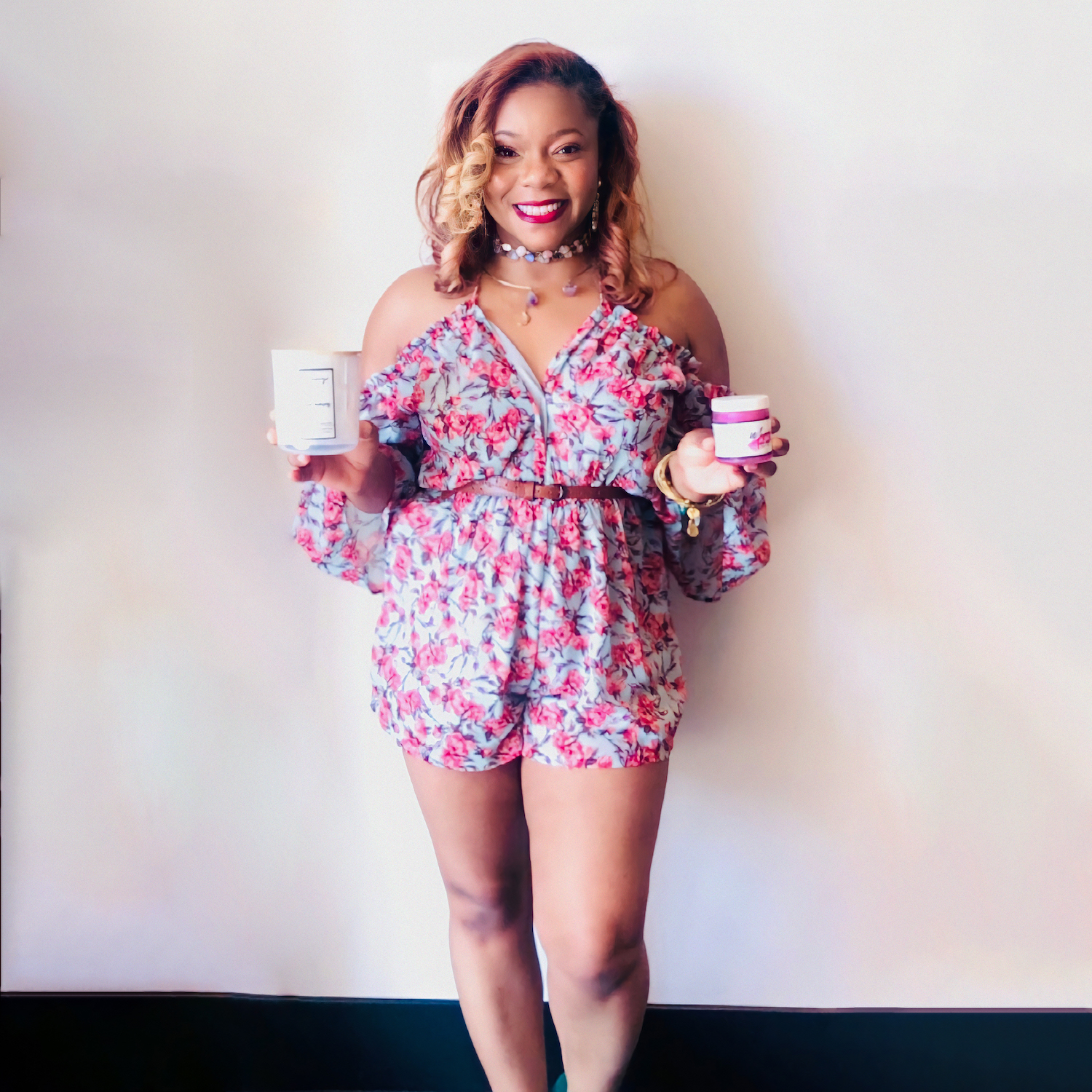 In April, Majenye launched at the Whole Foods in the D.C. Navy Yard. Alabi is interesting in aligning her brands with retailers that share its ethos. She put Whole Foods on her manifestation vision board and traveled to different stores to pass out samples. Eventually, Whole Foods took notice and, now, Majenye's products occupy self space next to other local brands from the Washington, D.C. area.
Alabi strives to be in more Whole Foods stores in the future. Urban Outfitters, Free People and Credo are also retailers she has her sights on. Before going the retail expansion route, she has to ensure she has the inventory and infrastructure to grow beyond a local level. Outside of the support of Alabi's mother from time to time, Majenye is a one-woman show, and Alabi handles the business from packaging to order processing. She recognizes that there are a lot of beauty brands, but she emphasizes Majenye is distinct for that exact reason. She says, "There's an actual person behind the scenes, and everything is genuinely made with love."
Alabi is wary of potentially involving investors down the line, but isn't completely opposed to the idea. "My strategy has always been to just do it on my own so that I have ownership because that's really important to me," she says. "However, if I get to a point where I need to scale at a very, very rapid growth, then I would maybe consider searching for funding."
The hope is for Majenye to eventually get to that point. Alabi dreams big—and advises her fellow entrepreneurs to do so, too. "Visualize, manifest and write down your intentions for the brand and see it through," she says. "You can be your biggest champion, but also your biggest hindrance if you think small…Stay true to yourself and what you want your brand to exemplify. Then, go for it."