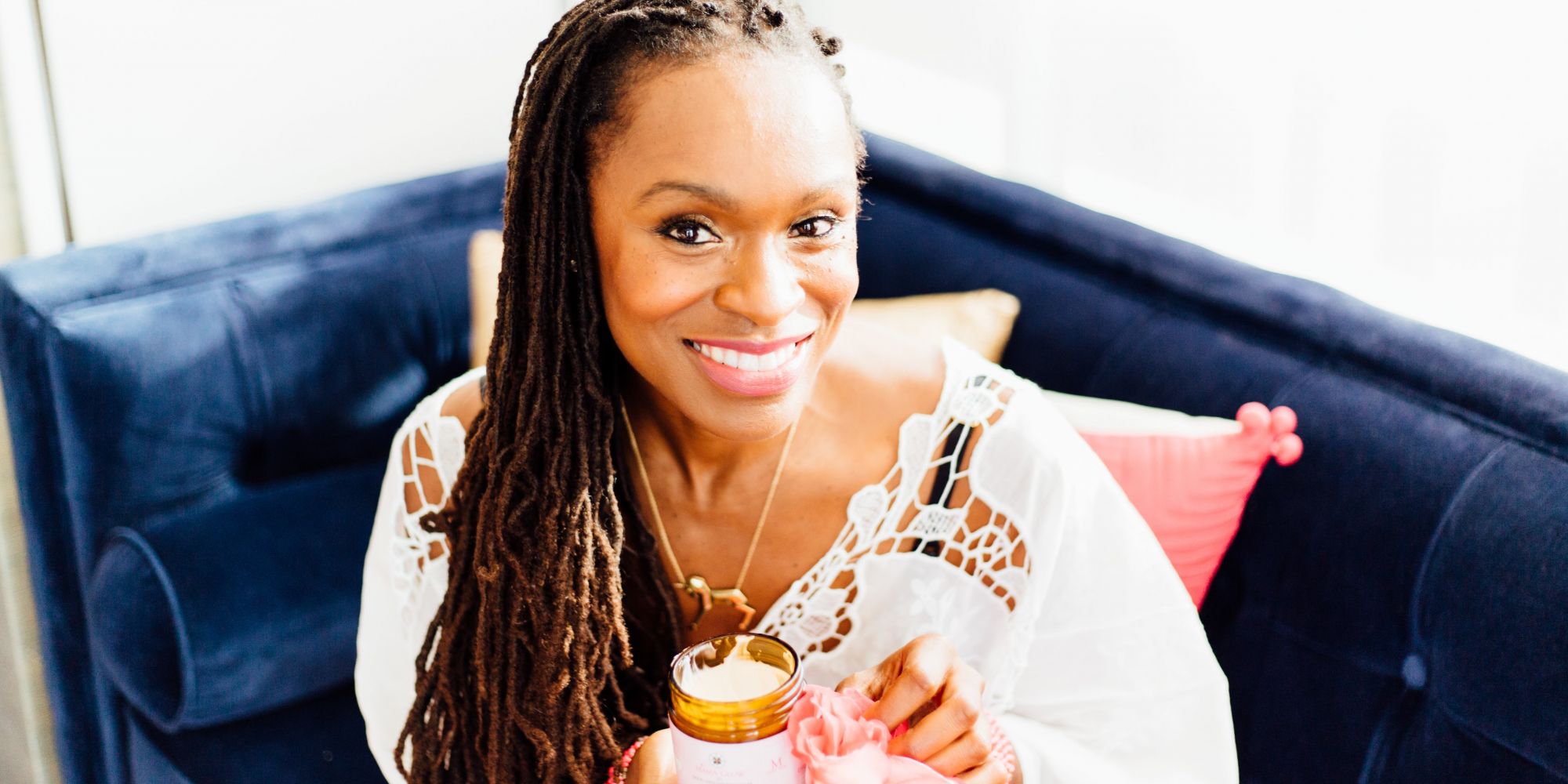 Mama Glow Launches Self-Care Products To Help Mamas Glow And Take It Slow
How does a mama-to-be get her glow? It might have something to do with hormones, but the role of nourishing personal care products can't be dismissed.
Latham Thomas, birth coach and founder of Mama Glow, a maternity wellness resource for new and expectant mothers, has developed five beauty products in partnership with Good Medicine Beauty Lab — Goddess Glow Blushing Body Cream, Rosy Glow Time Pink Bath Botanicals, Anointed Love Butter, Glow Potion Radiant Body Oil and Sacred Scrub Desert Sand Body Polish — to encourage women to slow down, and tend to their bodies during pregnancy and otherwise. Priced from $28 to $48 individually and $96 to $162 for sets, the products are paired with the booklet Ritual Guide to Glow Time containing tips, mantras and inspiration for meaningful me time.
"The vision wasn't just about creating products. It was about inviting women to celebrate themselves and step into self-care as a practice," says Thomas. "The goal is to transform behavior. We really don't want women to think, 'I'm going to hurry up, lather this on my skin and get out the door.' I want to help people get back to the practices my grandmother did. I would watch her brush her hair and braid it at night, and carefully put cream on her skin. When she passed away, her skin was smoother than mine. The older generations did things we just don't do anymore, and we should."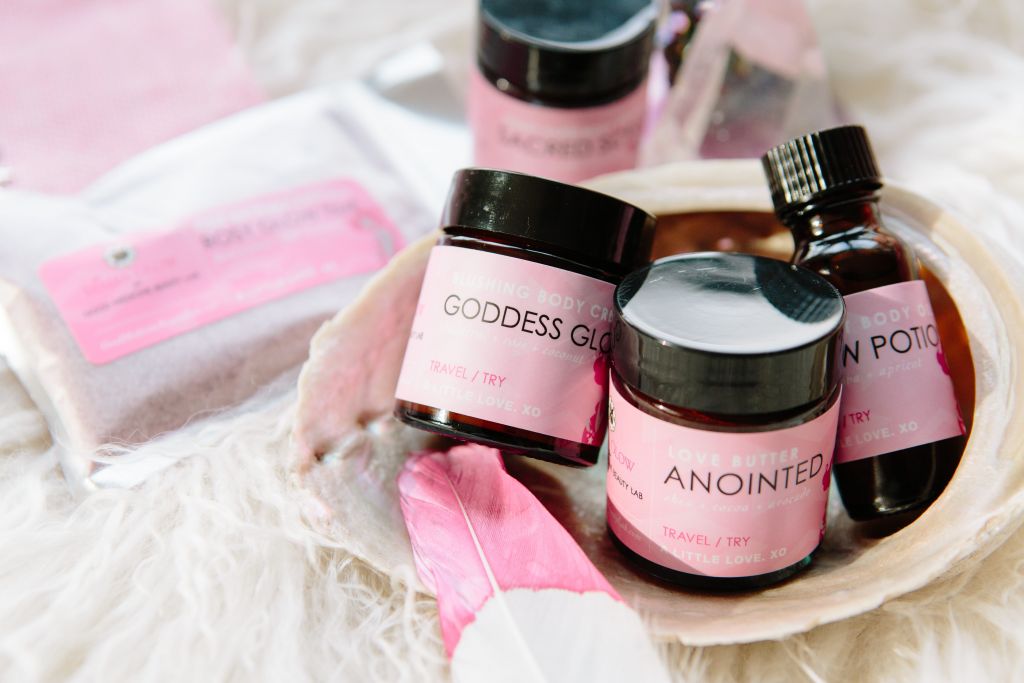 Rose is the star ingredient in the Mama Glow self-care selection. Packed with vitamin C, the flower is prized for its anti-inflammatory and redness-reducing powers. To give the formulas their scent, the rose is combined with coconut and lime. The products are also teeming with ingredients from the desert such as chaparral, juniper berry, yucca root, sage and mineral sand. Many of the desert ingredients are sourced in Utah, where Good Medicine Beauty Lab is based.
"They are well-respected, and they have an on-site lab. I wanted to work with a company that had the facilities to produce at a high level if we needed to produce hundreds of an item. I know how to create a lot of what we make, but I'm not going to do this in my kitchen," says Thomas, talking about Good Medicine Labs. "I also wanted a company that had access to the land so we could harvest plants and put them right in our products. Finding a lab inside a building someplace that has no contact with the plants wasn't interesting for me."
Long before she wrote her bestselling 2012 tome, Mama Glow: A Hip Guide to a Fabulous and Abundant Pregnancy, Thomas studied herbs with a master herbalist and whipped up a salve to heal a painful burn on her arm she suffered in college. Subsequently, she delved deeper into product contents to publish the Guide To A Non-Toxic Pregnancy with the Environmental Working Group in 2014. About a year ago, she started on the path to devising beauty products that would be safe for moms and babies, and address specific concerns such as stretch marks. Thomas highlights the scrub, body oil and cream as the go-to products to stave off stretch marks.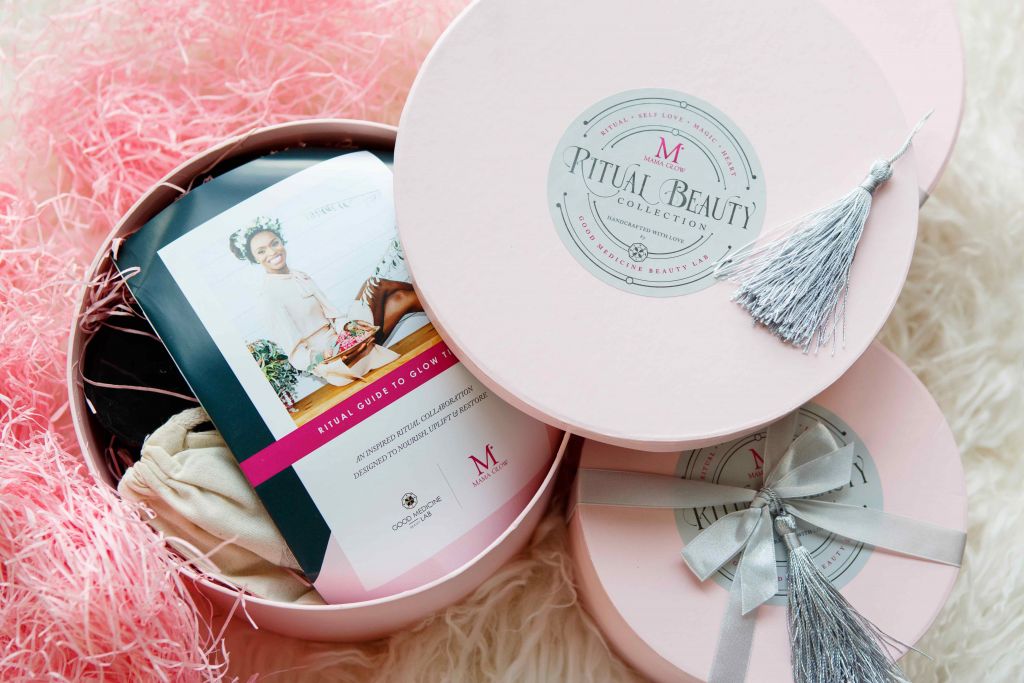 "I wanted to work with people who believed in clean products. Everything comes in glass. Even if you get our tiny sampler, it comes in amber glass to preserve the product. We don't use preservatives. That was important to me," says Thomas. "We package everything really beautifully, so it feels like a celebration when you get the product. When it ships to you, it ships with biodegradable peanuts, and you can put them in your garden."
In her regular gig, Thomas has perennially fielded questions about what products women should or should not use throughout pregnancy and after. While she happily doled out recommendations in the past for non-Mama Glow products she liked, it dawned on her the products she'd like most to suggest would be her own. "I got a little tired of promoting products from brands I had no connection to," says Thomas. "Why am I being the clearinghouse for all these other brands when I know all this information? I know what should be in products and not in products. I know the experience that women want to indulge in."
Now that Mama Glow has extended into products, Thomas is keen on putting in them in a select group of handpicked retailers and spas. She envisions a mix of large stores and small boutiques where customer education is paramount. "A store with an experiential, self-care-driven ethos is the perfect place. There, someone could walk through the product with the client. Outside of that, places where moms are going to be are obviously welcome," says Thomas. "We are not thinking about how widely we can spread the products, but how deeply we are impacting people's practices."