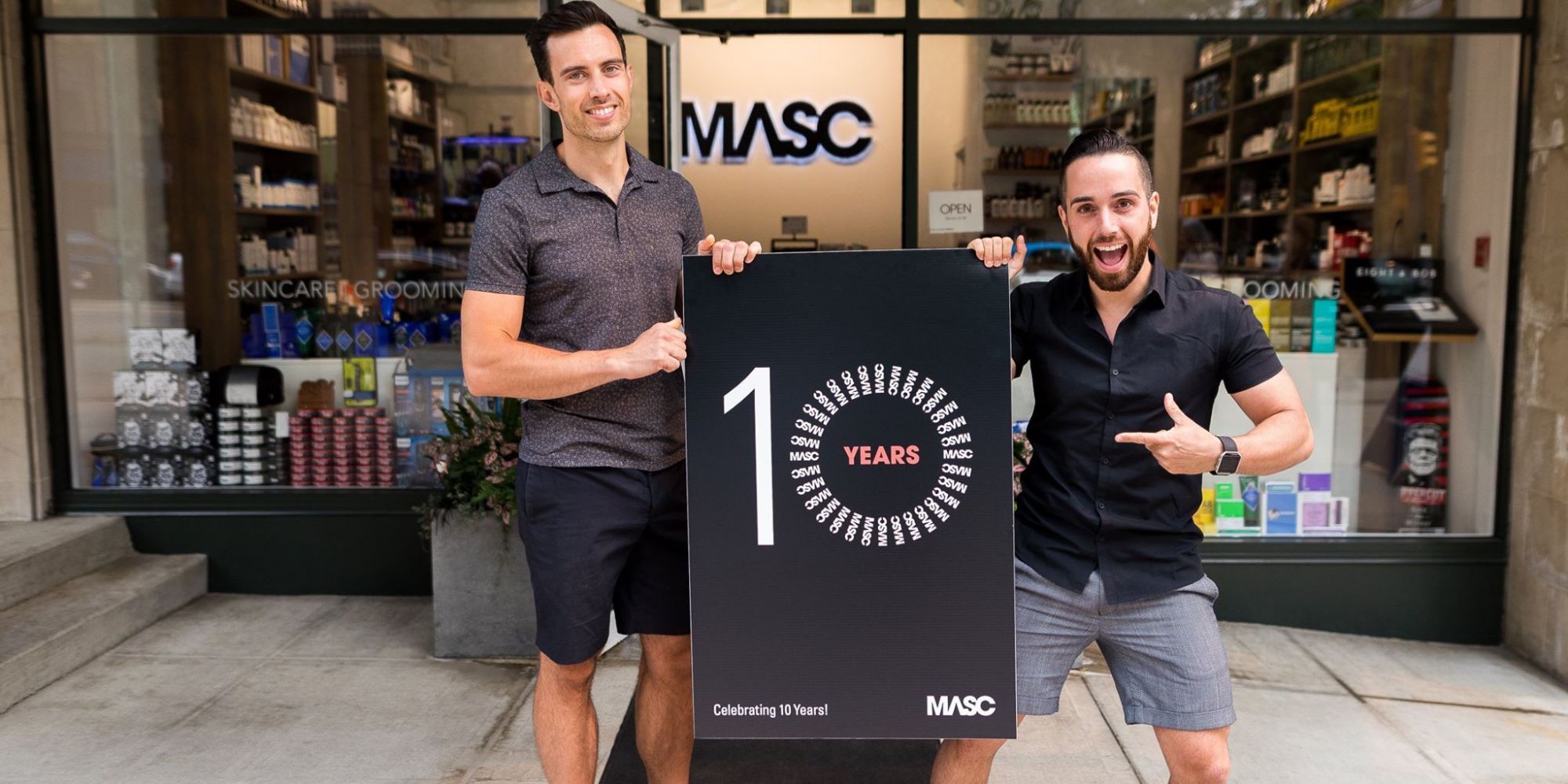 Men's Skincare And Grooming Specialist MASC Gives Guys The Attention And Credit They Deserve
Men's skincare and grooming retailer MASC has an impact that's considerably larger than its tiny physical footprint in Vancouver, British Columbia. Started by Jamie Beuthin and Patrick Levesque almost 11 years ago, it took male personal maintenance seriously long before beard oils were a big thing. The founding duo takes pride in helping customers establish effective routines with products from the leading-edge brands that flock to MASC. "The industry doesn't give guys as much credit as they deserve. Guys that come into our store care about their skin, and they've cared about it for a long time," says Levesque. "I see drugstore brands that just give a product a scent they think a man would like and a manly name, but that's not necessarily all guys care about. They really do care about products." Beauty Independent talked to Levesque and Beuthin about what they care about, including growing e-commerce sales, sophisticated branding, packaging that pops, sharable content and the shaving slowdown striking modern men.
What were you doing before MASC?
Beuthin: I was working with Patrick at Canadian underwear company Ginch Gonch. I had several different roles, but I was primarily involved in distribution and logistics.
Levesque: My role at the company was on the sales side. I dealt a lot with our retail accounts and managed those relationships to see what they needed, and I went to trade shows. We had very different roles, but we worked well together. I needed him to get the products to my customers.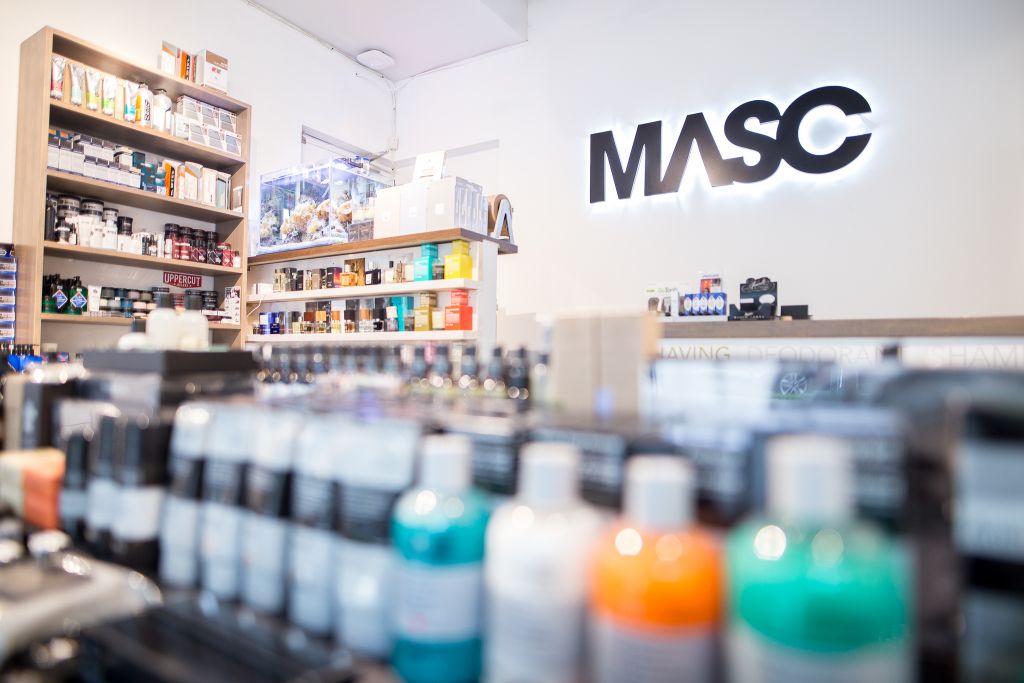 What laid the groundwork for MASC?
Levesque: Before we knew each other, we went to different universities, but got the same degree. We both have bachelor of commerce degrees in entrepreneurial management and that set us up for what we were going to do later. We both thought about opening businesses, but we didn't what that was going to be. Ginch Gonch was a startup company, and it was very entrepreneurial, so we got an idea there of what it would be like to own a company. That company was very good at portraying an image that it was bigger than it was. A lot of people in the U.S. thought it was a huge company, but it was really a bunch of us in a small office making big things happen. That gave us the courage to take risks. Every once in a while, we would brainstorm different business ideas. The idea for MASC came up more than a year before we took action. We saw a need because we were skincare consumers, and we found it hard to find a lot of good products in one location. If we went to a department store, we would be sold a particular brand depending on the counter we went to. The skincare stores that were around were primarily focused on women. Men's was an afterthought.
What caused MASC to actually come to life?
Beuthin: Sudden events happened at the company we were working for, and we decided to leave. We came across a location that we envisioned the shop being in, and we decided to go for it. It was serendipity. It came together in less than three months.
Levesque: The location played a big part in it. When we pictured this business, we pictured the ideal location size. The shop is 300 square feet. We didn't want something huge, and it's a good spot with businesses around it that complement that concept.
What's behind the name?
Beuthin: It's a play on the word masculine, and it's also a reference to a facial mask.
What's MASC's core mission?
Levesque: When we started the business, we wanted to give men the tools and information necessary so they could come up with a routine they'd be confident in and that would, in turn, make them more confident in their lives. When you are taking good care of yourself and have a good, solid routine, that sets you up to look and feel your best, and you are ready to conquer the challenges of daily life. We don't want to just sell products. We want people to feel confident when they leave the store and use the products.
How many brands do you have, and what are three brand mainstays at MASC?
Beuthin: Around 70 or so. We have had Malin + Goetz, Jack Black and Menscience since we first started. Those are three solid brands for us that have really solid positions in the men's market as well. Their formulations are great, and people keep using them.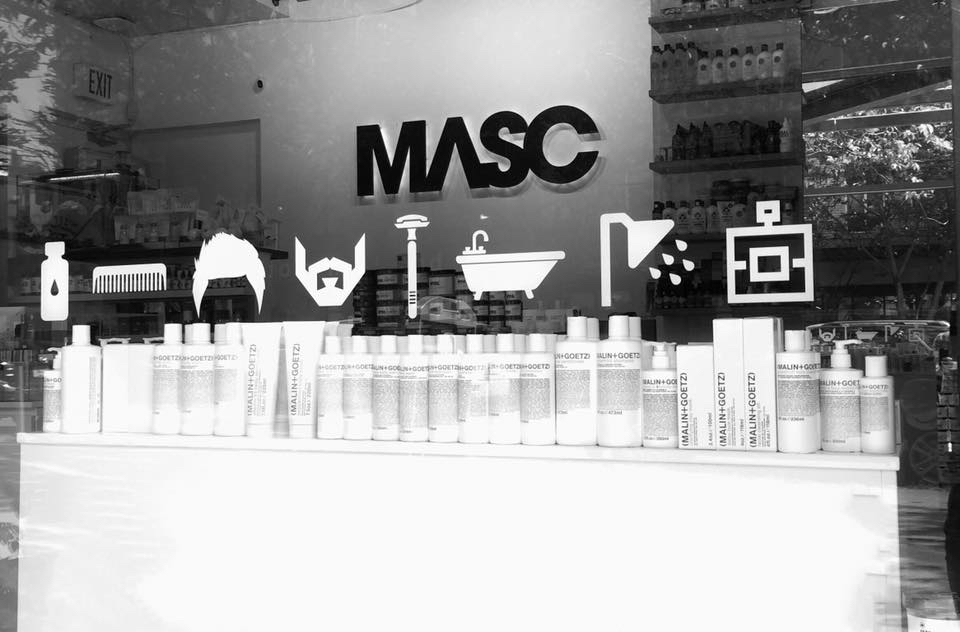 What's the top product category by sales?
Beuthin: Our top categories are hairstyling and face care: face washes, scrubs and moisturizers. Shaving creams are also big ones for us. Most guys use a shaving cream. Deodorants are big sellers, too.
How do you discover new brands?
Beuthin: It's a combination of several different ways. We get a lot of brands approaching us. We decline 99% of them. After doing this for nearly 11 years, we have a pretty good understanding of what's going to sell and what's not going to sell. Another way is by seeing products in fitness or fashion magazines. Most magazines have grooming sections, and that's where we sometimes come across new stuff.
Levesque: We also get recommendations from customers. Our loyal customers have been with us through this entire journey. They know our business well, and they know what they like. So, when they come across something they think would be great at MASC, they rather buy it from us.
How do you prefer brand pursue MASC?
Levesque: We don't have a specific set of rules for people to follow, but we have preferences. One of them is to contact us by email or phone first versus coming into the shop unsolicited. Because it's a very small retail environment, it's not ideal when people come in and start talking business with us. We definitely like to be approached outside of the retail environment, so we can deal with it appropriately rather than putting customers aside or creating an awkward situation. We have never said yes to a brand without visually seeing the products and trying them. The aesthetics of the products is very important to us. We have a distinct look and feel going on in the shop, and the brands have to be aligned with that. We don't want stuff that looks cheap. A product might be great in the tube, but we know from experience that people won't pick it up if it doesn't look nice.
Tell us about the look of the shop.
Beuthin: Everything is organized by brand, and we have little pockets in the shop representing categories like shaving and haircare. The shop is a pretty basic backdrop, and the products create the visual appeal. Our brands have to have a very strong visual presence, so they pop and catch the eyes of customers.
What's key to brands developing long-term relationships with MASC?
Beuthin: Having support from brands is really important to us and, by support, I mean that they're involved with promoting their brands in our shop as well as outside of our shop. A brand is built not only in our store, but it's also built by the company that's making it. We rely on the brands to create a name and brand image for themselves so, when people come into the shop, they've seen it somewhere and are familiar with it. Or, if they don't know about it, the company has done a good enough job that the brand appeals to them.
Levesque: Before social media was as big as it is now, the press brands would get was big. That could drive traffic into the store. Now with social media, people take the recommendations they see online and, when a brand is creating buzz and word of mouth, people search for it, and that's sometimes how they find us. In a small store like ours, there are so many brands. If customers come in knowing what they're looking for, that makes the process easier for them.
What trend have you seen emerge at MASC?
Beuthin: Guys are starting to take care of their skin at a younger age. As the men's skincare and grooming industry has grown, it's become more acceptable and more common to do that, which is terrific because, in my opinion, the earlier you get a good routine, the more results you'll see and benefits you'll reap later in life.
What trend do you wish would go away?
Beuthin: Taking care of your beard is great, but so many people have started beard brands that it's become a little bit bothersome. It's very hard for a new beard brand to distinguish themselves from all the other beard brands that are out there. It takes up a lot of our time to deal with them. That being said, there's a brand we brought on in December called The Groomed Man Co. It was initially going to be a beard brand, but they did a really good job of adding new products. We waited for the brand to add a body scrub and facial products. It has a unique approach and branding, so that sets it apart from other brands.
Beards have been huge and have moved beyond being a merely a trend. What's going on with men's shaving habits?
Beuthin: Beards are not going anywhere, and guys are shaving less. Having said that, the guys that are shaving are taking it more seriously in terms of it being a ritual. They are investing in good products: nice razors and brushes. It's not a chore. It's part of their skincare routine. Speaking from personal experience, I definitely shave less now than I did when I was younger. I still shave a few times a week, but I don't shave my full face anymore. I keep a five o'clock shadow. There's a lot of variation in what people are doing.
What's your onboarding process like?
Beuthin: It's on a brand-by-brand basis. We are a small business and are able to react more quickly than a large company might be able to. Once we make a decision, we like to bring on a brand right away. Because we are in Canada, we deal with a specific set of regulations with respect to cosmetics. We make sure that we are following the rules. That's the biggest obstacle with bringing a brand on. Then, of course, we have to consider the number of SKUs, and that there's space from merchandising perspective. The quantities ordered varies by brand. Some brands have minimums of six to 25 [items] per unit. We try to order a sufficient quantity for the shop. If a brand has three units and we order three of each, that doesn't create a visual presence in the shop, and we really want to order enough stock to make it worthwhile when it comes to shipping and brokerage costs.
Levesque: We also want to promote the brand right away usually with a feature in our newsletter. So, we want to have sufficient quantities for that and not sell out right away. We also feature it on Instagram, and we in our MASC Minute videos. I film Jamie talking about products or an aspect of a skincare routine to educate customers. He might talk about the benefits of a particular toner, for example. We will post that on YouTube and Facebook. We started those videos because, although the trend for online shopping was growing, there was still a lot of people who were leery of shopping online. We wanted to replicate the experience the customers get in our store. When someone clicks on our products, for most of our products, there's a video, and they can hear Jamie talking about the product as if they were in the store. They can feel more comfortable about purchasing the product online.
What margins do you typically take?
Beuthin: The industry is pretty standard. It's usually a 40% to 50% margin. That doesn't take into consideration shipping or brokerage costs.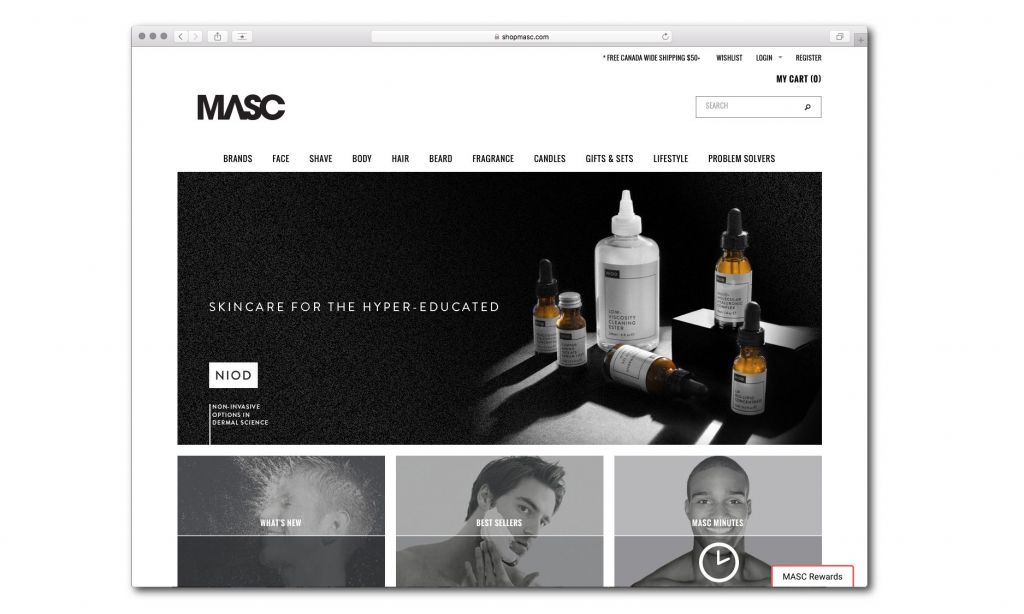 How's MASC's business doing?
Beuthin: We've never had a year that we haven't done better than the previous year. We still have a lot of room for growth. I don't really know how much potential there is, to be honest. The online segment of our business is an unknown beast. Who knows how big it can get? It depends on the month, but, in general, our business is evenly split between the store and the web.
Who is the MASC customer?
Beuthin: People have this preconceived notion of what a guy who shops at our store is like, but there's really no strict definition of who he is, what he does and how he looks. We have a wide age range from teenagers to guys in their 70s and 80s. Another preconceived notion is that the shop is expensive or exclusive, and that's not the case. We have lots of different income levels because we have a wide range of prices. We are definitely a notch above drugstore, but we are not inaccessible in terms of the price points. It's a broad demographic with lots of different income levels because we have a range of prices. We get bus drivers, students, lawyers, doctors, everything you could think of. We cater to every guy.
What do you wish brands would do to improve their business at your store?
Levesque: Taking really cool photos that we can use as well is helpful. We have so many brands that it's not realistic for us to take lifestyle shots for everything we have. Giveaways and gifts-with-purchase are also great. That creates value for the customer.
Where do you stand on Amazon for your store and the brands you carry?
Beuthin: We don't sell on Amazon. I don't think I've ever checked to see if a brand sells on Amazon before we bring it in. Our brands are niche. They are not mass distributed, so I don't think it would immediately occur for a brand to be on Amazon. I know some of our brands are on Amazon not necessarily themselves, but due to third-party resellers. I'm not worried about it because I don't think it's worth my energy to worry about it. Amazon is Amazon. MASC is MASC. We are confident in what we do, and people choose MASC for reasons Amazon can't compete with. Although, on some level, we try to be like Amazon in that we ship same-day. And, if customers place orders of $60 or more in Canada, they get free shipping.
MASC seems to have a formidable presence on Google for a small retailer. How has that transpired?
Levesque: Over the last several years, we have revamped our website several times and have optimized for SEO. In terms of Google marketing, that's a whole world onto its own and a level of expertise that's not really our thing. We have outsourced that to a company called Madwire, and they take care of all our Google ads. They really take the time to understand our brand and all of the brands within our store to communicate on our behalf. The relationship wouldn't work if they didn't really understand who we are and what we sell.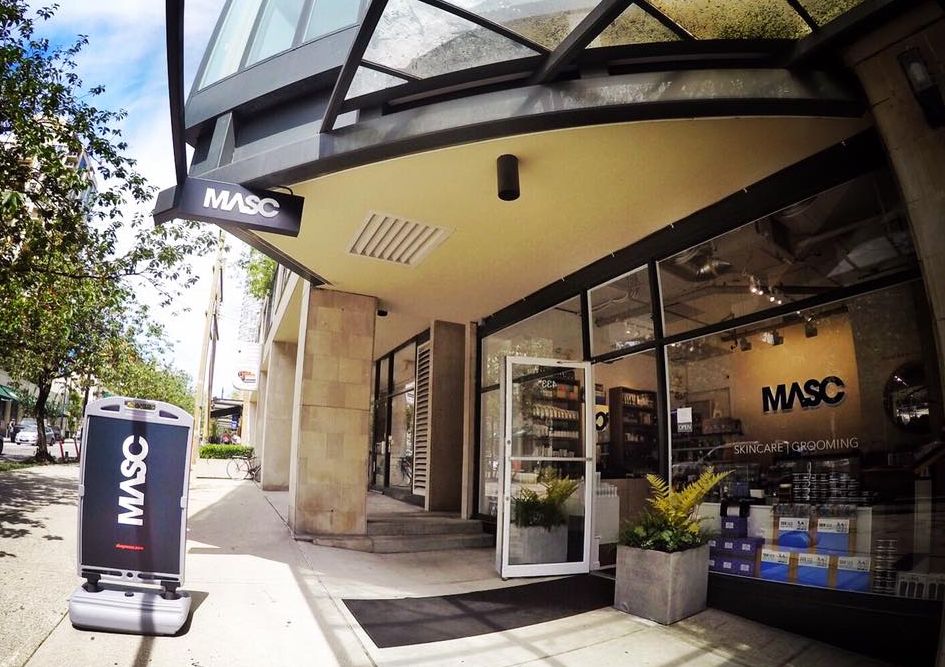 What tweaks have you made in your business to improve it?
Levesque: Two years ago, we rebranded. That was a big change for us. We worked with a brand specialist who helped us really identify who we are by asking us questions about our business and what kind of customers we have. We want people to remember MASC and their experience here. It's not always about the brands we carry. It's about the MASC experience and trusting recommendations from MASC employees. The logo is different, and we improved our signage outside and in the store. Even before this rebranding process, we always projected a well-packaged image of a store that doesn't seem like a standalone mom-and-pop shop. It's a brand. But the facelift was definitely noticeable to the customer.
What are your goals going forward?
Levesque: Our focus for a long time has been growing the online side of the business. We feel that's where the world of retail is going. We want to make sure we are well-represented online and that we take advantage of the opportunity to be a big player online. In five years, I would hope that we partner with someone with expertise to take the brand to the next level whether that's by opening new stores in key cities or expanding our distribution in the U.S. or other international markets. Currently, our online business is primarily in Canada. There's a lot of potential especially in the U.S. market to get a piece of the pie, but we need a partnership for that to happen.
Feature photo credit: Callum Snape Photography