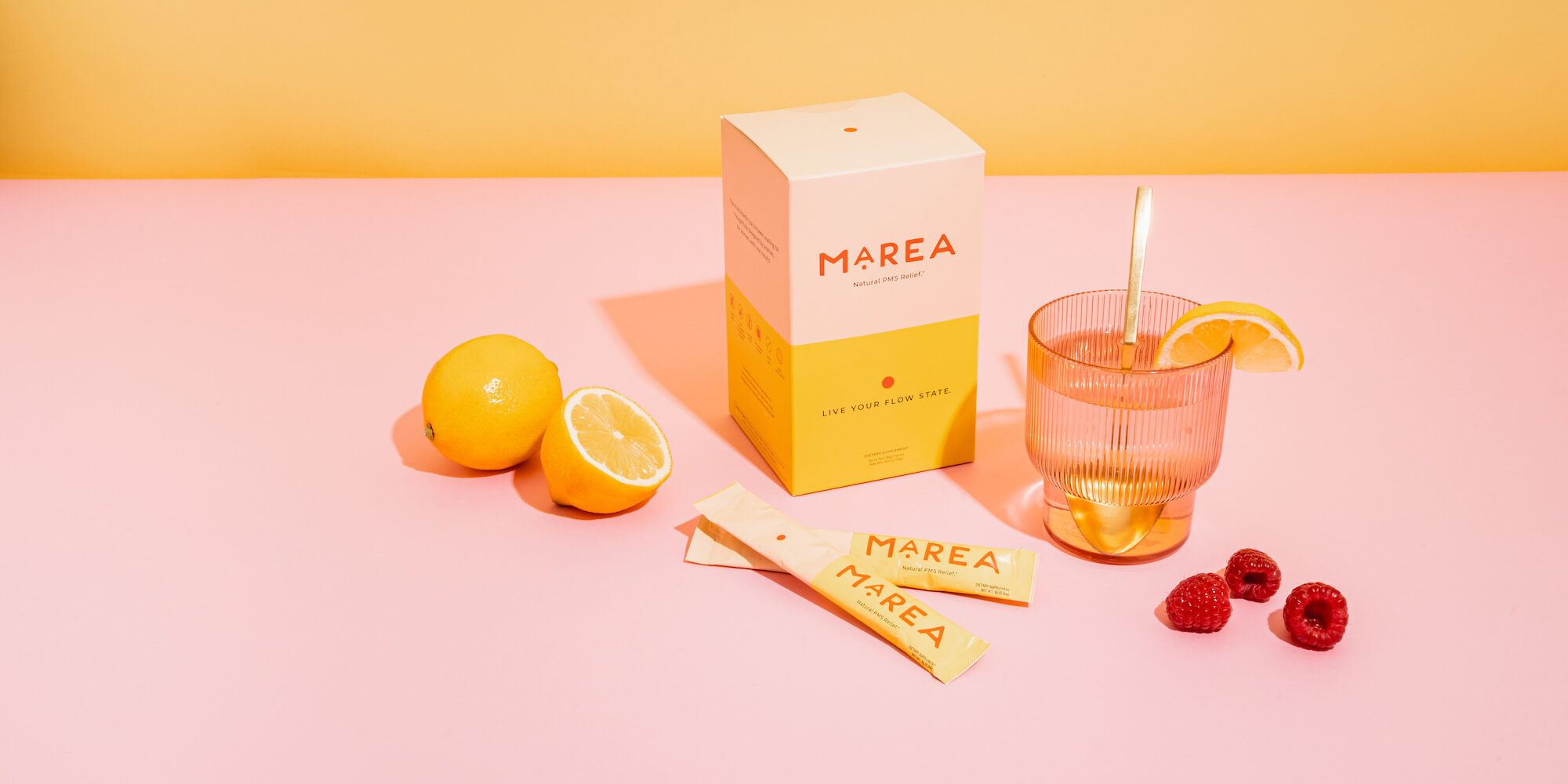 The Medicine Cabinet Is Getting A Makeover From Brands Challenging Drugstore Staples
There's a brand counterculture brewing that's remaking the over-the-counter medicine category.
Drugstore classics like Claritin, Band-Aid and Excedrin are being challenged by startups, including Welly, Tru-Colour Products, Marea and Hilma, that have created better-for-you versions of OTC solutions in sleekly-designed bottles and boxes. They're following in the footsteps of the likes of Seed, The Beauty Chef, Moon Juice and Care/of that turned supplements into cool signifiers of wellness interest rather than hard-to-swallow chores.
Bee propolis-enhanced ingestible brand Beekeeper's Naturals is in the crop of brands filling consumers' medicine cabinets with natural alternatives to OTC staples. In April, it introduced B. Soothed Cough Syrup, a buckwheat honey-powered, alcohol-free option for consumers staying away from cough syrups with sugars and artificial colors.
Founder Carly Stein says, "We're trying to bring people medicines that are really effective when it comes to helping them thrive, feel their best and combat whatever it is that they want to get rid of, but also have an ingredient profile that makes sense, that's natural, and that's coming from things that are holistically helpful for their body."
The natural remedies brand Hilma has a similar philosophy. Launched in January, its four-product lineup is focused on allergies, headaches, upset stomachs and immunity. Hilma co-founder Nina Mullen recounts that the concept for the brand arose after Lily Galef, her fellow co-founder, was coming down with a cold, and picked up a filler-loaded, bright pink treatment to fight it. Hilary Quartner is a third co-founder.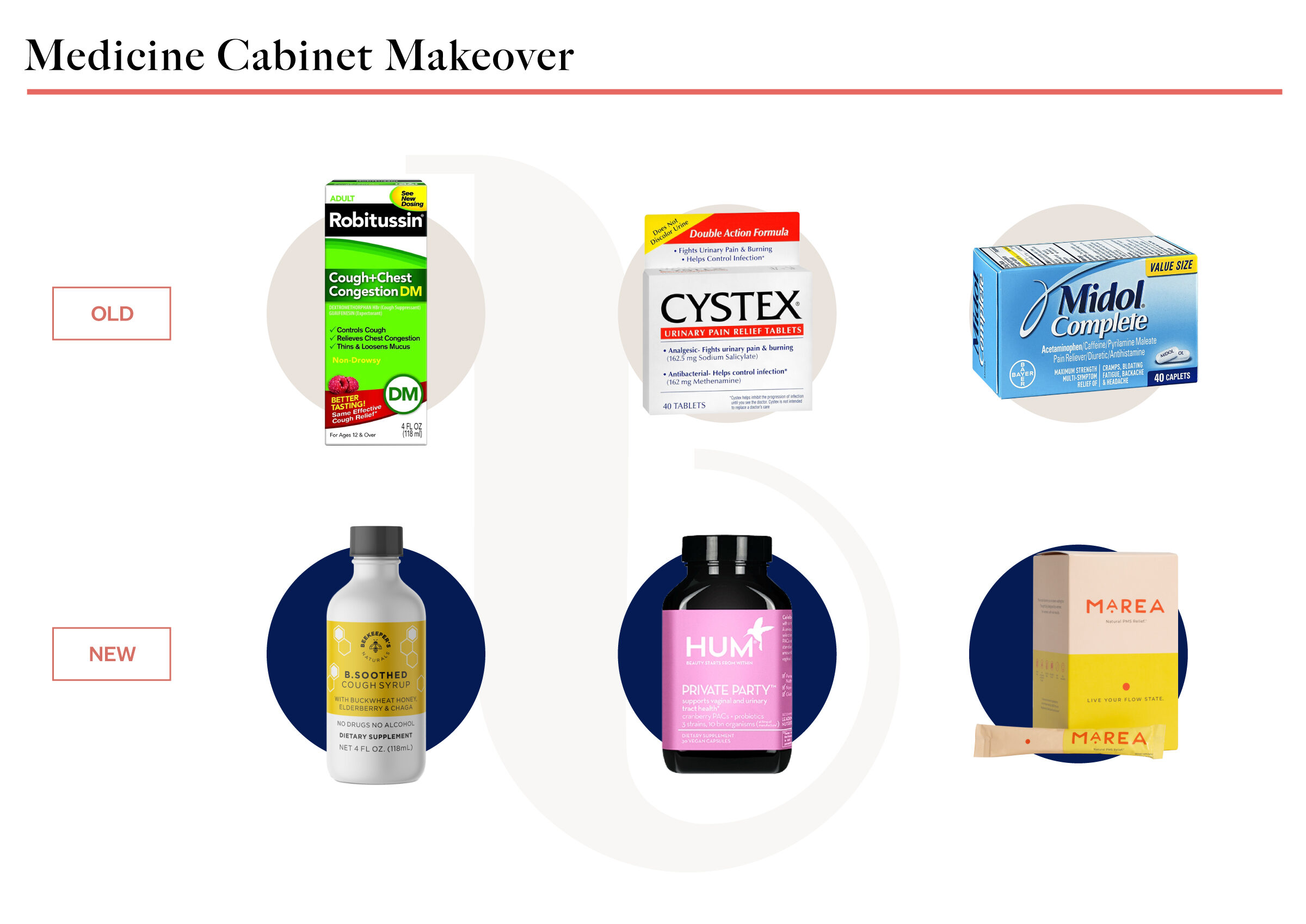 "We had this aha moment when we realized that the product [she was taking] felt so incongruent with what we had become accustomed to as consumers," says Mullen, adding, "The three of us became obsessed with this gap in the market. We dug in and realized [there was a gap] because there were so many barriers to entry for clean options in the medicine cabinet."
The barriers to upstarts in the OTC field include difficulties achieving United States Food and Drug Administration approval, and high research and development costs. There's money to be made for companies that surmount those barriers, though. Statista forecasts the OTC segment in the U.S. will exceed $25 billion in sales this year and grow at an annual compound rate of 6.3% over the next five years.
Brands like Hilma and Beekeeper's Naturals selling natural products and not putting new drugs on the market don't have to go through FDA approval process. They also can't make efficacy claims equivalent to FDA-approved drugs. To validate its products, Hilma outlines it has investing in clinical research, assembled a team of doctors and scientists to guide product development, and depends on ingredients that have demonstrated effectiveness over time.
When Monica Grohne was devising the formula for her PMS-busting multivitamin Marea, she sought advice from an OB/GYN and a registered dietician to identify ingredients with clinically-proven benefits. Marea uses magnesium, zinc, selenium, and vitamins E and B to ease period pain and bolster overall health. The brand's website features links to studies analyzing the benefits of the vitamins and minerals in its product.
"Why not have everyday items be elevated?"
"About 75% to 80% of women have at least one symptom of PMS, from breast tenderness to mood," says Grohne. "While we always prefer to get our nutrients from food, it isn't always easy. The nutrients [in Marea] happen to be some of the most frequently found deficiencies in women. Supplementing these may help to bridge the gap to better meet individual needs."
OTC medications aren't the only medicine cabinet products getting a makeover. Bandages are being upgraded, too, with tie-dye, plaid and other patterned options for adults and kids, thanks to startup Welly Health. "When looking at the first-aid aisle, the options have always been very limited," says Laura Conlon, VP of marketing. "Existing brands were either non-inclusive with a bland idea of what a skin-tone colored bandage is or were solely geared towards children. Welly was created to disrupt the first-aid category through better design, organization and portability."
Customers seem to want what Welly is providing. In the year since its launch, the company generated over $10 million in sales, expanded to 10,000-plus doors at retailers the likes of Target and CVS, and received more than 500 five-star reviews online. Conlon attributes its success in part to stylish merchandise that resonates with younger consumers.
"Millennial families and gen Z consumers have grown up in the age of Instagram, so aesthetics and design will always play a heavy role in their purchase decisions," she says. "As these generations take on more of the purchasing power, this design-forward focus will only increase. Why not have everyday items be elevated?"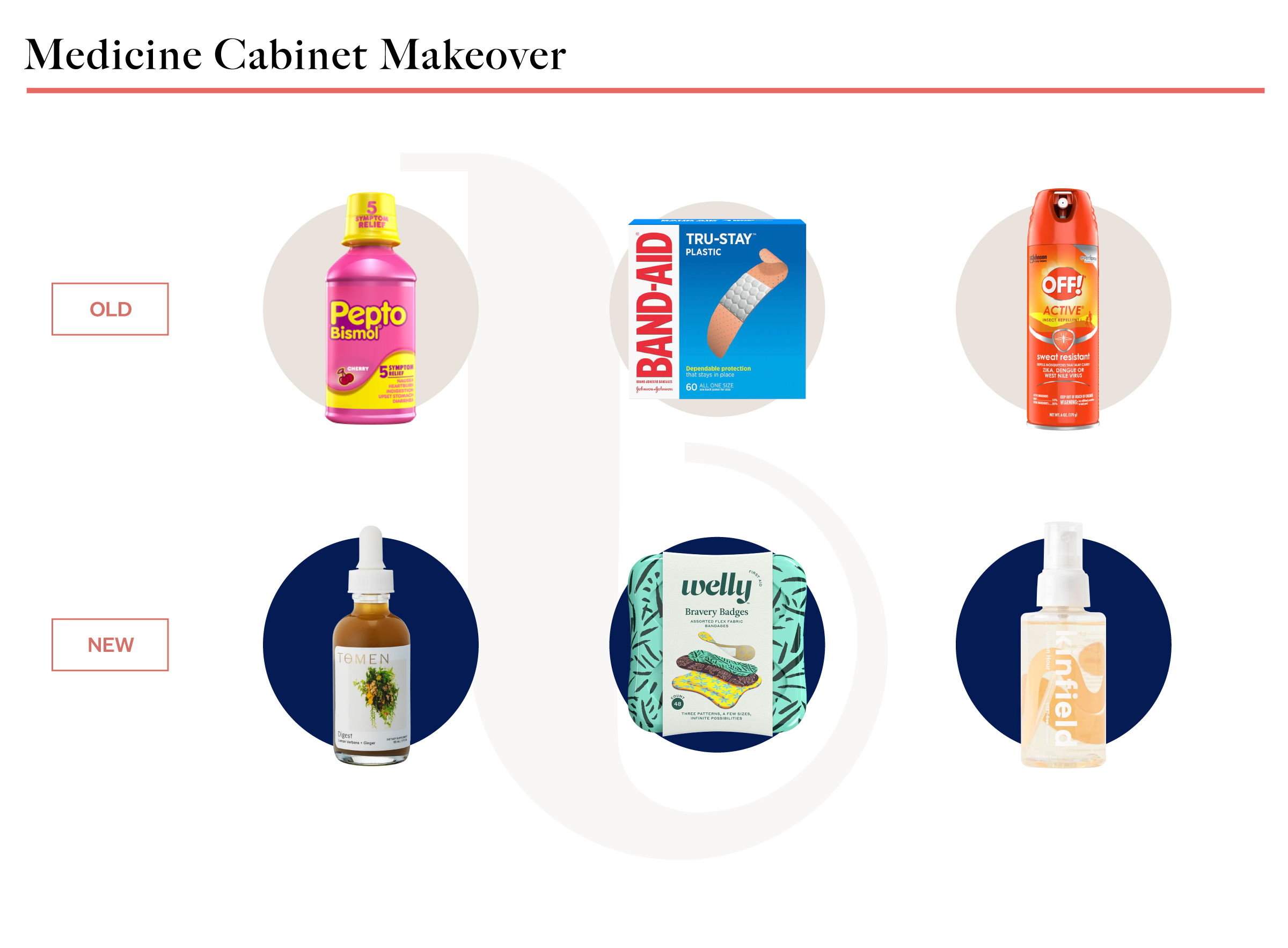 Sensing opportunity, supplement brands have joined the OTC category elevation efforts. On Valentine's Day, ingestible specialist Hum Nutrition launched Private Party, a vaginal and urinary tract health supplement. Prior to Private Party's launch, Hum's product range consisted mostly of hair-strengthening, nail-boosting and skin-perfecting supplements. Hum Nutrition is available at Sephora, Nordstrom and Anthropologie.
The Nue Co., a chic supplement brand in Net-a-Porter's selection, has several offerings to aid digestion and promote regularity, and a Joints product designed to fortify joint health and function. Like a joint support pill consumers would pick up at Walgreens, The Nue Co.'s Joints has glucosamine. It complements the compound with plant-derived ingredients like curcumin, black pepper extract and Boswellia Serrata gum extract, which was proven in clinical studies to protect against collagen degradation in joints.
"Being a nimble company, we're able to have that direct conversation with our consumers and find out what their needs are and where we can create products to support them," says The Nue Co. founder Jules Miller. "For us, the future of the medicine cabinet is products that are more personalized, that truly work and benefit the consumer."
Cannabis brands are expanding their métier to everyday remedies as well. Plant People recently launched four immunity-supporting supplements, including two products, Lung Guard and Sinus Support, that use CBD-free formulations to enhance respiratory functioning. The range, which has entered Target's online assortment, contains active ingredients like kudzu root, mullein and thyme to clear sinuses and assist with breathing, among several effects.
"The future of the medicine cabinet is products that are more personalized, that truly work and benefit the consumer."
"There is a time and place for CBD, but it's not for everything. Our underlying purpose was always to focus on plant-based solutions. We looked to our community and supporting research to understand what needs we could best address," says Plant People co-founder Gabe Kennedy. "Through this new collection, we celebrate the powerful attributes of herbs and mushrooms by applying them to areas of our life that need the most support."
According to Kennedy, consumer response to Plant People's Immune Power supplement has been overwhelming positive. On the West Coast, he reports people taking Lung Guard as wildfires raged during the summer were enthusiastic about their experiences with the product. Discussing Plant People's Target partnership, Kennedy says, "There is still a lot of stigma around hemp products, and we also acknowledge there is a need for more research. This new line of non-hemp products has opened up many literal doors like target.com."
Because emerging brands are bringing branding flair to products addressing often mundane ailments, retailers that haven't sold medicine cabinet items are buying in. Customers can scoop up Beekeeper's Naturals at expected retailers like Thrive and Whole Foods, and ones less so like chic clean beauty and wellness destinations Goop and Clean Market.
Hum and The Nue Co. have broken into the super-cool repertoire at millennial-centric fashion e-tailer Revolve. On top of the eye-catching branding of these rising brands, their premium prices are attractive to retailers. A 40-count box of Midol retails for around $7. Marea's product is $69 for a one-month supply. Hilma's Tension Relief, available at Urban Outfitters and Neighborhood Goods, is $15 for a 50-count bottle. Excedrin is just over $4 for 24 pills.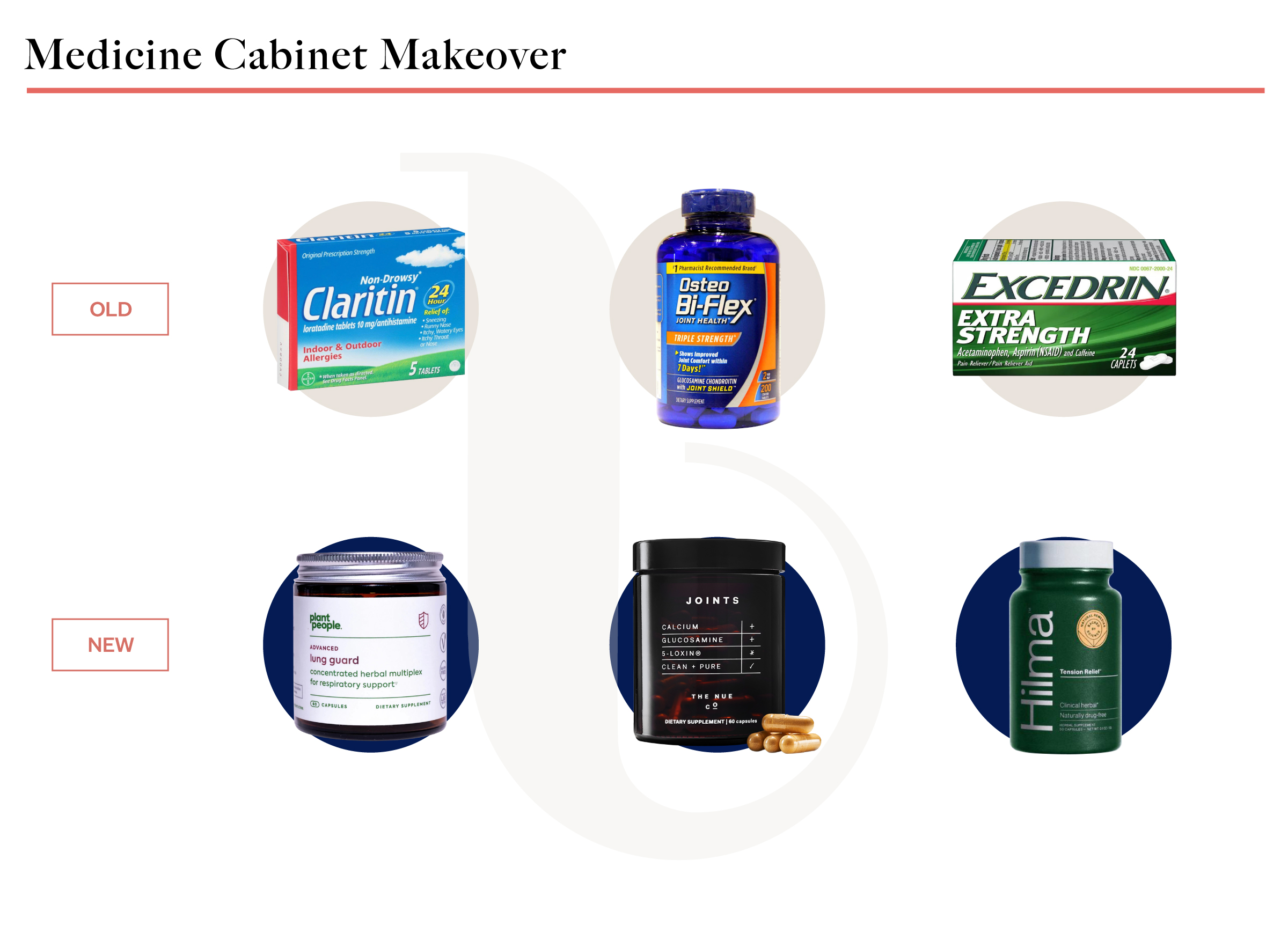 Like retailers, investors are on board. At launch, Hilma has secured an undisclosed amount from Forerunner Ventures, Global Founders Capital, Company Ventures and BoxGroup. Forerunner Ventures general partner Eurie Kim stated, "The OTC health category is ripe for disruption, as the movement to raise the bar around ingredient transparency has gained momentum and many legacy products have not adequately responded. This presents a market gap we feel confident that Hilma is uniquely suited to fill with the clinical herbal."
In April 2019, Hum raised a $15 million series B led by Sonoma Brands with participation from existing investors CircleUp and Imaginary Ventures. In July 2019, The Nue Co. raised a $9 million series A funding round led by Waldencast, the firm founded by ex-L'Oreal executive Michel Brousett, with participation from Unilever Ventures and Redo Ventures. Both brands had previously raised institutional capital rounds. In October, Beekeeper's Naturals closed a $3.5 million series A round of funding led by Hum investor Sonoma Brands.
With companies such as GlaxoSmithKline and Bayer, Johnson & Johnson and Bayer dominating market share in the OTC field, investors and founders of the emerging brands they're backing believe they'll wind up with a windfall if they can make inroads with coveted consumers and scare entrenched corporate players. Care/of showed how it can be done. Bayer acquired the vitamin brand for $225 million earlier this year.
"If you look at the traditional over the counter aisle, the logo brands haven't changed in 30 years," says Hilma's Galef. "For new entrants like us and others, that will be an exciting incentive for those brands to evolve and change."
Her co-founder Mullen chimes in, "There is always going to be a place for traditional drugs. We do not stand as an alternative to that. I think in the future we'll see products like Advil standing next to our tension relief or even essential oil roll-ons that actually do have good clinical substantiation, but are seen as more on the fringe or less respected today. The consumer is just not satisfied with one answer and one approach."
KEY TAKEAWAYS
A new crop of wellness brands are focusing on targeted treatments for everyday ailments like headaches and allergies. They're taking on entrenched corporate players such as Bayer, Johnson & Johnson and GlaxoSmithKline that have long dominated the over-the-counter medicine aisles at stores.
The emerging brands offer more natural solutions that are a break from their synthetic- and sugar-stuffed antecedents.
In addition to cleaner ingredient decks, the budding companies offer elevated branding and packaging that's a refreshing departure from the staid OTC brands consumers have used for decades.
Retailers such as Target, Anthropologie and Urban Outfitters are buying into the brands revamping the OTC market to respond to strong demand for wellness products, and draw millennial and gen Z consumers rejecting legacy brands. The new brands' offerings are also appealing because to them because they're pricier than their predecessors.
Investors are on board with the rising brands as well. Care/of's recent $225 million exit to Bayer offers an example of a possible path for the startups they're backing into the portfolios of large corporations.