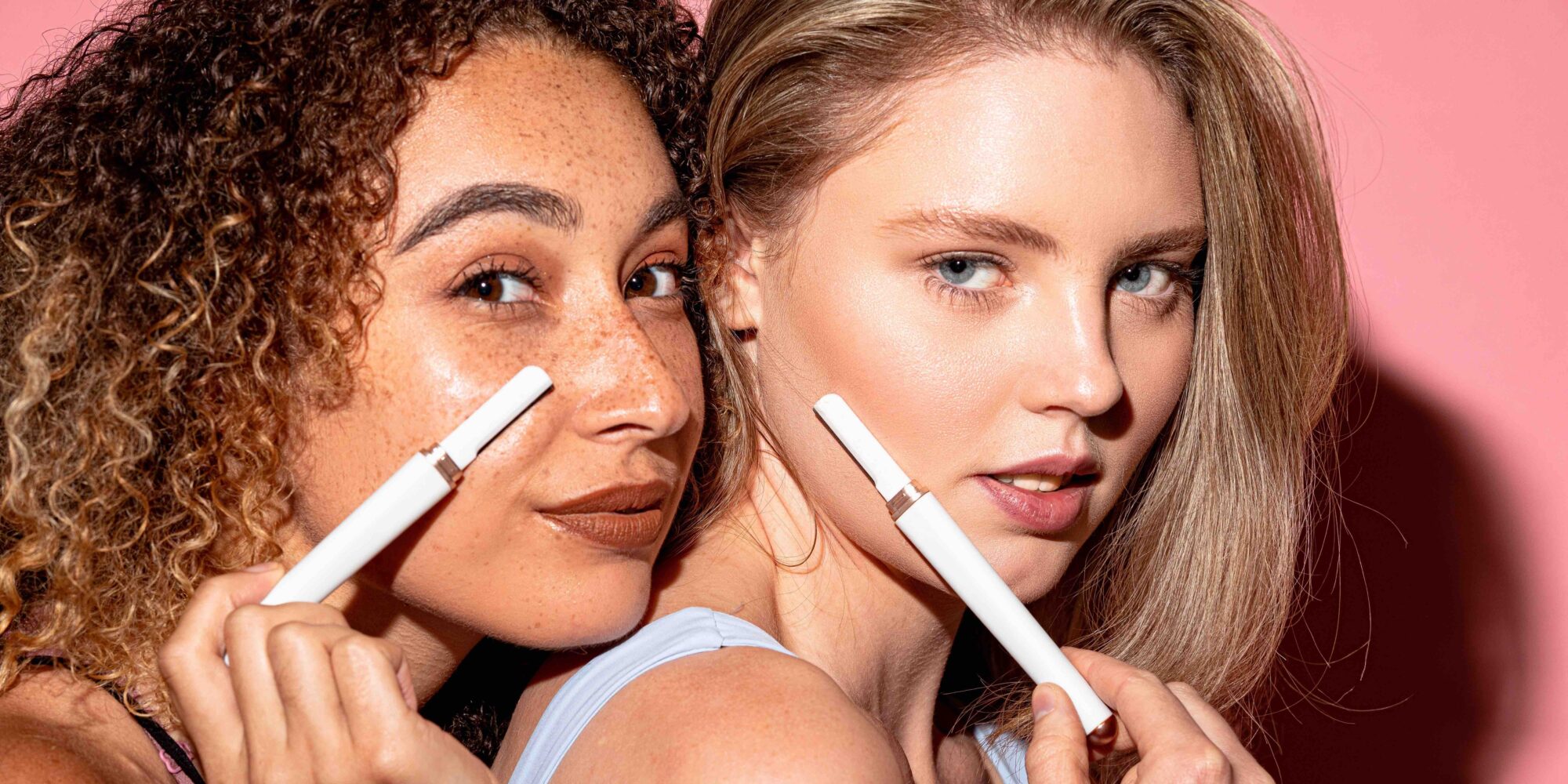 Meet Jill, The Viral DTC Brand Leading The Great Female Face-Shaving Awakening
From masturbation to menopause, the beauty industry is taking down one taboo after another. The latest previously unmentioned regular phenomenon that's being brought into the light is female face shaving, a practice Meagan Carboney, co-founder and chief brand officer of viral direct-to-consumer female razor brand Jill, estimates millions of women engage in, though many, if not most, without uttering a word about it.
"There are a lot of stigmas and myths behind the practice. Women aren't talking about it or they are avoiding it because of embarrassment and judgement. All the misinformation and myths are causing a majority of women to neglect shaving," she says. "It's important for us to really start the conversation, talk about it and address those myths."
Jill has headed to social media to normalize female face shaving with a #WeShaveToo campaign featuring posts confronting fears about face shaving (e.g., the brand promises it won't cause breakouts if carried out correctly), demonstrating how to do it and showing an array of women razoring off their peach fuzz. In three months, it's drawn around 150 million organic views, primarily on TikTok, where an animated video explaining that face shaving won't lead to courser hair with regrowth, can aid skincare penetration, and improves scars and hyperpigmentation has been seen almost 23 million times. As a brand, Jill has 131,000 TikTok followers.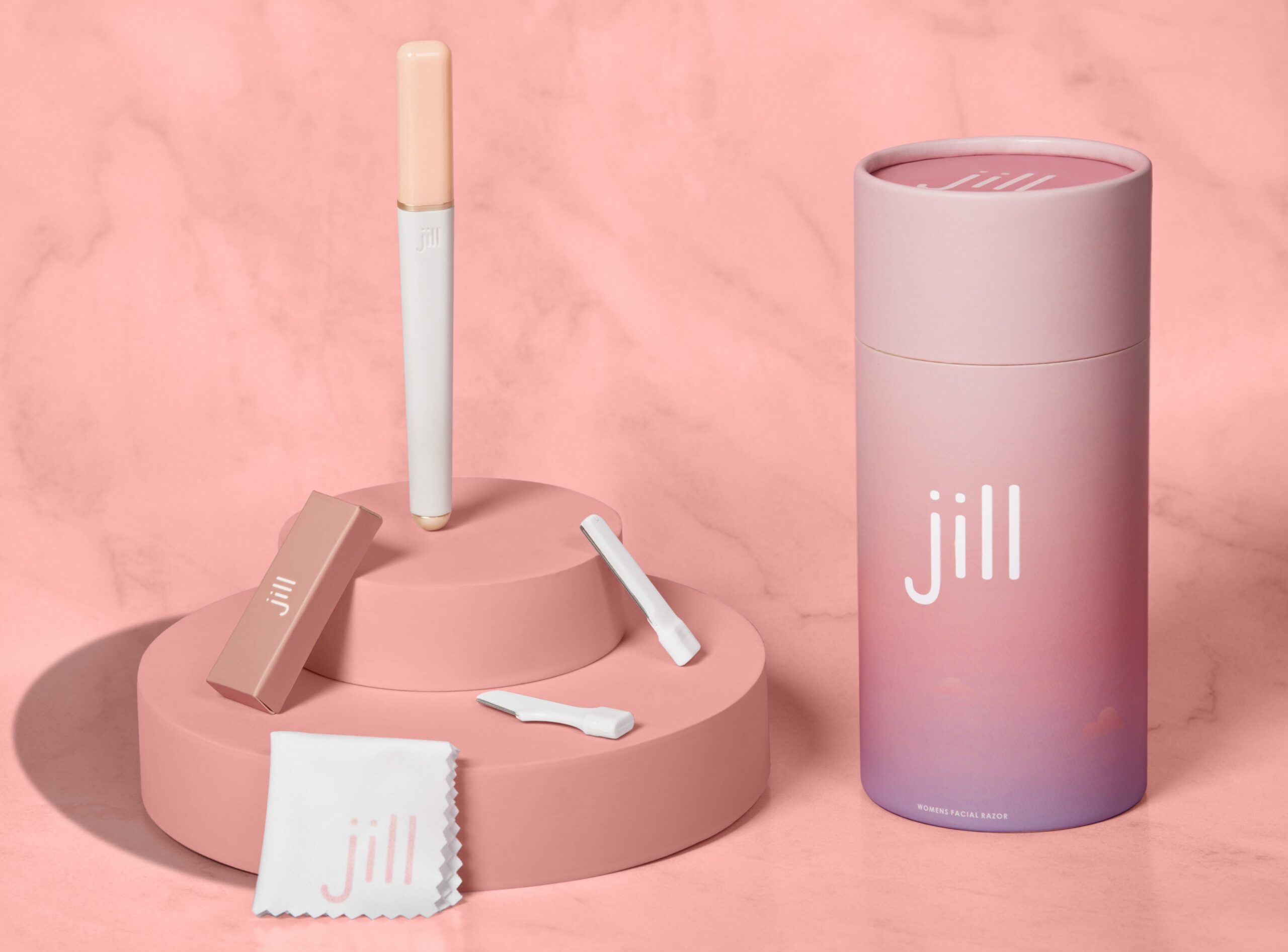 "There was no brand truly educating on face shaving and the proper way to do it, and there's been no true leader in the market," says Carboney. "Our goal was to start this conversation and, not only have we started it, we are leading it."
While there may have been no brand focused on female face-shaving education prior to Jill, the influencers Carli Bybel, Jaclyn Hill, Jackie Aina and Huda Kattan have popularized the technique for beauty purposes by revealing in YouTube videos that they shave their faces. In an Instagram post, Kattan says, "I love shaving my face because it helps removes all of my dead skin, and it makes my makeup application really, really, really beautiful." Before beauty influencers existed, stars like Marilyn Monroe and Elizabeth Taylor are said to have shaved their faces.
"There was no brand truly educating on face shaving and the proper way to do it."
A micro-influencer, Carboney has been swayed by the benefits of face shaving for over three years and extolls them to her audience. "Through creating content and building my own personal brand, I found face shaving and fell in love with it," she says. However, she wasn't in love with the razors intended for female face shaving. She began shaving with Dorco Tinkle disposable razors, a low-cost option priced at $4.99 to $6.99 on Amazon and Walmart's website for a pack of three, and later moved on to BIC, an even cheaper disposable option. Rite Aid has a 10-pack of BIC for $2.99.
Jill is more expensive—a starter kit with a petite blade for eyebrows and the upper lip, and a wide blade for the rest of the face is priced at $24.99 for a single purchase and $19.99 on subscription—but it's also more sustainable and has a better presentation. Metal blades can be separated from the stick they're attached to recycle both parts. In sets of two, blade refills are priced at $6.99 for a single purchase or $5.98 on subscription. Jill expects customers to shave twice a month, and its razors are designed to be discarded following a single use.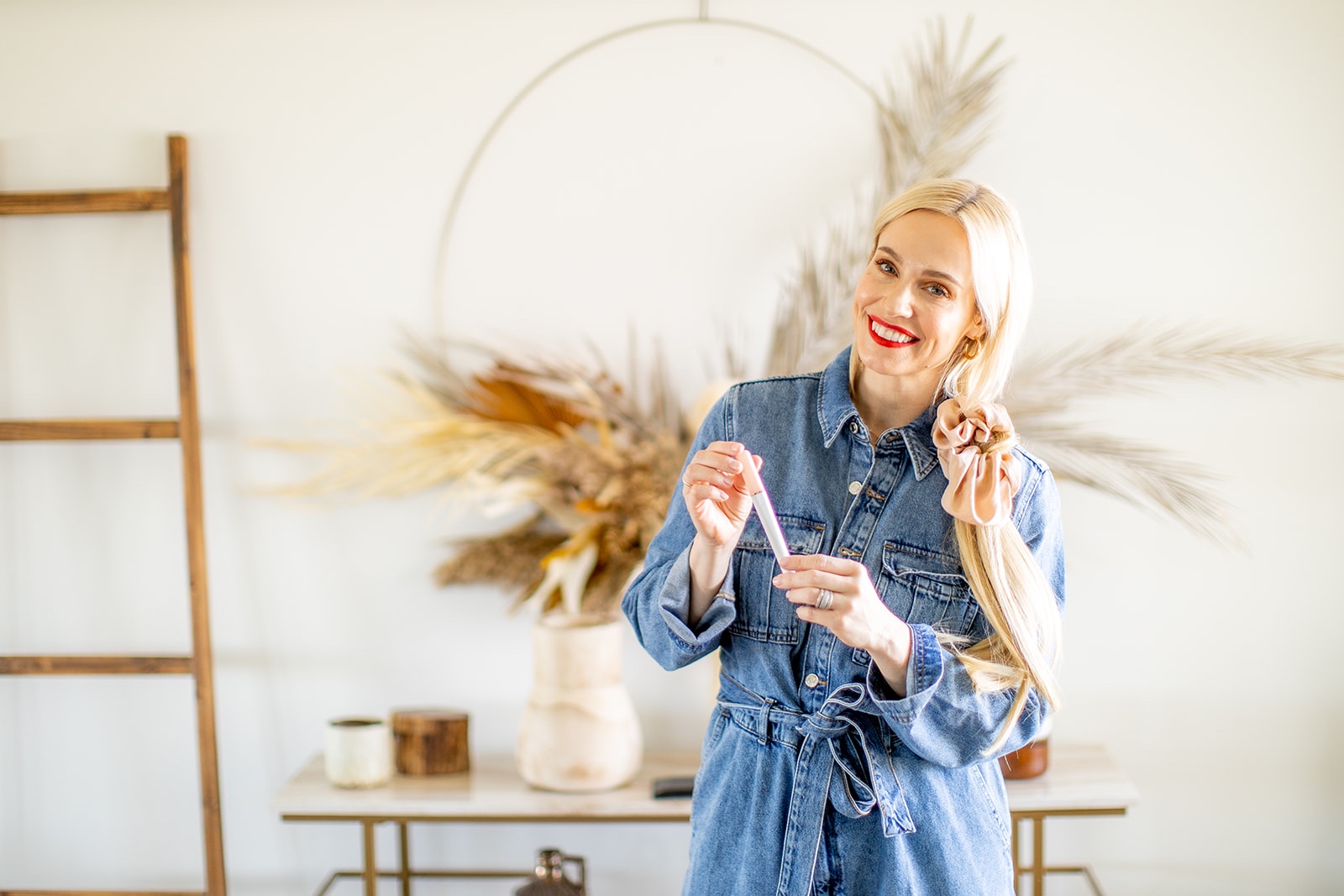 Carboney gladly displays packages of Tinkle and BIC razors next to Jill's packaging. The competitors' razors are put in plastic bags. Jill's are delivered in a pink and purple cylinder with a travel case, instruction manual and gunk pad to wipe off shaving remnants. "If you look at our competitors, they are afterthoughts of big umbrella corporations with no real marketing strategy," says Carboney."Our packaging had to look really special. We wanted it to be a true experience. We wanted it to be like a facial razor club for women."
There are brands positioning themselves at the higher end. For $139 to $199, consumers can buy an electric Dermaflash tool and, for $75, they can buy a manual Dermaplaning Exfoliation Tool from Stacked Skincare. The pricier products purport to provide at-home versions of dermaplaning skin resurfacing services that can run hundreds of dollars at spas. "We don't have competitors in our price point," says Carboney. "We wanted to be right in the middle, and be very accessible to all women at that mass-market price with the best possible quality and sustainability."
"We wanted it to be a true experience. We wanted it to be like a facial razor club for women."
Consumers seem attracted to Jill's proposition. The brand had a waitlist of 5,000 people in advance of its launch on Feb. 12. It sold 1,000 products launch day. On the second day, Jill's subscriptions sold out. Sixty percent of early customers signed up for subscriptions. Last Friday, subscriptions became available again. Jill declined to specify revenue figures, but the brand divulged it's surpassed revenue goals to date—and has done so as it was missing out on substantial recurring revenue because it couldn't fully satisfy subscription demand at the outset.
Jill has discovered two groups of customers gravitating to it. One includes 25- to 55-year-old women already shaving their faces for hair removal and exfoliation. The second includes skincare enthusiasts largely 15 to 25 years who ran across Jill on social media and felt compelled to try face shaving. "There's a lot more people that don't know about it and a lot more willing to give it a try than I thought," says Carboney. "It's not hard to convince them once they are seeing other women doing it."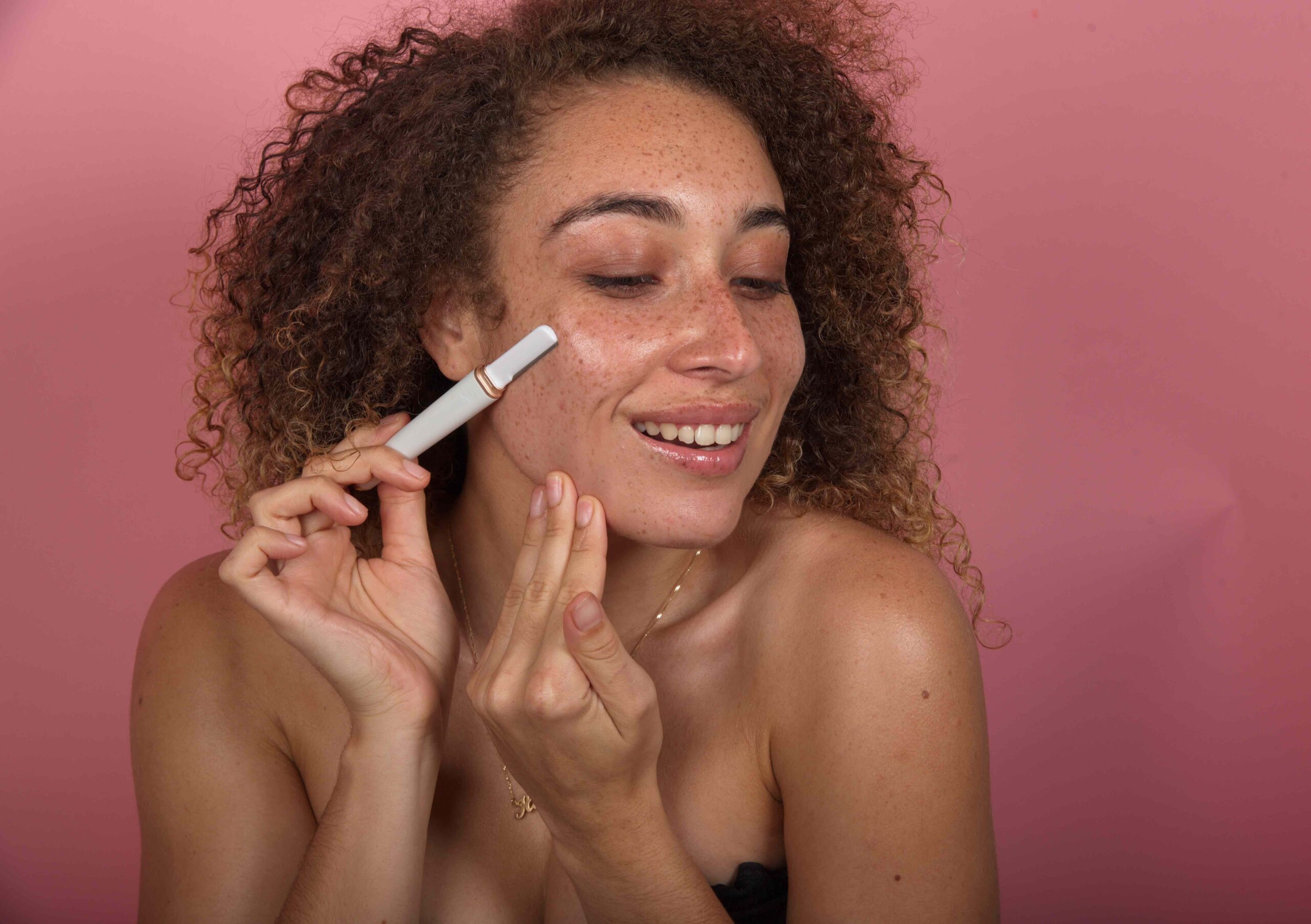 Jill anticipates expanding its product range in the fourth quarter, and Carboney shares the plan is for it to evolve into a "lifestyle brand." Along with her co-founders and digital marketing experts Kishawn Meeranazeer and Yousuf Al-Zubaidi, Carboney is currently busy raising a seed round to ensure Jill can keep up with demand, amplify offerings and fulfill its mission, which she says is "to truly bring female face shaving out of the shadows and to transform it into a fresh, fun and glow-giving skincare technique."