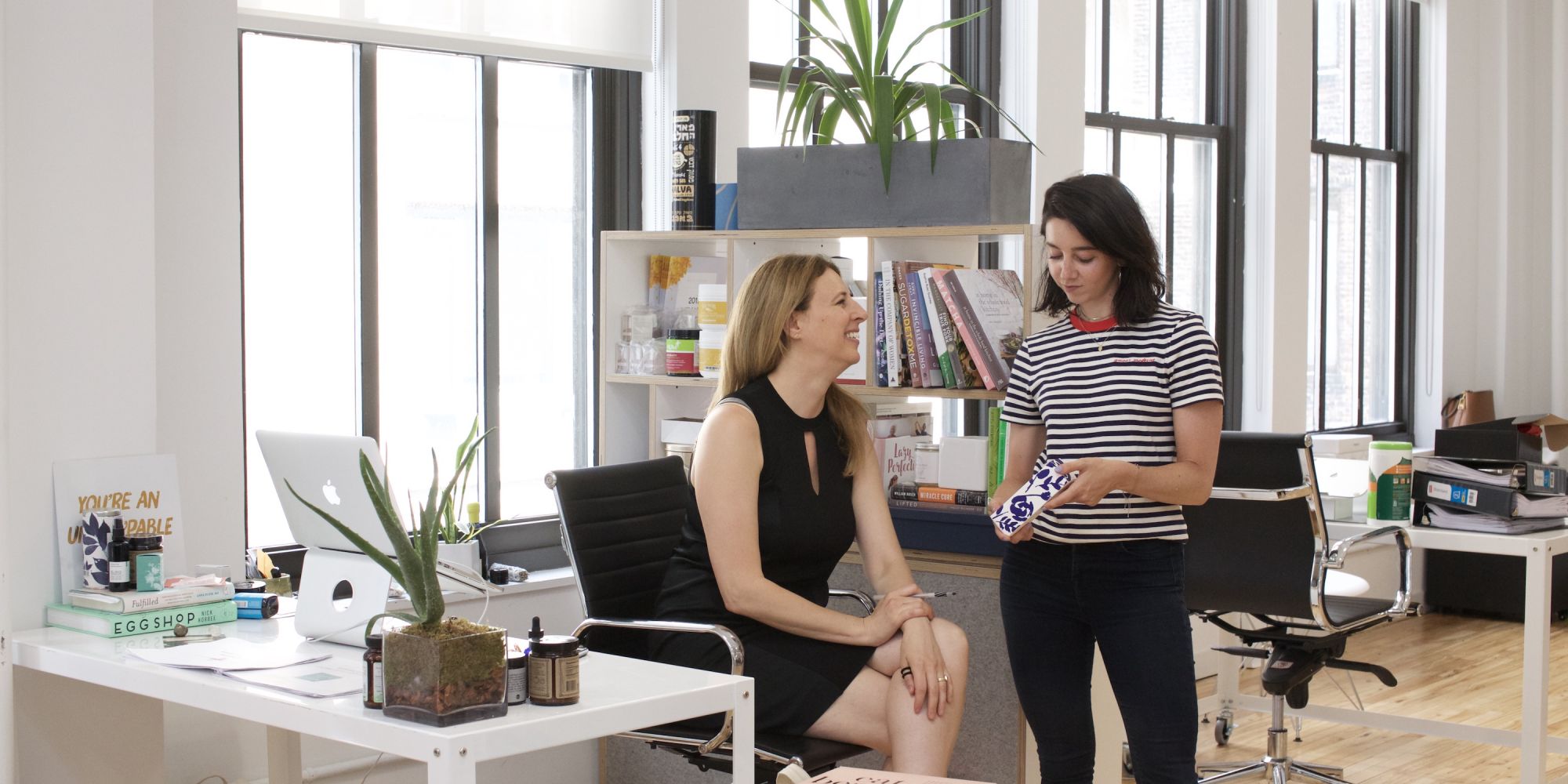 What We Talk About When We Talk About Wellness: A Conversation With Well+Good's Melisse Gelula
From whether to try an AKT class to when it might be appropriate to take a zinc supplement, there's a certain group of plugged-in readers — health-conscious, stylish, professional female city dwellers aged 25 to 50 — that flock to online publication Well+Good to answer their health, beauty, fitness, travel and even home questions. Launched by Alexia Brue and Melisse Gelula in 2010 when the wellness boom was in its infancy, Well+Good grew with the clean lifestyle it covers and now boasts 8 million monthly unique visitors. Beauty Independent talked to co-founder and chief content officer Gelula about milestone moments in her journey to becoming a wellness maven, the state of media today and her most-treasured medicine cabinet contents.
How did Well+Good come about?
I was a writer and an editor. I started in book publishing, then moved into magazines. I was beauty director at a magazine called Luxury SpaFinder, and my job there was a dream job. I don't know what good karma I had to deserve this, but basically I traveled around the world visiting spas and reporting on them. I worked there for six years and really learned a lot about health and wellness through the luxury spa travel lens.
I'd come from the travel world. I knew nothing about beauty. I probably owned a lip balm at the time, and the moisturizer I was using was probably my roommate's and I was probably kind of stealing it. I was really low key in the beauty department at that time in my life.
I loved the beauty beat. It was an opportunity to interview every indie brand CEO. At the time, there were like five of them. It was the time of cosmeceuticals, and the doctor's brands were really starting to become popular. The spa brands like Jurlique were really popular, too, and Jane Iredale had the lock on mineral makeup. It was a very different set of names. If you were in the industry, you could know everyone and name everyone. It was not what we see today.
That gave me a tremendous foundation for understanding ingredients. I went from someone who rolled her eyes at beauty to someone who was completely obsessed with the science. I could look at an ingredient deck and be like, put this down, it's not gonna work with your skin. I could not go to a dinner party without women besieging me for advice.
Then, the recession happened, and it really affected mindset. Women stopped thinking about health and wellness as going to Thailand, Bali or Mexico for a week once a year, and it turned into something that they needed to do closer to home for financial reasons. At the same time, in New York and L.A., we were really starting to see a lot of yoga studios and wellness businesses happening.
Alexia Brue, my Well+Good co-founder, and I knew each other from Luxury SpaFinder. We couldn't help noticing that women would always ask us questions about the differences between Vinyasa yoga or other types of yoga, about organic beauty products, the Blueprint Cleanse or SoulCycle. We thought to ourselves, if New York Magazine and the New York Times isn't covering those topics, we should just do it. There are no two better journalists, given our backgrounds, to tackle health and wellness rigorously, but through a really cool downtown way. We wanted it to be for city women like us. We said to ourselves, "Okay, if anybody reads this in six months, we'll build an actual website."
We started with a free WordPress single column blog, and we would take turns writing. I wrote one day, she wrote the next day. We edited each other, and that was it. One day, New York Magazine picked up one of our articles, and we were like, "Oh my gosh, this is real. People besides our parents are reading this." It gave us the chutzpah to build a site and go for it.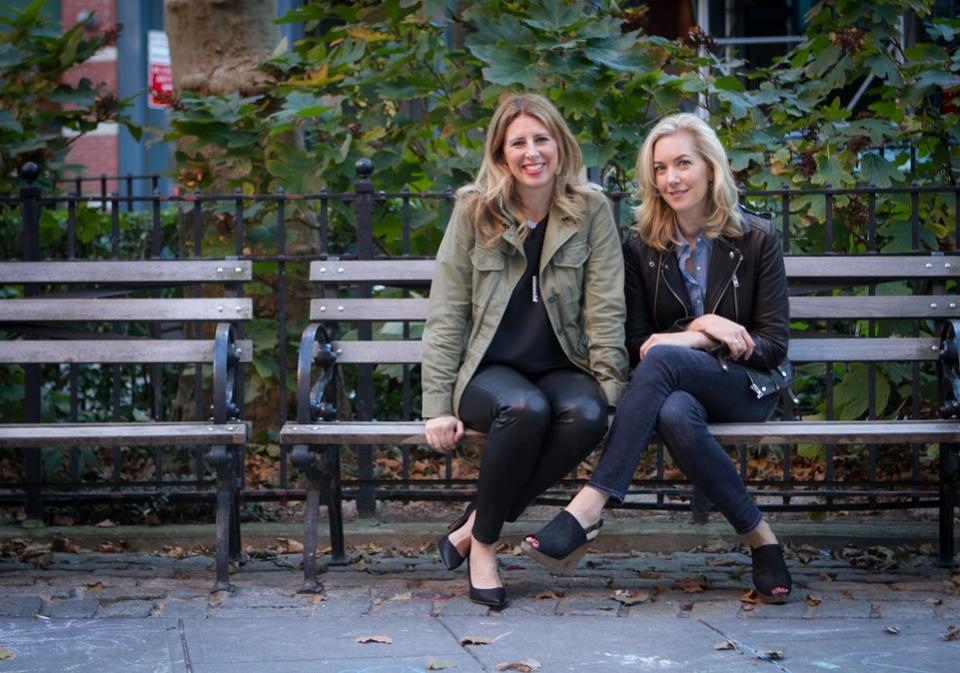 How much did it cost to launch Well+Good?
We put $5,000 in. That was it. We've never had an investor. We are bootstrapped. That means you grow more slowly or don't take a salary. You have to be really careful about every decision because you can't afford to just experiment. You hope the mistakes that you make are inexpensive ones.
Besides New York Magazine picking up your article, was there another moment when you realized you were gaining traction?
We've been at this eight years, and those milestones are so easy to forget. When they happen, they mean everything, and they give you the confidence to keep going. I was so passionate about this, and I remain so passionate about it that it's still really easy for me to get up every day and do this, but it is pushing a rock up a hill. Media is really challenging, and small businesses are really challenging.
There were a few moments that really meant a lot to us. We were on a local ABC show about this series on Well+Good we'd do about the summers in New York. The gyms just empty out into the city's parks, and you could do free yoga everywhere, and boot camps. We would do a great summer special around this. So, we had a piece on it, and the traffic from that piece crashed our site. That was really upsetting to us because we were losing all this traffic, but, at the same time, we're like, "Oh my God, we made it." You know you've made it when your site crashes.
What are some challenges you faced as the company grew?
We really wanted to offer health insurance for our employees. We probably had 10 or 12 employees, at the most. Thank goodness we were able to do that. It was really, really, really important to us as a wellness company, and it was so challenging, but it was worth it.
What's a recent roadblock Well+Good has hit that you've had to overcome?
You're always overcoming something. Usually, it's your resources as the company grows. Being the kind of company we are, where we grow out of cash, that can be really tricky. This past year, we've been able to hire more senior people. Alexia and I can focus more on the brand, the business growth, the Talks and the Retreats. That came eight years in. You just have to love it because otherwise the day-to-day brutality will wear you down, and you'll wonder, "Why don't I just work for someone else for less hours every week?"
Tell me about the Well+Good Retreats.
The Well+Good Retreats made so much sense to us. About six months ago, we launched Good Travel as a new vertical of content on Well+Good. We saw that our readers were really interested in the way we were covering wellness travel. Then, we did a survey of our readers asking them about their travel experiences. We learned so much. We got about 5,000 responses, and we turned it into a presentation for the Global Wellness Summit on how millennials travel. By virtue of that day-to-day interaction with readers visiting the site and the survey data, we were terrifically well-positioned to create next-level wellness retreats.
The first one is in Palm Springs on March 25. Our concept is to take over a small property. We'll have about 45 people there. There will be no other people but Well+Good attendees. We've recruited two amazing wellness superstars. One is a fitness expert, the other is a food and wellness expert. We'll have cooking workshops and daily workouts. Drunk Elephant is the beauty partner. Everybody who comes on the retreat will get travel-sized Drunk Elephant products in their rooms, [as well as] the entire Drunk Elephant trunk, valued at $550.
Do you feel pressure at Well+Good to cover celebrities?
We do think about it. A long time ago, we did a survey among our readers about what their favorite types of content were. Nobody ticked celebrity, but the traffic tells the truth. People really love to know what healthy celebrities are doing whether it's their morning ritual, what their smoothie recipe is or how they're balancing their workouts without getting totally exhausted as they run around having busy lives.
At Well+Good, we are just really conscious of who the right celebrities are for us. The ones who are sometimes most intriguing from a traffic perspective might not be right for us. Fortunately, there are many that have really powerful messages about women's bodies, sense of self, and beauty from a natural and clean perspective. I don't think we'll become the People Magazine of wellness, but we're probably the closest thing to it.
How does the Well+Good staff stay well?
We try to create a culture where everybody gets to have more of their wellness self present. You can wear leggings and your running shoes to work. Every day is casual Friday at Well+Good if you're not client-facing. We have healthy snacks all the time and tastings with new launches. If Siggi's is unveiling a new yogurt, they'll come and do a yogurt bar for us.
We have team workouts at least once a week. Our team gets to visit new boutique fitness studios as they open, and that's really wonderful. We have a yoga resident program, which means we have a yoga teacher who visits us every Friday for a month. We practice together in our conference room, and that's free for employees. We do workshops, and we have Reiki experts. We try to live the brand.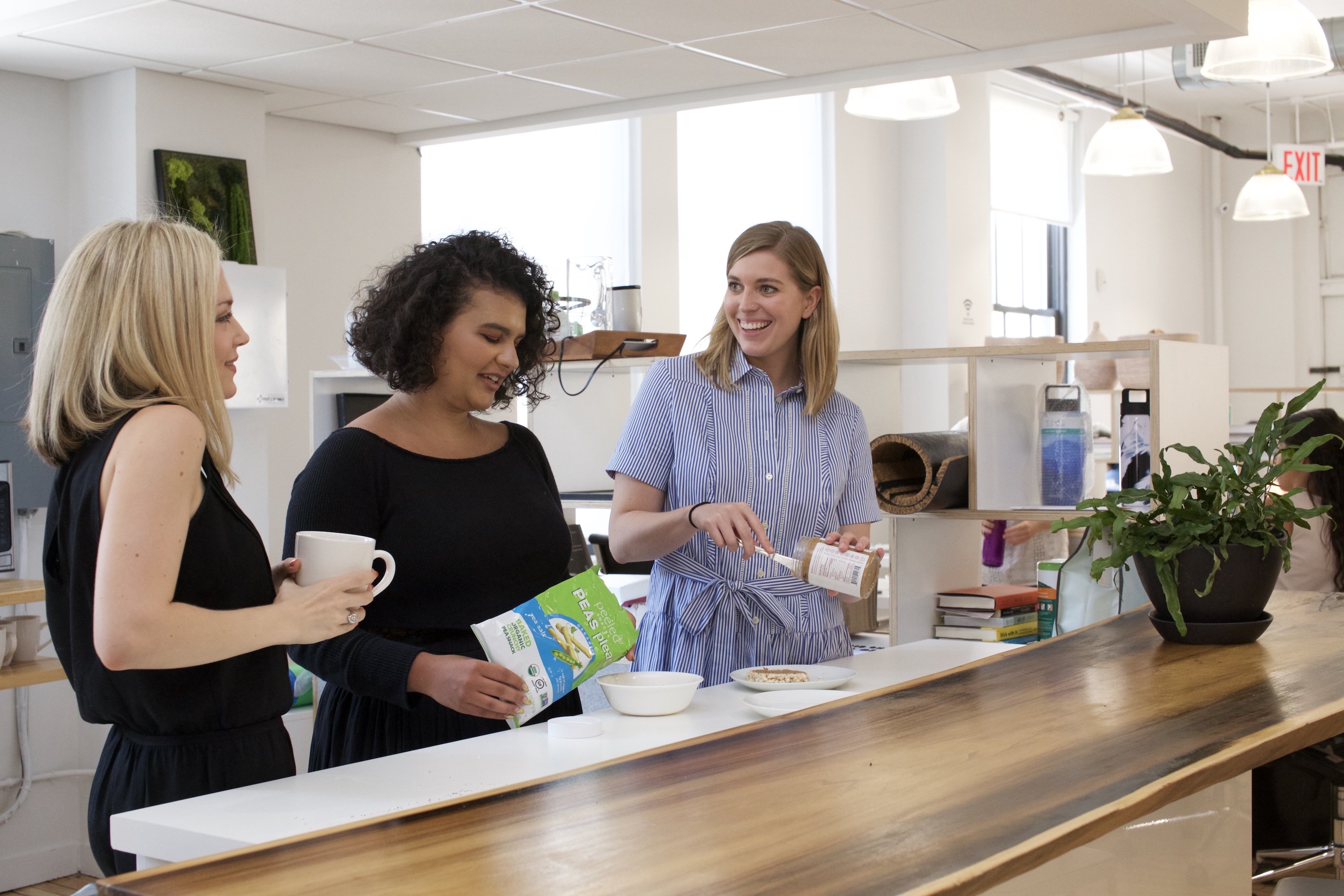 What are the early adopters into right now when it comes to fitness, wellness and natural beauty?
If we go a week without writing about adaptogens right now, we would be really upsetting our readers. People are doctoring their coffees. It's not unusual for people to carry various anti-inflammatory powders with them and dump them in their Starbucks.
In our Wellness Trends Report this year, one of the things we picked out is the self-care piece. It's been so big on Instagram and from a beauty point of view. We are realizing in this always-on world that we must unplug because we are robbing ourself of sleep, health and beauty. We need to draw baths more, meditate and take time. Here in New York, especially, we glorify our busyness as a sign of self-worth, but more and more people are realizing the importance of putting your own oxygen mask on first to better live your life, support your friends and family, and the world. It's kind of a very woke thing that's happening through a lens of self-care.
There's a lot of cool stuff happening with nootropics. Nootropics are brain-boosting supplements, and we've been writing a lot about them because people are really fascinated with getting rid of brain fog and optimizing their energy. This is also related to lives we've created for ourselves with not enough down time.
This is a great year for women. There are a lot of women getting into bio-hacking. That's something we're going to be hearing more about with a focus on menstruation and women's biology. We are over the woman in white riding a horse for the tampon commercial. Just show us the tampon. Let's just be direct.
On the flip side, what are fads that you think are going to disappear?
What's not resonating with people is the mentality of not being OK unless you're skinny and counting calories. Well+Good has never really written about weight loss because that's not really what wellness was about. People don't want to see a measuring tape around a woman's waist. That's just not resonating. It's way more focused on our whole selves.
There's a huge sea change we're undergoing in the wellness community while, at the same time, we're trying to deal with an obesity epidemic. There are fascinating and frank conversations around weight loss that are happening now, and maybe women are feeling that they can't talk about wanting to lose weight because that's not body-positive enough. It's getting very complicated and interesting.
What's your take on the state of media? Will print survive?
Readers and consumers want print to survive. But print-based companies are structured very differently than digital ones. There's a very new way of spending, resources and structuring editorial and advertising programs in digital. It's really hard to migrate from the old print way to this new digital way. It's why it's easier to be a success story in three years as a digital publication.
I love magazines. It saddens me and Alexia as former print journalists to see what's happening. There have been a lot of really great standout publications that people clearly don't mind spending money on also. Cherry Bombe and Kinfolk are great examples. When you speak to a demographic of people, there's power that comes from that. They're beautiful, no-costs-spared publications — or so they look.
What's your vision for where Well+Good will be in five or 10 years?
We'd like to continue to make Well+Good a household name. We're figuring out ways for more people to have access to it. We'll see what the response and engagement is for the Retreats to see if that's something we will develop further. There is other low-hanging fruit. We've never had the resources or a person to focus on a podcast or broadcast. There are a lot more media brands doing TV, and wellness is ready to have its moment, so that could be really interesting.
We've been doing great collaborations with brands. We did a self-care holiday set called The Rose Renewal with Red Flower. We collaborated with Yael [Alkalay], the founder, and it's a rose candle with petals on the top that you pour into your bath. It comes with their Illuminating Rose Collagen Renewal Face Serum and a rose-quartz crystal. You can use those three items to create a self-care ritual for yourself. I love collaborating with great brands. More in consumer products down the road could be great.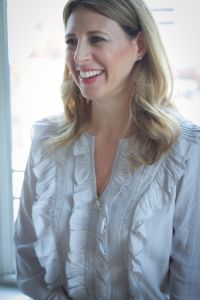 What are your current obsessions? Favorite workout? What's in your medicine cabinet right now?
One of my current obsessions is putting adaptogens in my coffee. I really like strength training, and I sometimes will go to a place like Barry's Boot Camp or the Fhitting Room, but twice a week I work out with a trainer. I love to spin, so at least once a week I have got to be rocking out on a spin bike. I'm a fitness omnivore. I try to workout four or five times a week, and it sometimes doesn't make it past three. It's just really, really hard, but I'll try my absolute best to live the brand.
In my medicine cabinet right now, there's so much I'm loving. There's a product Khus+Khus I'm using. I'm on my third bottle of it. It's called Sans Age. It's the perfect weight [with] great calming, nourishing ingredients. I'm a huge fan of it. I have Tammy Fender Spontaneous Recovery Cream. I'm also using One Love Organic Oil Cleanser and like 17 other things. This might be a good time of year for me to do a medicine cabinet detox.
How can small brands get the attention of Well+Good?
What I look for and what the editors look for are brands that have a great soul, purpose and story. It's really easy to fall in love with a brand when they can tell you their why and their ingredients really match that story. You really need to nail packaging, too. It can't look like you put the labels on by hand, and if you do put the labels on by hand, you can brag about it, but it just can't look like it. It can't look homespun anymore.
It's hard for our writers to be pitched not knowing a founder or the founding story, not seeing full-size products and not seeing a full ingredient list. Those are all big no-no's. We need to see transparency of ingredient lists. Even if you're not a clean brand, tell us what you use, be proud of it, be declarative, have it on your website. Brands that don't put their ingredients on their websites raises eyebrows. Don't just tell us the key ones or the active ones, give us the full list. A superhero ingredient is really wonderful, but I don't think that's the only story now. There are so many other ways that brands can stand apart now.
Cover photo: Melisse, left; Rachel Lapidos, associate beauty editor, right