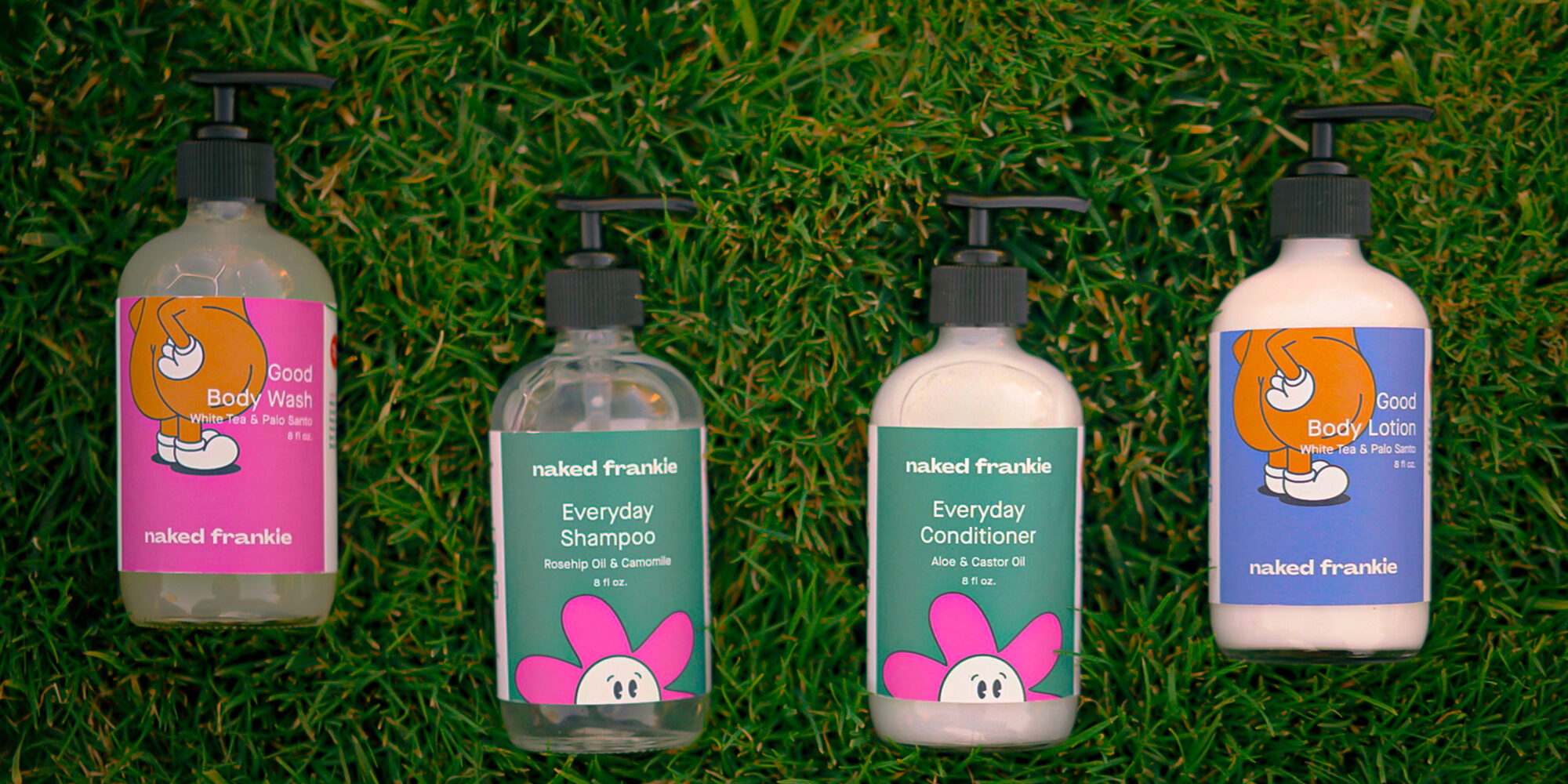 Inspired By Fifties-Era Milkmen, Naked Frankie Brings A Closed-Loop Beauty Retail Model To Los Angeles
Milkmen aren't generally the bellwether of beauty trends, but they're the inspiration behind Naked Frankie. "When we launched, we started out as a delivery service for bath and body essentials," says Jennifer Zhao, who founded the company with Emily Chae and Agisae Kim in November of 2020. "We embody that modern 1950s milkman method of delivery."
The idea occurred to Zhao when she was living in San Francisco. "I got introduced to refills and bulk buying, and a sustainable lifestyle in general," she says. "San Francisco is so big on this zero-waste goal for the city. It was easy there to integrate sustainable habit building into my daily routine. It was something that I really gravitated toward and felt wonderful doing."
When she moved to Los Angeles in 2019, Zhao found a less robust infrastructure for sustainability. "Talking to people here, I noticed that it was difficult for them to adopt the same habits that I was used to in San Francisco," she tells Beauty Independent.
Zhao has a background in technical engineering, while Chae has experience in marketing and Kim had worked in finance. When the trio teamed up, Zhao says, "We wanted to create a way to make sustainable buying, specifically in beauty and personal care, as easy as possible. No matter how many other responsibilities they have or whatever hours they're working, we wanted to make our business something that was easy to use."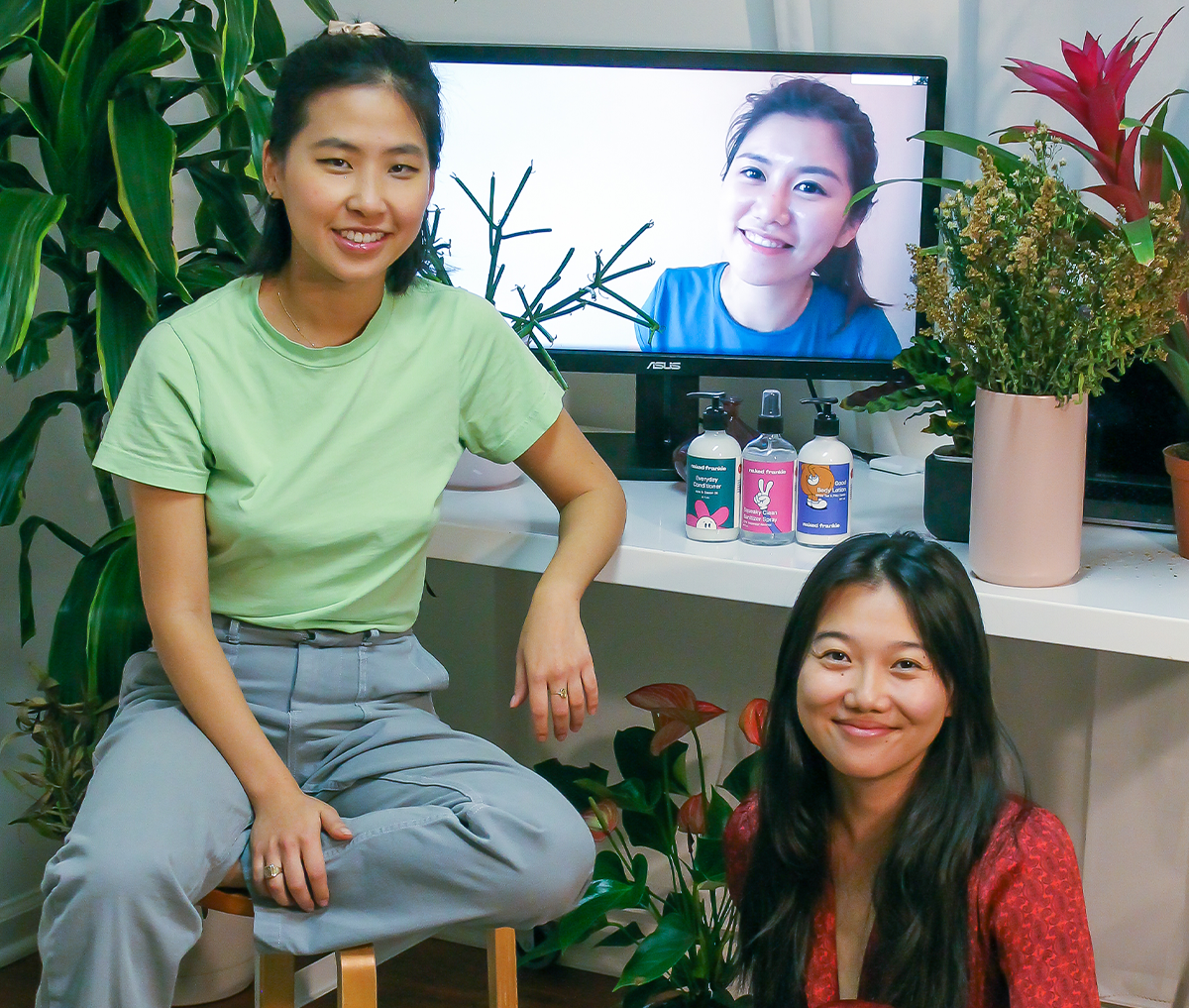 Naked Frankie's closed-loop retail model starts with customers placing an order for products online before having those orders delivered to their doorsteps. Its assortment includes natural shampoos, body washes and other goods from its in-house label along with third-party brands like EO Products, Griffin Remedy and Meow Meow Tweet.
Naked Frankie's products feature a cartoon-flower logo. "Do you ever dance naked in your room after a shower? It's one of my favorite things," says Chae. "It's really empowering and very intimate. It's celebrating your natural beauty. The flower, the 'Frankie,' is really an embodiment of celebrating yourself, but also celebrating nature and the beauty of the earth that we're all part of at the same time.
"We embody that modern 1950s milkman method of delivery."
"We wanted to bring our own product philosophy to our customers, so we do have our own line, but, when we were building this refill model, we wanted to make sure that customers also had access to products that they were already using," says Zhao. "It can be hard, if you love a product, to feel like you have to switch just for the sustainability."
The products available on Naked Frankie are housed in refillable, reusable glass bottles. The labels on the bottles are made out of a polyester fabric material and can be used more than 100 times. Bottles, labels and mailing tubes are considered property of Naked Frankie, and customers can schedule free pickups of them after they've finished with the products.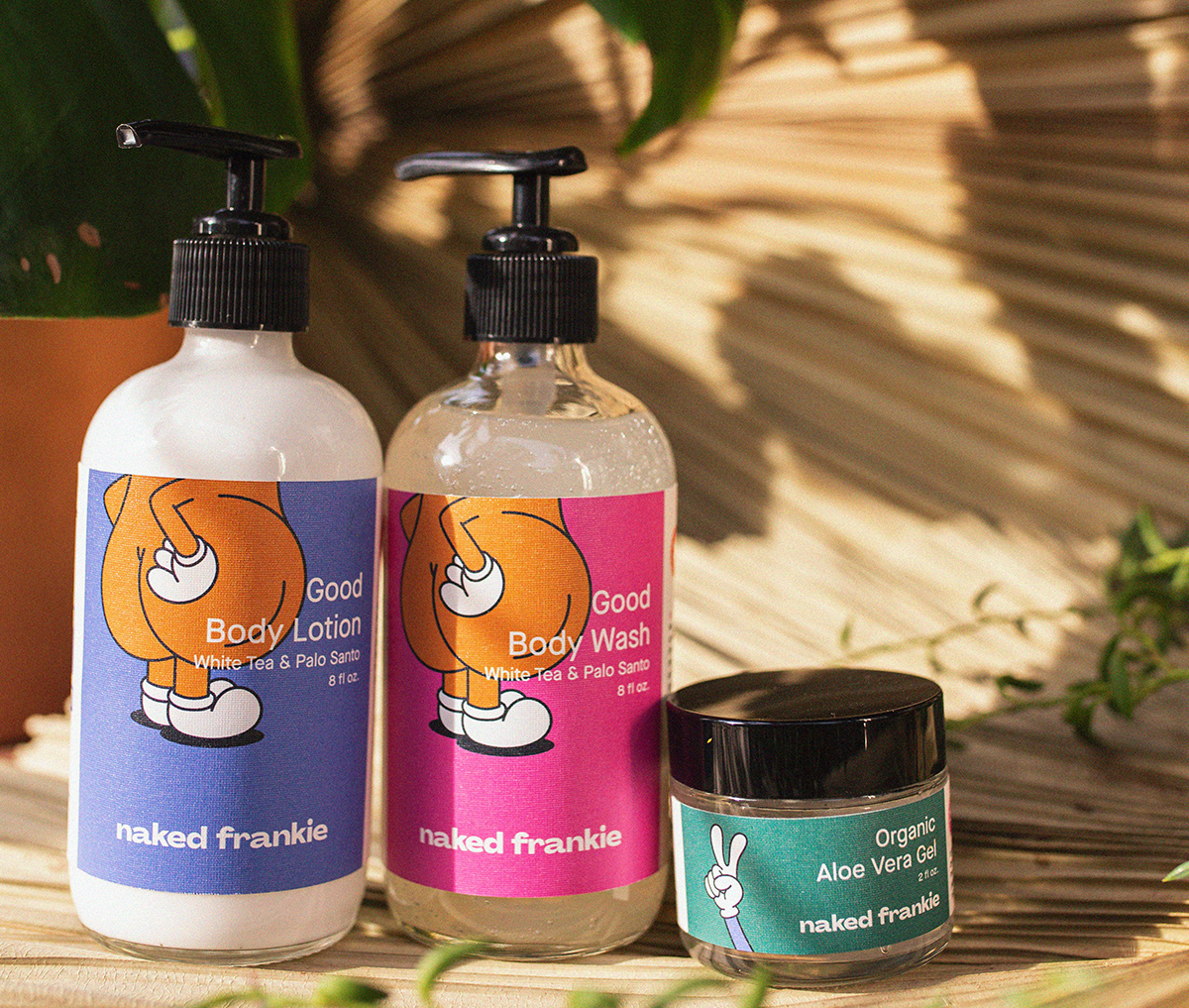 The brand charges a $2.50 deposit for packaging, which is refunded once a bottle is returned. Reminder emails go out 60 and 120 days after a product has been purchased. "This is something that we're constantly experimenting with and trying to improve," says Zhao. "We're trying to find that sweet spot of what's going to drive our customers to get into this refill model and actually make it a lifestyle rather than a one-time purchase."
It helps that the co-founders are accessible. "Because we're such a young company, we're able to have close relationships with our customers," says Zhao. "Almost all of our customers have my personal phone number. I've definitely gotten texts after a scheduled pickup saying, 'Hey, I'm actually going to be out that day. Is it all right if I leave my bottles out earlier?' I think that kind of community that we're developing makes everyone feel like they're participating in something bigger than themselves."
"I think that kind of community that we're developing makes everyone feel like they're participating in something bigger than themselves."
Naked Frankie places a premium on customer education. "A lot of our marketing is focused on content marketing," says Chae. "We didn't want our social media feeds to just talk about our products. We want to bring educational value to our followers, not just on sustainable beauty, but also on climate activism or lifestyle tips or local grassroots organizations that they can participate in. And through that, we really started having this loyal following in LA."
After bottles have been picked up, they are subject to a food-grade washing and sanitization process at the brand's warehouse. The two-step sanitization process is capped off with a UV-C light sanitizer aimed at eliminating bacteria, fungi and viruses. "Every consumer has a different level of what they're comfortable with hygienically," says Zhao. "I think, for brands putting their products in this kind of choose-your-own adventure system, it is a bit risky—and it could affect the way that their products perform. That's why, for us, it was a very important decision that we made early on to wash everything ourselves, and to deliver the same level of cleanliness and product integrity that you find at stores."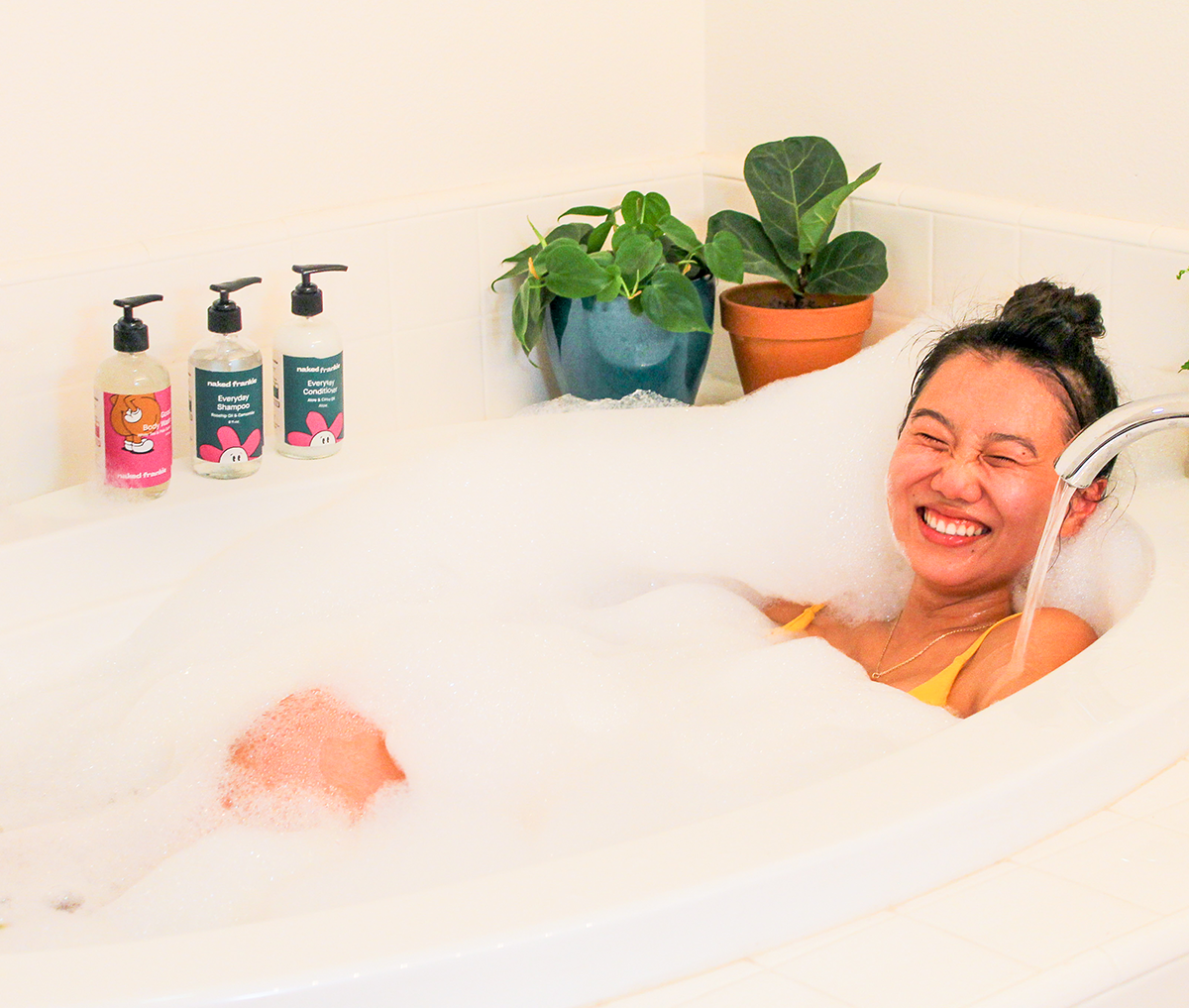 Once the bottles are clean, they're refilled with product, and the so-called loop begins again. Currently, Naked Frankie is only available in the Los Angeles area. "Since this closed-loop model is so novel, we wanted to start small and then fine-tune the customer experience and operations," Chae says. In the future, Naked Frankie's co-founders hope to expand its business other cities and enlarge its product assortment to skincare and makeup. In mid-August, the brand's first pop-up store will open in Glendale. It's slated for a fiv-month run. Naked Frankie declined to discuss yearly sales goals.
Since Zhao, Kim and Chae ideated Naked Frankie two years ago, the landscape in the beauty industry has changed considerably. Loop, the circular e-commerce platform from TerraCycle that orchestrates home pickup of reusable glass or metal containers, has struck deals with Kroger and Walgreens. Beauty brands are increasingly modifying their businesses to lessen impacts on the planet.
"Every brand that's launching now is thinking about sustainable packaging. It's wonderful to see," says Zhao. "I feel optimistic now that there's going to be a future where things are not made to be thrown away. And we want to be the go-to retailer for all these new, creative, sustainable beauty products."