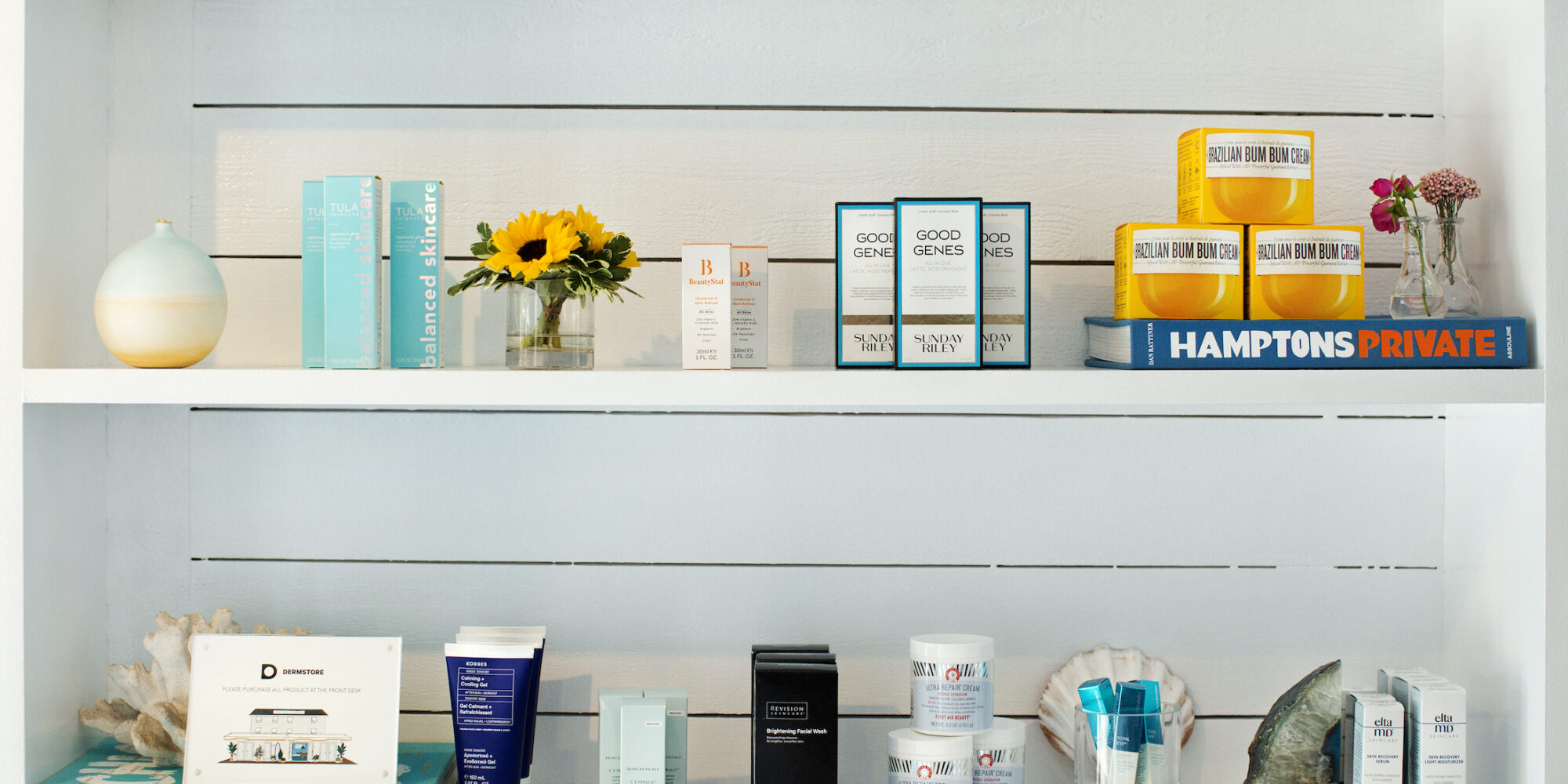 Montauk Emerges As A Must-Visit Post-COVID Beauty Destination
Technically part of the Hamptons, Montauk, long known as a surfing destination and laidback, steeped-in-nature alternative to the tony and crowded towns of East Hampton and Bridgehampton, is becoming a must-visit beauty destination. B
rands are vying for shelf space at its stylish resorts like The Surf Lodge, Gurney's Montauk and Hero Beach Club, and the area's other hotels and spas are integrating beauty and wellness treatments as key pieces of their amenity programs. 
The 13-mile seaside hamlet is doing beauty its own way—and that appeals to the post-COVID travelers it's drawing. Last month, the 158-room luxury resort Gurney's Montauk unveiled the $20 million revamp of its Seawater Spa. The immense 30,000-square-foot spa boasts a hot plunging pool, thermal baths, sauna and steam, salt room, treatment suites overlooking the ocean, fitness center and the only ocean-fed seawater pool in North America. The ocean is integral to the Montauk experience, and Gurney's Montauk's incorporation of seawater in its state-of-the-art spa nods at the area's balance of nature and modern comforts.

The use of seawater is also an example of biophilic design, an architectural approach that brings nature into spaces to boost the health and well-being of occupants. Beauty Bar founder Jennifer Walsh is a wellness advocate and expert on the design theory.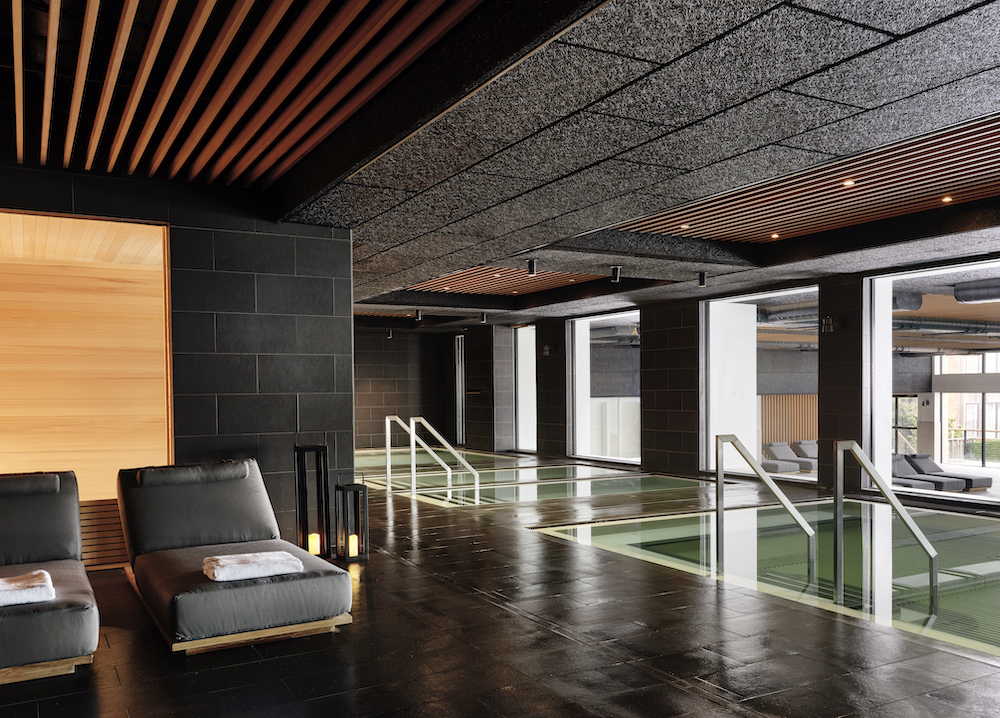 Walsh is vocal about the health benefits of nature, and says the pandemic allowed people to slow down and get outdoors "looking for solace, healing and refuge in nature." In that context, it makes perfect sense that Montauk would rise as a beauty oasis. Walsh says, "It is slower, it is so densely connected to the natural world in every way. If a beauty brand is at its core about being more nature rich, about teaching biophilia, about how we care for ourselves with nature as a guide, Montauk is definitely the place to do it from."
A beauty brand staking its claim to Montauk is One Ocean Beauty, which is committed to supporting ocean conservation. One Ocean Beauty partnered with Gurney's Montauk to create two exclusive 60-minute treatments priced at $220 each: One Ocean Beauty Abdomen, Buttock, Thigh Sculpting Treatment and One Ocean Beauty Sculpting Facial. Other beauty brands available at Gurney's Montauk's Seawater Spa include Biologique Recherche, OSEA, Voya and Aesop.
One Ocean Beauty wasn't looking for spa partners, instead focused on its DTC and traditional retail channels, but reconsidered when Gurney's Montauk approached it. Kat Bryce, chief brand officer at One Ocean, says that working with the resort as it was renovating enabled the treatments to be built from scratch, making them truly unique. The body treatment, for example, features lymphatic drainage and massage, and utilizes a Theragun massage gun. Gurney's Montauk has exclusive rights to the two treatments this year, after which One Ocean Beauty will weigh broadening their reach at other spas, though Bryce views Gurney's Montauk as the ideal venue to premiere the brand's signature offerings.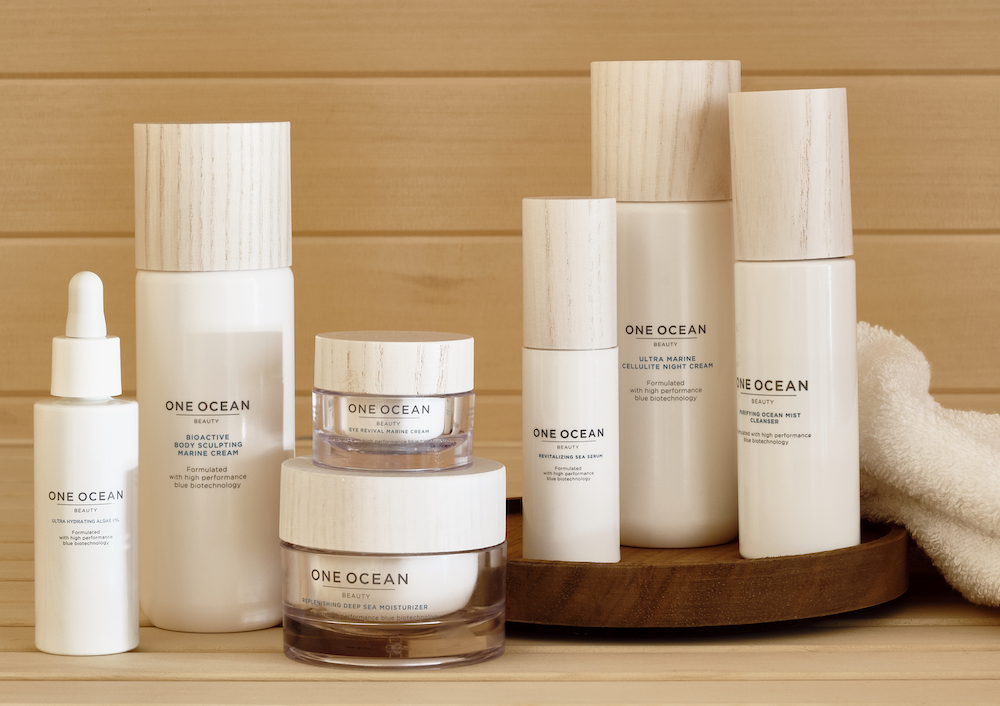 "It's such an iconic destination, and Montauk is a very special place, the connection with the ocean that you have," she says. "Montauk revolves very much around the ocean in a way that other towns in the Hamptons don't perhaps. There's an authenticity in the connection that we found there with the community that made it a really exciting place for us to start."
Jayma Cardoso, founder and creative director at boutique hotel The Surf Lodge, agrees nature is front and center in the beach town. "The beauty scene in Montauk, similar to at The Surf Lodge, tends to focus on holistic self-care and well-being," she says. "There has been an expansion in pop-up spas and salons from New York City, but Montauk is unique in that you won't find any major beauty retailers in the area." 
This summer, The Surf Lodge set out to beef up the local beauty retail experience by partnering with beauty e-tailer Dermstore, which Cardoso says serves "as an official beauty partner this season." Through the partnership, The Surf Lodge offers a selection of prestige summer beauty essentials in its boutique in a season-long pop-up shop and ongoing wellness series. Dermstore is also the hotel's in-room beauty amenity partner Guests receive a complimentary "Best of Dermstore Essentials Kit." For non-guests, the kit retails for $65 and is valued at over $270.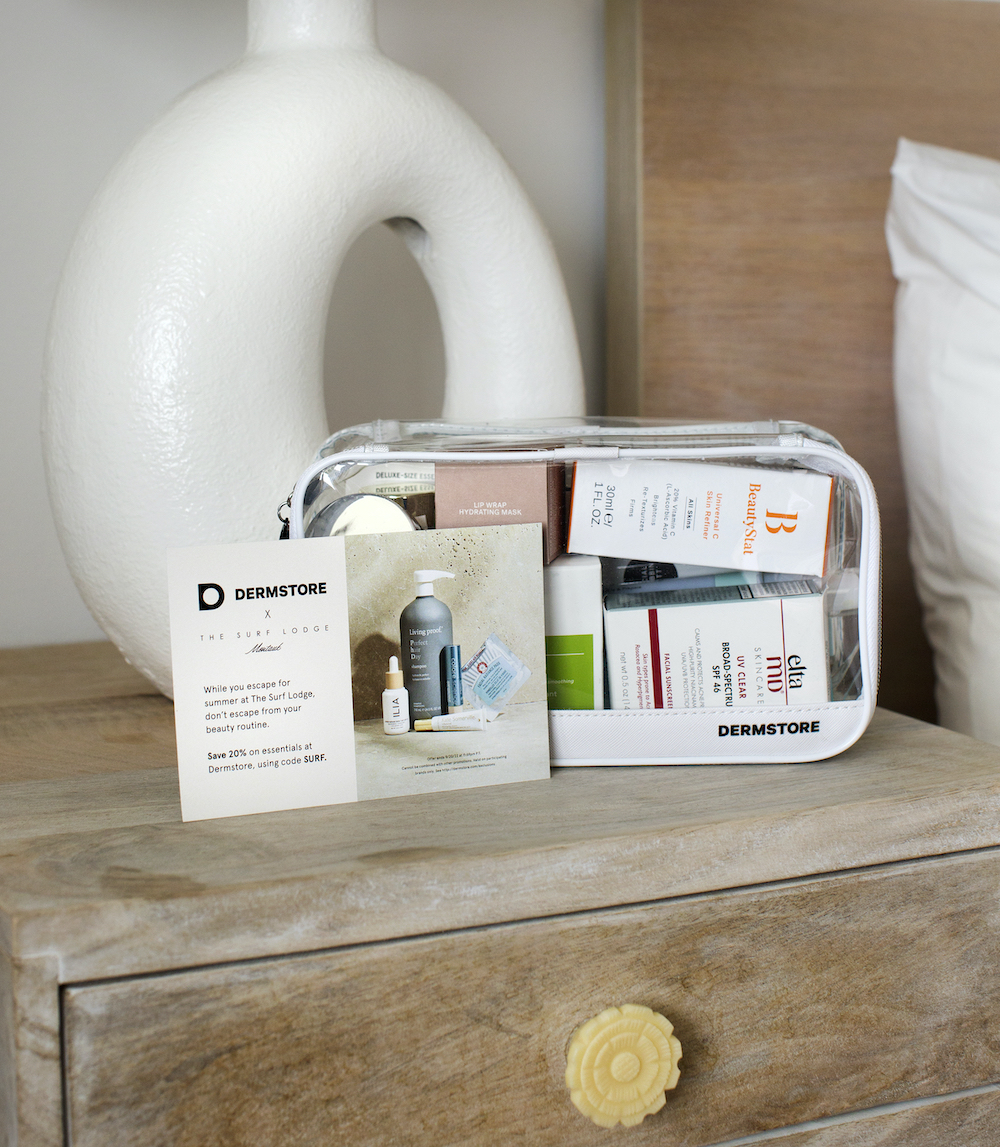 Cardoso says, "We carefully considered the needs of The Surf Lodge guest to provide a collection of summer essentials that would carry their beauty routines from morning through night. We collaborated closely to curate a kit of products that are not only well-rounded, but that represent the Dermstore brand and their reputation as the 'skincare authority.'"
Among the brands in the kit and The Surf Lodge's shop are EltaMD, First Aid Beauty, Oribe, Revision, SkinCeuticals, Colorescience and Sunday Riley. Dermstore x The Surf Lodge's product curation can be shopped on Dermstore's website as well. The feedback on the partnership so far has been "outstanding," according to Cardoso, who identifies EltaMD UV Clear SPF, Ilia Super Serum Skin Tint and Sunday Riley CEO Vitamin C Serum as guests' product favorites. 
Beauty pop-ups aren't completely new to Montauk. An early entrant to the village's wellness scene, The Montauk Salt Cave opened in 2015. Founder and CEO Shannon Coppola says the wellness center has held pop-ups for natural, cruelty-free beauty brands. Pre-pandemic, period cup specialist Saalt hosted a launch event there. Montauk Salt Cave offers facials and massages using Guinot products. In general, Coppola echoed Cardoso's sentiment that the location gravitates to natural and holistic remedies. "People come to the salt cave for meditation and relaxation," she says. "We have an even share of locals and tourists here, yet our annual tourists return each year and we are so grateful for that." Post-pandemic, she emphasizes, "Self-care is vital more now than ever."
Brands fit to be packed for a beach vacation—those big on sun protection and body hair grooming, for example—have made a presence in Montauk a priority. New sun care brand Dune fits a beach vacation vibe; its co-founders have a deep connection to the town as well. "We've been going to Montauk for over a decade now, so we consider it a home away from home," says co-founder and CEO Emily Doyle, who launched Dune last month with DJ Mei Kwok. "What keeps us coming back is its versatility and beauty, a laidback surf town dotted with vibrant and memorable hot spots. We love the ability to escape there for a restful weekend retreat, to enjoy an early dip or surf at Ditch Plains, ride a bike cruiser along the bay to Duryea's for a seafood bite, hang with close friends at a backyard barbecue hang, and cap the night early to do it all over again the following day."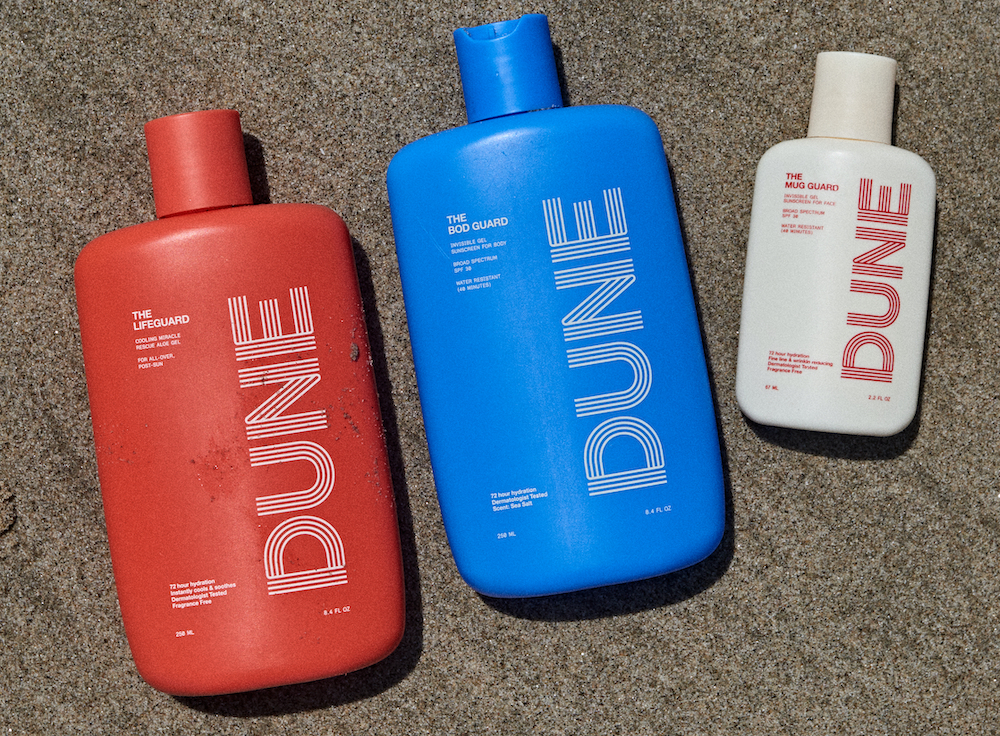 Dune, which launched last month with a trio of products, is carried at popular Montauk stores and hotels, including The Summer Shop at boutique hotel Montauk Beach House; Hero Beach Club, a small luxury hotel known for its robust wellness offerings; and chic lifestyle shop Adam Mar. "[Montauk] truly has it all in one bite," says Doyle. "It's the great people who go and friends running amazing, local businesses out there, too, who are the cherry on top."
While Montauk's role as a beauty and wellness destination is still in its infancy, beauty industry experts predict it will continue to gain steam, thanks in part to the town's ability to retain a distinct, less stuffy personality within the Hamptons. About a three-hour train ride from New York City, Julie Keller, co-founder of digital wellness publication Well Defined and longtime journalist covering the global spa and wellness industry, isn't surprised that Montauk has attracted wellness-minded people fleeing the summer heat and hustle and bustle in the city to its picturesque dunes. 
"The benefits of healthy seafood and outdoor activities have long been a part of the surf-centric, retro lifestyle, but there are surprisingly few spas out there. With the gorgeous updated spa at Gurney's, the very cool health and well-being pop ups and offerings at The Surf Lodge, and more fitness- and health-focused retreats taking place, that is certainly changing," she says. "Along with being a cool surfing mecca, Montauk is now becoming a haven for wellness seekers, which is inspiring to see."