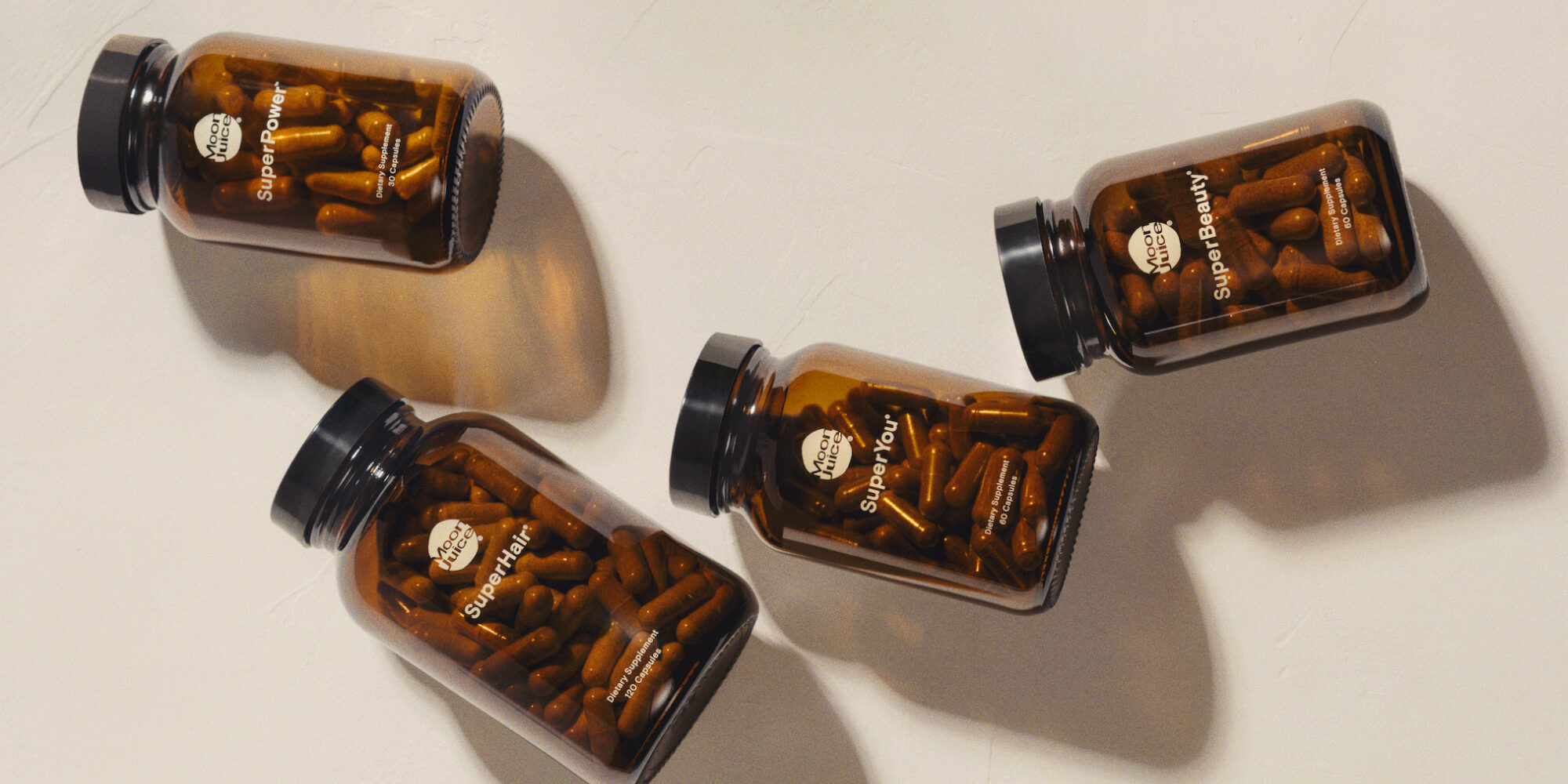 Moon Juice Expands Globally Without The Help Of New Investment (For Now)
A decade after Moon Juice rocketed onto the wellness scene, 
founder Amanda Rogove
 née Chantal Bacon still describes it as a startup. "We never take a beat. We're going, going, going. It's great," she says. "Everyday feels like the beginning."
Moon Juice is "going, going, going" a lot of places. The brand is hitting Sephora Canada online this month before landing in its locations nationwide in July. Later this year, it will enter the Middle East and expand its retail door count in Australia and New Zealand through its partnership with Mecca. 
The expansion into Canada is significant for several reasons. Moon Juice's Super You, an ashwagandha and rhodiola powered daily energy and anti-stress supplement, $49, is the first natural health aid to be approved by Health Canada, the department of the Canadian government responsible for national health policy, to be sold in a store. The approval process took 18 months. Super You will also be the first supplement line carried on Sephora's website in Canada. The retailer will also carry Moon Juice's berry-flavored magnesium powder supplement Magnesi-OM and the Collagen Protect, a vegan creamer formulated to help minimize fine lines and hydrate skin.
In 2018, Moon Juice broke into Sephora in the United States first online, and eventually in stores. According to president Elizabeth Ashmun, formerly CMO of premium skincare range Murad, it was one of six wellness brands the beauty retail chain tested at the time. "I think it's really just ourselves and one other brand that have maintained as part of their core wellness strategy," she says. "We knew that Canada was a tremendous opportunity for us. It's generally said that Canada [will] be about 10% of the U.S. business. They anticipate we're going to be at least 20% just because their consumer is so perfectly aligned with us, and we're going in really as their first wellness brand."
Moon Juice's extensions to Canada, Australia and New Zealand are happening via retail partnerships, but its foray into the Middle East, seven countries in total, will be facilitated through a distributor. Ashmun maintains a distributor is pivotal to navigating the logistics and cultural differences of the region. "We can't say Sex Dust in that market. We're potentially going to be calling that Lady Dust, we're working on that," she says. "There's a few little nuances, and it's been helpful that we have a distributor." Ashmun adds retailers in the region are already beginning to slot in Moon Juice, and she expects it to be on shelves in the region by the second quarter. 
Moon Juice's global rollouts are happening at the end of a 12-month period that ranged from tumultuous to disastrous for many brands. Ashmun attributes much of Moon Juice's success during the tough stretch—it's digital business more than doubled amid it—to its agility. "What was interesting was to see how quickly our shops pivoted, and they're on the front lines," she says, referring to Moon Juice's three Los Angeles locations. "We stayed open, but only for delivery and takeout. Our third-party retail partners continue to do very well."
Ashmun contends Moon Juice's diversified retail distribution was a major factor in its robust pandemic performance. On top of specialty retailers such as Sephora and Credo and department store retailers such as Nordstrom, the brand has a strong presence in the premium grocery channel at the likes of Thrive Market and Erewhon. The company brought on Michael Magaziner, a former marketing director at L'Oréal, as director of e-commerce in January 2020, and he proved to be a huge for managing the sharp increase in direct-to-consumer volume COVID-19.
"When I joined almost four years ago, the business was all organic," says Ashmun. "There was a lot of pivoting and cleanup and foundational work that we did to position [us] more as a beauty from the inside out and outside in business. In doing that, we continue to grow organically, but we were starting to test our digital spend. I would say COVID proved our concept in a lot of ways."
Unlike many of Moon Juice's competitors, the brand's digital spend will not be fueled by venture capital dollars. To date, save a few private investors, Rich Gersten, founder and managing partner at True Beauty Capital, among them, the company has been powered by its own profits. "There's so much that I'm proud of that we've been able to do considering we've been kind of pinching pennies," says Ashmun. "Looking at a lot of people who've taken big checks on the wellness side and seeing how they've been able to accelerate, ours has been much more organic. When you look at our numbers from a subscriber standpoint, our lifetime value [is] very, very high. The brand love is so strong, and people cross categories from us. We find that people have bridged from the juices to the supplements into beauty."
The big checks that Moon Juice isn't cashing are certainly going to other modern wellness outfits. Just last month, it was revealed that organic meal delivery and wellness platform Sakara Life raised a $15 million in series B funding, and Encore Consumer Capital invested in "The Hills" alumna Lo Bosworth's women's health specialist Love Wellness. 
Rogove believes the depictions of the impacts of early, massive infusions of venture capital on entrepreneurs and the companies they run aren't entirely accurate. "There was like five years really celebrating the girl boss, if you will, which was such an interesting thing," she muses. "We've put these [female founders] on pedestals, and we haven't told the story that they've got $20, $60, $100 million in their seed round, which is very glamorous on Instagram, but you're truly not running your company…Typically, in those scenarios, a bunch of men in suits are running your company, and you're the mascot. So, it was always interesting for me to see Forbes and everybody putting these stories on the cover of magazines, and it was almost dangerous messaging to young women and to female entrepreneurs. You're selling a lifestyle that the founder's really out there doing it when that is not the reality of their life. In some ways maybe these women feel they're in jail, and it's really painful for them. Truly having a startup where you are bootstrapping, it is not glamorous."
Of course, Moon Juice has a myriad of potential suitors when they are ready to take on capital. "It's nice not to have to pick up the phone," Ashmun admits, adding, "I don't know that we are ready for a full exit, but I think finding the right partner will make sense for us. We've really held out for a long time because it's easy to take money and plenty of people will write a check, but it's truly finding someone who sees the business vision, understands Amanda's passion and appreciates that."
Rogove wants her team at Moon Juice to enjoy the big global wins they worked hard for and that are just now coming to fruition before she relinquishes any control to a strategic investor, but she recognizes a deal will likely be struck down the road—and she's OK with it. "There's a new future for Moon Juice that I can see that I'm so excited about," she says. "Having this experience with international partners and seeing the success there and the way they're able to bring the brand to life in their regions with such integrity gives me a vision of the future that I don't know that I had before."
She continues, "There is that day, unless you're going to have a family business, you do hand over a majority to the right person that can responsibly take the legacy of your brand and do something bigger and better than you ever could. That was always a wince moment. Recently, it's just been like, that will be a glorious moment. I know I'll find the right person. I know that we'll find the right flow and partnership, and [I'll] be able to stay on with the brand as a caretaker and North Star."