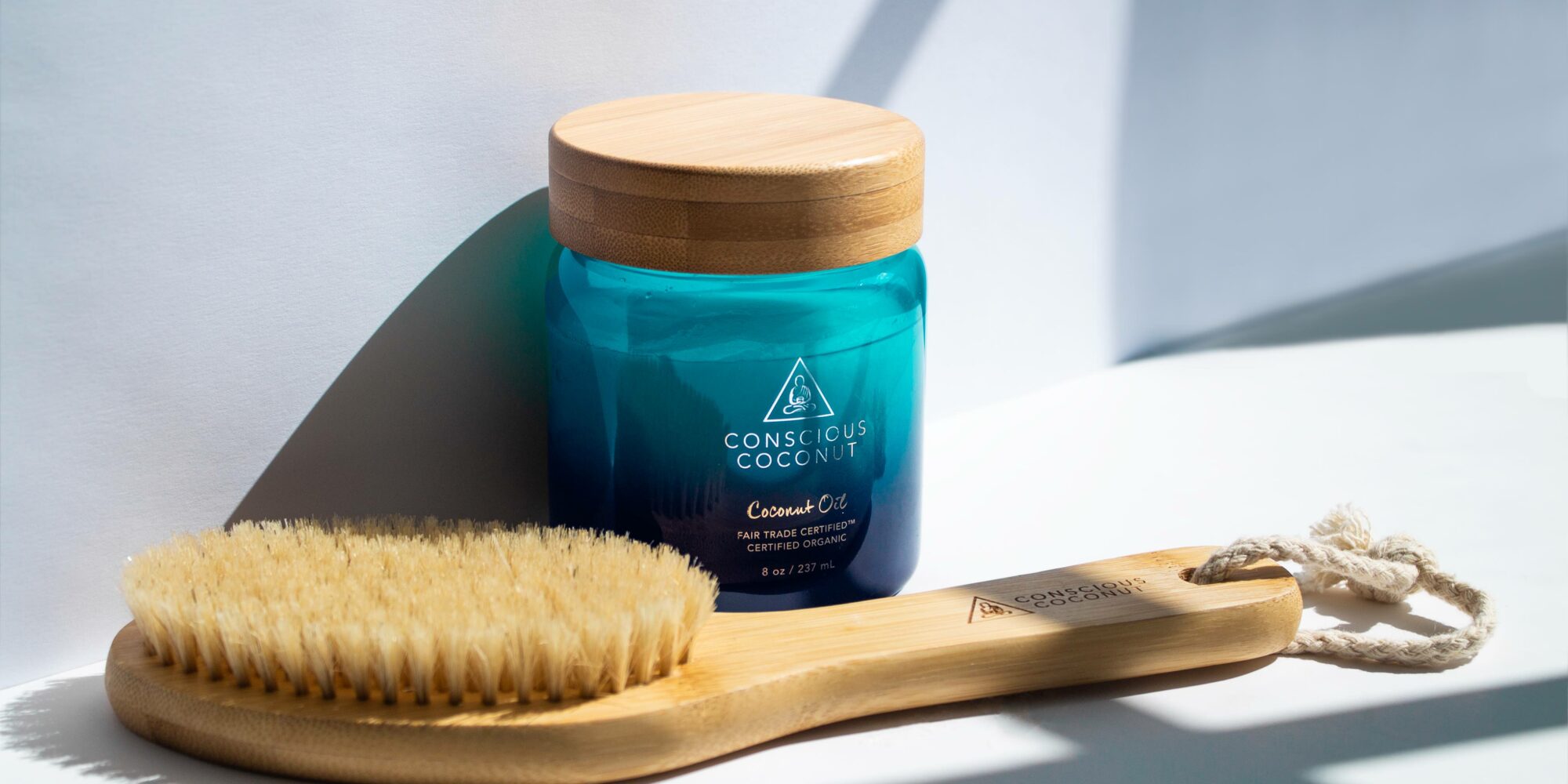 Pursuing An Atypical Approach To Multichannel Distribution, Conscious Coconut Lands At 600 Whole Foods Stores
Conscious Coconut founder Danielle Conte has her own take on distribution—and it just landed her brand in 600 Whole Foods stores across the United States.
Landing in Whole Foods and retailers like it weren't part of Conte's game plan when she launched her business in 2015. She says, "From the first day I started Conscious Coconut, I wanted to be an airline and hotel amenity, even though people thought I was nuts."
Thankfully, Conte didn't bow to those people and stuck to her strategy. Without a broker, Conscious Coconut's products have entered 1,200 independent retailers, and it's been picked up as a hotel amenity and incorporated in spa treatments at hundreds of luxury hotels and organic spas. They're also an in-flight amenity on JetBlue Airlines.
Although Conte didn't change her strategy, she had to adjust it as a result of the pandemic. Due to its impacts on airlines and hotels, she turned to retail to complete the purchase loop and keep Conscious Coconut thriving. In addition, she bumped up the brand's direct-to-consumer presence, which now accounts for a third of its sales.
As the pandemic spread in the U.S., Conscious Coconut was already available at 90 Whole Food doors and the Rocky Mountain region (Colorado, Utah, parts of Texas and St. Louis). "Hotels shutting down catapulted us to Whole Foods," says Conte. "I was hesitant what the hotels would think, but I'm excited that people can receive a packet or wipe on the plane, receive a spa treatment with our products, see them as amenities, buy a beautiful bottle in the spa and then grab a tube at Whole Foods."
Conscious Coconut's products are merchandised inline at Whole Foods, but there will promotional bundles for holiday with the dry brush and a travel bag, a hair mask kit and a hair towel crafted from recycled water bottles on an off-shelf display. Its Whole Foods assortment features a dry brush used for lymphatic drainage. In spas, the dry brush is sent home with guests in an organic travel bag containing a how-to guide.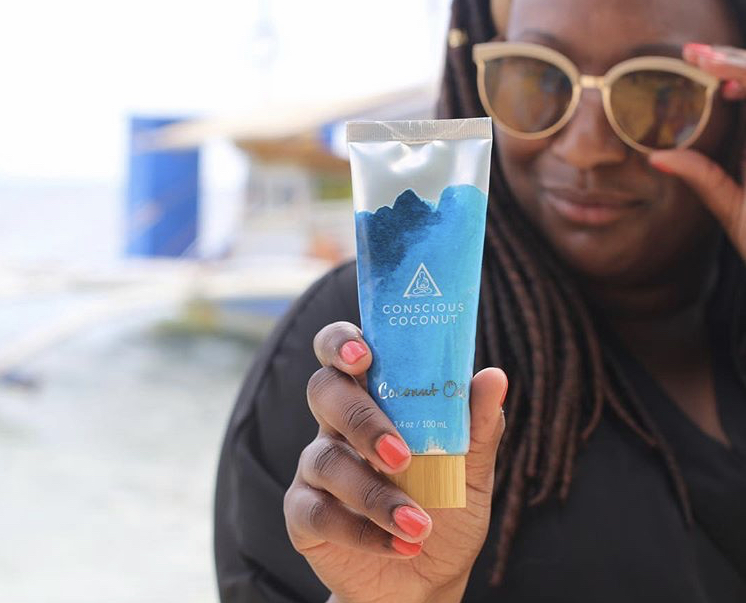 The brand sells the brushes individually or in bundles with coconut oil. Customers can reap the benefits of coconut oil by applying it either before dry brushing or after, depending on their skin sensitivity. Conscious Coconut's packets and wipes received a shot in the arm recently when Trader Joe's exited the coconut oil packet category.
Conte realizes the importance of multichannel distribution. "In looking at my channels, one doesn't take from another—it all fuels it," she says. Still, the travel sector will always play a special role in Conscious Coconut's distribution because it's at the root of the brand.
A travel enthusiast, Conte left a career in investment banking in 2012 and ventured from the U.S. to Bali in search of "happiness, balance and to catch up on sleep." Instead, she was injured in a motorcycle crash in a remote area where a healer told her to use coconut oil for her wounds.
 "Our goal is to simplify your wellness routine so you can focus more on living your best life."
"This was before coconut was considered cool. I used it every day, and I had no scarring," recalls Conte, who says the coconut oil helped her complexion, too. "I was eating it daily, and I found my health improved. It's just such a staple in Asian wellness."
Upon returning to the U.S. and in search of a social enterprise to launch, Conte's constant chatter about coconut oil prompted a friend to advise her, "Just shut up and sell it already." Once she finally decided to sell it, she encountered roadblocks. No co-packers, for example, would fill its travel-ready tubes. She went overseas to work directly with farmers in The Philippines and packaging manufacturers in China.
"Our coconut oil is certified fair trade, organic and made in small batches. Our team implemented sustainable farming practices and clean waterways," says Conte. "We grab the coconut off the tree and process it right away, so it is untouched. Because we avoid machinery, our coconut oil has four times the antioxidants of other virgin, cold-pressed coconut oils on the market and the highest percent of lauric acid."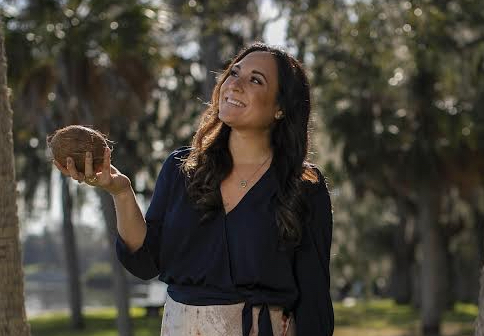 Everything is shipped to Tampa, and the brand's "conscious" aspect doesn't disappear stateside. Adults with mental and developmental disabilities at the MacDonald Training Center package and ship Conscious Coconut's products. "It is a special part of our platform," says Conte.
For every item sold, Conscious Coconut donates a meal to Feeding America. So far, it's provided 500,000-plus meals. "Every step along the way we are being mindful," says Conte. "There are parts of the journey where maybe I took too much time to launch products, but I'm not in a rush, and I'm grateful I have built such a strong platform and supply chain."
The company is self-financed, although Conte admits it's harder to stick to self-financing as its purchase orders mushroom, including a large order from HSN. She's going through training to appear on the shopping network later this year. "I am grateful for my background as an investment banker to self-fund us and get loans," says Conte. She expects Conscious Coconut to reach $10 million to $12 million in sales within the next five years.
"You can't just put it on the shelf and expect it to sell."
A challenge to Conscious Coconut's goals are coconut oil's image problems. Some people question applying oil to their skin or ingesting it because of the level of saturated fat. The sweet spot of Conscious Coconut's audience, wellness enthusiasts, understand coconut oil. Conte is out to educate the rest.
"Our whole marketing is about education. I send out emails that teach people how to implement it into their lives," she says, noting email has been more instrumental in building her brand's sales to date than social media. "I've lived in Asian communities, and I see how healthy the people are who ingest it daily. Coconut oil has helped clear up my, acne and my cholesterol levels are good."
Conscious Coconut's marketing emphasizes that coconut oil can fulfill the functions of 20 odd products, from makeup remover to bug bite relief. "The concept is to live light with coconut oil," says Conte.  "Our goal is to simplify your wellness routine so you can focus more on living your best life."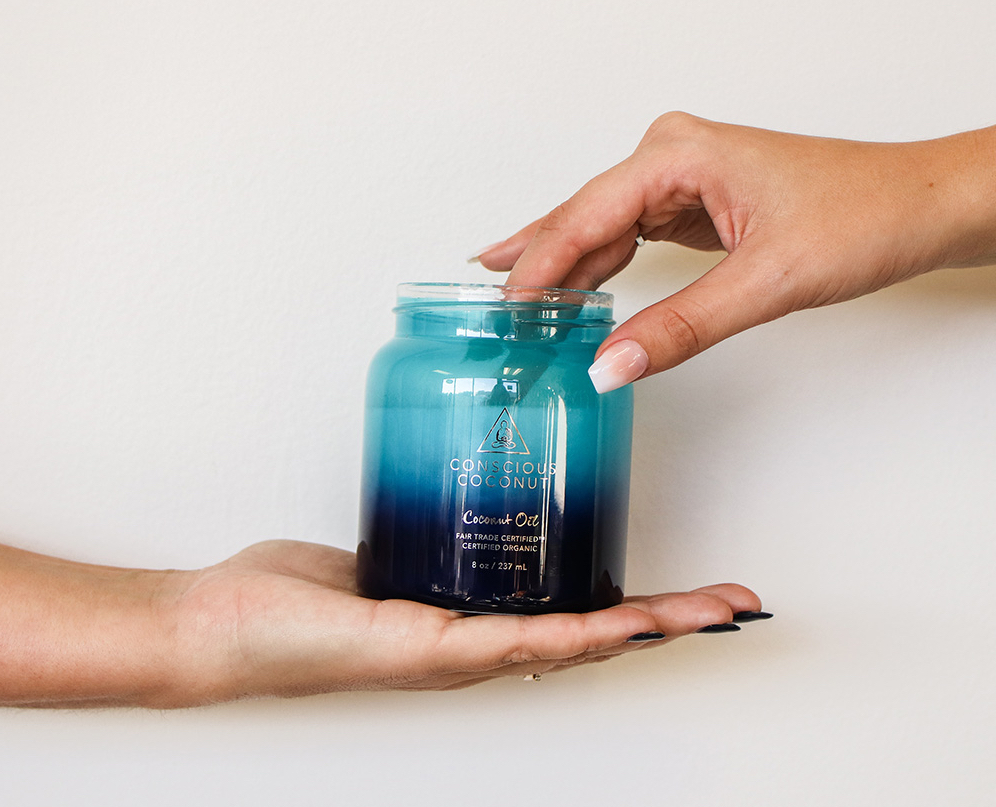 She's committed to spreading the word in Whole Food stores with boots on the ground visiting stores. "You can't just put it on the shelf and expect it to sell," explains Conte.
Despite rising costs and supply chain snarls, Conte isn't increasing Conscious Coconut's prices. She operates under slim margins. A jar of coconut oil currently costs her $8 to produce. While Conte suggests she should price it at $32, it's priced at $28. "Even if I cheapened my packaging, my oil is so expensive it wouldn't matter," she says. "I want to keep prices accessible."
Conte has been offered fair-trade organic coconut oil at $600 for a 55-gallon drum, but it didn't meet her ethical and quality standards. Adhering to her standards costs her $1,600 for a drum, up from $1,450 pre-pandemic. The costs of running Conscious Coconut are exacerbated by wholesale accounts not paying the brand. There are accounts that haven't paid it for almost a year. "My husband wants to kill me," laughs Conte. "But I want to make raw coconut oil accessible for everyone, everywhere."