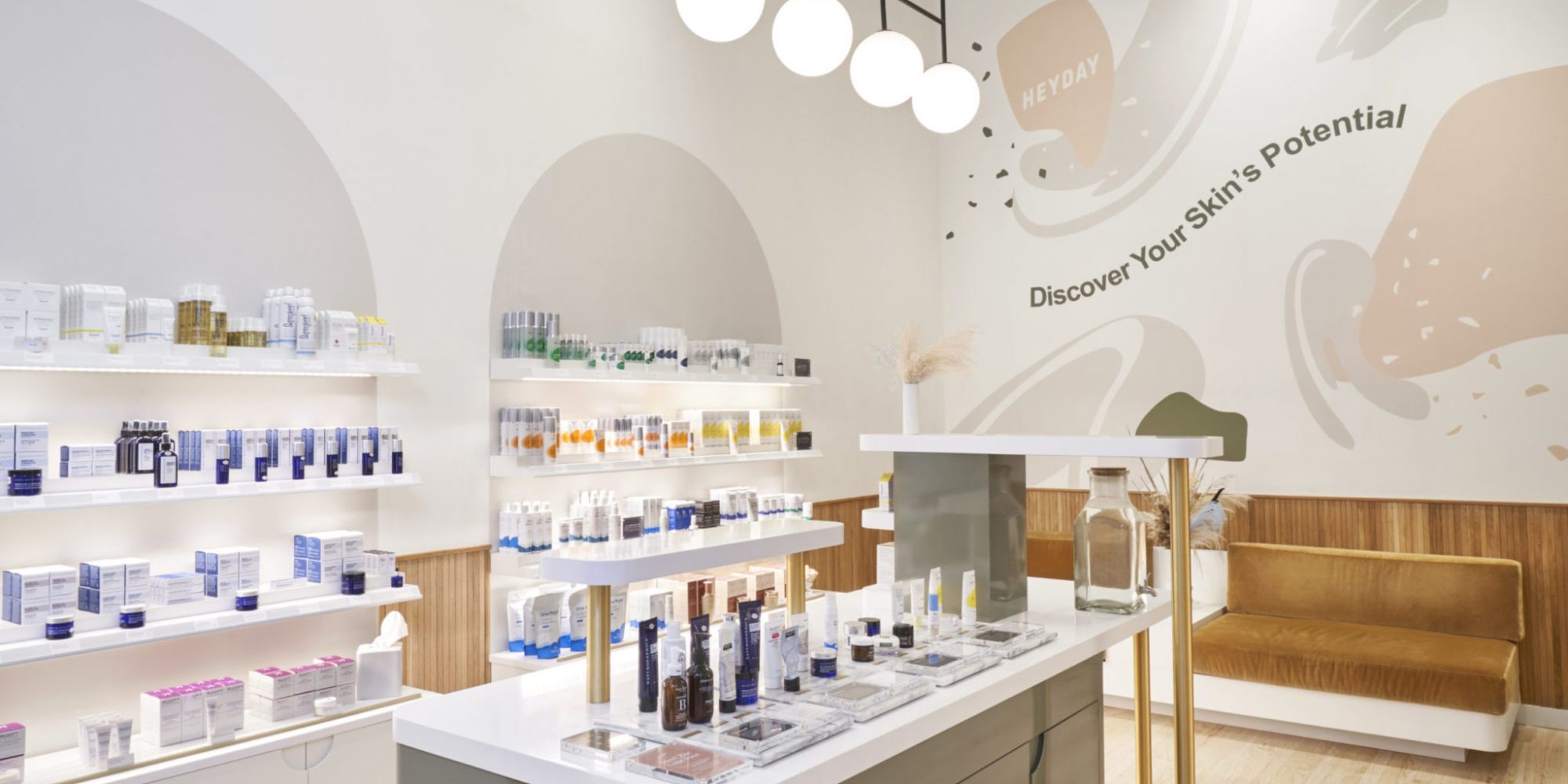 Mynd Spa & Salon Goes Bankrupt, Heyday Lays Off Hundreds As COVID-19 Roils Spa Industry
The spa industry is getting hit hard as residents of major cities across the United States are under order not to leave their homes for non-essential activities to stem the spread of the coronavirus pandemic.
Fallout from the stay-at-home mandates piled up last week with 26-unit Mynd Spa & Salon, which was previously called Red Door Salon & Spa, filing for Chapter 7 bankruptcy, and facial bar chain Heyday laying off more than 300 employees at 11 locations. With closures of spa, and hair and nail salon doors becoming the norm, it's unlikely Mynd and Heyday will be the only examples of their kinds.
Primarily remembered as Elizabeth Arden Red Door Spa, Mynd's units were owned and operated by Red Door Spa Holdings, a company backed by private equity firm North Castle Partners that licensed trademarks from Revlon Inc.-owned Elizabeth Arden. Elizabeth Arden was originally established as the New York salon Red Door in 1910. Mynd's Chapter 7 documentation lists between one and 49 creditors, and estimates assets at less than $50,000, and liabilities at between around $1 million and $10 million.
Mynd is shuttering in the wake of a complete rebrand it underwent to be relevant to wellness-oriented consumers. Renovations to its locations were scheduled to be completed this year. In a press release touting its overhaul, Mynd lauded the introductions of female- and family-owned brands such as Rodial, Babor and Dr. Dennis Gross Skincare to its in-store and online selections.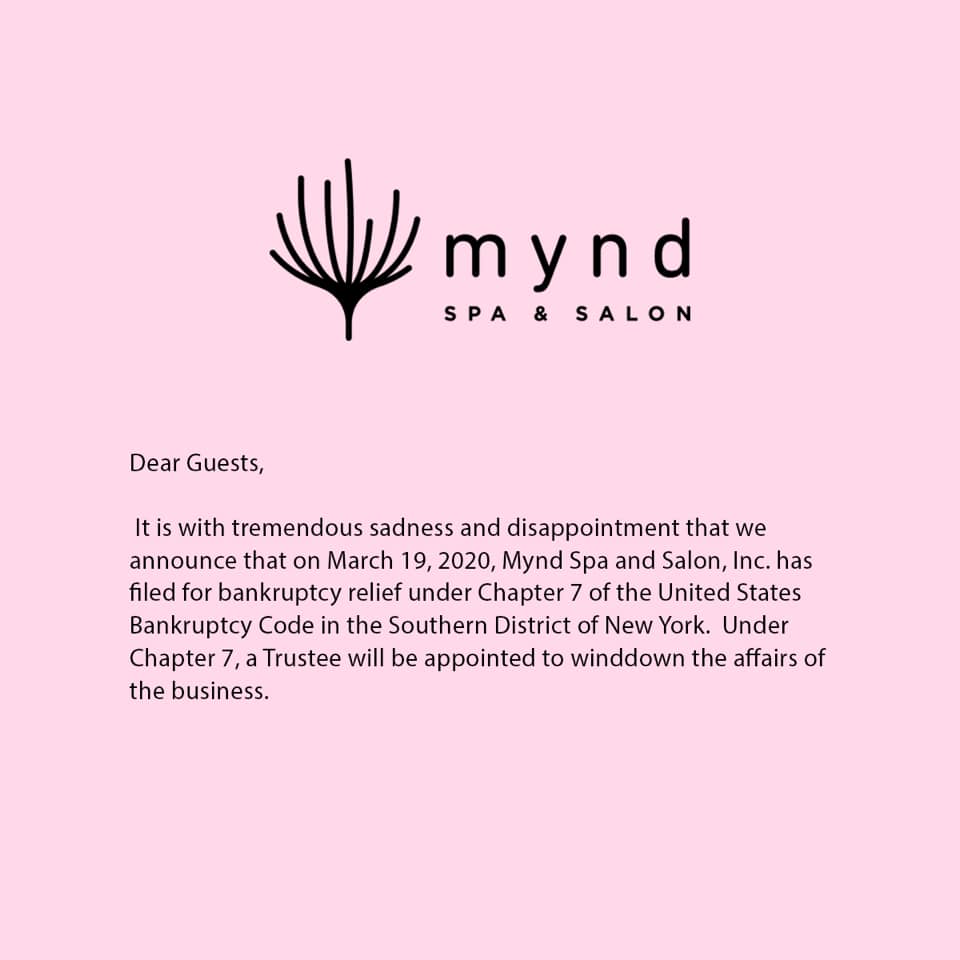 Commenters on Mynd's Facebook post about the bankruptcy suggest its rebrand fell short of the mark. "As a now former employee of Mynd, this has been so incredibly hurtful to hundreds of people," wrote ex-operations manager Alyson Endlich. "We had a fantastic team at our location and I got the pleasure of working for and learning from some truly great women. I wish our rebrand had been handled differently, it could've been so exciting to take the spa into the 21st century with new products and technology not previously available, not to mention the amazing new makeup lines. Unfortunately, those cards weren't dealt and going through this on top of the global crisis was just an extra kick while down."
Michael Pollak, who launched Heyday with Adam Ross in 2015, explains the spa company's layoffs will allow its previous staff to access government assistance, and the goal is for Heyday to reemerge once the COVID-19 emergency passes. According to Crunchbase, over three rounds of funding, Heyday has raised $11 million from investors including CircleUp, Fifth Wall Ventures, Lerer Hippeau, Brainchild Funding and M3 Ventures.
"Faced with the reality that our shops will be temporarily closed for an unforeseeable amount of time, we recognize that our Heyday team, our family, needs and deserves more financial security than our business is going to be able to provide at this time," says Pollak. "After weighing multiple options and speaking with various experts, competitors, and industry colleagues, we've come to the difficult realization that the best action we can take to give our team the most immediate financial stability is to temporarily lay off our retail teams. This gut-wrenching decision was made with their best interests in mind."
Heyday's employees are slated to receive final paychecks this week. The company will continue to pay healthcare contributions through the end of April. Pollak says, "Our No. 1 objective is to reopen our shops and create a path back to Heyday for our retail team. We will be fighting every day to rehire as many as possible and welcome everyone back to a better and stronger Heyday."
The coronavirus has disrupted a spa industry that's been experiencing growth. According to the most recent metrics from the International Spa Association, the number of U.S. spa employees jumped 1.6% from last year to 377,900. Spa employees are certainly not the only Americans whose jobs are imperiled as brick-and-mortar enterprises grind to a halt in key cities. Claims for unemployment benefits increased by 70,000 last week to reach 281,000, and thousands of additional new claims are anticipated this week.
Julie Keller Callaghan, executive recruiter at Hutchinson Consulting, and former editor-in-chief and publisher of American Spa, hopes Mynd's closure is an anomaly and that most other spas are able to survive the COVID-19 crisis. "Of course, this presents an incredible financial and emotional challenge to the owners and staff members who are impacted by this difficult decision, particularly those whose income is mostly supported by gratuities and commissions," she says. "However, our industry has weathered great challenges before, and I'm confident that we will do so again."