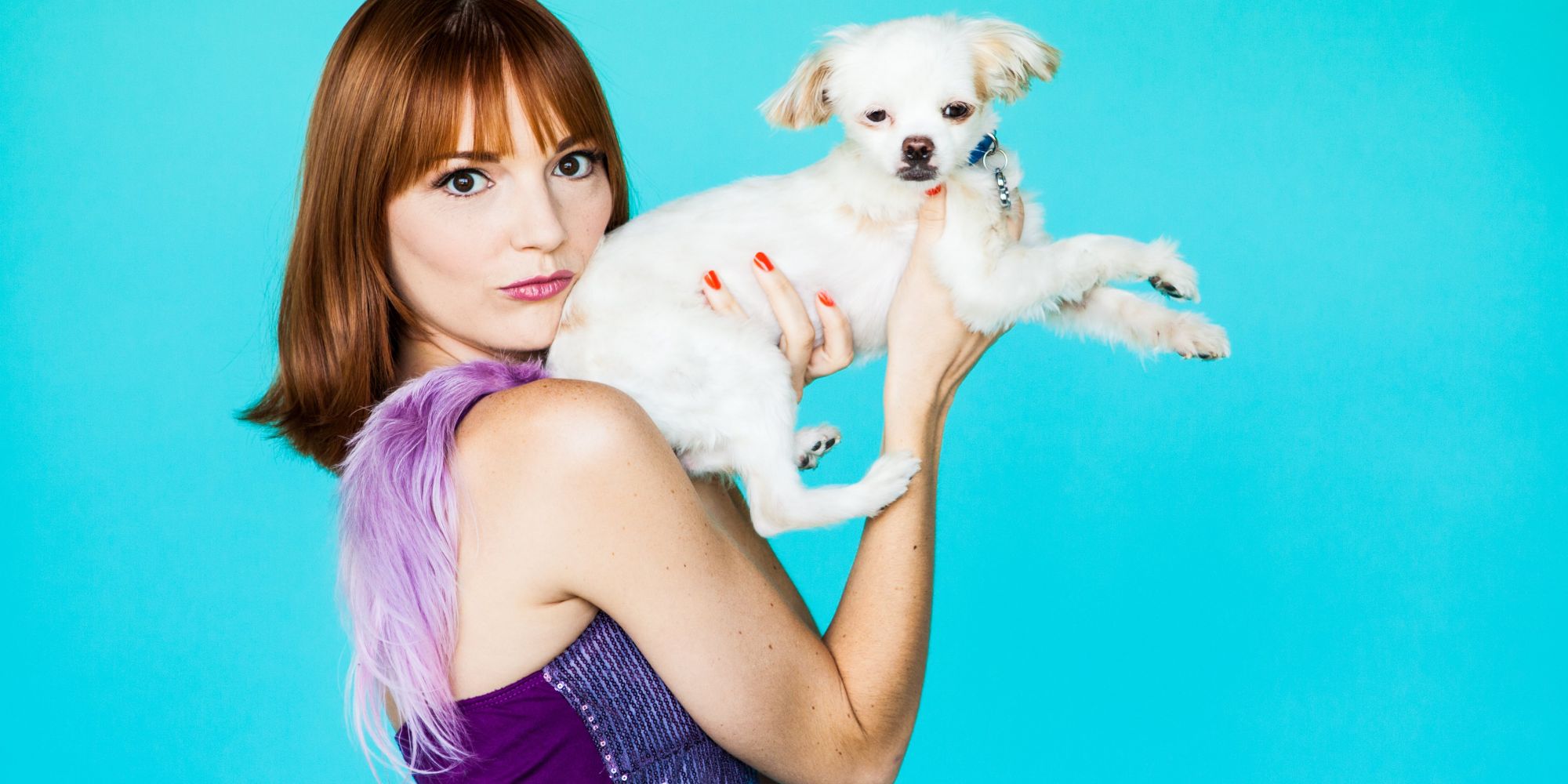 Natch Beaut's Jackie Johnson Is The Unabashed Real Talker The Beauty Industry Needs Now
Natch Beaut host Jackie Johnson is a true original. A vegan from Texas who keeps it 100% real in the all-too-often superficial city of Los Angeles, there's no one who can replicate her relatable voice (and not just because it's very deep) in the beauty podcast realm. After only four months with Feral Audio, Natch Beaut has become the number-one fashion and beauty podcast on iTunes in no small part due to its devoted beauty-obsessed listeners who scurry to stores when Johnson mentions products. On Facebook, fan Lauren Thompson gushes, "Jackie feels like a friend that has your back in this crazy world of beauty and everything that goes along with it." Beauty Independent cozied up to Johnson to see if she'd be our friend. Judge for yourself if we succeeded.
Tell us a bit about yourself.
I grew up in Dallas. I did beauty pageants as a kid and sang. I always knew I would do some kind of performing. I went to University of Texas at Austin and studied film. I knew I was going to end up in New York or L.A. because that's where you've got to be for the biz. I decided on L.A. because of the weather. I drove to L.A. in my mustang with a head full of dreams. I've been in L.A. for 11 years. I was a celebrity dog walker; I was a waiter; I ran an eyelash extension company. I always have evolved and survived sort of like a cockroach. You can't really kill me. I will find a new way. Beauty, makeup, self-care and glamour have been a part of my life since I was a kid. My mom was a glamorous rodeo queen. I would wear her heels and her makeup. That's something I will never shake even as my life changes.
When did you start dabbling in makeup?
When I was 3 or 4. I sang "Crazy" by Patsy Cline at the Texas State Fair when I was 4. I was all dolled up with rollers in the hair, lipstick and rouge. In Texas, you start young with the makeup, at least in my house and especially because I was in the pageant world. My mom started bleaching my mustache when I was 7. My mom would do my perms in the kitchen. She's into DIY beauty, and I definitely learned from her. I started coloring my hair when I was 13 because I knew I was a red head even though I was brunette. I was an early adopter.
"I always have evolved and survived sort of like a cockroach. You can't really kill me. I will find a new way."
Is the entertainment business what you imagined it to be?
Being 11 years in, I have a lot more of a pragmatic look on things. When I first moved here, if you look up bumpkin in the dictionary, that was me. I was like, "Oh my God, there's a studio lot. Oh my God, there's George Clooney." Everything was magical and sparkly. Being an extra on an NBC show, I thought I was famous. The industry has changed a lot since I first moved here, and I've watched it change. The key is you just have to make your path and make your own content. You can't wait for the phone to ring. It's not going to ring. You have to make your own calls. That's something I finally did with my podcast.
As a performer in L.A., you must have faced a lot of rejection. How do you deal with it?
Every person who moves to L.A. to make it big was the funniest kid in their hometown. Then, you get here and you realize that you are not special. I walk into a room and every woman in the room is a 5-foot-10 red head with a deep voice from the South, and I think, "I'm not special. My parents lied to me. I have nothing to offer." Eventually, your skin gets as thick as leather. You say, "If you didn't want me, your loss baby," and you roll out. The day I stopped trying to please them is the day I freed myself from that prison. I roll out and just get on Natch Beaut, where nobody rejects me.
How did Natch Beaut come about?
Last year, I downloaded Snapchat. I was about to get married, and I was really stressed out. I would get on Snapchat and start ranting about the florist messing up my order or my hair. People started following me and word got out on the comedy scene. A bunch of standups started following me. Snapchat became my thing. A comedian named Esther Povitsky who started following me said, "This needs to be on a bigger outlet." She encouraged me to do something else with it. I had talked myself out of doing a podcast because, in L.A., everyone has a podcast, but she convinced me to do it. I had this whole idea of two friends, not experts, but friends passionate about makeup, self-care and skincare having a conversation that other people could hear.
Why did you name the podcast Natch Beaut?
I used to read YM, Seventeen and Teen People religiously. They were everything to me in high school. I thought, "What would be a funny name for a fake teen magazine?" That's how I came up with Natch Beaut. I also love silly abbreviations like totes.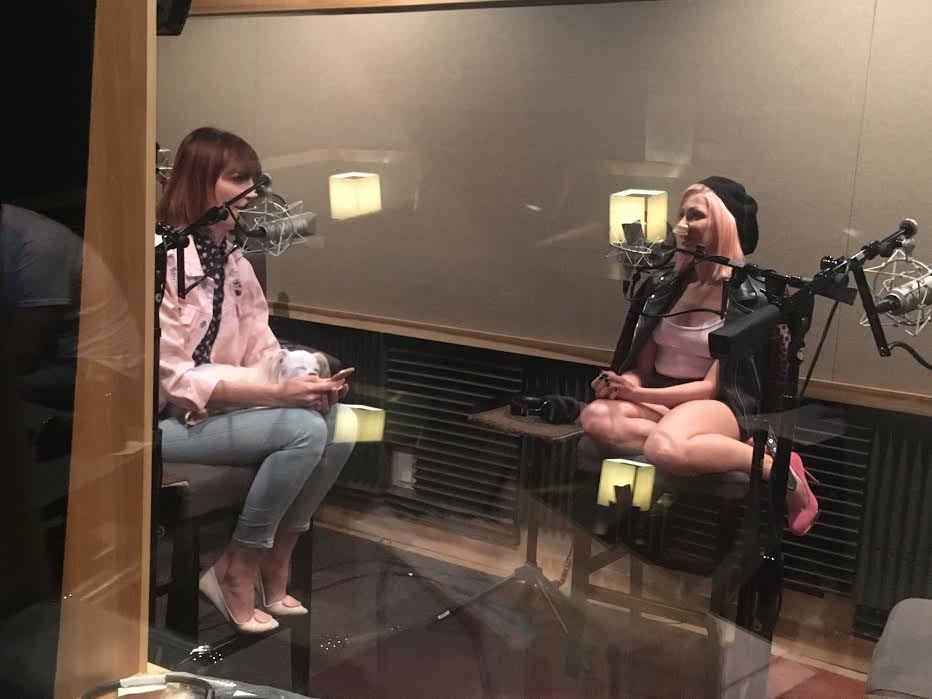 How do you select guests?
I've started with just my friend group, and I'm trying to get a very diverse array of opinions on the show. I try to have on girly girls who love makeup, and who could tell you every color, shade and product name there is, but then I want to have on my friends who maybe hate shopping and don't wear makeup and talk to them about what beauty is to them. I build the segment around guests and their preferences. Eventually, I'm going to have a conversation with someone I don't know. That's going to change the whole vibe.
Why are your fans called hunnies?
That was the name the Facebook Group chose. The Group had about 1,000 members in it within the first 24 hours after I created it. They are definitely diehard fans.
What sort of beauty products do your fans like?
A vast majority of the audience doesn't interact with me at all. The ones that do interact with me are all about drugstore price points. They want to find products at their local drugstore or Target. They really like accessible and affordable products. When I talk about going to the drugstore and buying a lipstick or cream, I get emails about women pulling over in traffic to buy stuff.
"When I talk about going to the drugstore and buying a lipstick or cream, I get emails about women pulling over in traffic to buy stuff."
How can brands work with you?
There are several revenue streams. My network handles the advertising on the podcast. We have deals worked out [based on] how many listens I get. Your ads run for those listens, and you pay accordingly. I get a percentage of the ad sales, and my network takes a percentage as well. They give me a list of people who are interested, and I go through it and pick products aligned with my values. I'm not interested in selling auto parts. I'm not selling out yet. Get to me now before I do. I'm also still small enough to where I'm not asking for compensation if a company sends me products. If I like them, I will talk about them on the pod. If I don't like them, I will give them to my friends.
What's an example of a successful partnership with a brand?
At IBE Dallas, I walked up to a booth and started chatting with Sophia who works for Source Vitál. She mixed me a custom facial cocktail, and gave me and my sister products. I ended up loving the stuff. You should see my bathroom. I'm drowning in skincare. I've got everything, and my favorite item is my Source Vitál cocktail. I went on the pod, and I talked about it. The day the pod aired, Sophia hit me up that they saw a [sales] jump. They put an ad on my site and sent me a bunch of new stuff. I don't know the numbers, but she said it exploded. Women all over the world are buying them. Hunnies in the Facebook Group are shipping them to countries where Source Vitál doesn't ship.
What beauty brands do you gravitate to?
I like drugstore brands, but I'm anti-animal testing and 98% of the brands at the drugstore test on animals. It really limits what you can buy. There are only like five brands at the drugstore I tell the hunnies about. I personally prefer small batch indie companies and, obviously, cruelty-free companies. I'm not super concerned about the price points being inexpensive. I like things that work with high-grade ingredients, and I'm willing to pay for something I really like. Source Vitál is not the least expensive thing in town, and the hunnies splurged on it, but I think you get what you pay for.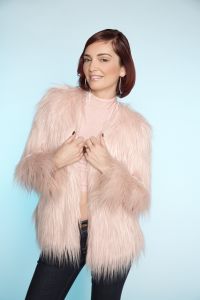 Do you find that your honesty and occasional crass language makes brands uncomfortable?
Yes, that's already been an issue, for sure. Feral is independent and artist-driven, and they don't censor us at all. There's no one tapping on my shoulder saying, "Don't say that." That's kind of terrifying. I've learned a lot of lessons. I think every person in the world should record themselves for an hour to see what kind of monster they are. In terms of advertisers, it's part of the deal that they can't tell the artist what to say. However, if they aren't happy, they won't renew. One of my sponsors, LOLA, I emailed the brand, "Are you comfortable with me saying the word pussy in my ads?" They said, "Absolutely not." So, I don't say it. They renewed for the whole year. I'm not a total monster. I can adapt.
What have you discovered about the beauty industry that you didn't know before Natch Beaut?
The craziest thing I have learned is about women of color not being able to find their shades and brands not representing them in their campaigns. Learning about that was eye-opening. I have noticed my privilege is all around me.
How do you want to evolve Natch Beaut?
I want it to become a TV show. I want to have my own show during the day where we have guests: experts, fans and comedians. We do comedy bits. We try on sheet masks. We demo makeup. I want to be the vegan, makeup Wendy Williams.