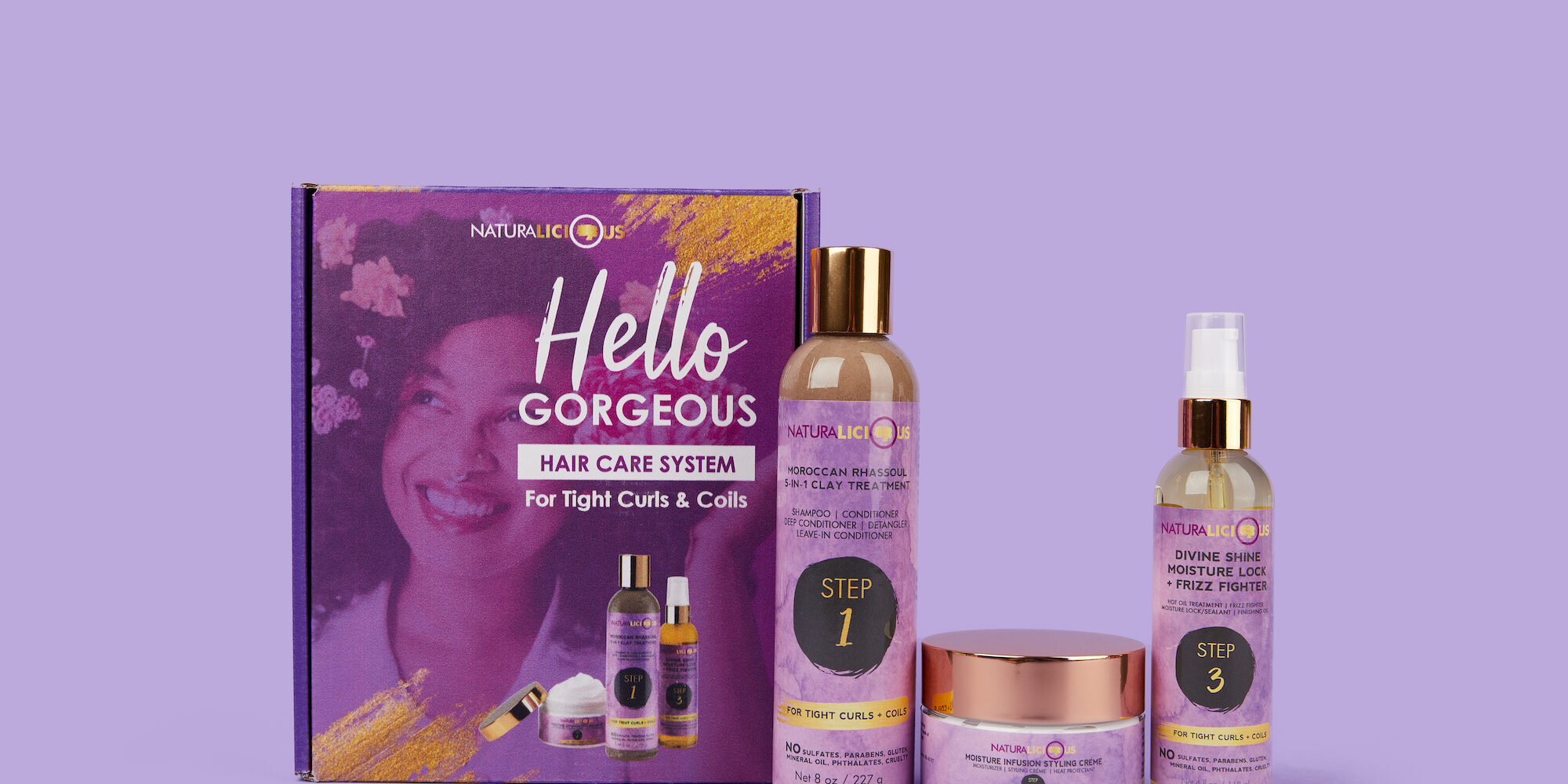 "We Really Sell Confidence": Naturalicious Founder Gwen Jimmere On Building A Million-Dollar Haircare Business
Gwen Jimmere never intended to start a business, especially not a haircare business. "I hated my hair my whole life. I would never have assumed that I would become a haircare entrepreneur," she says. But after Jimmere found herself a single, unemployed mother in 2013, she turned her hobby of creating hair products in her kitchen into a full-fledged business to support herself and her young son. Through grit, positive thinking and serious hustle, that business, Naturalicious, is now a seven-figure brand stocked at Sally Beauty, Whole Foods and Ulta Beauty.
From the hero product that started it all, the Moroccan Rhassoul 5-in-1 Clay Treatment, to styling creams and definition gels, giving women the confidence to embrace their natural textured hair is at the core of Naturalicious's brand DNA. Now, it's crossed categories into skincare with the launch of Flawless Canvas Multitasking Face Wash, a product Jimmere asserts cleared up her adult acne when nothing else could. It sold out in just two weeks.
Beauty Independent spoke to Jimmere about learning to love her hair, her journey to become the first Black woman to have a natural haircare product patent,

Naturalicious's

successful educational initiative, and how the brand's partnership with Ulta almost didn't happen.

What set you on the pathway to haircare?

I had watched the movie "Good Hair" in 2009. It was a documentary-style comedy produced by Chris Rock. His daughter had come to him one day and asked why her hair looked different than the other girls at school, the white girls. He felt at a loss, so he decided to find out what issues Black women had with their hair. There was a part where he and a cosmetic chemist took a soda can and submerged it into a tub of hair relaxer. The can disintegrated within a few minutes. That was appalling to me, but also really interesting. This was the same stuff I was putting on my hair since I was 9 years old. At that point I was in my mid-20s. I thought, "If it does that to a can, what damage has it been doing to my body?" I was pregnant at the time, so I decided not to relax my hair anymore. I never really intended to go natural for life. It was something I did while I was pregnant with my son to protect him. 

Most people who go natural find it to be a journey because Black women have had to do so much to their hair to assimilate. It's a very emotional process. I found out that I loved how my natural hair felt and looked. For the first time in my life, it wasn't breaking off, and I was having fewer bad hair days. I had a really beautiful curl texture that I never knew existed. 

At that time, it was hard to find haircare products that were designed for Black women's hair. Now, you can go into any store in the country and find a product for us. Back then, you were lucky to find maybe Carol's Daughter. You were relegated to either make something yourself or get stuck with whatever was available. I went to Whole Foods the day after I saw "Good Hair" and looked for products that were made for textured hair. I found some products that said they were organic, natural and full of good ingredients. I used them on my hair, but the effectiveness was terrible. I went into the kitchen and grabbed all the usual suspects that you see online when people talk about creating their own haircare products: avocados, olive oil, eggs, mayonnaise, all that. I started to DIY something. What I initially made was better than what the store provided me, but still not awesome. 

I called my mom, who is a master herbalist, and asked her what I could mix into this concoction to make it more effective. She gave me a bunch of suggestions. One of them led me down a rabbit hole to an ingredient only found in Morocco called rhassoul clay. I started researching it, bought it and, then, mixed it with some of the other things I had created. I washed my hair with it, and my hair was the shiniest, softest and curliest it had ever been. I realized then how emotional of an experience it is dealing with your hair. That was how I started with haircare. It was never supposed to be a business. It was just this thing I created for me. It took me about eight to nine months to come up with it. 

When did it become an actual business?

About 18 months later, I had come up with a name for the product, Moroccon Rhassoul 5-in-1 Clay Treatment. I had labels and a little website. At that point, I decided that my marriage wasn't serving me. It had turned very abusive. My son was about 2 years old. I didn't want him growing up in an environment where he thought that was normal. I was the main breadwinner of the family as well. I started going through the divorce process, but 30 days before it was finalized, I got laid off from my job. That day I decided that Naturalicious had to go from fun hobby to an actual business because I needed to make money. That's how it became an actual business on March 4, 2013. Almost 8 years later, we're in about 1,200 retail stores. We've saved over 70,000 women more than 1.2 million minutes on their hair.

You launched your brand with just $32. Was that your biggest challenge?

Money was an issue, but I was so focused on surviving that I really didn't think much about it. A lot of people have asked me, "What did you do for supply chain?" I was the supply chain! I was the manufacturer, the fulfillment center, R&D, I was even the receptionist. I didn't grow up with entrepreneurs in my family, so I was completely a fish out of water trying to figure this thing out on my own. As far as money goes, my mind always went to hustle, hustle, hustle.

When I first started, my son was still in his carrier, so I would go down to the local open-air market, Eastern Market here in Detroit. I didn't have the money to rent a table there, but I'd bundle my son up, go down and pretend I was supposed to be there hoping the organizers wouldn't kick me out. People would always come over to the table when they'd see my son. We'd usually sell out. I'd use that money to buy more raw materials, make more products and pay my bills. 

When people ask me what's the hardest time you ever had with the business, it was at the beginning where I was out there hustling with my kid, flinging hair products. I knew I had a really great product. I knew eventually it would become a seven-figure business. I just had to get through that really hard time to be able to grow and scale it. 
What differentiates Naturalicious in a textured haircare market that's become quite crowded?
Over time, we've had to pivot a bit. When you're in a market that initially isn't saturated, but becomes saturated, you have to become really agile. I've always known that I had a real gift for taking women who had been super frustrated with their hair and providing them with haircare education that could change the whole trajectory of how they deal with their hair. What we've done in our business particularly in 2020 is lean into that more. We're not necessarily a hair product business. We make hair products, but we really sell confidence and swag. Hair products are just the vehicle. We could have chosen anything from lipstick to fashion to self-care. 
We came up with the Repair Your Hair Challenge, which has been our biggest, most profitable initiative. It's a 15-day haircare bootcamp that I teach once a quarter to about 500 participants over Zoom. We jokily, but lovingly say, "We take women from looking whack to looking like a snack!" It's the most fulfilling thing I do. The before-and-after photos on our website are mind-blowing. When you feel great about your hair, you stand a little taller and walk with a different strut. The challenge is not just about hair. We do a lot of mindset work, too. 
Naturalicious has pivoted from being a straight-up product line to helping to improve your life overall. It's turned into this whole community and sisterhood, which is exciting for me because not only have we differentiated ourselves, but our customer loyalty, which was always good, has been off the charts lately because there's a strong emotional tie to it.
What are the brand's bestsellers?
Our Moroccon Rhassoul 5-in-1 Clay Treatment, which is a product that made me the first Black woman to own a patent on a natural hair care product. We sell about 4,000 to 5,000 units a month.
Tell us about the patent process. 
I didn't think it was possible to get a patent, but my mom kept pressing me about it. I started researching it, but only to keep her from harassing me. At the time, I didn't have the money to afford a patent attorney. It was like $20,000, so I knew I had to either forego it or file it myself. I basically taught myself patent law in about nine months. I treated it like I was in college again. Three days a week, I was in the library researching, learning past patent legislation, new legislation, what might change in the future. You have to keep in mind my son at the time was very little. I was doing the open-air market in the morning then going to the library in the afternoon. About nine months later, I filed for the patent and, less than a year after filing, I received the patent. 
There was a ton of press around it when it first announced in 2015, and it brought a lot of new eyeballs to Naturalicious. I think it validated us because around that time we saw a lot of new brands pop up. A lot of people couldn't believe that, in 2015, there were no other hair products that had been patented by Black women. A lot of the time, we're grinding and hustling, and we don't even think of the intellectual property of our inventions. It's important for us as women to own our ideas. It's not uncommon for companies to see something successful, steal it and create their own because they have the capital and resources. I'm proud that what I did is an inspiration to others to go and secure their own intellectual property.
What was it like entering retail? 
I went after Sally Beauty and Whole Foods. Whole Foods was my very first retailer, and I'll be forever indebted to them because they really took a chance on us when I was just starting out and had no real customers. I desperately wanted Ulta. That was a right-time/right-place situation. I was at an industry event that I couldn't afford at the time. Naturalicious was in about 80 Sally Beauty stores then. Now, we're in over 1,000. We were also just starting to get good at e-commerce. 
I'm at this event and I get introduced to the director of emerging brands at Ulta, but here's what's so great about our story. I really wanted to be in Ulta. I had a broker at the time who was supposed to help with our retail expansion. They asked me what stores I wanted to be in, and I said Ulta. They pushed back, but I was insistent. They came back and told me Ulta had said no, which now I know was a lie because allegedly our packaging was not up to par with their standards. They kept coming up with these excuses that made no sense to me. I told them to ask for more clarification, but was told Ulta had decided to pass on us entirely. I just knew we were going to get in somehow. I'm very much a big proponent for manifestation. So, I don't think it was any coincidence that I was at this event that I couldn't afford to get to and that this woman who was the person that I needed to meet sat right next to me. 
We hit it off at this event, and I presented her some of my products and my brand deck. That was November 2018 and, by January, they decided to bring us in for a test. This story is a testament to any small [business person] feeling defeated, feeling that they can't get their business to where they want it to go. You just have to keep that positive mindset and believe it's going to happen for you, no matter what anyone else says. We're on ulta.com now. We were supposed to go into stores this year, but COVID happened, so we're hoping we're in by March 2021. 
What are your retail expansion plans? 
We get courted by stores pretty often, but say no to a lot more than we say yes to. It has to be a fit and maintain the integrity of the brand. There are certain stores where our price point is not going to work. We have a more masstige price, so having our product next something that's $5 or $10 is not ideal. We have some retailers that we're going after now, I can't say who yet. We're definitely looking to expand our retail footprint, but we're being very intentional about it. 
What is your current business split between retail and direct-to-consumer sales?
We have a 70/30 split, sometimes it's 65/35 with the larger percentage being DTC. We very intentionally make sure that our DTC is stronger. I think that's a super-smart move for any business right now. What if something like COVID happens again, and all your retail partners close and they're holding your payments? That's what happened to us. The stores didn't have money to pay, so they enacted a clause that changed the payment terms from net 30 to net 90. Now, you're not getting paid for 90 days. You may have $70,000 out there that you're waiting on. If all your money was tied up in retail stores, you would have been stuck. You may even have had to shut down.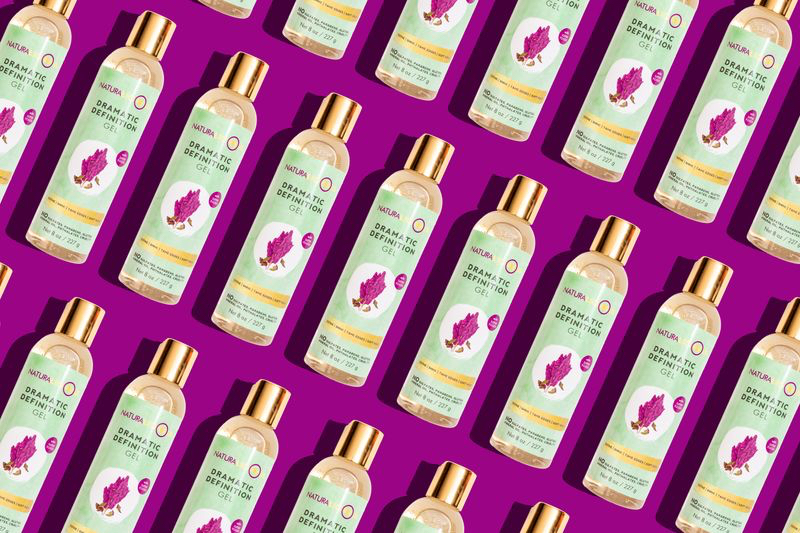 How can big retailers support Black-owned brands beyond simply stocking them?
I'm happy and inspired by Sephora taking the 15 Percent Pledge to put more Black-owned brands on their shelves. I haven't seen that executed yet, so I'm not sure what the plan is. We reached out. I heard other beauty brands reached out, too, but we were told they didn't have a plan in place yet. So, I'm curious, is that actually going to happen or is it a nice soundbite? Let's assume it does go forward. How are you going to support these brands? Black females are creating companies at an exponential rate in comparison to pretty much every other demographic. However, Black female-owned companies are the least funded. We have the drive, the determination, the willpower and the work ethic to create, but we don't have the capital to scale our businesses at the rate they need to be scaled. 
You said that you'd dedicate 15% of your shelves to Black-owned brands. That's great, but what are you going to do to make sure they stay on those shelves? We don't want the conversation to become Black-owned brands don't sell because Black women have all this shelf space, and people still don't buy their products. That's not the case. Black-owned brands do sell when supported correctly. It's a lot of money when your brand goes into retail stores. You have to ensure that your product is being merchandised properly. I can't tell you how many times we've had to go into some of our retail partners and ask them why our product is at the back of the shelf. How are people going to buy it if it's not even on the shelf? Why is it on the bottom shelf? Why can't it be at eye level? You have to fight for the space that you need to sell-through your product. 
If you don't have the capital to pay a team to go to all your stores and make sure you're merchandised properly or that the retail associates are properly educated on your brand in order to sell it, how are you supposed to be successful? Do you have the time to call 500 stores? If these brands are not supported by the proper marketing, if the associates aren't educated enough, if the planograms aren't adhered to, these brands are not going to be successful. 
How has the pandemic affected your brand? 
COVID has been both good and not so good for us. The biggest positive was there was a lot more interest in buying online because all the stores and salons were closed. Our customer didn't want to neglect their hair, so some people that may have bought us in stores were now buying online. Other people who may not have considered us before were now paying more attention to our ads and marketing. We really tapped into our PR efforts to push advertising to our website. We had a huge surge in orders online.
It wasn't so good because there was a bottle shortage in the country that affected so many beauty businesses. We had a lot of demand, but we couldn't fulfill it. It became a chicken-and-egg situation. On one hand, you have to make money and sell products to keep the business moving, to pay and keep your employees and pay your bills. On the other hand, customers would ask, "Why would you continue to market, advertise and sell when you have nothing to sell?" It became a customer service nightmare. There were a lot of sleepless nights wondering where we were going to get our materials. We weathered that storm and mitigated a lot of it through constant communication to the customer. We gave them very granular details and kept them constantly updated.
There were days I was in the office until 2 a.m. shipping orders myself. I'd go live on social media and show where I was and what I was doing. I even had my son who should have been asleep there working with me. It was important to be honest and show that authenticity. That really went far with the customer. I took myself off payroll during that time to make sure my team was still being taken care of. 
What are you looking forward to in 2021?
The Repair Your Hair Challenge was something we launched in response to COVID. It was supposed to be a one-time thing, but it turned out to be so successful that we are doing it quarterly now. The next one starts in January, so I'm really excited about that.
We quietly launched skincare after Black Friday. It wasn't even on our website. We launched it over email. I'm really excited about that. We'll do a full-on launch closer to January. The first skincare product just came out, the Flawless Canvas Multitasking Face Wash. Another one will launch in springtime and probably [another] skincare product [will launch] later in 2021. This is an exciting new foray for us. Our customers had been asking us for a while for skincare. Our mission is to help transform women's confidence so they realize that they are the standard of beauty. That vehicle could be anything, and skin is a huge part of how we show up every day. This transition feels natural for us.