Cloud CBD Is High-Heel Shoes Wearers' Pain-Relieving Solemate
A red-carpet jaunt shouldn't result in seriously sore feet—and neither should a sashay down an office hallway.
Founded by marketing and business strategist Faye Postma, new brand Cloud CBD has a solution to the stubborn problem of uncomfortable high-heel shoes. Its hero product Kushon, a liquid-to-powder pain-relief roll-on with 100 milligrams of broad-spectrum cannabidiol, better known as CBD, the non-psychoactive constituent of the cannabis plant, peppermint, lavender, vegetable glycerin, witch hazel, aloe and arrowroot powder, is designed to get women back on their feet again.
The inspiration for Cloud CBD came from an article Postma read dishing on celebrities slathering on CBD to endure a night in heels. Celebrities have mentioned they've applied a buzzy body lotion from Lord Jones on their feet, although, unlike Kushon, the body lotion wasn't developed specifically for feet. Postma suggests body lotion isn't the best format for foot care. She says, "I just imagined Emily Blunt hopping around trying to put CBD lotion on her heels."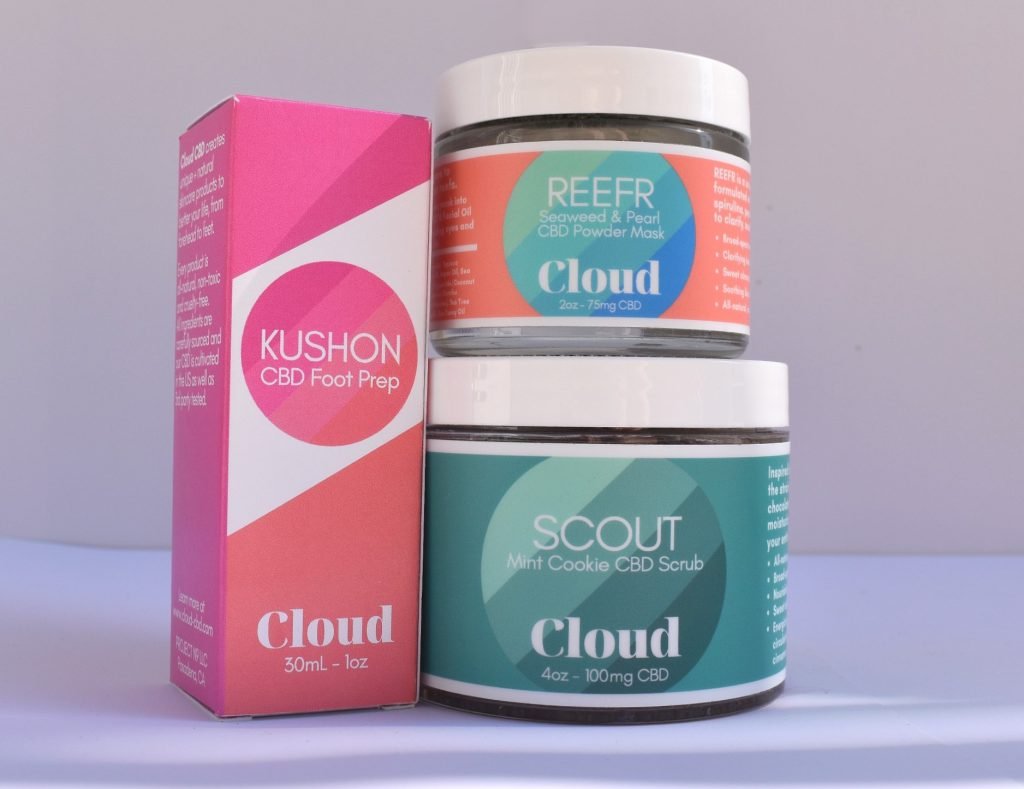 Postma's a-ha moment ignited her curiosity to delve into the world of natural skincare. She pored over articles and books to learn about making natural beauty products. The first product she created was Kushon, which wasn't perfected until after Cloud CBD premiered on, perhaps unsurprisingly, April 20. The brand's assortment has extended beyond Kushon to Scout Mint Cookie CBD Scrub, Reefr Seaweed Facial Oil, Reefr Seaweed & Pearl CBD Powder Mask and Day Glo Luminous CBD Face Oil.
Cloud CBD aims to offer affordable merchandise that differs from typical CBD tinctures and salves for busy metropolitan women primarily aged 25- to 45-years-old. Housed in colorful packaging and manufactured in small batches by Postma, natural, its cruelty-free products contain CBD that's been tested by a third party to ensure purity and dosage. Prices range from $38 to $48. Postma says, "I wanted my products to be genuine, high-quality, transparent, and priced at a place that makes sense without cutting corners."
"I just imagined Emily Blunt hopping around trying to put CBD lotion on her heels."
Postma doesn't want Cloud CBD to be known simply as a CBD brand. She says, "Of course, CBD is super-hot right now, so that's a key differentiator, but I'm really focused on how it applies to the product's efficacy as an ingredient versus being focused on the CBD itself." She's working on a hybrid butter scrub product for a tentative launch later this year. Cloud CBD will also relaunch Easy Rider, a post-shave bikini spray, later this month.
Cloud CBD will enter Saks Fifth Avenue's CBD Beauty Corner at the department store retailer's flagship New York City location in September. Postma says, "I thought it would be a great idea to launch Kushon in the shop around New York Fashion Week as I remember schlepping around Manhattan in my heels during it and could've really used this product back then to keep my feet cool and comfortable."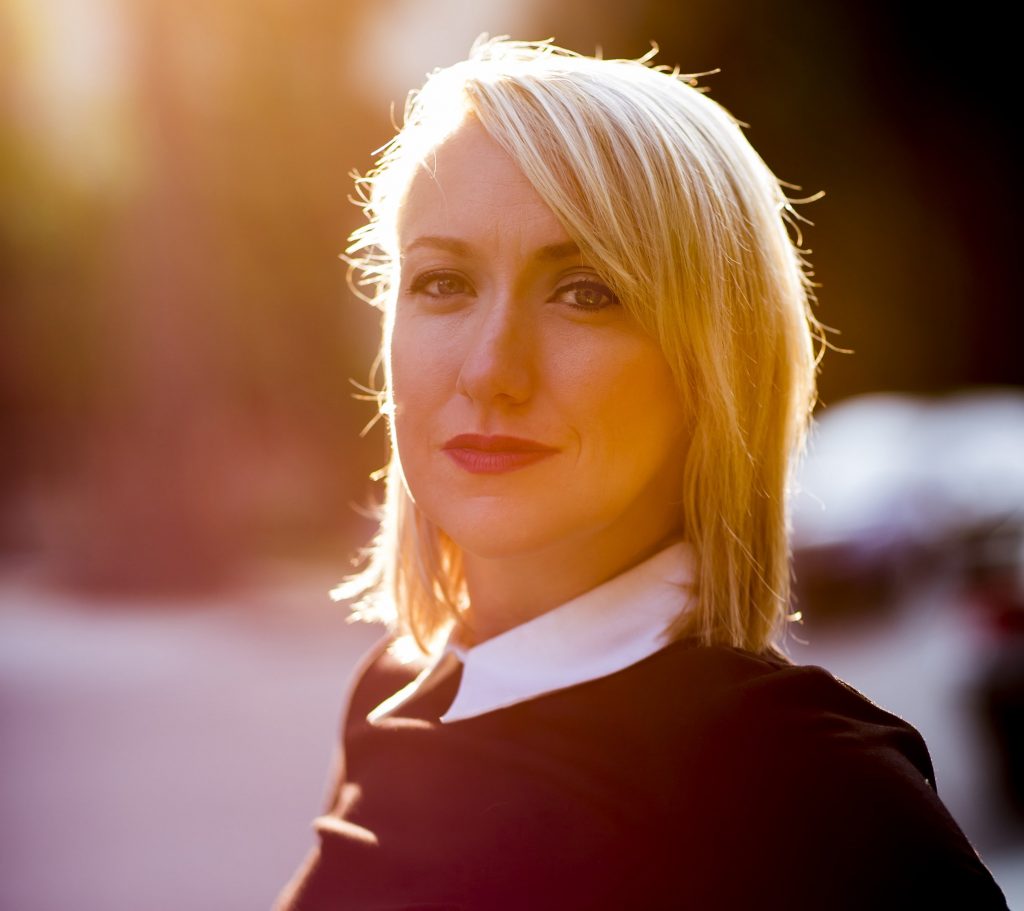 Outside of Saks Fifth Avenue, Postma's retailer wish list for Cloud CBD includes Lord & Taylor, Sephora, Credo and Anthropologie. Postma is currently searching for a salesperson or firm to help grow the brand's distribution, but is relying on herself to secure stores at the moment.
Postma isn't afraid to be persistent to reach her goals. She learned the importance of persistence from her dad James Postma. "My dad was a wine salesman, and he would go to the same wine store every single week and the owner would say, 'No.' Finally, the guy was like, 'OK, we'll bring something in,'" she recounts. "With these submission processes, I understand it can take a while. In business development, I learned how many times you have to follow up to close a deal. I had read some stats that the highest closings were behind the eighth and 16th touch points."
"I wanted my products to be genuine, high-quality, transparent, and priced at a place that makes sense without cutting corners."
Postma splits her professional time between Cloud CBD and Los Angeles marketing agency Uptown Creative, where she's CEO and a partner. She's looking for an investor to support Cloud CBD. Postma says, "I'm a fish out of water here, so finding someone with that experience would be helpful."
To balance her responsibilities, stays organized with planning tools such as Asana and prescribes days for particular functions. She details, "Monday is operations for both companies, which includes billing, accounting and legal work. Tuesday is public relations for Cloud. Wednesday is sales and outreach for both. Thursday is social and advertising. Friday is future-oriented, where I explore new ideas, website updates, goal planning, etc. Saturday and Sunday are free days to work on what strikes me, which might be reformulating or packaging or just taking a day of much-needed rest."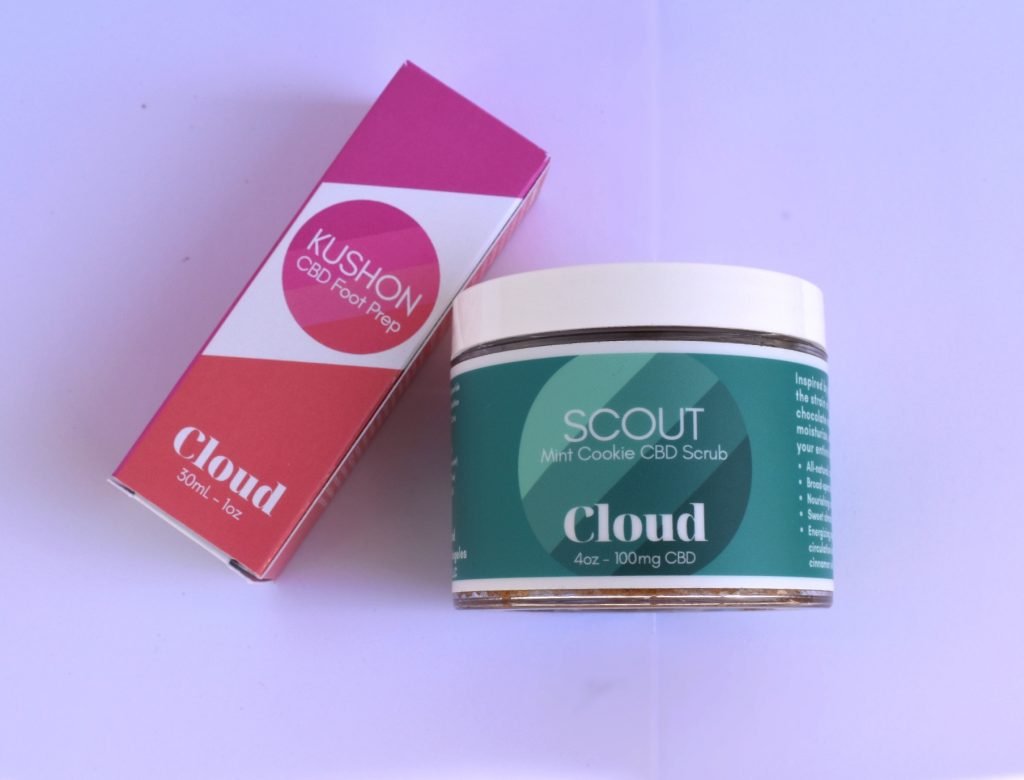 Social media advertising has been tricky for Cloud CBD. Facebook's and Instagram's ad policies aren't friendly to CBD brands. "Facebook and Instagram have started to let a few things through, but I have gotten mostly rejected despite careful wording. This is an issue because social media has become extremely pay-to-play based on their algorithms," says Postma. "Organic just doesn't cut it anymore, but I know it will quickly change and, then, you will see CBD ads everywhere."
Until then, Postma is banking on influencer marketing, but recognizes it can come at a lofty cost with an unpredictable return on investment. "There's a reason there are agencies literally dedicated to influencer marketing now. It's time-consuming and expensive," she says. "In the early days, it was less saturated and easier to get your product into those channels, but now the demand is so high, and they are able to charge a pretty penny. Good for them—no hate here—but those are pennies that I don't have. And most aren't backed by case studies or statistics that I can say, 'Yes, this is a good investment for me.' While you get content, I need to know there will be traffic and conversions."