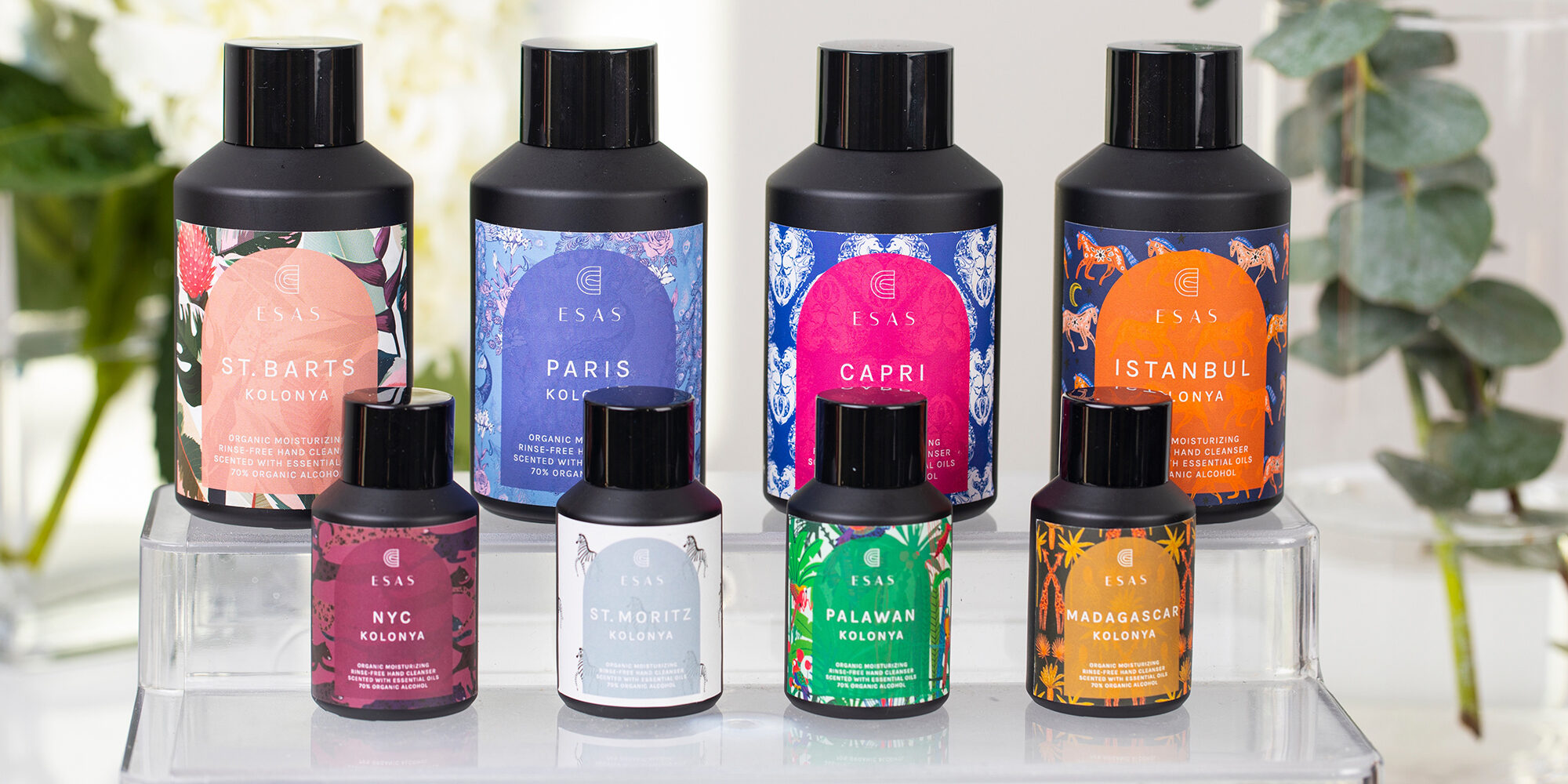 With New Brand Esas, Two Givaudan Alums Aim To Disrupt Beauty Manufacturing
Seda Bilginer and Amanda Sichon, co-founders of Esas, are self-confessed product junkies, but it's the production floor that ignited their entrepreneurial spirit.
As colleagues at Givaudan, the global fragrance and flavor manufacturer, they bonded over "a lot, a lot of problems," laughs Bilginer, describing the complex logistics they were tasked with overseeing. Sichon was the head of technical at Givaudan, and Bilginer managed the home business for the Bath & Body Works account.
"We were on the production floor almost two times a week, and we really fell in love with the manufacturing piece of the business," says Bilginer. "You really see how everything is controlled at that point. No product is on the shelf until it passes production. Amanda and I saw early on that there was so much opportunity in the manufacturing piece."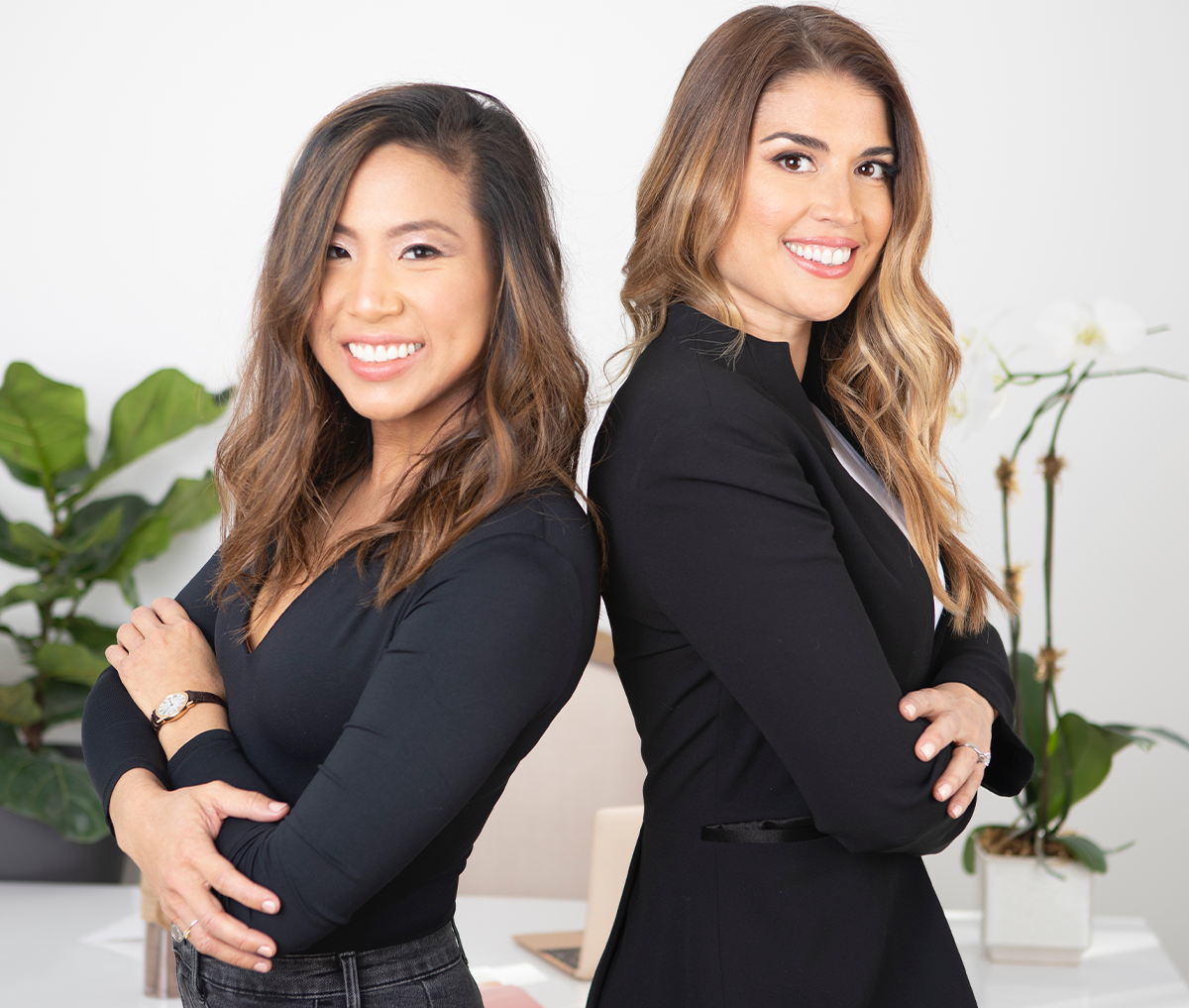 Bilginer continues that the duo began asking themselves, "How do we optimize this model and update it to make it more sustainable and efficient not only in terms of turnaround time, but also in terms of using less waste?" Around the same time, Bilginer started a diet of organic and anti-inflammatory foods to help her Lyme Disease. "I could not believe the impact that such a small change in my lifestyle had on me," she says. "And I thought, 'Wow, if I can feel this good from the inside out, what kind of products can we make that can have that same kind of impact from the outside in?' Amanda and I started to talk."
Meanwhile, Bilginer's and Sichon's careers were transitioning. Bilginer, who was at Givaudan for 15 years, longed to visit her grandmother in Turkey. Sichon, who spent a decade at the company, missed her family in California. "We started to say, 'You know what, maybe now is a good time to start thinking about what we want to do with the second half of our career,'" recalls Bilginer. Bilginer and Sichon departed Givaudan in 2019 a month apart and reconvened later to rent a lab in New Jersey.
"It was our incubation period, if you will," says Bilginer. She and Sichon experimented with natural cosmetics containing dyes extracted from fruits and vegetables. "We had a lot of fun with that. We were able to come up with some really creative processes to derive color from nature," shares Bilginer. They dabbled in skincare as well. "At the end of the day, we wanted to make sure that the products we made would add value to people's lives," says Bilginer. "So, if you lick your lips, maybe you'll get a dose of a vitamin—things like that. We created a lot of great products. And, then, 2020 hit."
"Our vision is to disrupt the beauty space not only with our differentiated products, but also in how we source and manufacture by vertically integrating agritech into our supply chain."
As the pandemic took hold in the United States, Bilginer and Sichon tabled their plans to introduce a brand. "In February and March of 2020, coming out with a fun lipstick would have seemed a little out of touch," says Bilginer. "It seemed a little distasteful, even to launch our brand, in such a time of uncertainty. We said, 'Let's take a backseat and just see where this year goes.'" By the summer of last year, they revived the idea of launching Esas, but they hadn't settled on a debut product. "The last thing we wanted to launch when we left Givaudan was a hand sanitizer," says Bilginer says. "But, obviously, the world had changed."
Growing up in a Turkish family, Bilginer was acquainted with kolonya, a traditional Turkish cologne. Sichon, who's a first-generation Filipino, was familiar with Turkish culture through her travels. Made with ethyl alcohol, water and fragrance, the product has been used in Turkey for centuries for a variety of purposes, including disinfecting. The pair decided to try an updated version of kolonya, but a bit of nudging got it over the finish line amid the pandemic.
"We had a lot of family reaching out to us saying, 'Can you please do this kolonya now? I can't get my hands on actual kolonya or any sanitizers,'" says Bilginer. "Amanda was like, 'Maybe this is a really good opportunity to one, fill a need, but also to create a product that's actually healthy and multifunctional, and uses good-for-you and good-for-the-planet ingredients.'" She adds, "There are a million products out there that do what they need to do, but I'm not sure that the Purells of the world were meant to be used 15 times a day. They're super harsh."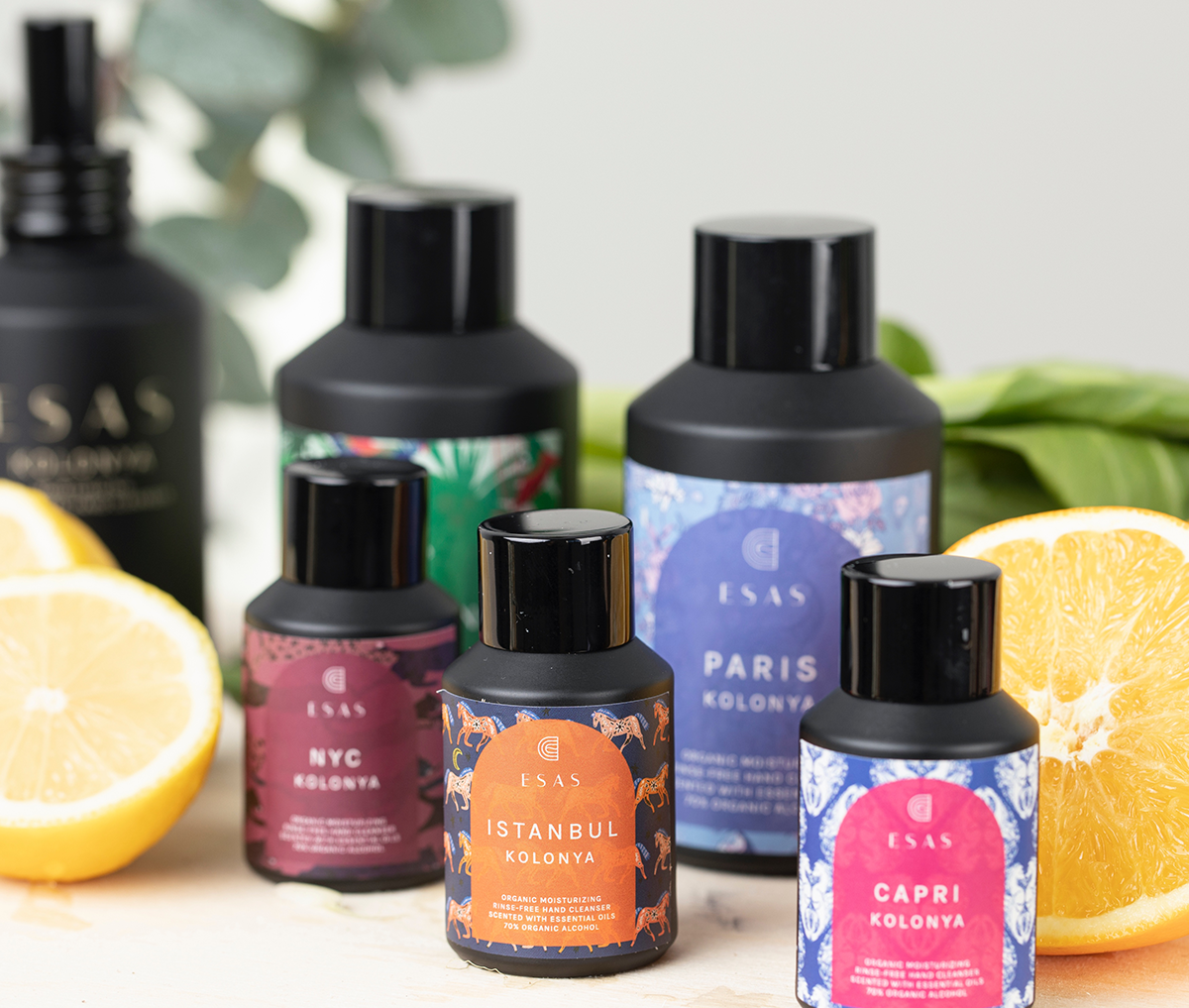 Sourcing ingredients was tough. "Everything was closed. That really forced us to think sustainably and source ingredients from the U.S.," says Sichon. Bilginer says, "We essentially reached out to every single local indoor farm and organic farm in New York and New Jersey asking to buy their surplus ingredients. Instead of looking far, we looked very close by."
Drawing upon their science backgrounds (Sichon and Bilginer have undergraduate degrees in chemistry, and Sichon has a graduate degree in cosmetic chemistry), they developed an extraction process with the intention of infusing skin-repairing ingredients into the kolonya. Using machinery enabling them to reuse diluents, Sichon and Bilginer began extracting chlorophyll from bok choy and spinach cultivated on a farm in New Jersey, and rendered grape leaf extract from grape leaves sourced from local vineyards. They grow their own ingredients with vertical and organic farming practices, too. "Our vision is to disrupt the beauty space not only with our differentiated products, but also in how we source and manufacture by vertically integrating agritech into our supply chain," says Bilginer.
In addition to proprietary extracts, the Esas co-founders pack their kolonya with moisturizing hyaluronic acid, coconut-derived glycerin, burdock root tincture, organic essential oils and organic alcohol from an Oregon distillery. The product is designed to hydrate, cleanse and sanitize the skin. Officially launched in August 2020, Esas has released 16 kolonya scents. They start at $7 for a 1-oz. size and rise to about $125 for a 16-oz. refill. Among the offerings are citrus, aromatic sage and mint N. 1 Original, N. 2 Neroli, N. 3 Jasmine Vanilla and N. 4 Sage, and a limited-edition collection of scents inspired by global destinations like Istanbul, New York City, Paris and Capri.
"Staying close to the product means a lot to us."
Esas's kolonya is housed in black glass bottles with biostone labels and aluminum pumps. It's meant to be displayed. "I always thought it was a shame that organic and natural products don't tend to provide that luxury experience," says Bilginer. "There's no reason why certain products can't look luxurious. We wanted to show that health and sustainability could be luxurious."
If the pandemic mercifully fades, Esas will still stick to kolonya. "Growing up, we used kolonya for headaches. My dad used it for aftershave. My grandma used it as her fragrance," says Bilginer. "I don't think I realized kolonya was meant to be an antiseptic until the pandemic hit—and I'm not kidding. Even when we launched, we did not want to call it a sanitizer. We didn't want to cheapen the product or to come across like we were creating it out of fear. And, so, we call it an organic rinse-free moisturizing hand cleanser."
When the product initially launched, it was sold via direct-to-consumer distribution. It later debuted on Amazon, and at med spas, doctors' offices and small brick-and-mortar retailers. Esas's newest distribution partner is OTG Management, which placed it at a gourmet market at Newark Liberty International Airport.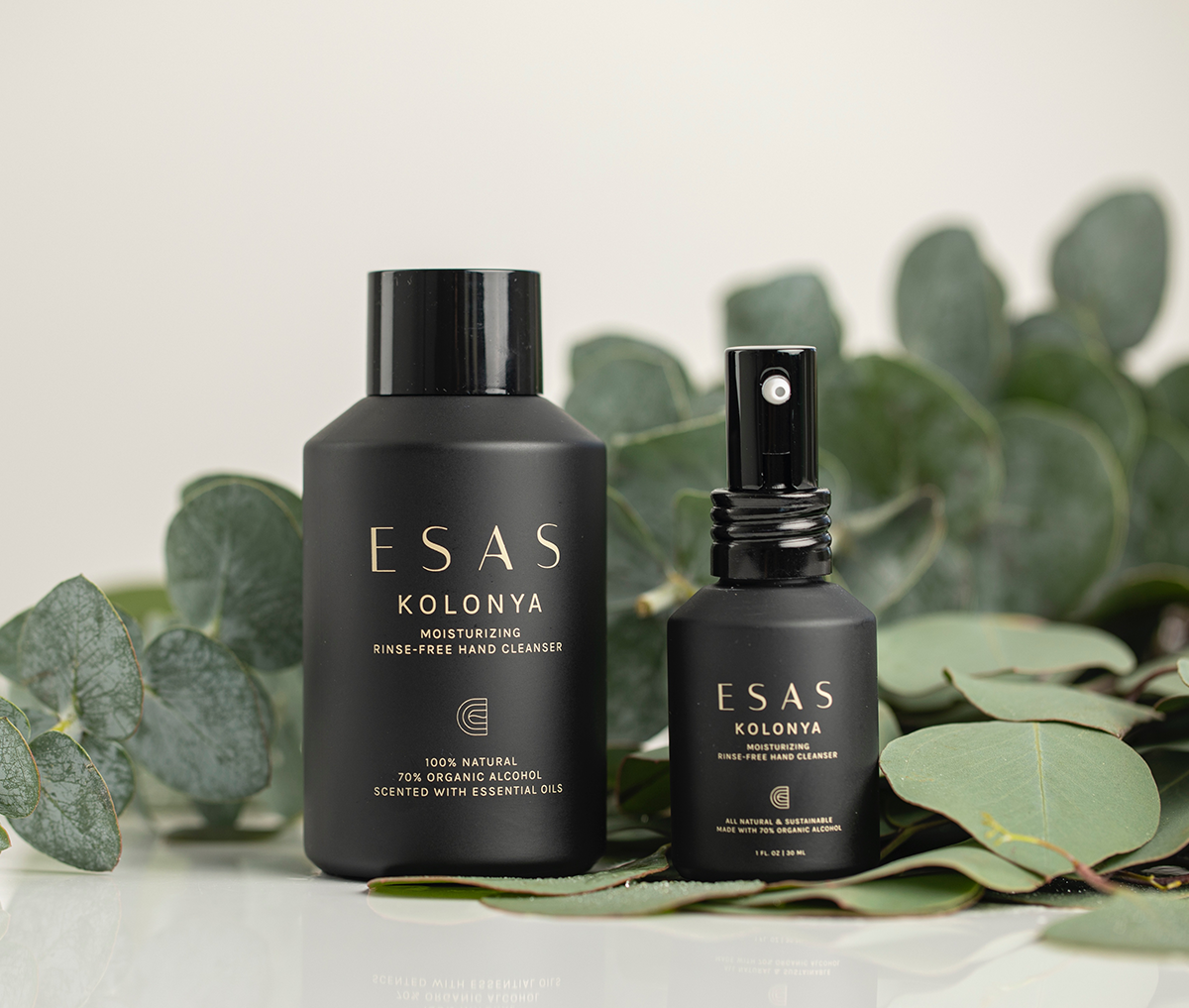 "Right now, we're seeing organically who our demographic is," says Bilginer. "And, then, based on that, we can start to target more retailers. We've been gaining a little more brand awareness, but I think we'll be more comfortable focusing on big or medium-sized brick-and-mortar retailers in 2022."
Esas unveiled its second product, Organic Fragrance Mist, on July 21. Available in jasmine and bergamot scents, the mist is formulated as a skincare-fragrance hybrid. Ten percent of the proceeds from sales of the mist benefit the organization The Ocean Cleanup. The same portion of the kolonya's proceeds go to the nonprofit Action Against Hunger.
Sichon and Bilginer didn't disclose the amount it cost to get Esas off the ground, but confide they funneled their "life savings" into it. The brand's holiday sales increased 500% over the two months prior to the holiday shopping season. "We're looking to double that for 2021," says Bilginer. As the brand grows, Sichon and Bilginer are outsourcing the occasional responsibility—branding and accounting, for instance—but aren't relinquishing their manufacturing duties.
"Staying close to the product means a lot to us," says Bilginer. "We want to make sure the processes are controlled and that the quality is consistently the high. Those are things that we will never forgo: the formulation and the manufacturing."